Slash gets literary, hits Guitar Center tonight
By Charlie Amter
Contrary to stereotype, Guns N' Roses guitar hero Slash doesn't exactly hang out at Guitar Center. Yet tonight, the iconic Angeleno will be at the Northridge music store (we hear Duff McKagan will also show) as a favor to his longtime friend Marc Canter, who recently released a book focusing on Guns N' Roses' first 50 shows in Los Angeles, long before they became household names the world over.
"Reckless Road" is an unrivaled chronicle of the band's earliest incarnation, including photographs, oral histories from the people who knew the band best early on (including a few strippers), photographs from early gigs at venues such as the Troubadour and Madame Wong's, ticket stubs from those gigs and even transcriptions of between-song banter from Axl Rose.
"Reckless Road" sizzles with the same energy and scrappy spirit that helped Guns N' Roses land a deal with Geffen Records, and the rest, as they say, is history. After the jump, we talk with Slash about his longtime friend's new book, his thoughts on his own 2007 book, a little localized Guns nostalgia and his thoughts on the blogger who was recently arrested after posting unreleased tracks from "Chinese Democracy" online earlier this year.
So, what's going to happen tonight at Guitar Center?
I have no intention of getting up there and doing demos for people. I don't plan on playing, but who knows? I don't remember how to play a lot of Guns songs. I actually had to play "Sweet Child O' Mine" recently at a concert, and it took a couple of tries just to remember it.
What are your thoughts on the blogger who posted tracks from 'Chinese Democracy' who was arrested last week?
I think it's totally fine that he got arrested. I hope he rots in jail. It's going to affect the sales of the record, and it's not fair. The Internet is what it is, and you have to deal with it accordingly, but I think if someone goes and steals something, it's theft. At one point, I had an early version of all of "Use Your Illusion" on CD and I had it all stacked up with a piece of cardboard around, wrapped in duct tape. I left a hotel in South America to do a gig, I came back and I saw that it had been ripped off. One of the staff at the hotel ripped it off. Fortunately, I got it back, and the guy got arrested. That was a really frightening experience… making a record is like making a painting or any other personal art project. I don't see the difference between that theft and this one.
[Editor's note: blogger Kevin Cogill is not under suspicion of stealing the forthcoming tracks from "Chinese Democracy." He is, however, accused of copyright infringement.]
What was the experience like writing your own book?
It was a different experience. I was resigned to writing the book due to the fact that some guy came out with an unauthorized Slash book. So, I just decided to do my own book, because doing an interview or press release to offset any of this stuff didn't work. The guy who I wrote the book with [Anthony Bozza] had such a genuine zeal for my whole story. Not just the cliché stuff. It was a real collaboration between us. I wrote entire chapters of the book on my Blackberry… sending it to my co-writer. But you know, it was worth it, because finally after all my input, it turned out good.
How was it promoting "Slash?" Letterman seemed to really dig you when you went on the "Late Show" to talk about it last year.
Letterman sort of has known me for a while. When he first signed to CBS, they did a show here in L.A. and he asked me to be there. I went down and I liked the guy. He, like a lot of other people, sees me as a sort of comic book character. They find me entertaining. But I got him some cigars and ever since then we've been close. But he did do me a good turn [on my most recent appearance]. I was very uncomfortable the first two or three minutes. But in general, I really liked promoting the book. You get a chance to really get close to your fans. I mean, we had kids from 6 years old all the way up to people in their 60s [at book signings]. The book crowd is different than the record buying crowds, but all in all it was a good experience.
So we are in Canter's... I heard that you once actually worked here?
Yeah, I did for a bit. This was our after-hours hang. I'll never forget this is where we met Duff. This six-foot-something guy came in here in a big red and black leather trench coat with the Sid Vicious chain necklace on and spiky black and yellow hair. We got him drunk, and that's how we first met. We started a band called Road Crew. So, Canter's has been a pretty significant part of our history. I've been friends with Marc since we were young.
Did you ever play at the [bar at Canter's] Kibitz Room in the early days?
Not with the band. I came in here and did a couple of different Kibitz things, though, over the years.
Of all the early Troubadour shows, is there any one that stands out?
There was a great Troubadour show when we were Hollywood Rose with Axl and Steve Adler and myself. That was the last Hollywood Rose show. Axl got into a fight with one of the guys in the front row. One of the first shows we did as Guns N' Roses a few years later was at the Troubadour. And the most memorable gig might have been the night that really helped us get signed, where Tom [Zutaut, former Geffen A&R man] showed up. Tom said that was the loudest gig he'd ever been to next to AC/DC.
Was there ever a point where you considered signing with another label besides Geffen?
It was never about the money. We knew that we were going to sign with Geffen as soon as we met Tom and had a couple of conversations. But we kept letting all the other A&R people buy us drinks and dinner. We stretched that as far as we could. But there was a basic understanding that Geffen was the coolest label to go with. We used all the companies' offers as leverage.
Guitar Center hosts an interview Q&A, book signing and (possible) jam session tonight at 19510 Nordhoff St. in Northridge. The event, which starts at 6 p.m., is billed as "Guitar Center Sessions: An Evening of Dialogue & Insight With Slash." Call (818) 993-0286 for more information.
https://web.archive.org/web/20080906200901/http://latimesblogs.latimes.com/soundboard/2008/09/slash-gets-lite.html

Blackstar

ADMIN




Posts

: 11801


Plectra

: 77756


Reputation

: 97


Join date

: 2018-03-17



Blabbermouth, Sept. 4, 2008:
------------------------------------
Slash Takes Part In 'Guitar Center Sessions' In Northridge; Video Available
Former Guns N' Roses and current Velvet Revolver guitarist Slash took part in the latest installment of Guitar Center Sessions last night (Wednesday, September 3) at the Guitar Center in Northridge, California. This exclusive event was free and open to the public. Following the "GC Sessions", Slash signed copies of the book "Reckless Road: Guns N' Roses & The Making Of Appetite For Destruction" which was written by Marc Canter, the owner/manager of the legendary rock 'n' roll hangout Canter's Deli in Los Angeles.
Designed to provide informative, provocative conversation and hands-on tutorials, "GC Sessions" serves as an incubator for musicians, providing them an opportunity to network with their peers in an intimate setting and gain career-fostering advice from their heroes.
Watch video footage from last night's Guitar Center Sessions with Slash below.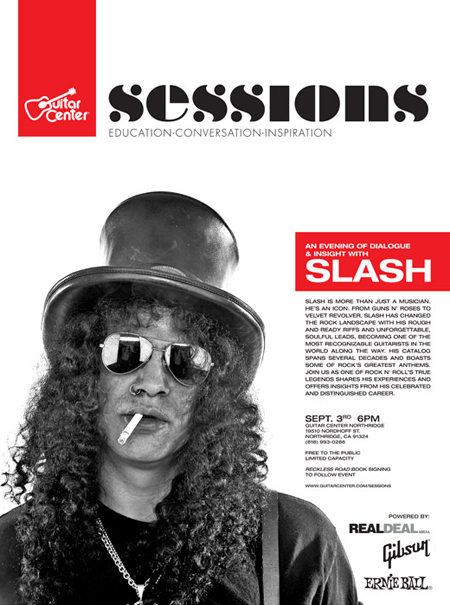 https://archive.blabbermouth.net/news/slash-takes-part-in-guitar-center-sessions-in-northridge-video-available/

Blackstar

ADMIN




Posts

: 11801


Plectra

: 77756


Reputation

: 97


Join date

: 2018-03-17



---
Permissions in this forum:
You
cannot
reply to topics in this forum