Thanks to
@Surge
for sending us this article!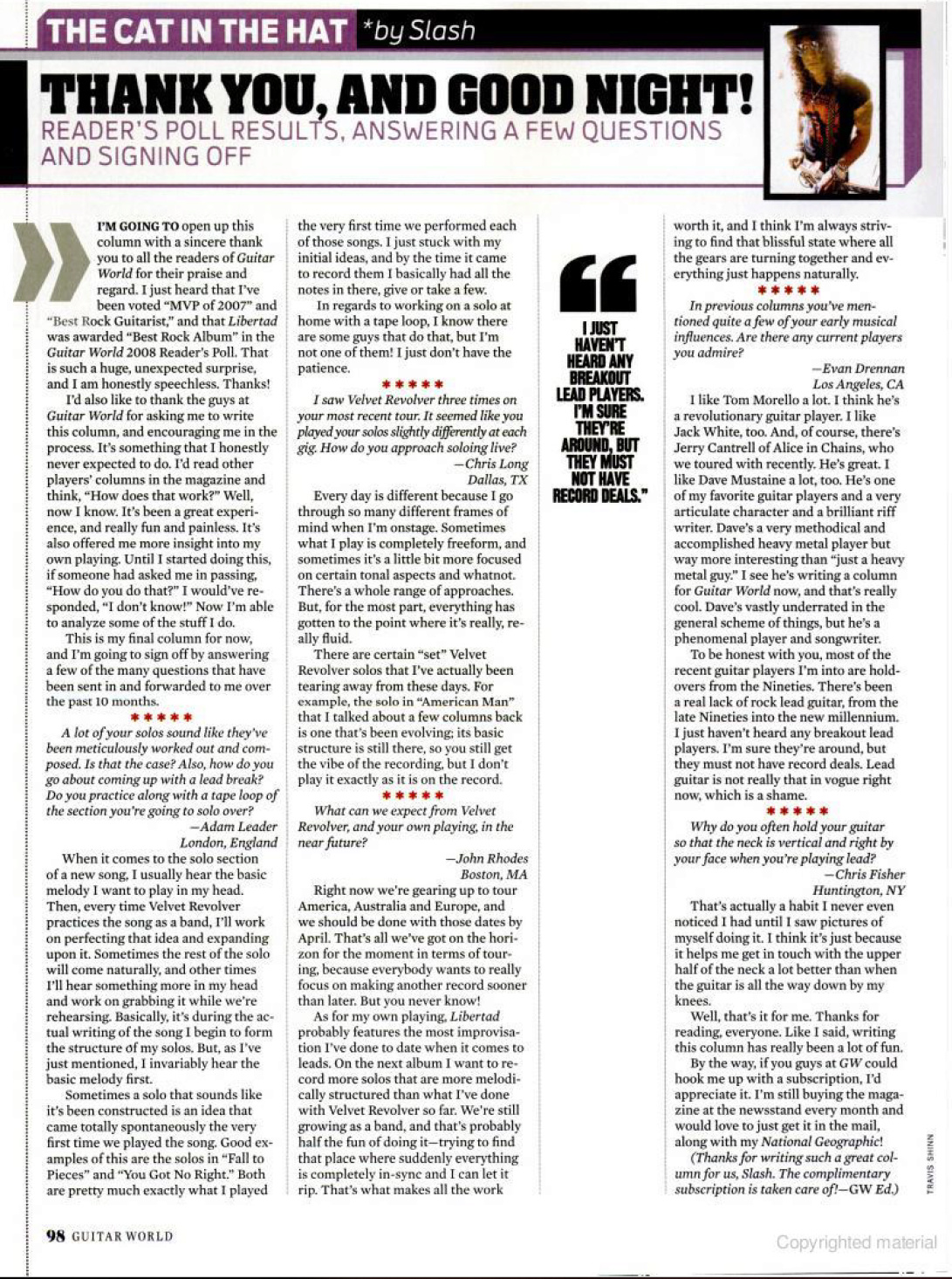 Transcription to follow...
------------
EDIT: Transcript by Blackstar
--------------------------------------
THE CAT IN THE HAT by Slash
THANK YOU, AND GOOD NIGHT!
READER'S POLL RESULTS, ANSWERING A FEW QUESTIONS AND SIGNING OFF
I'M GOING TO open up this column with a sincere thank you to all the readers of
Guitar World
for their praise and regard. I just heard that I've been voted "MVP of 2007" and "Best Rock Guitarist," and that
Libertad
was awarded "Best Rock Album" in the
Guitar World
2008 Reader's Poll. That is such a huge, unexpected surprise, and I am honestly speechless. Thanks!
I'd also like to thank the guys at
Guitar World
for asking me to write this column, and encouraging me in the process. It's something that I honestly never expected to do. I'd read other players' columns in the magazine and think, "How does that work?" Well, now I know. It's been a great experience, and really fun and painless. It's also offered me more insight into my own playing. Until I started doing this, if someone had asked me in passing, "How do you do that?" I would've responded, "I don't know!" Now I'm able to analyze some of the stuff I do.
This is my final column for now, and I'm going to sign off by answering a few of the many questions that have been sent in and forwarded to me over the past 10 months.
*****
A lot of your solos sound like they've been meticulously worked out and composed. Is that the case? Also, how do you go about coming up with a lead break? Do you practice along with a tape loop of the section you're going to solo over?
—Adam Leader
London, England
When it comes to the solo section of a new song, I usually hear the basic melody I want to play in my head. Then, every time Velvet Revolver practices the song as a band, I'll work on perfecting that idea and expanding upon it. Sometimes the rest of the solo will come naturally, and other times I'll hear something more in my head and work on grabbing it while we're rehearsing. Basically, it's during the actual writing of the song I begin to form the structure of my solos. But, as I've just mentioned, I invariably hear the basic melody first.
Sometimes a solo that sounds like it's been constructed is an idea that came totally spontaneously the very first time we played the song. Good examples of this are the solos in "Fall to Pieces" and "You Got No Right." Both are pretty much exactly what I played the very first time we performed each of those songs. I just stuck with my initial ideas, and by the time it came to record them I basically had all the notes in there, give or take a few.
In regards to working on a solo at home with a tape loop, I know there are some guys that do that, but I'm not one of them! I just don't have the patience.
*****
I saw Velvet Revolver three times on your most recent tour. It seemed like you played your solos slightly differently at each gig. How do you approach soloing live?
—Chris Long
Dallas, TX
Every day is different because I go through so many different frames of mind when I'm onstage. Sometimes what I play is completely freeform, and sometimes it's a little bit more focused on certain tonal aspects and whatnot. There's a whole range of approaches. But, for the most part, everything has gotten to the point where it's really, really fluid.
There are certain "set" Velvet Revolver solos that I've actually been tearing away from these days. For example, the solo in "American Man" that I talked about a few columns back is one that's been evolving; its basic structure is still there, so you still get the vibe of the recording, but I don't play it exactly as it is on the record.
*****
What can we expect from Velvet Revolver, and your own playing, in the near future?
—John Rhodes
Boston, MA
Right now we're gearing up to tour America, Australia and Europe, and we should be done with those dates by April. That's all we've got on the horizon for the moment in terms of touring, because everybody wants to really focus on making another record sooner than later. But you never know!
As for my own playing,
Libertad
probably features the most improvisation I've done to date when it comes to leads. On the next album I want to record more solos that are more melodically structured than what I've done with Velvet Revolver so far. We're still growing as a band, and that's probably half the fun of doing it—trying to find that place where suddenly everything is completely in-sync and I can let it rip. That's what makes all the work worth it, and I think I'm always striving to find that blissful state where all the gears are turning together and everything just happens naturally.
*****
In previous columns you've mentioned quite a few of your early musical influences. Are there any current players you admire?
-Evan Drennan
Los Angeles, CA
I like Tom Morello a lot. I think he's a revolutionary guitar player. I like Jack White, too. And, of course, there's Jerry Cantrell of Alice in Chains, who we toured with recently. He's great. I like Dave Mustaine a lot, too. He's one of my favorite guitar players and a very articulate character and a brilliant riff writer. Dave's a very methodical and accomplished heavy metal player but way more interesting than "just a heavy metal guy." I see he's writing a column for
Guitar World
now, and that's really cool. Dave's vastly underrated in the general scheme of things, but he's a phenomenal player and songwriter.
To be honest with you, most of the recent guitar players I'm into are holdovers from the Nineties. There's been a real lack of rock lead guitar, from the late Nineties into the new millennium. I just haven't heard any breakout lead players. I'm sure they're around, but they must not have record deals. Lead guitar is not really that in vogue right now, which is a shame.
*****
Why do you often hold your guitar so that the neck is vertical and right by your face when you're playing lead?
—Chris Fisher
Huntington, NY
That's actually a habit I never even noticed I had until I saw pictures of myself doing it. I think it's just because it helps me get in touch with the upper half of the neck a lot better than when the guitar is all the way down by my knees.
Well, that's it for me. Thanks for reading, everyone. Like I said, writing this column has really been a lot of fun.
By the way, if you guys at
GW
could hook me up with a subscription, I'd appreciate it. I'm still buying the magazine at the newsstand every month and would love to just get it in the mail, along with my
National Geographic
!
(Thanks for writing such a great column for us, Slash. The complimentary subscription is taken care of!—
GW
Ed.)

Soulmonster

Band Lawyer







Posts

: 15410


Plectra

: 75143


Reputation

: 831


Join date

: 2010-07-06



---
Permissions in this forum:
You
cannot
reply to topics in this forum