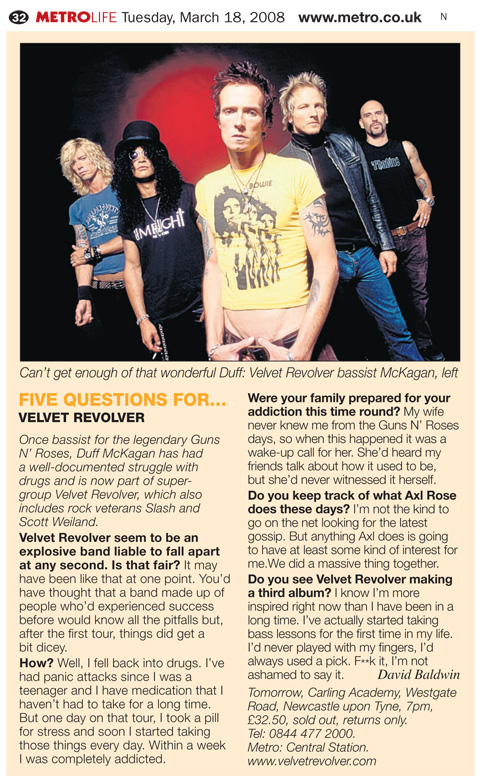 FIVE QUESTIONS FOR…
VELVET REVOLVER
By David Baldwin
Once bassist for the legendary Guns N' Roses, Duff McKagan has had a well-documented struggle with drugs and is now part of supergroup Velvet Revolver, which also includes rock veterans Slash and Scott Weiland.
Velvet Revolver seem to be an explosive band liable to fall apart at any second. Is that fair?
It may have been like that at one point. You'd have thought that a band made up of people who'd experienced success before would know all the pitfalls but, after the first tour, things did get a bit dicey.
How?
Well, I fell back into drugs. I've had panic attacks since I was a teenager and I have medication that I haven't had to take for a long time. But one day on that tour, I took a pill for stress and soon I started taking those things every day. Within a week I was completely addicted.
Were your family prepared for your addiction this time around?
My wife never knew me from the Guns N' Roses days, so when this happened it was a wake-up call for her. She'd heard my friends talk about how it used to be, but she'd never witnessed it herself.
Do you keep track of what Axl Rose does these days?
I'm not the kind to go on the net looking for the latest gossip. But anything Axl does is going to have at least some kind of interest for me. We did a massive thing together.
Do you see Velvet Revolver making a third album?
I know I'm more inspired right now than I have been in a long time. I've actually started taking bass lessons for the first time in my life. I'd never played with my fingers, I'd always used a pick. F**k it, I'm not ashamed to say it.

Blackstar

ADMIN




Posts

: 9581


Plectra

: 65553


Reputation

: 97


Join date

: 2018-03-17



---
Permissions in this forum:
You
cannot
reply to topics in this forum