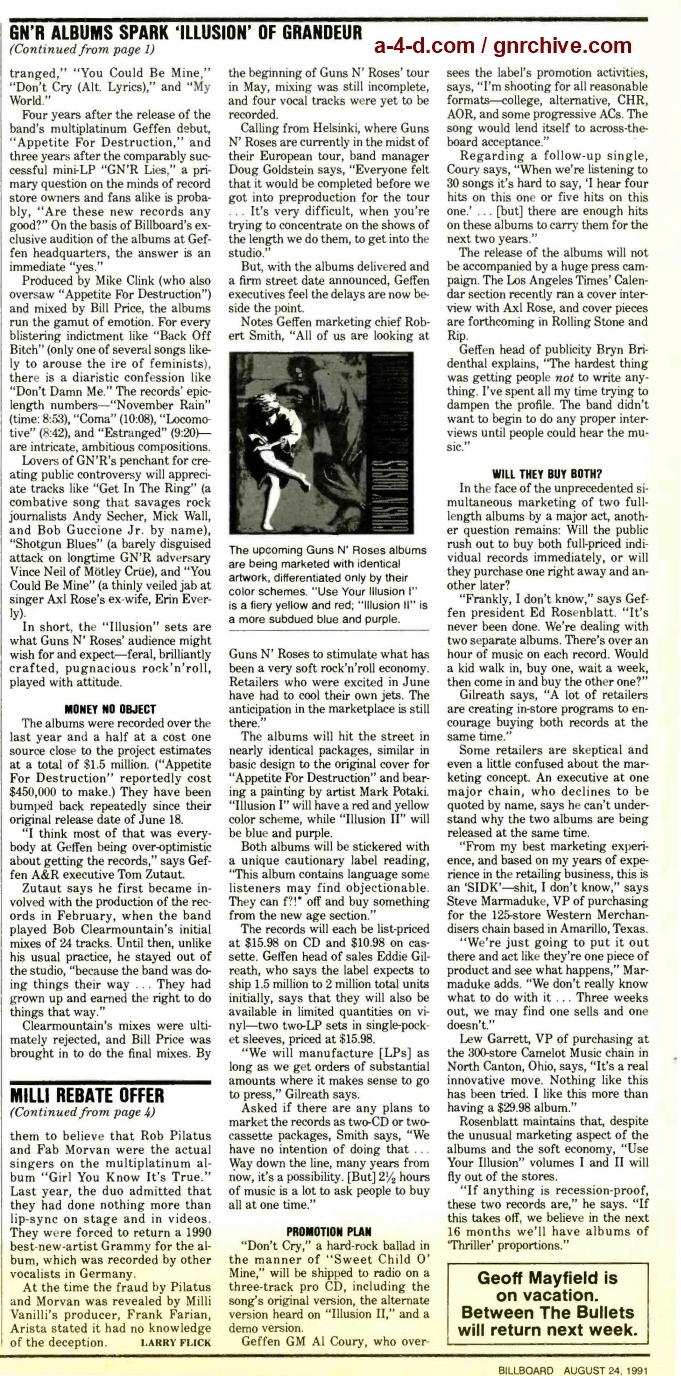 GN'R Sets Spark 'Illusion' Of Grandeur
Retailers Prepare For September Release
BY CHRIS MORRIS
LOS ANGELES—For months, retail­ers and consumers have been hearing about Guns N' Roses—the riot, the tantrums, the court cases. Finally, they can anticipate the release of the Guns N' Roses albums. 
Geffen Records has set Sept. 17 as the firm street date for "Use Your Il­lusion I" and "Use Your Illusion II," the band's two new studio albums, which, taken as a whole, comprise 30 studio tracks and 2
1
/
2
hours of music. 
The albums will be preceded by the single "Don't Cry," which ships to ra­dio and retailers Sept. 3. (An "Illusion II" track, "You Could Be Mine," was featured in the summer hit "Termina­tor 2: Judgment Day" and has al­ready sold in excess of 800,000 units as a single.) 
"Use Your Illusion I" contains 16 tracks: "Right Next Door To Hell," "Dust N' Bones." "Live And Let Die" (the James Bond film theme com posed by Paul and Linda McCartney), "Don't Cry (Original)," "Perfect Crime," "You Ain't The First," "Bad Obsession," "Back Off Bitch," "Dou­ble Talkin' Jive," "November Rain," "The Garden," "Garden Of Eden," "Don't Damn Me," "Bad Apples," "Dead Horse," and "Coma." 
"Use Your Illusion II" consists of 14 songs: "Civil War" (a remake of the song heard last year on Warner Bros.' benefit album for Romanian orphans, "Nobody's Child"), "14 Years," "Yesterdays," "Knockin' On Heaven's Door" (a new recording of the Bob Dylan song included on Gef­fen's "Days Of Thunder" sound­track), "Get In The Ring," "Shotgun Blues," "Breakdown " "Pretty Tied Up," "Locomotive," "So Fine," "Estranged," "You Could Be Mine," "Don't Cry (Alt. Lyrics)," and "My World." 
Four years after the release of the band's multiplatinum Geffen debut, "Appetite For Destruction," and three years after the comparably successful mini-LP "GN'R Lies," a primary question on the minds of record store owners and fans alike is probably, "Are these new records any good?" On the basis of Billboard's exclusive audition of the albums at Geffen headquarters, the answer is an immediate "yes." 
Produced by Mike Clink (who also oversaw "Appetite For Destruction") and mixed by Bill Price, the albums run the gamut of emotion. For every blistering indictment like "Back Off Bitch" (only one of several songs likely to arouse the ire of feminists), there is a diaristic confession like "Don't Damn Me." The records' epiclength numbers—"November Rain" (time: 8:53), "Coma" (10:08), "Locomotive" (8:42), and "Estranged" (9:20)— are intricate, ambitious compositions. 
Lovers of GN'R's penchant for creating public controversy will appreciate tracks like "Get In The Ring" (a combative song that savages rock journalists Andy Secher, Mick Wall, and Bob Guccione Jr. by name), "Shotgun Blues" (a barely disguised attack on longtime GN'R adversary Vince Neil of Motley Crüe), and "You Could Be Mine" (a thinly veiled jab at singer Axl Rose's ex-wife, Erin Everly). 
In short, the "Illusion" sets are what Guns N' Roses' audience might wish for and expect—feral, brilliantly crafted, pugnacious rock 'n' roll, played with attitude. 
MONEY NO OBJECT
The albums were recorded over the last year and a half at a cost one source close to the project estimates at a total of $1.5 million. ("Appetite For Destruction" reportedly cost $450,000 to make.) They have been bumped back repeatedly since their original release date of June 18. 
"I think most of that was everybody at Geffen being over-optimistic about getting the records," says Geffen A&R executive Tom Zutaut. 
Zutaut says he first became involved with the production of the records in February, when the band played Bob Clearmountain's initial mixes of 24 tracks. Until then, unlike his usual practice, he stayed out of the studio, "because the band was doing things their way … They had grown up and earned the right to do things that way." 
Clearmountain's mixes were ultimately rejected, and Bill Price was brought in to do the final mixes. By the beginning of Guns N' Roses' tour in May, mixing was still incomplete, and four vocal tracks were yet to be recorded. 
Calling from Helsinki, where Guns N' Roses are currently in the midst of their European tour, band manager Doug Goldstein says, "Everyone felt that it would be completed before we got into preproduction for the tour … It's very difficult, when you're trying to concentrate on the shows of the length we do them, to get into the studio." 
But, with the albums delivered and a firm street date announced, Geffen executives feel the delays are now beside the point.
Notes Geffen marketing chief Robert Smith, "All of us are looking at Guns N' Roses to stimulate what has been a very soft rock 'n' roll economy. Retailers who were excited in June have had to cool their own jets. The anticipation in the marketplace is still there." 
The albums will hit the street in nearly identical packages, similar in basic design to the original cover for "Appetite For Destruction" and bearing a painting by artist Mark Potaki. "Illusion I" will have a red and yellow color scheme, while "Illusion II" will be blue and purple. 
Both albums will be stickered with a unique cautionary label reading, "This album contains language some listeners may find objectionable. They can f?I* off and buy something from the new age section." 
The records will each be list-priced at $15.98 on CD and $10.98 on cassette. Geffen head of sales Eddie Gilreath, who says the label expects to ship 1.5 million to 2 million total units initially, says that they will also be available in limited quantities on vinyl—two two-LP sets in single-pocket sleeves, priced at $15.98. 
"We will manufacture [LPs] as long as we get orders of substantial amounts where it makes sense to go to press," Gilreath says. 
Asked if there are any plans to market the records as two-CD or two-cassette packages, Smith says, "We have no intention of doing that. Way down the line, many years from now, it's a possibility. [But] 2%, hours of music is a lot to ask people to buy all at one time." 
PROMOTION PLAN
"Don't Cry," a hard-rock ballad in the manner of "Sweet Child O' Mine," will be shipped to radio on a three-track pro CD, including the song's original version, the alternate version heard on "Illusion II," and a demo version. 
Geffen GM Al Coury, who oversees the label's promotion activities, says, "I'm shooting for all reasonable formats — college, alternative, CHR, AOR, and some progressive ACs. The song would lend itself to across-the-board acceptance." 
Regarding a follow-up single, Coury says, "When we're listening to 30 songs it's hard to say, 'I hear four hits on this one or five hits on this one.' ... [but] there are enough hits on these albums to carry them for the next two years." 
The release of the albums will not be accompanied by a huge press campaign. The Los Angeles Times' Calendar section recently ran a cover interview with Axl Rose, and cover pieces are forthcoming in Rolling Stone and Rip. 
Geffen head of publicity Bryn Bridenthal explains, "The hardest thing was getting people not to write anything. I've spent all my time trying to dampen the profile. The band didn't want to begin to do any proper interviews until people could hear the music." 
WILL THEY BUY BOTH?
In the face of the unprecedented simultaneous marketing of two full-length albums by a major act, another question remains: Will the public rush out to buy both full-priced individual records immediately, or will they purchase one right away and another later? 
"Frankly, I don't know," says Geffen president Ed Rosenblatt. "It's never been done. We're dealing with two separate albums. There's over an hour of music on each record. Would a kid walk in, buy one, wait a week, then come in and buy the other one?" 
Gilreath says, "A lot of retailers are creating in-store programs to encourage buying both records at the same time." 
Some retailers are skeptical and even a little confused about the marketing concept. An executive at one major chain, who declines to be quoted by name, says he can't understand why the two albums are being released at the same time. 
"From my best marketing experience, and based on my years of experience in the retailing business, this is an 'SIDK'—shit, I don't know," says Steve Marmaduke, VP of purchasing for the 125-store Western Merchandisers chain based in Amarillo, Texas. 
"We're just going to put it out there and act like they're one piece of product and see what happens," Marmaduke adds. "We don't really know what to do with it ... Three weeks out, we may find one sells and one doesn't." 
Lew Garrett, VP of purchasing at the 300-store Camelot Music chain in North Canton, Ohio, says, "It's a real innovative move. Nothing like this has been tried. I like this more than having a $29.98 album." 
Rosenblatt maintains that, despite the unusual marketing aspect of the albums and the soft economy, "Use Your Illusion" volumes I and II will fly out of the stores. 
"If anything is recession-proof, these two records are," he says. "If this takes off, we believe in the next 16 months we'll have albums of 'Thriller' proportions."

Blackstar

ADMIN




Posts

: 9400


Plectra

: 64193


Reputation

: 97


Join date

: 2018-03-17



---
Permissions in this forum:
You
cannot
reply to topics in this forum