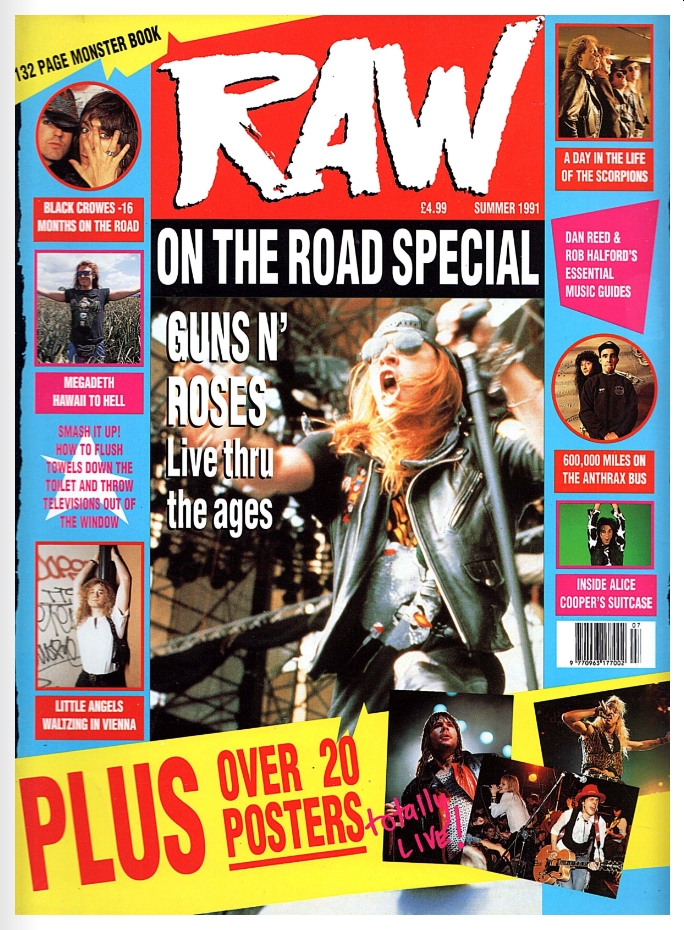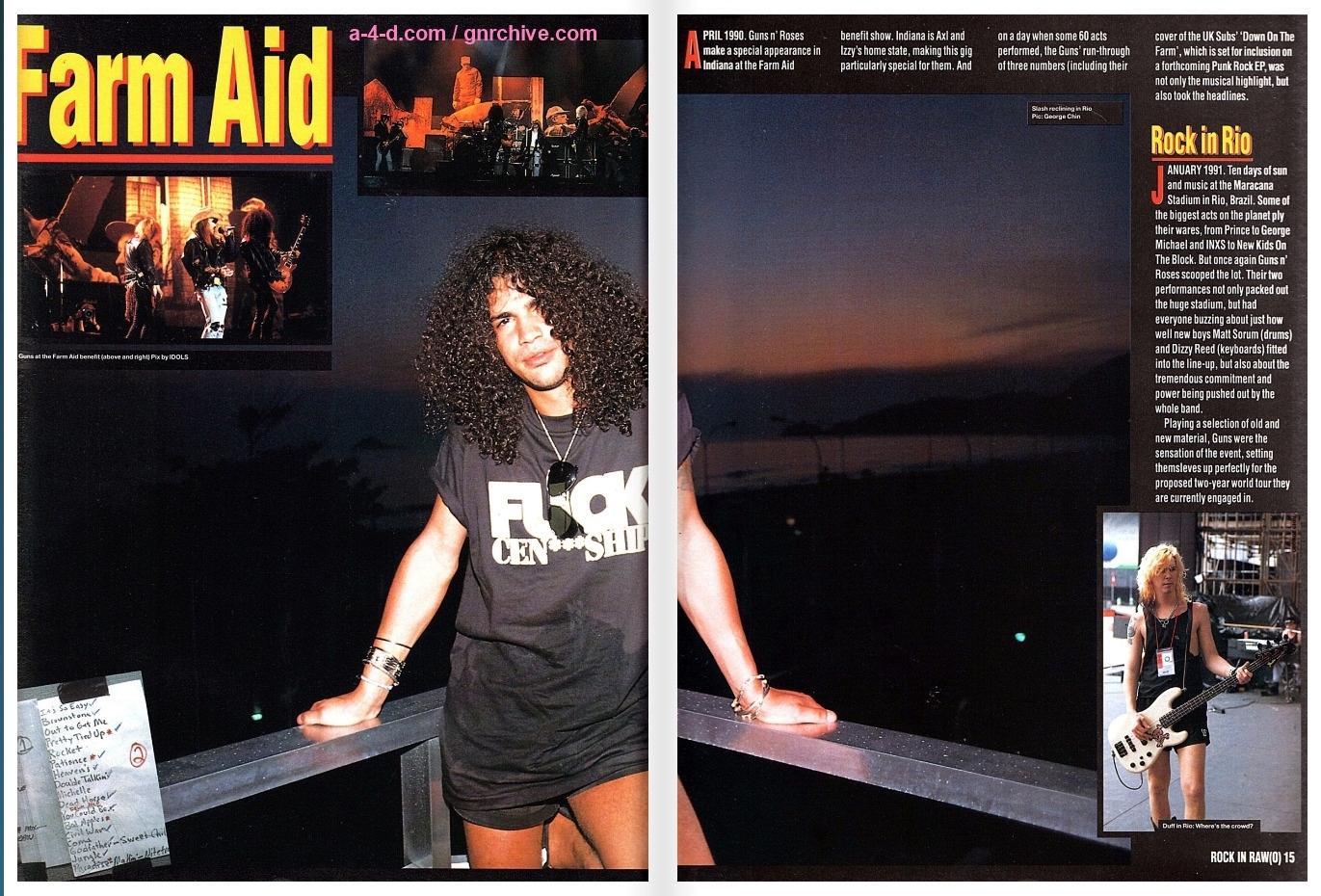 GUNS N' ROSES: Live thru the ages!
Guns n' Roses return to the live arena in the UK on August 31 at Wembley Stadium, performing before a sell-out crowd of some 72,000. It promises to be one of the shows of the year - if not of the decade. And, in anticipation of this momentous event, RAW presents a look back at five classic gigs from the band's past...
THE MARQUEE
JUNE 1987. A young five-piece band from Los Angeles make their first trip over to the UK play three shows at The Marquee Club in London. Guns n' Roses arrived in town with a certain buzz from across the water thanks to the availability on import of their 'Live @*?! Like A Suicide' EP on their own Uzi Suicide label. And they duly packed out the venerable old club for all three gigs. 
Strangely, however, the first date received a critical pasting in certain quarters, with many critics finding Axl & Co's presentation alienating and unappealing. But this view wasn't shared by those punters lucky enough to see the concerts. Even back then, there was something very special about this band that went beyond the norm. And those who were there witnessed the performance of 'Don't Cry', a song that has just been released as the band's latest single. 
What else happened on that trip? Axl showed his contempt for negative reviews by sporting a T- shirt with the legend: 'Opinions are like assholes - everyone has one' at the band's final gig; Slash smashed a window outside a Central London club that refused him entry - except that it wasn't one of the club's; the final night was recorded. All-in-all it set the scene for the spectacular success that lay just ahead. 
DONINGTON
AUGUST 1988. Guns n' Roses fly in to the UK from New Jersey having just played date at Giants Stadium with Aerosmith and Deep Purple. They are on the bill at Castle Donington with Iron Maiden, Kiss, David Lee Roth, Megadeth and openers Helloween. It should have been a day to remember for 105,000 fans. It was, but for the wrong reasons. 
Rain had turned Donington into a mud trap, and midway through Guns' set, a push to the front by a group of fans started a chain reaction that led to two unfortunates being trampled to death. An accident, but one that scarred the band, inevitably ruining their performance. What should have been a return in triumph had ended in a grotesque tragedy. Not for the first time Guns n' Roses made headlines. But as a result of their appearance that day, the band began to see their profile and stature elevated over here. The process that led to their position today had begun. 
LOS ANGELES COLISEUM
OCTOBER 1989. The Rolling Stones play four shows at the Los Angeles Coliseum, with Guns n' Roses as special guests and Living Colour opening. It was a unique occasion, pitching the original bad boys of Rock 'n' Roll against their alleged successors. Yet things didn't quite go to plan. 
On the first night Axl stunned the capacity crowd by announcing this was to be his last show with Gn'R. Moreover, he also took his own band by surprise with this statement. It seemed that drug problems relating to Slash and Izzy had finally driven Axl to take this extreme action. The next night, though, Axl was there onstage, as Slash took the microphone to explain what had been going on, in the process accepting the blame for Axl's decision. 
Whether Axl had taken such a stand to try to shake up Slash and Izzy, or it was a genuine claim is still uncertain to this day. But, as we all know, the band kept going. 
FARM AID
APRIL 1990. Guns n' Roses make a special appearance in Indiana at the Farm Aid benefit show. Indiana is Axl and Izzy's home state, making this gig particularly special for them. And on a day when some 60 acts performed, the Guns' run-through of three numbers (including their cover of the UK Subs' 'Down On The Farm', which is set for inclusion on a forthcoming Punk Rock EP), was not only the musical highlight, but also took the headlines. 
ROCK IN RIO
JANUARY 1991. Ten days of sun and music at the Maracana Stadium in Rio, Brazil. Some of the biggest acts on the planet ply their wares, from Prince to George Michael and INXS to New Kids On The Block. But once again Guns n' Roses scooped the lot. Their two performances not only packed out the huge stadium, but had everyone buzzing about just how well new boys Matt Sorum (drums) and Dizzy Reed (keyboards) fitted into the line-up, but also about the tremendous commitment and power being pushed out by the whole band. 
Playing a selection of old and new material, Guns were the sensation of the event, setting themselves up perfectly for the proposed two-year world tour they are currently engaged in.

Blackstar

ADMIN




Posts

: 9562


Plectra

: 65430


Reputation

: 97


Join date

: 2018-03-17



---
Permissions in this forum:
You
cannot
reply to topics in this forum