As reprinted in the 1994 Hard Force GN'R special issue (hors-série). Big thanks to @gnr* for scanning all 100 (!) pages of the issue and posting them here:
https://www.a-4-d.com/t4986-1994-01-dd-hard-force-france-hors-serie-gn-r-issue
---------------------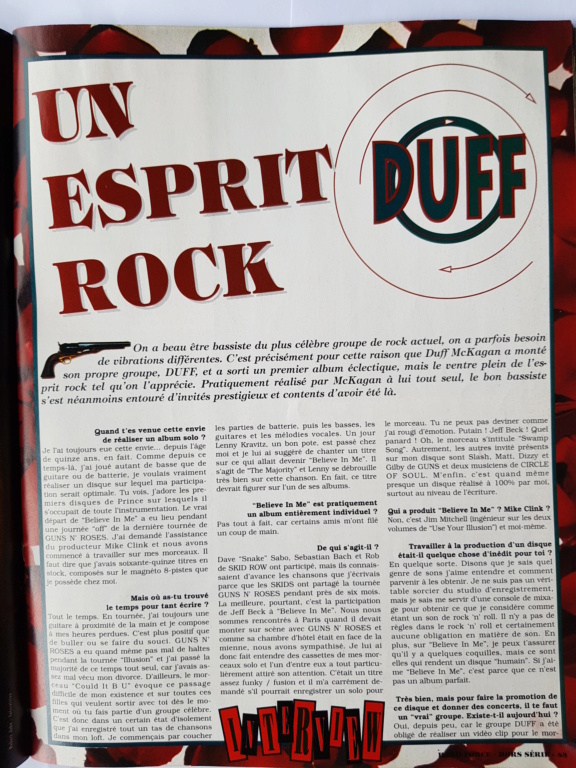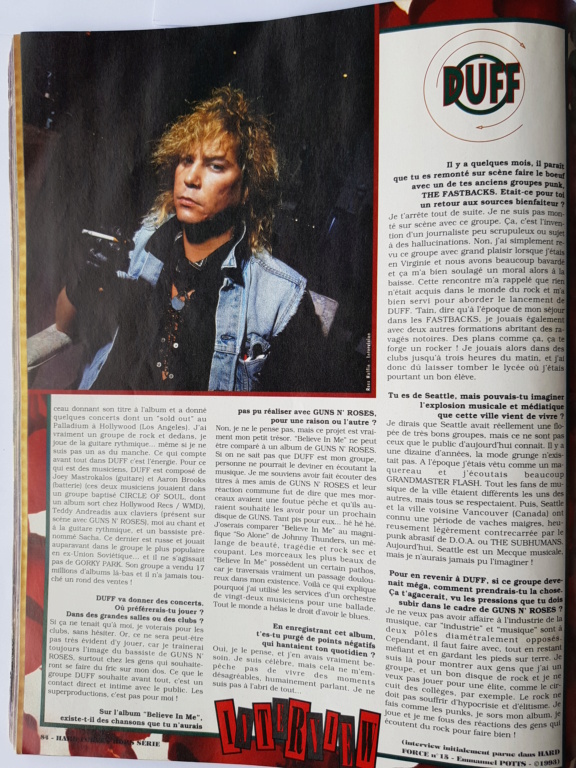 Translation:
------------------
ROCK SPIRIT
DUFF
By Emmanuel Potts
Even if you are the bassist of the most famous current rock band, you sometimes need a different vibe. This is precisely the reason why Duff McKagan started his own group, DUFF, and released an eclectic, but filled with the kind of rock spirit that we appreciate, debut album. Although the album is essentially McKagan's solo effort, the good bassist has been joined by renowned guests who were happy to be there.
When did you get the desire to make a solo album?
Duff: I've always had this urge... since I was fifteen, actually. Since then I've played bass as much as guitar or drums and I really wanted to make a record on which my contribution would be as big as possible. You know, I love Prince's first records where he played all the instruments. "Believe In Me" actually started on an off day during the last Guns N' Roses tour. I asked Mike Clink, the producer, to help me out and we started working on my songs. I must say that I had a stock of 75 songs recorded on the 8-track that I have at home.
But where did you find the time to write so much?
Duff: All the time. I always have a guitar with me on tour and I write in my spare time. It's more positive than just sitting around or worrying. Guns N' Roses had quite a few breaks during the "Illusion" tour and I spent most of that time alone, because I had taken my divorce pretty hard. In fact, the song "Could It B U" is about that difficult period of my life and all these girls who want to go out with you when you're in a famous band. So I recorded a whole bunch of songs in my loft when I was in a certain state of isolation. I started by laying down drum parts, then bass, guitars, and vocal melodies. One day, Lenny Kravitz, who is a good friend, came by my house and I suggested that he sang a song on what would become "Believe in Me". It's "The Majority" and Lenny has done a really good job on this song. Actually, this track is likely to be on one of his albums.
So "Believe in Me" is practically an entirely solo album?
Duff: Not exactly, because some friends lent me a hand.
Who are they?
Duff: Dave "Snake" Sabo, Sebastian Bach and Rob from Skid Row are on it, but they already knew the songs I was writing because the Skids toured with Guns N' Roses for almost six months. But the best thing is Jeff Beck's participation in "Believe in Me". We met in Paris, when he was going to join Guns N' Roses on stage. His hotel room was across mine, and we hit it off. So I played him tapes of my solo songs and one of them in particular caught his attention. It was a pretty funky/fusion tune and he actually asked me if he could write a solo on it. You can't imagine how much I blushed. I was overwhelmed. Fucking Jeff Beck! What a treat! Oh, the track is called "Swamp Song". The other guests on my record are Slash, Matt, Dizzy and Gilby from Guns, and two members of Circle of Soul. In the end, it's still basically a record made 100% by me, especially as far as writing goes.
Who produced "Believe in Me"? Mike Clink?
Duff: No, Jim Mitchell (engineer on both "Use Your Illusion" albums) and myself.
Was working on the production of a record something new for you?
Duff: Kind of. Let's say I know what kind of sounds I like to hear and how to achieve them. I'm no real recording studio wizard, but I do know how to use a mixing console to produce what I consider to be rock 'n' roll sound. There are no rules in rock 'n' roll and certainly no obligations when it comes to the sound. Besides, I can assure you that there are a few misprints on "Believe in Me", but this kind of stuff is what makes a record "human." The reason I love "Believe in Me" is because it's not a perfect album.
Great. But in order to promote this album and do concerts, you need a "real" band. Is there a band right now?
Duff: Yes, for a short while now, because the DUFF band had to shoot a video for the title track of the album and played a few shows, including a sold-out one at the Palladium in Hollywood (Los Angeles). I've actually got a rock band and play rhythm guitar in it... even though I'm not a virtuoso. What's most important in DUFF is energy. As far as the members go, DUFF is Joey Mastrokalos (guitar) and Aaron Brooks (drums)
(these two musicians played in a band called Circle of Soul, whose album has been released on Hollywood Recs / WMD)
, Teddy Andreadis  
(touring member of Guns N' Roses)
on keyboards, me on vocals and rhythm guitar, and a bassist named Sacha. He is Russian and has played in the most popular band in the former Soviet Union... which wasn't Gorky Park. His band has sold 17 million albums there and he never made a dime!
DUFF is going to play live. Where would you prefer to play? In large venues or clubs?
Duff: If it were up to me, I would choose clubs without hesitation. But it may not be very easy to play there, because I'll always be seen as the Guns N' Roses bassist, especially by people who want to make money on my back. What the DUFF band wants above everything is direct and intimate contact with the audience. Big productions is not my thing!
Are there any songs on "Believe in Me" that you couldn't have done with Guns N' Roses, for one reason or another?
Duff: No, I don't think so, but this project is really my little treasure. "Believe In Me" can't be compared to a Guns N' Roses album. If it wasn't known that DUFF is my band, no one would be able to guess it by listening to the music. I remember playing songs for my friends in Guns N' Roses, and they all reacted by saying that my songs were fucking great and they would have liked to have them on a future Guns record. Too bad for them... heh heh. I would dare to compare "Believe In Me" to the magnificent "So Alone" by Johnny Thunders, a mixture of beauty, tragedy and cut-and-dried rock. The most beautiful tracks on "Believe in Me" have a certain pathos, because I was really going through a painful phase in my life. This explains why I used a twenty-two-piece orchestra on a ballad. Everyone has the right to get the blues.
By recording this album, have you purged yourself of negative stuff that haunted your daily life?
Duff: Yes, I think so, and I really needed that. I'm famous, but that doesn't stop me from having some unpleasant moments, humanly speaking. I'm not sheltered from everything...
A few months ago, it seems that you went back on stage to jam with one of your old punk bands, the Fastbacks. Was that a pleasant return to the roots for you?
Duff: I'll stop you right here. I didn't go on stage with this band. This was made up by a journalist who is either a hack or has hallucinations. No, I was just very happy to see that band when I was in Virginia. We talked a lot, and that relieved me from my misery. This encounter reminded me that nothing was taken for granted in the rock world and helped me in how to approach starting out with DUFF. Fuck, come to think of it, at the time I was in the Fastbacks, I also played with two other groups, notorious for causing mayhem. Stuff like that makes you a rocker! I was playing in clubs until 3:00 in the morning, so I had to drop out of high school, although I was a good student.
You are from Seattle, but could you imagine the musical explosion and spotlight that this city has been experiencing lately?
Duff: I would say Seattle actually had a bunch of really good bands, but they're not the ones today's audiences know. Grunge fashion didn't exist ten years ago. At the time I was dressed like a pimp and listened to Grandmaster Flash a lot. All the music fans in town were different from each other, but they all respected each other. Then Seattle and the neighboring city of Vancouver (Canada) went through a decline that was, thankfully, countered a bit by the abrasive punk of D.O.A. or the Subhumans. Seattle is now the epicenter of music, but I could've never imagined it!
Getting back to DUFF, what would it be like for you if this band got very big? Would that annoy you, considering the pressure that you have to go through as a member of Guns N' Roses?
Duff: I don't want to be dealing with the music industry, because "industry" and "music" are two diametrically opposed poles. But it's something you have to deal with, while remaining wary and keeping your feet on the ground. I'm here to show people that I have a band and a good rock album, and I don't want to play for an elite, like the college circuit, for example. Rock must not suffer from hypocrisy and elitism. I do it like the punks; I put my record out, I play and I don't care about the reactions from people who listen to rock to look cool!
(Interview originally published in Hard Force No. 15 - Emmanuel Potts -
️1993)

Blackstar

ADMIN




Posts

: 10551


Plectra

: 71006


Reputation

: 96


Join date

: 2018-03-17



---
Permissions in this forum:
You
cannot
reply to topics in this forum