As reprinted in the 1994 Hard Force GN'R special issue (hors-série). Big thanks to @gnr* for scanning all 100 (!) pages of the issue and posting them here:
https://www.a-4-d.com/t4986-1994-01-dd-hard-force-france-hors-serie-gn-r-issue
---------------------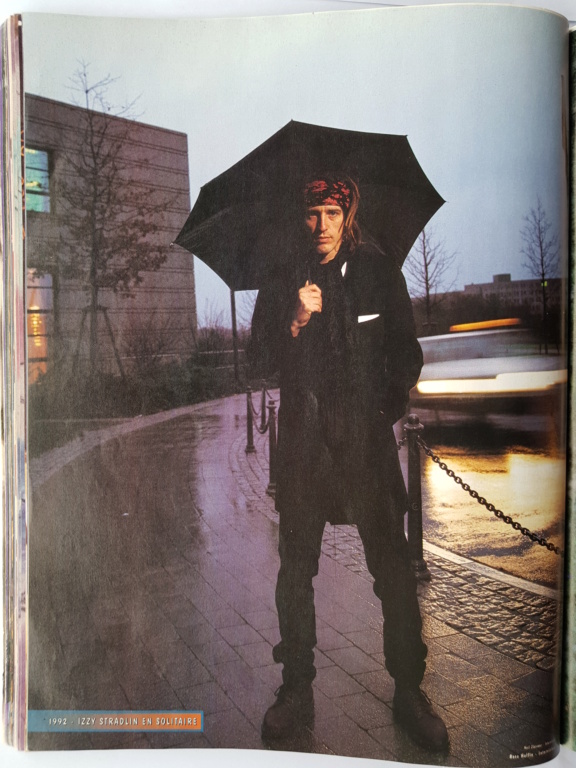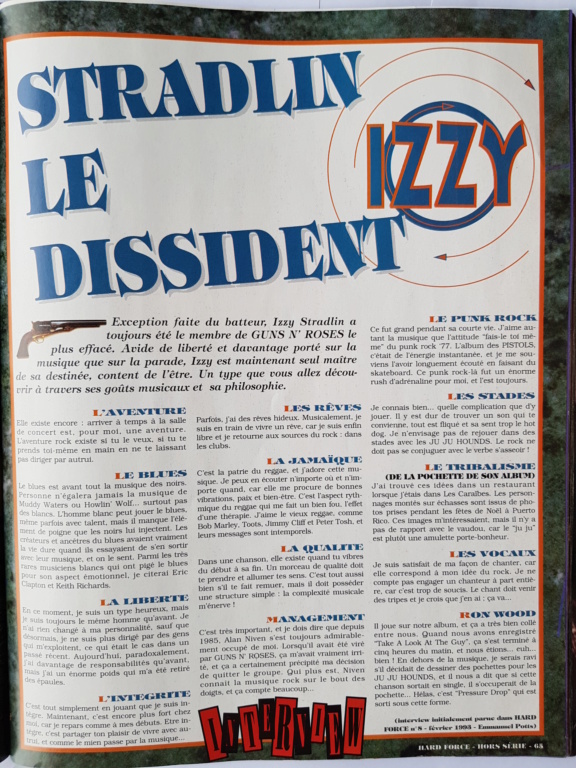 Translation:
----------------
IZZY STRADLIN: THE DISSIDENT
By Emmanuel Potts
With the exception of the drummer, Izzy Stradlin has always been the most self-effacing member of Guns N' Roses. Avid for freedom and more focused on the music than on the image, Izzy is now the sole master of his destiny - and happy to be so. A guy that you're about to discover through his musical tastes and philosophy.
ADVENTURE
Izzy: It's still there. Getting to the concert venue on time is an adventure for me. The rock adventure is there if you want it, if you take charge of your life by not letting yourself be directed by others.
THE BLUES
Izzy: The blues is, above all, black people's music. No one will ever match the music of Muddy Waters or Howlin 'Wolf... especially not white people. White men can play the blues, even with talent sometimes, but they lack the grip element that blacks inject into it. The founders and forefathers of the blues had a really tough time trying to get by with their music, and you can sense that. Eric Clapton and Keith Richards are among the very few white musicians who understood the emotional aspect of the blues.
FREEDOM
Izzy: Right now I'm a happy guy, but I'm still the same person as before. I haven't changed anything in my personality, except that now I am no longer run by people who take advantage of me, which was the case in the recent past. Oddly enough, now I have more responsibilities than before, but a huge weight has been taken off my shoulders.
INTEGRITY
Izzy: My integrity lies simply in playing - even more so now, because it's like going back to when I started. Integrity is sharing your life enjoyment with others, and mine goes through music...
DREAMS
Izzy: Sometimes I have horrible dreams. Musically I'm living a dream, because I'm finally free and back to the roots of rock, to the clubs.
JAMAICA
Izzy: It's the homeland of reggae and I love this music. I can listen to it anywhere and anytime, because it gives me good vibes, peace and well-being. It's the rhythmic aspect of reggae that makes me feel so good; it's therapeutic. I love old reggae, like Bob Marley, Toots, Jimmy Cliff and Peter Tosh, and their message is timeless.
QUALITY
Izzy: There's quality in a song when you vibrate to it from start to end. A quality song should overwhelm you and ignite your senses. It's just as good if it moves you, but it's got to have a simple structure. Musical complexity gets on my nerves!
MANAGEMENT
Izzy: This is very important and I must say that Alan Niven has always looked after me admirably since 1985. I was really irritated when he was fired by Guns N' Roses, and that definitely precipitated my decision to leave the band. Plus, Niven knows rock music like the back of his hand, and that matters a lot...
PUNK ROCK
Izzy: It was great during his short lifespan. I love the music as much as the 'do it yourself' attitude of '77 punk rock. The Pistols album was instant energy; I remember listening to it all the time while skateboarding. This kind of punk rock was a huge adrenaline rush for me; it still is.
THE STADIUMS
Izzy: I'm familiar... it's such a complication to play there. It's hard to get the sound as you want it, everything is monitored and it smells too much like hot dog. I don't plan to play again in stadiums with the Ju Ju Hounds. Rock and the verb "sit" shouldn't be combined!
TRIBALISM (ON HIS ALBUM COVER)
Izzy: I discovered these ideas in a restaurant when I was in The Caribbean. The figures mounted on stilts are from photos taken during the Christmas holidays in Puerto Rico. These images interested me, but there's no connection with voodoo, because "ju ju" is rather a good luck charm.
VOCALS
Izzy: I'm happy with the way I sing, because it matches my idea of rock. I'm not planning on hiring a full-fledged singer, because that's too much to worry about. Singing must come from the guts, and I think I've got some. It's fine...
RON WOOD
Izzy: He plays on our album and we hit it off. When we recorded "Take A Look At The Guy", we were there until 5:00 in the morning, and we were like... oh well! Apart from the music, I'd love it if he decided to design cover art for the Ju Ju Hounds. He told us that if this song came out as a single, he would take care of the cover... Unfortunately, "Pressure Drop" was the song that came out in that form.
(Interview originally published in Hard Force No. 8 - February 1993 - Emmanuel Potts)

Blackstar

ADMIN




Posts

: 9331


Plectra

: 63623


Reputation

: 97


Join date

: 2018-03-17



---
Permissions in this forum:
You
cannot
reply to topics in this forum