Thanks to
@Surge
for sending us this article!
---------------------------------------------------------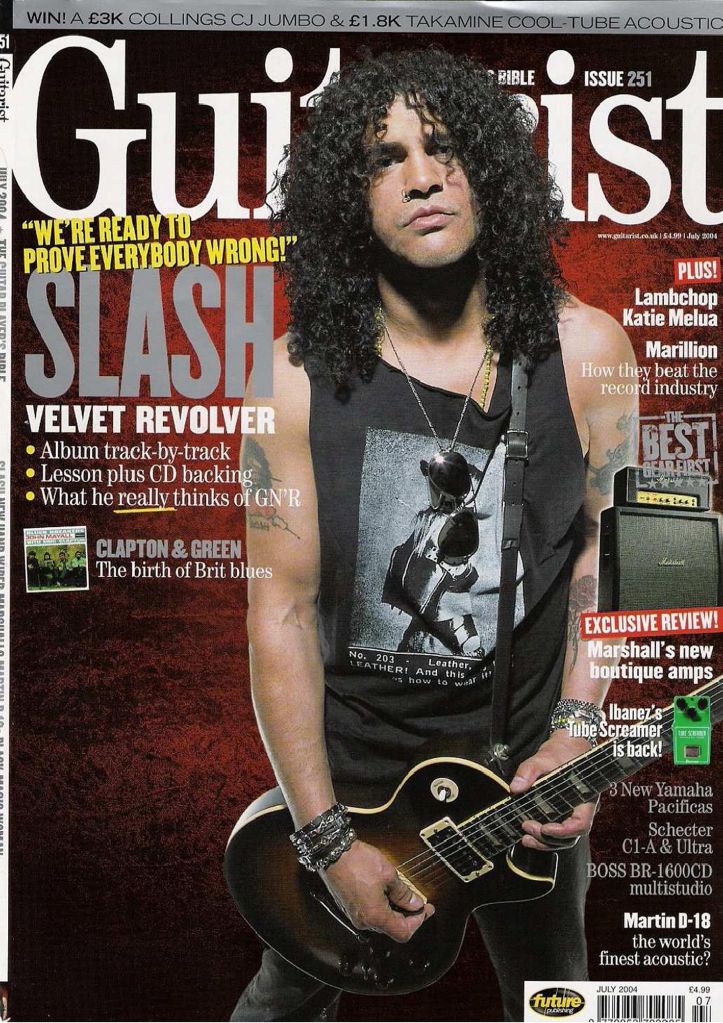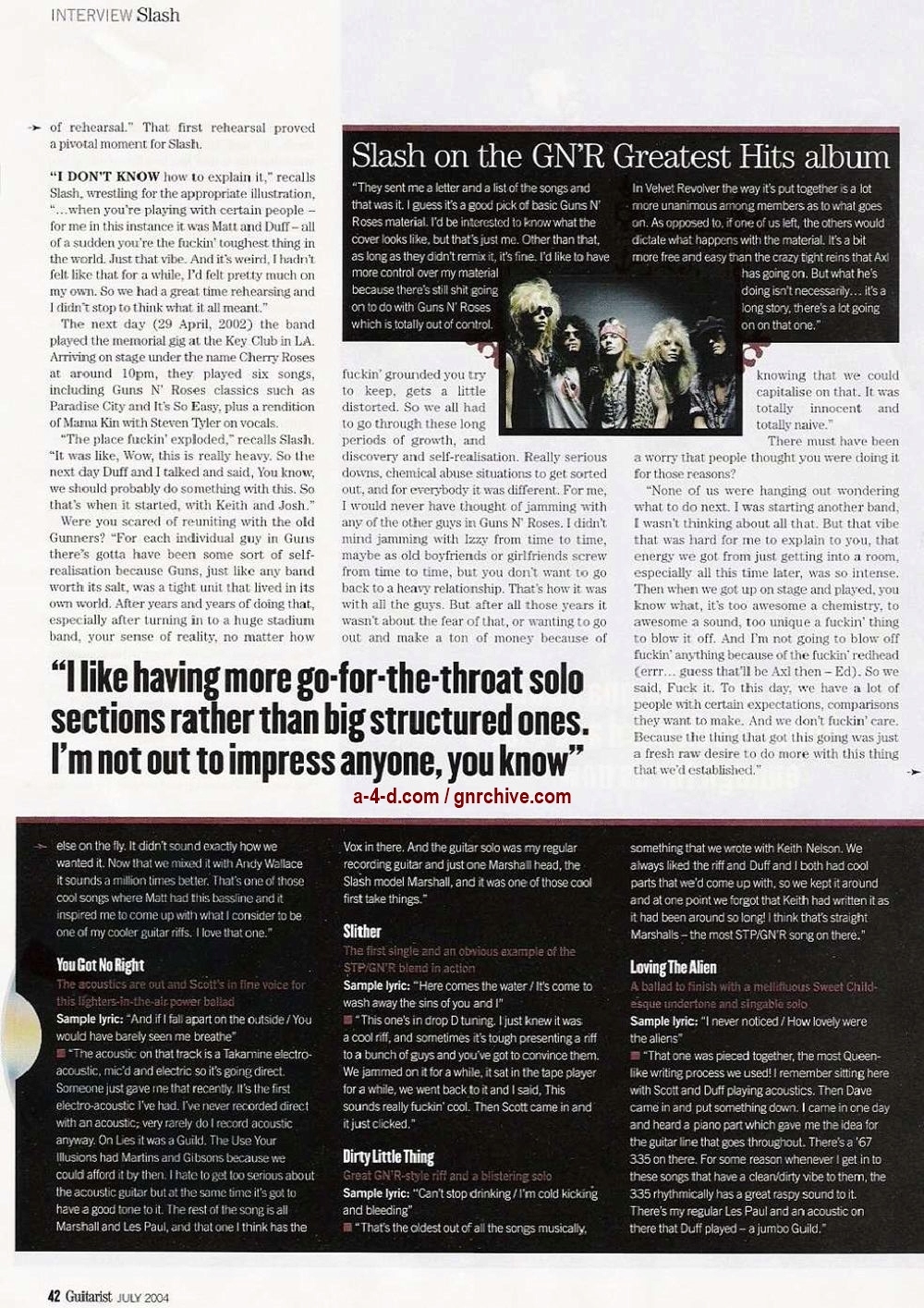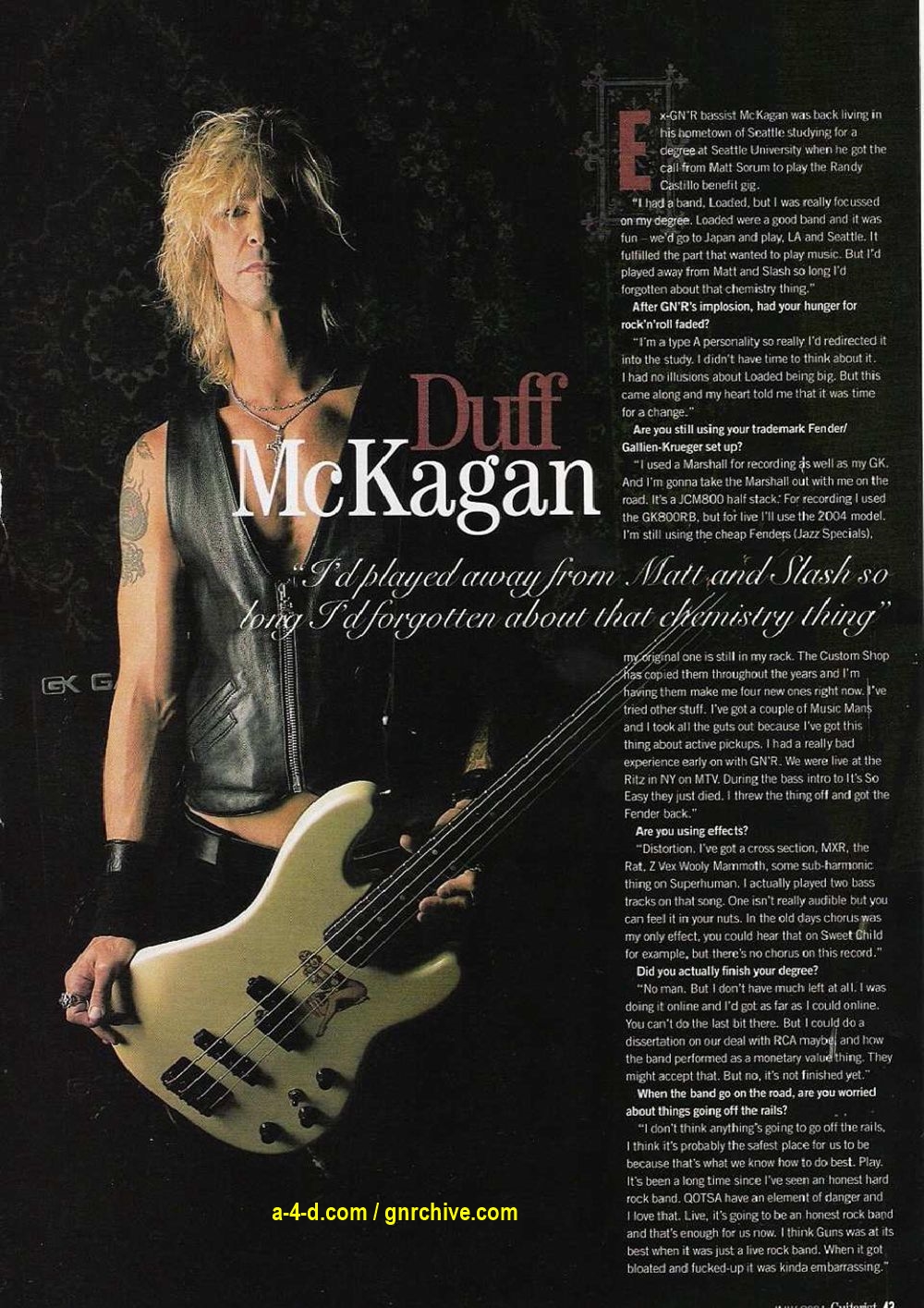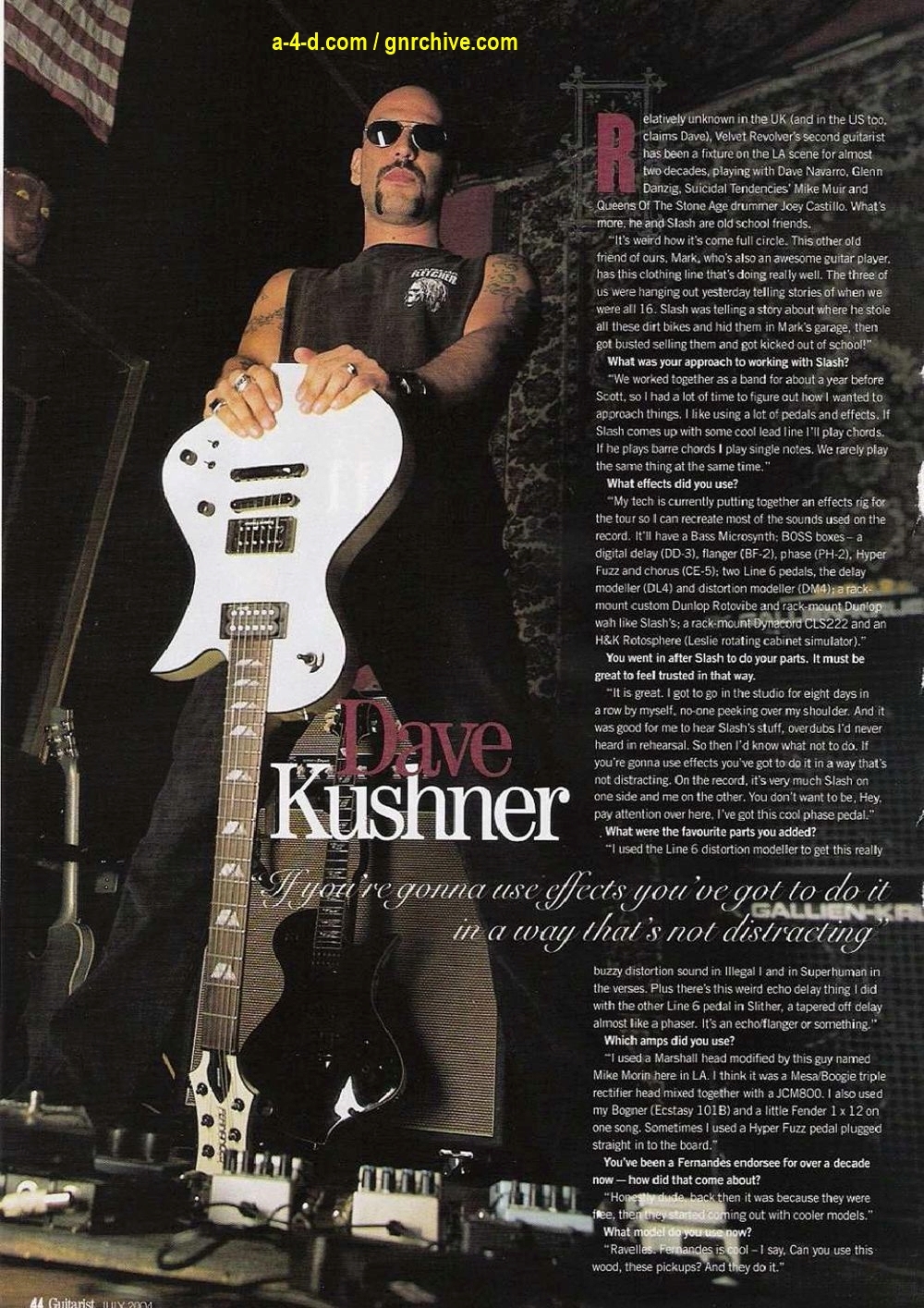 FROM THE EDITOR
Comeback kings... "Slash was one of the true, great guitar heroes of the eighties - can he still cut it?"

Slash may have some keen competition in getting his new band Velvet Revolver heard. Not least from his old band. Guns N' Roses. GN'R's Greatest Hits album sold an astonishing 1.2 million copies in Europe within five weeks of its release, making the now all-but-defunct 'band' one of the surprise hits of 2004. With Appetite For Destruction still selling nearly 10,000 copies a week - some feat for a 17-year-old album - Slash can probably afford for VR to be a relatively low-key project, but credit to him for finally moving on to something new while Axl still twiddles with his ego. Slash's Snakepit albums of the nineties were something of an acquired taste so it will be fascinating to see how his millions of fans react to Velvet Revolver's all-star line-up. Read Guitarist's access-all-areas feature on page 38 and let us know what you think of the band's Contraband album. Slash was one of the true, great guitar heroes of the eighties - can he still cut it? Do you think he's matched his legendary work with Guns?
A cornerstone of Slash's sound, of course, if his Marshall amps, and that company have been busy attempting to match its own past with its new range of 'boutique' combos and heads...
***
Top Gun
Words: Phil Ascott
Portraits: Laurence Baker
It's 10 years since the last classic Guns N' Roses line-up imploded amid acrimony, law suits and heaps of vitriol. Now Slash, Duff McKagan and Matt Sorum have joined forces with former Stone Temple Pilots frontman Scott Weiland to form Velvet Revolver, a band with a new album and a whole new attitude. Here, an invigorated Slash talks about the benefits of live after Axl
There's nothing quite like a new greatest hits package to inject fresh momentum into former band members' bank balances. Which was undoubtedly the case in March this year when Guns N' Roses' Greatest Hits album was released.
After debuting at number two, the album subsequently topped the UK charts, and it has already sold over 600,000 copies in this country alone. More remarkably, the band's debut Appetite For Destruction, released 17 years ago, still sells a staggering 9,000 copies per week worldwide. Kurt Cobain and grunge may have initially killed hair metal stone dead, but years later there's something of a resurgence occurring.
The Darkness are, of course, the obvious carriers of the torch, and their recent video for Love Is Only A Feeling clearly aped GN'R's epic November Rain video, the Hawkins boys strutting around on cliff-tops Slash-style. But with Young Heart Attack, Dirty Americans and the like coming up on the rails, it seems the band's debauched, overblown rock'n'roll spirit is at its most fashionable in years.
Considering the aforementioned sales figures, it's unlikely the members of Guns N' Roses need ever work again. Certainly Axl Rose, who retains the rights to the GN'R moniker despite being the sole original remaining member, is having a good stab. Having released just one new track under his tenure, GN'R's first album of original material since 1991 is still pending. Yet despite the financial security, artistic integrity has led the other Gunners to toil unsuccessfully in an ever-evolving music scene. Slash has released two disappointing albums under the Slash's Snakepit banner while guesting on records by everyone from Alice Cooper to Michael Jackson. Meanwhile, rhythm guitarist Izzy Stradlin has continued a low-key solo career, and bassist Duff McKagan has released a solo album, joined Sex Pistol Steve Jones and Duran Duran man John Taylor in Neurotic Outsiders, before forming a new band Loaded. As for drummer Matt Sorum, who joined Guns in 1990 replacing Steven Adler, he was also a member of Neurotic Outsiders before rejoining his previous band The Cult. Sad but true, for the best part of a decade these ex-Gunners have all been firing blanks.
So in 2002, when rumours began circulating of a new project involving Slash, Duff and Matt, the inevitable seemed to be finally happening. The ex-Gunners had given up on recapturing former glories and were going to head out on the road and live off them instead. After all, Axl was soon to tour doing the same thing, so why shouldn't they get a piece of the action? In fact, the truth was far more intriguing. This was a brand new project - a project which, over the following two years, would entail countless false starts, member changes, police arrests, drug scandals, car crashes and general calamity. A project so ridiculously messed-up it might just be the one that the ex-Gunners could finally be proud to put their name to. A project first named the Project, then Reloaded, and now, finally, Velvet Revolver.
Fast forward to March 2004 and Guitarist has been invited to Velvet Revolver singer Scott Weiland's Lavish rehearsal studio in Burbank, on the outskirts of Los Angeles, to meet the band's main protagonists. On entering the facility, evidence of the former Stone Temple Pilots vocalist's accomplishments are instantly apparent. Gold, silver and platinum discs line the walls; a reminder to us of just how successful the band were Stateside, if not in the UK. Heading in to the main rehearsal area, decorated in bohemian fashion with drapes and throws, we find the band's techs Adam Day and McBob - who've been with Slash and Duff respectively for over 15 years - busy setting up
and checking the band's equipment in preparation for rehearsal later that afternoon. To the left there's a custom Fernandes guitar and a row of effects pedals which must belong to the band's second guitarist Dave Kushner, while over to the right there's a Les Paul and a stack of Marshalls that could only belong to one man - Saul Hudson - better known as Slash.
"Live it's gonna be an honest rock band and that's enough for us now" Duff The man himself arrives soon after, looking fresh, fit and trim. The only thing that's troubling him is that he's lost his wedding ring somewhere, most likely in the car, but he's sure it'll turn up (later Duff tells Slash he thinks it's come off because of the weight he's lost). Generally though, he's in good spirits and extremely keen to talk. And man, can he talk. While you might expect the Jack Daniels to have slowed his enunciation to a slow, cool, spaced-out drawl, Slash's conversation style is actually much more stream-of-consciousness, drifting from on-point to another, then back again with barely a pause. It doesn't take him long to bring Guitarist up to speed on the band's rollercoaster ride to date. Seatbelts on, deep breath, here goes…
In early 2002, Slash was in the process of putting a band together with Steve Gorman, the former Black Crowes drummer. Sadly, while they were in the process of auditioning bass players, their good friend drummer Randy Castillo (who'd played with Motley Crue and Ozzy Osbourne) died. Slash attended the funeral and afterwards he got chatting to Matt Sorum, who mentioned that a fundraiser was being planned for Randy's family. Sorum asked Slash if he'd like to jam at the event. Never one to turn down a jam, he agreed.
"You know me, I'm always up for a jam," Slash laughs, "so I said, Do you want to put a band together?" Matt called former GN'R bassist Duff McKagan, who was living in his hometown of Seattle at the time studying for a business degree. He agreed to take part, also mentioning that his friends Keith Nelson and Josh Todd from Buckcherry weren't doing anything right now and might be able to complete the line-up. "In the back of my mind I'd been thinking abut working with those guys anyway," claims Slash, "so we called them up and we met for one day of rehearsal." That first rehearsal proved a pivotal moment for Slash.
I don't know how to explain it," recalls Slash, wrestling for the appropriate illustration, "…when you're playing with certain people - for me in this instance it was Matt and Duff - all of a sudden you're the fuckin' toughest thing in the world. Just that vibe. And it's weird, I hadn't felt like that for a while, I'd felt pretty much on my own. So we had a great time rehearsing and I didn't stop to think what it all meant."
The next day (29 April, 2002) the band played the memorial gig at the Key Club in LA. Arriving on stage under the name Cherry Roses at around 10pm, they played six songs, including Guns N' Roses classics such as Paradise City and It's So Easy, plus a rendition of Mama Kin with Steven Tyler on vocals.
"The place fuckin' exploded," recalls Slash. "It was like, Wow, this is really heavy. So the next day Duff and I talked and said, You know, we should probably do something with this. So that's when it started, with Keith and Josh."
Were you scared of reuniting with the old Gunners? "For each individual guy in Guns there's gotta have been some sort of self-realisation because Guns, just like any band worth its salt, was a tight unit that lived in its own world. After years and years of doing that, especially after turning in to a huge stadium band, your sense of reality, no matter how fuckin' grounded you try to keep, gets a little distorted. So we all had to go through these long periods of growth, and discovery and self-realisation. Really serious downs, chemical abuse situations to get sorted out, and for everybody it was different. For me, I would never have thought of jamming with any of the other guys in Guns N' Roses. I didn't mind jamming with Izzy from time to time, maybe as old boyfriends or girlfriends screw from time to time, but you don't want to go back to a heavy relationship. That's how it was with all the guys. But after all those years it wasn't about the fear of that, or wanting to go out and make a tone of money because of knowing that we could capitalize on that. It was totally innocent and totally naïve."
There must have been a worry that people thought you were doing it for those reasons?
"None of us were hanging out wondering what to do next. I was starting another band, I wasn't thinking about all that. But that vibe that was hard for me to explain to you, that energy we got from just getting into a room, especially all this time later, was so intense. Then when we got up on stage and played, you know what, it's too awesome a chemistry, to awesome a sound, too unique a fuckin' thing to blow it off. And I'm not going to blow off fuckin' anything because of the fuckin' redhead (err... guess that'll be Axl then - Ed). So we said, Fuck it. To this day, we have a lot of people with certain expectations, comparisons they want to make. And we don't fuckin' care. Because the thing that got this going was just a fresh raw desire to do more with this thing that we'd established."
However, according to Slash this incarnation of the band didn't turn out sounding quite the way he, Duff and Matt had imagined in their collective minds. Perhaps the sound was a little too Guns N' Roses MkII for its original members. Buckcherry had, after all, been dubbed a second-rate GN'R during their existence. But for whatever reason they soon parted company with Keith and Josh and welcomed second guitarist Dave Kushner in to the fray. An old school friend of Slash's, Kushner had played with a number of bands on the LA music scene, and his layered, effects-based style proved a good complement to Slash's straight-ahead ethos.
"Dave experiments with different shit all the time and has all these different wild little sounds that he uses," explains Slash. "And he's really good with it too because he's tasty about it. It's not going on through everything, he just adds here and there."
With Dave on board the band prepared to audition singers. One of the first vocalists they thought of was Scott Weiland, an associate of each band member in one way or another. Dave met Scott when his former band Electric Love Hogs supported STP in the nineties; Matt had been in rehab with him; Duff had become acquainted with him as their wives (both models) had become friends; while Slash and Scott had known each other for years. "It was one of those things," claims Slash, "where, as we didn't know anybody in this business right now who we even like that much, it didn't matter to us if they were in a band or not. It was, Who's the best guy, and he was the guy. But he was still in STP so nothing happened."
And so began a painstaking eight month auditioning process listening to tapes of some 200 singers a week.
"Of course, there were Axl copyists," Slash recalls, "complete fuckin' star-struck dreamer types and really, really accomplished singers who just weren't the right person. It's not like we knew definitely what it was we were after but with out background we'd know it when we heard it. Obviously if you walked in wearing a pair of shorts and Lacoste shirt with a sweater round your neck that wasn't going to be a winner. But we were really open-minded."
There's a good chance we'll be able to see quite how awful some of these wannabes were when the band eventually release footage of the auditioning process, which was recorded for TV channel VH1.
"Yeah, they were there for a lot of it, documenting what was going on. And we're looking to do something with that. They've got this huge amazing story of how it started all the way up to Scott coming in. We're probably gonna add some more stuff to it. A lot of people thought it was some kind of reality TV thing because at the time there was a lot of that going on. But it was more that I wanted to do a really honest 'rockumentary' because it's been so long since anyone put something like that out. When I was a kid that was the coolest shit you could find, a Hendrix documentary, or Cream. To this day the only DVDs I buy are on groups that I love. So that's what we were thinking."
While the auditions were continuing, another former Gunner, Izzy Stradlin, mysteriously began to show up at band rehearsals. Had he joined the band? Was a GN'R reunion even on the cards? Slash sets the record straight
"There was one point when Izzy came in and we wrote a bunch of songs together. Izzy thought, Yeah we'll just sing ourselves , we'll go out book some clubs. Typical Izzy. It was a great idea but my aspirations were far more long term and a lot bigger. Izzy's always been like that. All the way up to when Izzy quit GN'R, when we were doing those stadiums, it was getting a little overwhelming for him. Just kickin' it in the clubs with a couple of beers, that was fine for him."
Luckily, as the search for a singer rumbled painfully on, an opportunity arose for the band to finally work with Weiland. The Stone Temple Pilots were still trying to get out of their deal with Atlantic and sign to a new label but progress was slow and the singer was becoming disillusioned. Slash sent Scott a CD of the material they were working on and it was enough to entice him down to rehearsals.
"We had theses two movies to do songs for and that was the catalyst for getting us together without putting Scott in the position of auditioning," explains Slash. "The first time we ever played live with Scott we'd written Set Me Free. The music was done, we gave it to him, he wrote the words. And he showed up on the day that we had all these film music producers there for our first real live performance. It was funny because you look back on it and think, you guys were crazy, but at the time we just got up there and did it. Cathy Nelson from Universal, who we ended up going with, she had The Italian Job they were talking about Money by Pink Floyd and we were like, Okay we can do that. It was a great way to get everybody together without any real pressure. If it all goes great, great, and if it doesn't, no big deal."
Was it a track you were familiar with personally?
"I knew what it sounded like. I remember learning it when I was stoned when I was about 15, in San Diego on a fuckin' hippy bus my girlfriend's dad used to drive across the country. It was parked at some lake and I do remember trying to learn the whole of the Dark Side Of The Moon album there. Gilmour's great, he's awesome, and I did pay quite a lot of homage to him on that track. I didn't want to make the solo quite as long, I took all the key licks and tied it together to one shorter solo. But I love Gilmour."
From that initial rehearsal, Weiland instantly clicked with the band. "It was funny," says Slash, "the day he walked in to rehearsal it was like, Wow, there's this guy. It was like he'd been in the band for 20 years. He had that certain kind of voice, that certain kind of swagger, and a certain kind of talent. He's very creative, and all that shit made him unique t the rest of us."
"Having recorded their first self-penned track, Set Me Free, for the Hulk soundtrack, Weiland was finally officially confirmed as Velvet Revolver's vocalist in early May of 2003. But on 17 May, just when the band finally seemed on track, Weiland was arrested for a driving offense and a search of his car uncovered drugs and syringes.He was charged with possession of heroin and cocaine. Sadly it was just the latest in a long line of drug offences that have dogged Weiland's career. He had been arrested twice before for drug possession in 1995 and 1997, and served time in prison in 1999 after a heroin overdose put him in violation of his probation terms. In 2002, having separated from his wife and with STP in limbo, he was in the throes of suicidal depression and heroin addiction had reasserted itself once again. Living alone as a recluse, meeting only with his dealer, these were desperate times for Scott. The opportunity to work with Velvet Revolver presented a flicker of light in his pitch-black existence, yet he was still unable to get clean. Having parted company with one apparently unhinged singer, it seemed the ex-Gunners had gained an equally troublesome replacement. And from an outsider's perspective, the idea of one junkie joining a band full of ex-junkies seemed like a recipe for disaster.
"I'm not gonna lie, there were moments of concern there," says Slash, "like, is he gonna be okay? Are we gonna be able to take this to the next level? But he wanted to do it so badly. He was so willing to do what it took to get through this. Plus he wanted to play so fuckin' badly, and write badly, it was fuckin' him up anyway. It was good timing for him to hook up with us when he did. For the most part there was no support from anybody outside of us.
We've all been there and that helped."
Weiland got three years' probation and was also instructed to attend a court drug program, but the band ploughed on regardless and from July onwards they began the recording process. With the music written for 60 odd songs, a tape was made for Scott to pick what he wanted to sing. Once the tracks had been selected and worked on, the band entered the studio in October.
"We were looking for someone to capture the band's sound live. If you can do that, that's 75 per cent of the battle. In the end we chose Josh Abrahams (who's worked with Staind, Limp Bizkit and Courtney Love among others) and Ryan, his recording engineer, because they knew exactly how to get the vocals, the guitars and the drum sound.
We didn't need someone to produce the record. We needed someone to record us. So we co-produced it with Josh."
With the basic tracks recorded at NRG, a studio in North Hollywood, the guitars were then re-done at Pulse, Josh Abrahams' studio.
"I've always gone back to re-record because I hate playing with headphones," admits Slash. "I never get a good sound. I've gotten better at it over the years, but I always go in with the mindset of going back and getting in to the control room and blasting away with huge speakers. The funny thing was I told Josh Abrahams I like to do that but Josh is one of those new school producers and the day I came in to do overdubs there was nothing but small Yamaha NS10s on top of the board. I said, Sorry I need really huge monitors to do this. So one of the songs on the record I recorded through NS10s which you can't crank too loud because they blow up, while waiting for the right sized monitors to come in. It was a different experience for me and the track sounds really good, probably just because I've gotten better, more professional over the years."
Slash continues to use his fake Les Paul - a 1959 replica made by luthier Chris Derrig in the mid-eighties - for recording purposes.
"That was my main Les Paul for the whole record. The thing is, maybe I'm just too single-minded or one dimensional, but as far as an overall rock'n'roll sound goes, for me when you get it right you don't want to fuck around with it too much. I've only got one other guitar that sounds remotely like it and it's built by the same guy and I got it less than a couple of years ago. He's got an amazing catalogue of guitars, he's built some of the prettiest sunburst '59s you've ever seen."
Were the solos planned out at all this time?
"You know, in the early Guns days the solos were a little bit more thought out, I have t admit. As time goes by, I realize that when solo sections get a little bit complex, it gets to sound a bit corny. So most of these are real improve. I think Fall To Pieces had been the same since the first day I wrote it, You Got No Right is now a worked out solo piece but at the time it was spontaneous. I like having more go-for-the-throat solo sections rather than big structured ones. I'm not out to impress anyone, you know." Unfortunately, the recording of Scott's vocals proved rather more time-consuming as, once again, he had fallen foul of the law.
On 27 October, the day of his 36th birthday, Weiland crashed his BMW into several parked cars and attempted to flee the scene. He was charged with hit-and-run offences and driving under the influence. A judge ordered him to a detox facility in Pasadena, then to a lockdown facility. He was given permission to leave for four hours a day under supervision to record with the band, and was tested for drugs on his return. His vocal tracks were eventually completed in late December, and although Weiland remains under supervision at the time of writing, if he can stay drug-free he'll be able to join the band full-time this June. At last, after all the hype and screw-ups, it seems the band are ready to be judged on the music. Tour dates have been announced and the album, Contraband, will be released in the UK on 7 June. The most hyped rock'n'roll band on the planet will be among us very soon, and Slash for one, can't wait.
"I'm pretty fuckin' positive. At this point it could be any one of us to fall off the fuckin' track because we all have the same problems. Or some variation on the theme. Basically we're all in this together so we stuck it out and we all went through it together. Everyone was saying, You'll never pull it off, it'll never happen. We fought against that all the way. And we're ready to prove them wrong!
***
Slash on the GN'R Greatest Hits Album
"They sent me a letter and a list of the songs and that was it. I guess it's a good pick of basic Guns N' Roses material. I'd be interested to know what the cover looks like, but that's just me.
Other than that, as long as they didn't remix it, it's fine. I'd like to have more control over my material because there's still shit going on to do with Guns N' Roses which is totally out of control. In Velvet Revolver the way it's put together is a lot more unanimous among members as to what goes on. As opposed to, if one of us left, the others would dictate what happens with the material. It's a bit more free and easy than the crazy tight reins that Axl has going on. But what he's doing isn't necessary... it's a long story, there's a lot going on on that one."
***
Slash on his new Signature Les Paul
"Gibson based it on a 1987 Standard that's been my main live guitar ever since then, I remember I bought it at cost from Gibson back then when Guns were on their first big tour. I've never found a guitar that sounds quite like it. So that's the model we used. The main addition is definitely the piezo system. I can flick this switch and go to an acoustic, so it's definitely a live guitar. Actually, that song we were talking about earlier, You Got No Right, that's sort of what inspired it because it's got that acoustic beginning. I've only got two prototypes here. I'm gonna get some morey and try to find the one that's got the perfect sound. Also, I think we're gonna dull the finish up a little bit, and that's gonna be the one that's commercially available."
Which amps did you use?
"I used a Marshall head modified by this guy named Mike Morin here in LA. I think it was a Mesa/Boogie triple rectifier head mixed together with a JCM800. I also used my Bogner (Ectasy 101B) and a little Fender 1 * 12 on one song. Sometimes I used a Hyper Fuzz pedal plugged straight in to the board."
The Guitar's Spec:
Body
Top wood: Carved maple
Back wood: Single mahogany
Binding: Single-ply cream on top
Available left-handed: No
Finish Colours: Custom Authentic Dark Tobacco Sunburst
Neck
Neck construction: One-piece mahogany with long neck tenon
Fingerboard wood: 22 fret rosewood
Inlays: Acrylic trapezoid
Binding: Single-ply cream
Profile: Slash custom
Scale length/nut witdh (inches):24.75/1.69
Strings: Brite Wires .010-.046
Electronics & Hardware
Pickups: Seymour Duncan Alnico Pro II humbuckers, Fishman Powerbridge
Controls: Two volume, two tone, three-way switch, three-way mini-toggle for Fishman
Hardware colour: Aged nickel
Bridge/Tailpiece: TOM with Fishman/Stopbar
Tuner Style: Vintage tulip
All specs are subject to change
***
Slash on session work
"The most recent guy I played with isn't a guitar player at all but he humbled my whole trip, and that was Ray Charles. I put a guitar solo on something for him. He's a no bullshit, no frills, amazing talent. Besides this one song I recorded, I did some bits for this movie he's got coming out and I had to play with his band. They sent me these chord charts and I was like, OH man. I remember Ray turning round and saying (adopts a squeaky Souther US accent), Yeah, you don't really got the knack for that do you, boy.
But of all the guys I've jammed with, the coolest one to date for me personally was Keith Richards. That was for all of maybe 10 minutes or something. But they're all cool, that's one of the great things about going out there and doing it. I try to do it a lot, whenever I can."
Slash STYLE FILE
As Slash returns with Velvet Revolver, we re-live those Guns N' Roses glory days
Despite a successful career as the leader of Slash's Snakepit and now Velvet Revolver )as well as numerous outings as a first-call session player) the guitarist originally known as Saul Hudson is still best known for his time with Guns N' Roses. His style is the epitome of that band; a mixture of bluesy Stones filth and slick modern rock, held together with swaggering self-confidence. As the original GN'R sound was so influential, this piece concentraes on that aspect of Slash's career. The imporant thing to remember is that the band's sound wasn't just about Slash's playing; the songs depend on the supple rhythm section of Steven Adler and Duff McKagan and Izzy Stradlin's vintage rhythm guitar tones.
RECOMMENDED ALBUM
APPETITE FOR DESTRUCTION (1987)
Arriving in a music world full of plastic primary coloured pop and pretty boy rock stars, the first Guns N' Roses album offered a welcome return to filthy guitar sounds and dangerous, hard-living characters.
GEAR
Gibson Les Paul and Marshall JCM800. Slash has signature models of both.
***
Duff McKagan
"I'd played away from Matt and Slash so long I'd forgotten about that chemistry thing"
Ex-GN'R bassist McKagan was back living in his hometown of Seattle studying for a degree at Seattle University when he got a call from Matt Sorum to play the Randy Castillo benefit gig.
"I had a band, Loaded, but I was really focused on my degree. Loaded were a good band and it was fun - we'd go to Japan and play, LA and Seattle. It fullfilled the part that wanted to play music. But I'd played away from Matt and Slash so long I'd forgotten about that chemistry thing."
After GN'R's implosion, had your hunger for rock'n'roll faded?
"I'm a type A personality so really I'd redirected it in to the study. I didn't have time to think about it. I had no illusions about Loaded being big. But this came along and my heart told me that it was time for a change."
Are you still using your trademark Fender/Gallien-Krueger set up?
"I used a Marshall for recording as well as my GK. And I'm gonna take the Marshall out with me on the road. It's a JCM800 half stack. For recording, I used the GK800RB, but for live I'll use the 2004 model. I'm still using the cheap Fenders (Jazz Specials), my original one is still in my rack. The custom Shop has copied them throughout the years and I'm having them make me four new ones right now. I've tried other stuff. I've got a couple of Music mans and I took all the guts out because I've got this thing about active pickups. I had a really bad experience early on with GN'R. We were live at the Ritz in NY on MTV. During the Bass into to It's So Easy they just died. I threw the thing off and got the Fender back."
Are you using effects?
"Distortion. I've got a cross section, MXR, the Rat, Z Vex Wooly Mammoth, some sub-harmonic thing on Superhuman. I actually played two bass tracks on that song. One isn't really audible but you can feel it in your nuts. In the old days chorus was my only effect, you could hear that on Sweet Child for example, but there's no chorus on this record."
Did you actually finish your degree?
"No man. But I didn't have much left at all. I was doing it online and I'd got as far as I could online. You can't do the last bit there. But I could do a dissertation on our deal with RCA maybe, and how the band performed as a monetary value thing. They might accept that. But no, it's not finished yet."
When the band go on the road, are you worried about things going off the rails?
"I don't think anything's going to go off the rails, I think it's probably the safest place for us to be because that's what we know how to do the best. Play. It's been a long time since I've seen an honest hard rock band. QOTSA have an element of danger and I love that. Live, it's going to be an honest rock band and that's enough for us now. I think Guns was at its best when it was just a live rock band. When it got bloated and fucked-up it was kinda embarrassing."
You've been a Fernandes endorsee for over a decade now - how did that come about?
"Honestly dude, back then it was because they were free, then they started coming out with cooler models."
What model do you use now?
"Ravelles. Fernandes is cool - I say, Can you use this wood, these pickups? And they do it."
***
Dave Kushner
"If you're gonna use effects you've got to do it in a way that's not distracting"
Relatively unknown in the UK (and in the US too, claims Dave), Velvet Revolver's second guitarist has been a fixture on the LA scene for almost two decades, playing with Dave Navarro, Glenn Danzig, Suicidal Tendencies' Mike Nuir and Queens Of The Stone Age drummer Joey Castillo. What's more, he and Slash are old school friends.
"It's weird how it's come full circle. This other old friend of ours, Mark, who's also an awesome guitar player, has this clothing line that's doing really well. The three of us were hanging out yesterday telling stories of when we were all 16. Slash was telling a story about where he stole all these dirt bikes and hid them in Mark's garage, then got busted selling them and got kicked out of school!"
What was your approach to working with Slash?
"We worked together as a band for about a year before Scott, so I had a lot of time to figure out how I wanted to approach things. I like using a lot of pedals and effects. If Slash comes up with some cool lead line I'll play chords. If he plays barre chords I play single notes. We rarely play the same thing at the same time."
You went in after Slash to do your parts. It must be great to feel trusted in that way.
"It is great. I got to go in the studio for eight days in a row by myself, no-one peeking over my shoulder. And it was good for me to hear Slash's stuff, overdubs I'd never heard in rehearsal. So then I'd know what not to do. If you're gonna use effects you've got to do it in a way that's not distracting. On the record, it's very much Slash on one side and me on the other. You don't want to be, Hey, pay attention over here, I've got this cool phase pedal."
What were the favorite parts you added?
"I used the Line 6 distortion modeller to get this really buzzy distortion sound in Illegal I and in Superhuman in the verses. Plus there's this weird echo delay thing I did with the other Line 6 pedal in Slither, a tapered off delay almost like a phaser. It's an echo/flanger or something."
***
Slash, Bassist Duff McKagan and drummer Matt Sorum may have long ago parted ways with Guns N' Roses, but one thing is obvious: They still have deadly aim.

This past June, Contraband, the debut album from their new group, Velvet Revolver, shot to the Number One slot on the Billboard album chart after selling mroe than a quarter million copies in its first week. Simultaneously, the group, which also features Wasted Youth guitarist Dave Kushner and Stone Temple Pilots singer Scott Weiland, dominated Billboard's Mainstream Rock Tracks chart with the album's first single, "Slither."

Reached in the middle of Velvet Revolver's first North American tour, Slash offer his insights to Contraband's 13 tracks and weighed in on Guns N' Roses' Greatest Hits, which has been hovering at the top of the charts since its release last March.
Track-by-track
Slash on the 13 songs that make up Contraband
Sucker Train Blues
Bluesy riffer with a punk edge and a classic Slash wah solo
Sample lyric: "Don't look at me now / Fell too fast your wings won't hold"
"That was basically one of my riffs. When I finally presented it to the band it was 10 times as slow, then the whole thing was speeded up. The song was very different from me because I recorded on an old fifties Telecaster and I did on a '65 Strat. I also put a baritone Music Man on there underneath as well.
"Live I'll use a BC Rich with a bar on it. I don't trust Stratocasters enough. I had the best Strat ever at one point in my life but I took it apart so many times and one time I just never got it back the right way. For me personally, the're just not dependable enough, especially live."
Do It for the Kids
Dirty rock riff, melodic chorus and a nippy solo
Sample lyric: "Went too fast I'm out of luck/ And I don't even give a fuck"
"That's another riff I brought in and that one was re-hashed by the whole band. It started out with this Middle Eastern vibe but it took on a different light when Scott started singing it so we changed some things around. In the end we took all those bits out and left in the hard parts. It's totally straight Les Paul/Marshall (when Slash says Marshall, he's referring to three Marshall heads blended; his Slash Signature Series model, a mid-eighties JCM800 with 65/50 output tubes and a 1973/1987 model four-input non-master volume head in to a Marshall 100W cabinet). Even the solo is with my regular rhythm sound. It's a fast solo but real clean with no distortion or gain. It's my regular everyday sound."
Big Machine
Bass-driven industrial piledriver.
Sample lyric: "All that first class jet set brings me down/ All that first class drug shit brings me down"
"That one's Duff's. For me that's the first time I used a VoxAC30. I've been using Marshalls for so long I've never really fucked around with anything else. But I had this idea of mixing a Vox with a Marshall and seeing what happened. To try to get something to fit that type of song. It's a real simple song but it needed to have a huge sound. Dave had a lot going on as well - a lot of low end."
Illegal I
Another heavy industrial riffer with some huge sustained bends in the solo
Sample lyric: "It's killing time on the streets / All hate Sunday"
"One of Dave's riffs. I love that song too. There's a mid-section in there where I used this weird harmoniser pedal with little EQs on it. I think the big sustained bends in the solo are my new thing. When we were doing that Pink Floyd song I discovered a pedal, an old beat-up Vox wah distortion. It was the most insane sounding thing and I fell in love with it. when we did this particular song we managed to get that crazy out-of-control guitar sound and I'm trying to incorporate that into my live sound. It's exciting."
Spectacle
A punky number with anthemic chorus and another speedy solo
Sample lyrics: "You lied about it/Bled another heart/Then Began to fall apart"
"That's Matt's song. It was written pretty quickly, Scott wrote the lyrics after we recorded the music. That's the one where I used the tiny Fender Champ and an Ibanez Tube Screamer for the solo, with just Yamahas for monitors. I made it up on the spot."
Fall To Pieces
The big ballad, and more of those big sustained bends
Sample lyrics: "Every time I'm falling down/ All Alone I fall to pieces"
"That was one of the songs where a lot of different people came in and sang it and it always sounded like a top 40 song. But when Scott came in and sang it he was going through all this shit and trying to get his life back together and he wrote these lyrics and the way they fitted the music was chilling. And that was the same night that he got arrested, so it's a poignant timepiece for us. It's Les Paul and Marshall - the guitar solo is the tone turned off on the bass pickup. I think I used an old '56 Goldtop for the clean parts and there's a Gibson 12-string on there in the bridge."
Headspace
Great into riff but after that the track falters
Sample lyric: "Free my mind, levitate/Don't let any of those fuckers in my headspace"
"That's the recording where we first tried out Josh Abraham and we never re-recorded it (laughs). I think Duff actually came up with the first riff."
Superhuman
Spiky single-note riff dominates another industrial-tinged rocker
Sample lyric: "Cocaine/Alchohol/Lady-lay/Withdrawal"
"It's my guitar riff and Duff's bassline that inspired it. It's my Les Paul, but I did have chorus on the riff just to stop it sounding too flat. It's pretty unique but it's hard to play. We played it the other day and I'm like, Okay I can do this. It's a quirky kind of thing and you just have to get used to it. Now we're in rehearsal we'll keep playing until it sounds good. The other day the guys didn't feel like playing it anymore and I'd be like, Can we play it a couple more times so I can get this riff down?"
Dirty Little Thing
Great GN'R style riff and a blistering solo
Sample lyric: "Can't stop drinking/ I'm cold kicking and bleeding"
"That's the oldest of all the songs musically, something that we wrote with Keith Nelson. We always liked the riff and Duff and I both had cool parts that we'd come up with, so we kept it around and at one point we forgot that Keith had written it as it had been around so long! I think that's straight Marshalls - the most STP/GN'R song on there."
Set Me Free
Re-mixed version of previously released track
Sample lyric: "Set me free/Cause I think you ned my soul"
"It was Matt's song. I think it sounds great, but the version that's in the movie was mixed by somebody else on the fly. It didn't sound exactly how we wanted it. Now that we mixed it with Andy Wallace it sounds a million times better. That's one of those cool songs where Matt had this bassline and it inspired me to come up with what I consider to be one of my cooler guitar riffs. I love that one."
You Got No Right
The acoustics are out and Scott's in fine voice for this lighters-in-the-air power ballad
Sample lyric: "And if I fall apart on the outside/ You would have barely seen me breathe"
The acoustic on that track is a Takamine electro-acoustic, mic'd and electric so it's going direct. Someone just gave me that recently. It's the first electro-acoustic; very rarely do I record acoustic anyway. On Lies it was a Guild. The Use Your Illusions had Martin and Gibsons because we could afford it by then. I hate to get too serious about the acoustic guitar but at the same time it's got to have a good tone to it. The rest of the song is all Marshall and Les Paul, and that one I think has the Vox in there. And the guitar solo was my regular recording guitar and just one Marshall head, the Slash model Marshall, and it was one of those cool first take things."
Slither
The first single and an obvious example of the STP/GN'R blend n action
Sample lyric: "Here comes the water/ It's come to wash away the sins of you and I"
"This one's in drop D tuning. I just knew it was a cool riff, and sometimes it's tough presenting a riff to a bunch of guys and you've got to convince them. We jammed on it for a while, it sat in the tape player for a while, we went back to it and I said, This sounds really fuckin' cool. Then Scott came in and it just clicked."
Loving The Alien
A ballad to finish with a mellifluous Sweet Child-esque undertone and singable solo
Sample lyric: "I never noticed/ How lovely were the aliens"
"That one was pieced together, the most Queen-like writing process we used! I remember sitting here with Scott and Duff playing acoustics. Then Dave came in and put something down. I came in one day and heard a piano part which gave me the idea for the guitar line that goes throught. There's a '67 335 on there. For some reason whenever I get in to these songs that have a clean/dirty vibe to them, the 335 rhythmically has a great raspy sound to it. There's my regular Les Paul and an acoustic on there that Duff played - a jumbo Guild."
***
Review of Contraband
The most eagerly awaited album of recent times is finally here. In today's climate of tight security, with record companies attempting to ensure that their music doesn't appear anywhere that it shouldn't, it's something of a surprise that we've actually received a copy of this opus. Still, that's nothing compared to the struggle the band themselves have experienced in even getting thus far and we're sure they're also glad that the album's finally out there. Full of riffs, attitude, a raw yet highly professional production job and Scott Weiland's occasional inadvertant (we hope...) Axl impressions, this is the album GN'R should have made after their monumental debut. Although the music isn't quite as good as Appetite...it's certainly better than most of us ever dared hope and we wish with our collective blood pumps that the band - and Weiland in particular - keep it together long enough for a follow-up.

Blackstar

ADMIN




Posts

: 12210


Plectra

: 80073


Reputation

: 97


Join date

: 2018-03-17



---
Permissions in this forum:
You
cannot
reply to topics in this forum