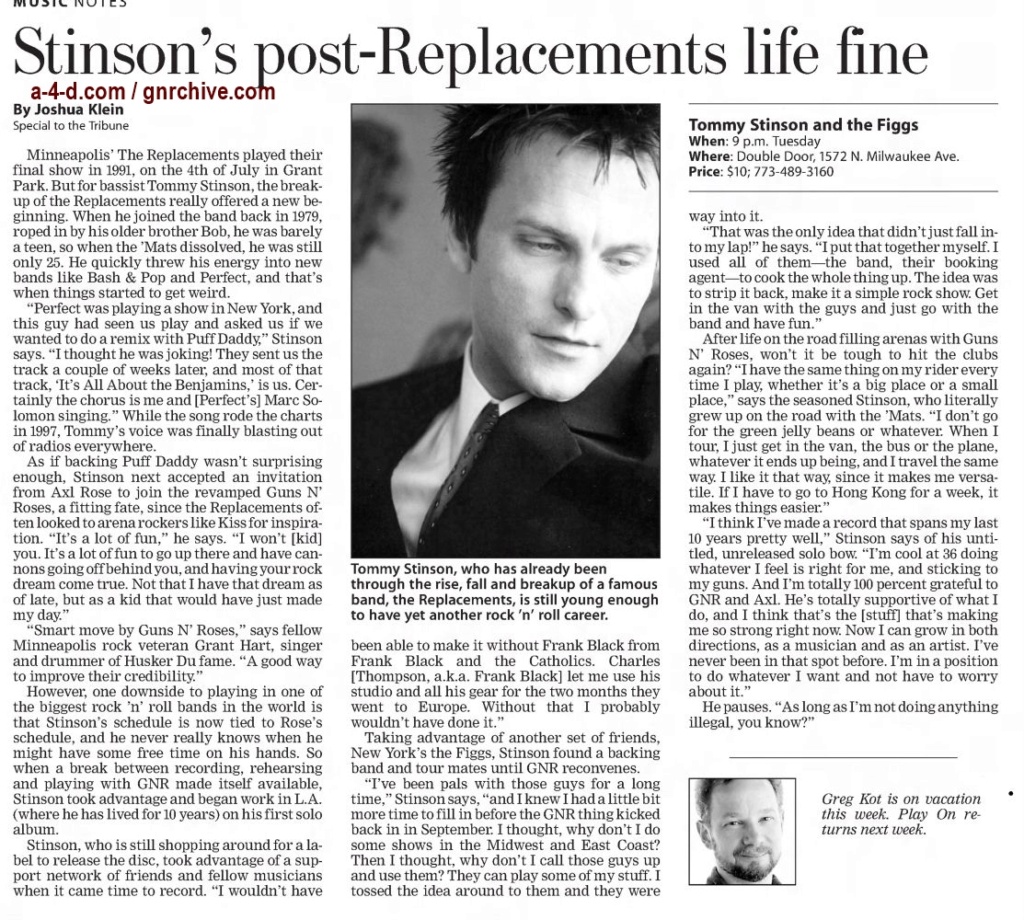 Stinson's post-Replacements life fine
By Joshua Klein
Special to the Tribune
Minneapolis' The Replacements played their final show in 1991, on the 4th of July in Grant Park. But for bassist Tommy Stinson, the breakup of the Replacements really offered a new beginning. When he joined the band back in 1979, roped in by his older brother Bob, he was barely a teen, so when the 'Mats dissolved, he was still only 25. He quickly threw his energy into new bands like Bash & Pop and Perfect, and that's when things started to get weird.
"Perfect was playing a show in New York, and this guy had seen us play and asked us if we wanted to do a remix with Puff Daddy," Stinson says. "I thought he was joking! They sent us the track a couple of weeks later, and most of that track, 'It's All About the Benjamins,' is us. Certainly the chorus is me and [Perfect's] Marc Solomon singing." While the song rode the charts in 1997, Tommy's voice was finally blasting out of radios everywhere.
As if backing Puff Daddy wasn't surprising enough, Stinson next accepted an invitation from Axl Rose to join the revamped Guns N' Roses, a fitting fate, since the Replacements often looked to arena rockers like Kiss for inspiration. "It's a lot of fun," he says. "I won't [kid] you. It's a lot of fun to go up there and have cannons going off behind you, and having your rock dream come true. Not that I have that dream as of late, but as a kid that would have just made my day."
"Smart move by Guns N' Roses," says fellow Minneapolis rock veteran Grant Hart, singer and drummer of Husker Du fame. "A good way to improve their credibility."
However, one downside to playing in one of the biggest rock 'n' roll bands in the world is that Stinson's schedule is now tied to Rose's schedule, and he never really knows when he might have some free time on his hands. So when a break between recording, rehearsing and playing with GNR made itself available, Stinson took advantage and began work in L. A. (where he has lived for 10 years) on his first solo album.
Stinson, who is still shopping around for a label to release the disc, took advantage of a support network of friends and fellow musicians when it came time to record. "I wouldn't have been able to make it without Frank Black from Frank Black and the Catholics. Charles [Thompson, a.k.a. Frank Black] let me use his studio and all his gear for the two months they went to Europe. Without that I probably wouldn't have done it."
Taking advantage of another set of friends, New York's the Figgs, Stinson found a backing band and tour mates until GNR reconvenes.
"I've been pals with those guys for a long time," Stinson says, "and I knew I had a little bit more time to fill in before the GNR thing kicked back in in September. I thought, why don't I do some shows in the Midwest and East Coast? Then I thought, why don't I call those guys up and use them? They can play some of my stuff. I tossed the idea around to them and they were way into it.
"That was the only idea that didn't just fall into my lap!" he says. "I put that together myself. I used all of them—the band, their booking agent—to cook the whole thing up. The idea was to strip it back, make it a simple rock show. Get in the van with the guys and just go with the band and have fun."
After life on the road filling arenas with Guns N' Roses, won't it be tough to hit the clubs again? "I have the same thing on my rider every time I play, whether it's a big place or a small place," says the seasoned Stinson, who literally grew up on the road with the 'Mats. "I don't go for the green jelly beans or whatever. When I tour, I just get in the van, the bus or the plane, whatever it ends up being, and I travel the same way. I like it that way, since it makes me versatile. If I have to go to Hong Kong for a week, it makes things easier."
"I think I've made a record that spans my last 10 years pretty well," Stinson says of his untitled, unreleased solo bow. "I'm cool at 36 doing whatever I feel is right for me, and sticking to my guns. And I'm totally 100 percent grateful to GNR and Axl. He's totally supportive of what I do, and I think that's the [stuff] that's making me so strong right now. Now I can grow in both directions, as a musician and as an artist. I've never been in that spot before. I'm in a position to do whatever I want and not have to worry about it."
He pauses. "As long as I'm not doing anything illegal, you know?"

Blackstar

ADMIN




Posts

: 9568


Plectra

: 65464


Reputation

: 97


Join date

: 2018-03-17



---
Permissions in this forum:
You
cannot
reply to topics in this forum