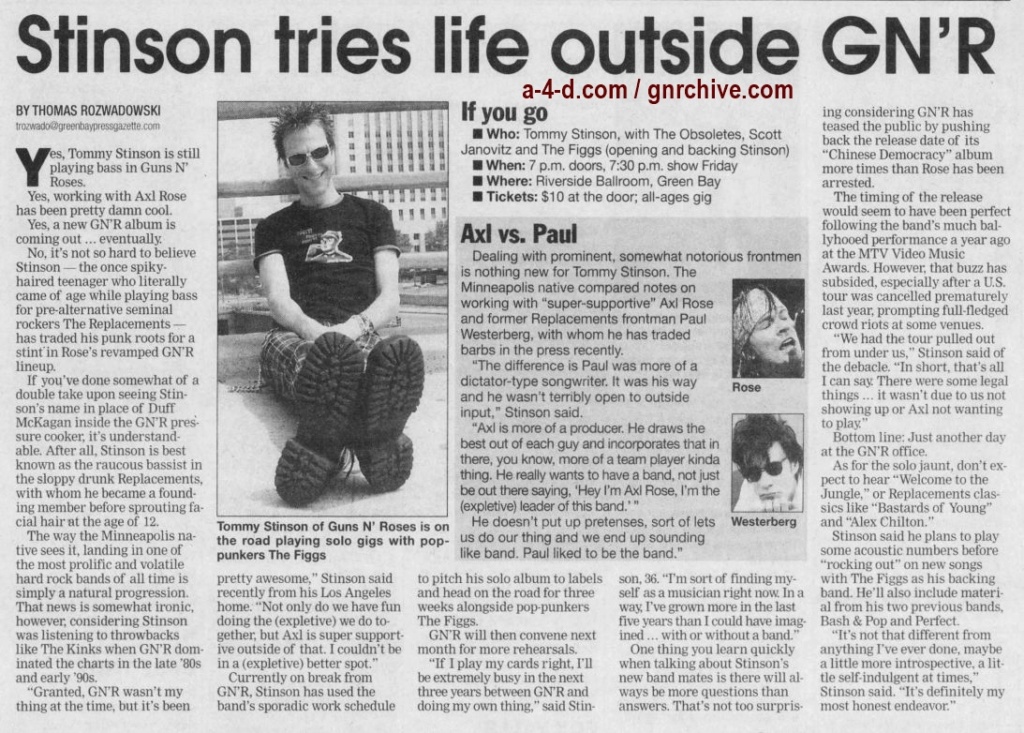 Stinson tries life outside GN'R
BY THOMAS ROZWADOWSKI
Yes, Tommy Stinson is still playing bass in Guns N' Roses.
Yes, working with Axl Rose has been pretty damn cool.
Yes, a new GN'R album is coming out... eventually. No, it's not so hard to believe Stinson — the once spiky-haired teenager who literally came of age while playing bass for pre-alternative seminal rockers The Replacements — has traded his punk roots for a stint in Rose's revamped GN'R lineup.
If you've done somewhat of a double take upon seeing Stinson's name in place of Duff McKagan inside the GN'R pressure cooker, it's understandable. After all, Stinson is best known as the raucous bassist in the sloppy drunk Replacements, with whom he became a founding member before sprouting facial hair at the age of 12.
The way the Minneapolis native sees it, landing in one of the most prolific and volatile hard rock bands of all time is simply a natural progression. That news is somewhat ironic, however, considering Stinson was listening to throwbacks like The Kinks when GN'R dominated the charts in the late '80s and early '90s.
"Granted, GN'R wasn't my thing at the time, but it's been pretty awesome," Stinson said recently from his Los Angeles home. "Not only do we have fun doing the (expletive) we do together, but Axl is super supportive outside of that. I couldn't be in a (expletive) better spot." Currently on break from GN'R, Stinson has used the band's sporadic work schedule to pitch his solo album to labels and head on the road for three weeks alongside pop-punkers The Figgs. GN'R will then convene next month for more rehearsals.
"If I play my cards right, I'll be extremely busy in the next three years between GN'R and doing my own thing," said Stinson, 36. "I'm sort of finding myself as a musician right now. In a way. I've grown more in the last five years than I could have imagined ... with or without a band."
One thing you learn quickly when talking about Stinson's new band mates is there will always be more questions than answers. That's not too surprising considering GN'R has teased the public by pushing back the release date of its "Chinese Democracy" album more times than Rose has been arrested.
The timing of the release would seem to have been perfect following the band's much ballyhooed performance a year ago at the MTV Video Music Awards. However, that buzz has subsided, especially after a U.S. tour was cancelled prematurely last year, prompting full-fledged crowd riots at some venues.
"We had the tour pulled out from under us," Stinson said of the debacle. "In short, that's all I can say. There were some legal things ... it wasn't due to us not showing up or Axl not wanting to play."
Bottom line: Just another day at the GN'R office.
As for the solo jaunt, don't expect to hear "Welcome to the Jungle," or Replacements classics like "Bastards of Young" and "Alex Chilton."
Stinson said he plans to play some acoustic numbers before "rocking out" on new songs with The Figgs as his backing band. He'll also include material from his two previous bands, Bash & Pop and Perfect.
"It's not that different from anything I've ever done, maybe a little more introspective, a little self-indulgent at times," Stinson said. "It's definitely my most honest endeavor."
Axl vs. Paul
Dealing with prominent, somewhat notorious frontmen is nothing new for Tommy Stinson. The Minneapolis native compared notes on working with "super-supportive" Axl Rose and former Replacements frontman Paul Westerberg, with whom he has traded barbs in the press recently.
"The difference is Paul was more of a dictator-type songwriter. It was his way and he wasn't terribly open to outside input," Stinson said.
"Axl is more of a producer. He draws the best out of each guy and incorporates that in there, you know, more of a team player kinda thing. He really wants to have a band, not just be out there saying, 'Hey I'm Axl Rose, I'm the (expletive) leader of this band.' "
He doesn't put up pretenses, sort of lets us do our thing and we end up sounding like band. Paul liked to be the band."

Blackstar

ADMIN




Posts

: 9575


Plectra

: 65519


Reputation

: 97


Join date

: 2018-03-17



---
Permissions in this forum:
You
cannot
reply to topics in this forum