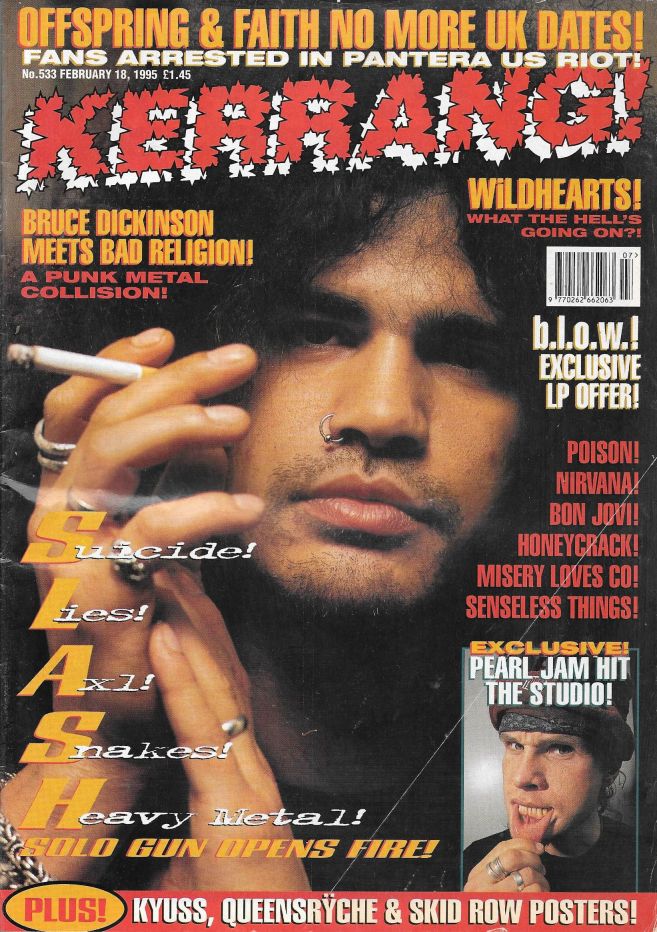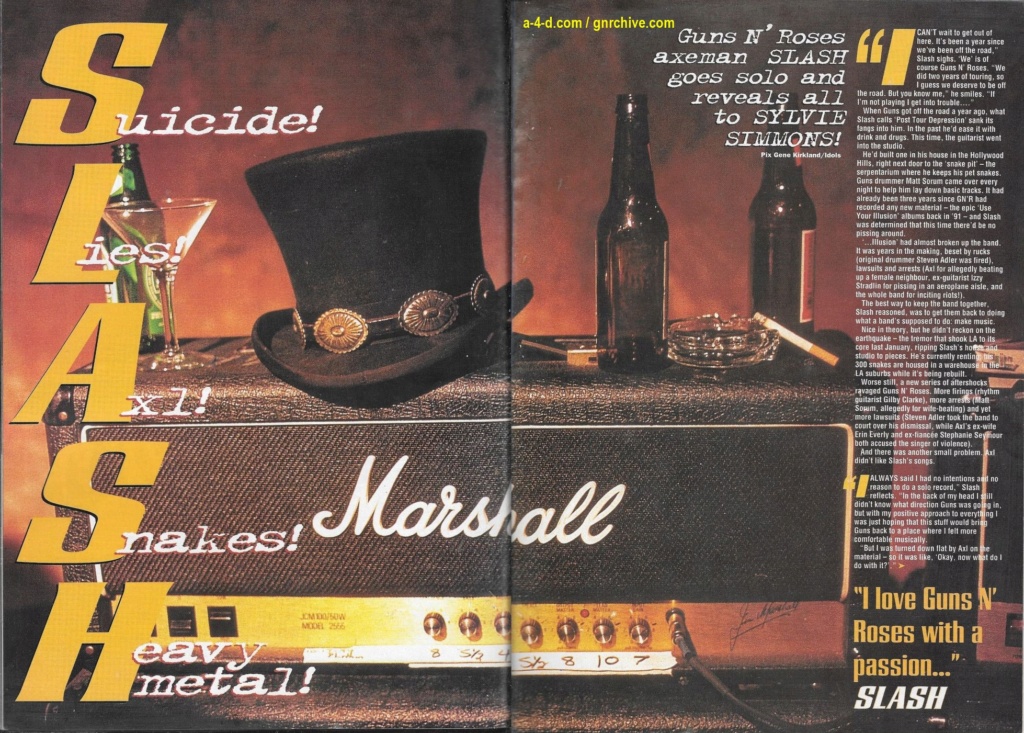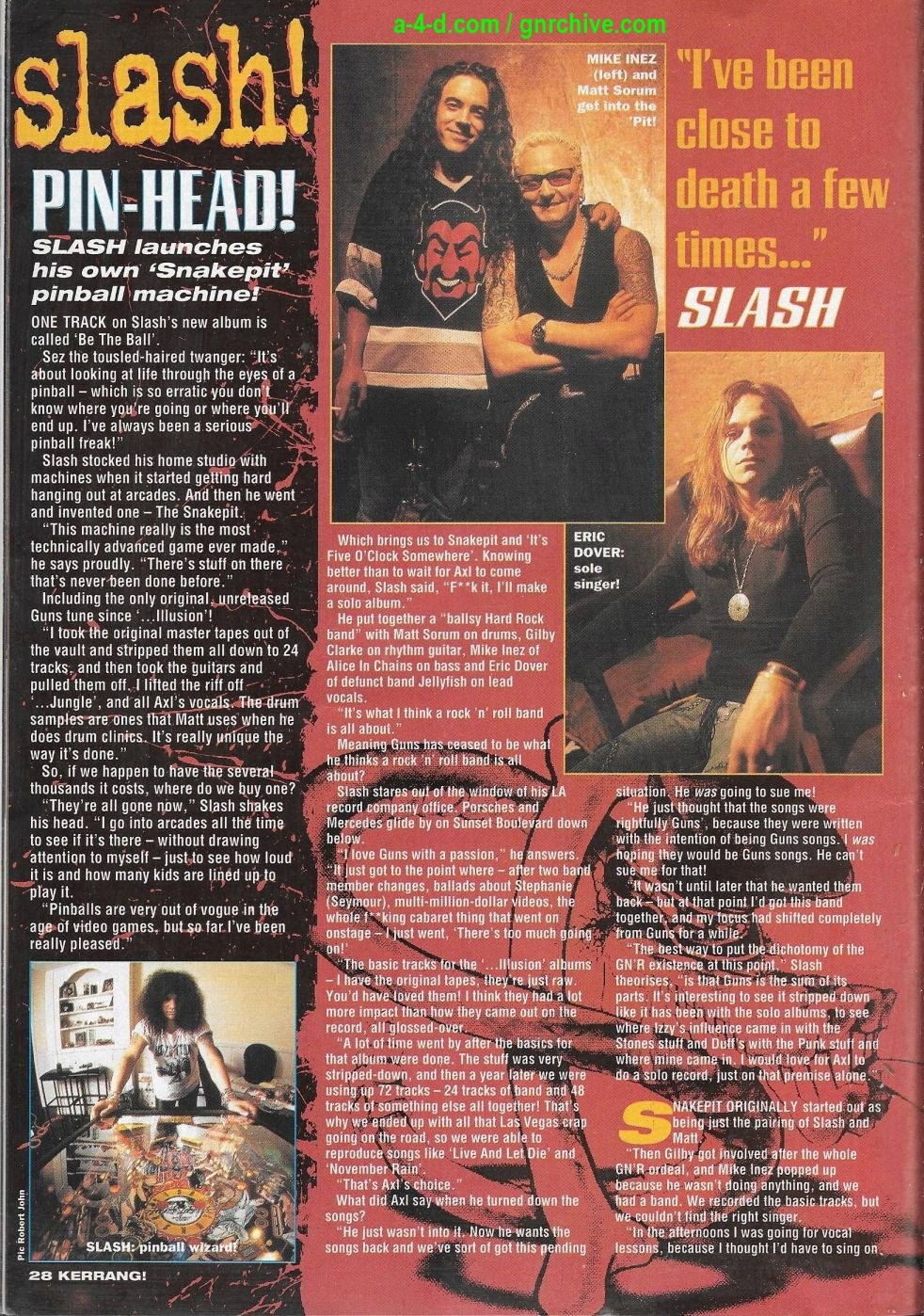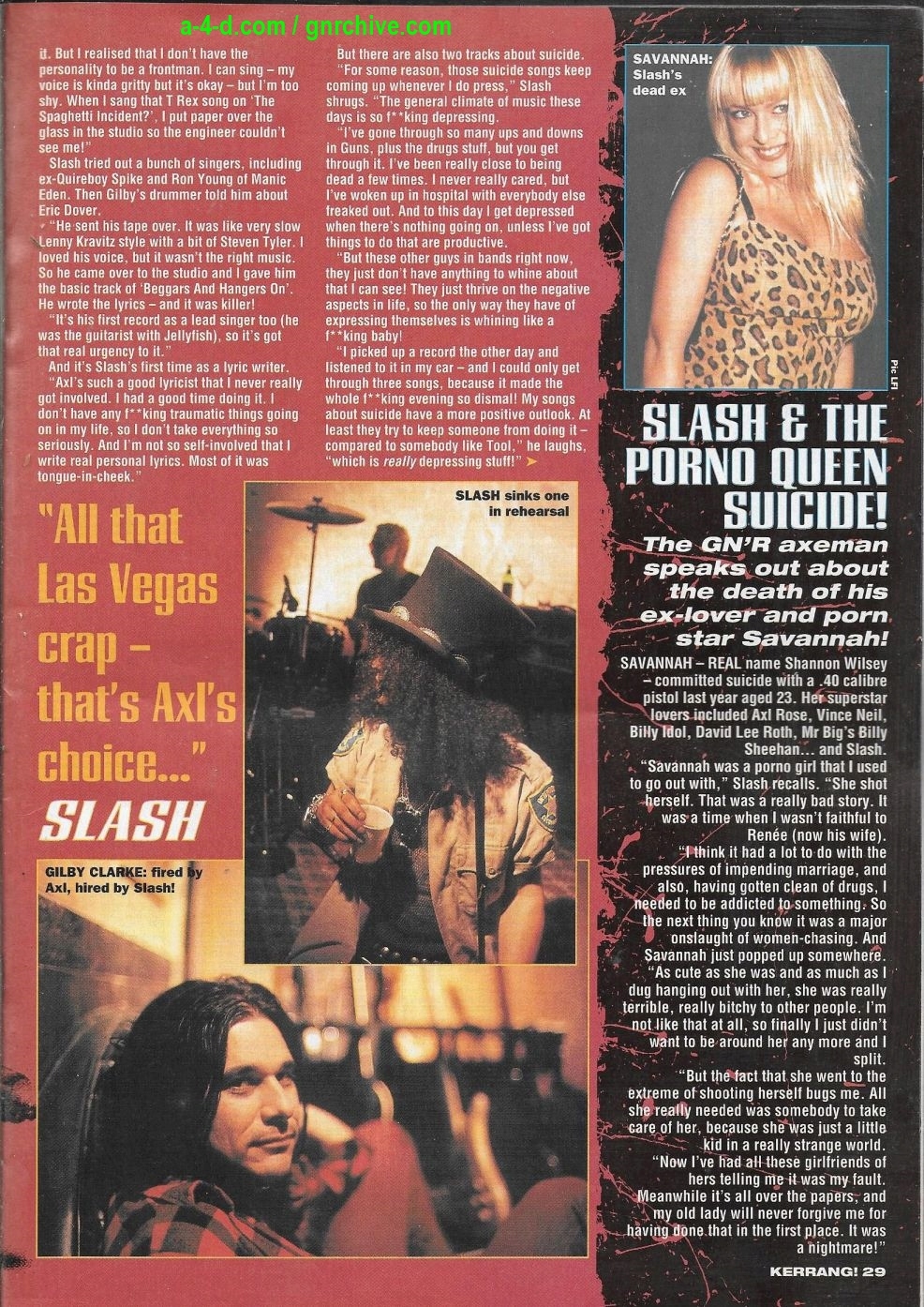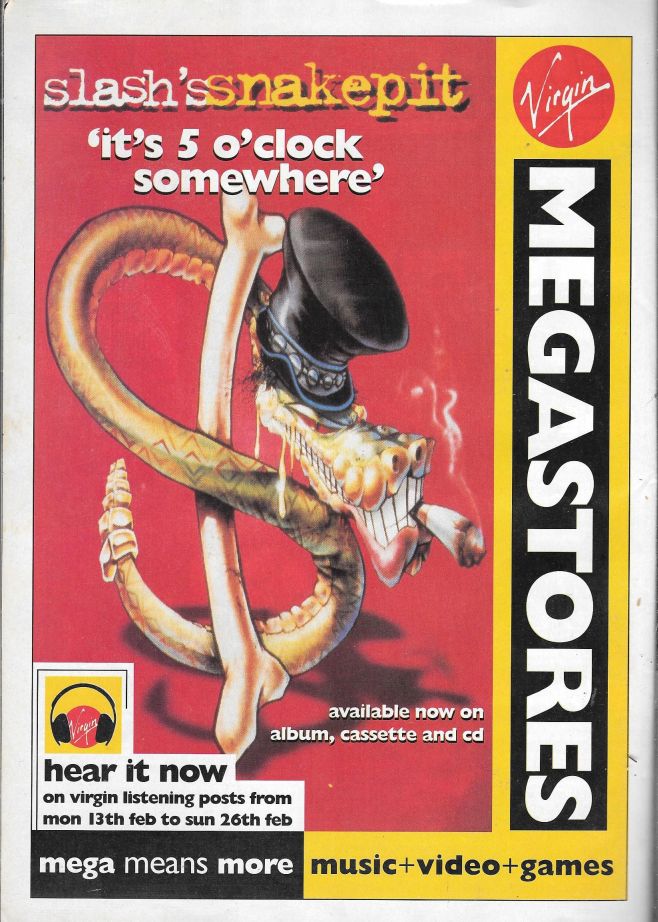 Transcript:
-------------------
Suicide!
Lies!
Axl!
Snakes!
Heavy Metal!
Guns N' Roses axeman Slash goes solo and reveals all to SYLVIE SIMMONS!
"I CAN'T wait to get out of here. It's been a year since we've been off the road," Slash sighs. 'We' is of course Guns N! Roses. "We did two years of touring, so I guess we deserve to be off the road. But you know me," he smiles. "If I'm not playing I get into trouble...."
When Guns got off the road a year ago, what Slash calls 'Post Tour Depression' sank its fangs into him. In the past he'd ease it with drink and drugs. This time, the guitarist went into the studio.
He'd built one in his house in the Hollywood Hills, right next door to the 'snake pit' - the serpentarium where he keeps his pet snakes. Guns drummer Matt Sorum came over every night to help him lay down basic tracks. It had already been three years since GN'R had recorded any new material - the epic 'Use Your Illusion' albums back in '91 -  and Slash was determined that this time there'd be no pissing around.
'...illusion' had almost broken up the band, was years in the making, beset by rucks (original drummer Steven Adler was fired), lawsuits and arrests (Axl for allegedly beating up a female neighbour, ex-guitarist Izzy Stradlin for pissing in an aeroplane aisle, and the whole band for inciting riots!).
The best way to keep the band together, Slash reasoned, was to get them back to doing what a band's supposed to do: make music.
Nice in theory, but he didn't reckon on the earthquake - the tremor that shook LA to its core last January, ripping Slash's house and studio to pieces. He's currently renting: his 300 snakes are housed in a warehouse in the LA suburbs while it's being rebuilt.
Worse still, a new series of aftershocks ravaged Guns N' Roses. More firings (rhythm guitarist Gilby Clarke), more arrests (Matt Sorum, allegedly for wife-beating) and yet more lawsuits (Steven Adler took the band to court over his dismissal, while Axl's ex-wife Erin Everly and ex-fiancée Stephanie Seymour both accused the singer of violence).
And there was another small problem. Axl didn't like Slash's songs.
"I ALWAYS said I had no intentions and no reason to do a solo record," Slash reflects. "In the back of my head I still didn't know what direction Guns was going in, but with my positive approach to everything I was just hoping that this stuff would bring Guns back to a place where I felt more comfortable musically.
"But I was turned down flat by Axl on the material - so it was like, 'Okay, now what do I do with it?'"
Which brings us to Snakepit and 'It s Five O'clock Somewhere'. Knowing better than to wait for Axl to come around, Slash said, "F**k it, I'll make a solo album."
He put together a "ballsy Hard Rock band" with Matt Sorum on drums, Gilby Clarke on rhythm guitar, Mike Inez of Alice In Chains on bass and Eric Dover of defunct band Jellyfish on lead vocals.
"It's what I think a rock 'n' roll band is all about."
Meaning Guns has ceased to be what he thinks a rock 'n' roll band is all about?
Slash stares out of the window of his LA record company office. Porsches and Mercedes glide by on Sunset Boulevard down below.
"I love Guns with a passion," he answers. "It just got to the point where - after two band member changes, ballads about Stephanie (Seymour), multi-million-dollar videos, the whole f**king cabaret thing that went on onstage - I just went, 'There's too much going on!'
"The basic tracks for the '...Illusion' albums -I have the original tapes, they're just raw. You'd have loved them! I think they had a lot more impact than how they came out on the record, all glossed-over.
"A lot of time went by after the basics for that album were done. The stuff was very stripped-down, and then a year later we were using up 72 tracks - 24 tracks of band and 48 tracks of something else all together! That's why we ended up with all that Las Vegas crap going on the road, so we were able to reproduce songs like 'Live And Let Die' and 'November Rain'.
"That's Axl's choice."
What did Axl say when he turned down the songs?
"He just wasn't into it. Now he wants the songs back and we've sort of got this pending situation. He
was
going to sue me!
"He just thought that the songs were rightfully Guns', because they were written with the intention of being Guns songs. I
was
hoping they would be Guns songs. He can't sue me for that!
"it wasn't until later that he wanted them back - but at that point I'd got this band together, and my focus had shifted completely from Guns for a while.
"The best way to put the dichotomy of the GN'R existence at this point," Slash theorises, "is that Guns is the sum of its parts. It's interesting to see it stripped down like it has been with the solo albums, to see where Izzy's influence came in with the Stones stuff and Duff's with the Punk stuff and where mine came in. I would love for Axl to do a solo record, just on that premise alone."
SNAKEPlT ORIGINALLY started out as being just the pairing of Slash and Matt.
"Then Gilby got involved after the whole GN'R ordeal, and Mike Inez popped up because he wasn't doing anything, and we had a band. We recorded the basic tracks, but we couldn't find the right singer.
"In the afternoons I was going for vocal lessons, because I thought I'd have to sing on it. But I realised that I don't have the personality to be a frontman. I can sing - my voice is kinda gritty but it's okay - but I'm too shy. When I sang that T Rex song on 'The Spaghetti Incident?', I put paper over the glass in the studio so the engineer couldn't see me!"
Slash tried out a bunch of singers, including ex-Quireboy Spike and Ron Young of Manic Eden. Then Gilby's drummer told him about Eric Dover.
"He sent his tape over. It was like very slow Lenny Kravitz style with a bit of Steven Tyler. I loved his voice, but it wasn't the right music. So he came over to the studio and I gave him the basic track of 'Beggars And Hangers On'. He wrote the lyrics - and it was killer!
"It's his first record as a lead singer too (he was the guitarist with Jellyfish), so it's got that real urgency to it."
And it's Slash's first time as a lyric writer.
"Axl's such a good lyricist that I never really got involved. I had a good time doing it. I don't have any f**king traumatic things going on in my life, so I don't take everything so seriously. And I'm not so self-involved that I write real personal lyrics. Most of it was tongue-in-cheek."
But there are also two tracks about suicide.
"For some reason, those suicide songs keep coming up whenever I do press," Slash shrugs. "The general climate of music these days is so f**king depressing.
"I've gone through so many ups and downs in Guns, plus the drugs stuff, but you get through it. I've been really close to being dead a few times. I never really cared, but I've woken up in hospital with everybody else freaked out. And to this day I get depressed when there's nothing going on, unless I've got things to do that are productive.
"But these other guys in bands right now, they just don't have anything to whine about that I can see! They just thrive on the negative aspects in life, so the only way they have of expressing themselves is whining like a f**king baby!
"I picked up a record the other day and listened to it in my car - and I could only get through three songs, because it made the whole f**king evening so dismal! My songs about suicide have a more positive outlook. At least they try to keep someone from doing it -compared to somebody like Tool," he laughs, "which is
really
depressing stuff!"
SLASH IS currently setting up a Snakepit tour between April and July.
Assuming that he's got a band to | tour with, that is!
"The funniest thing about this group is it's all these guys from different bands, so I've been routing a tour without really knowing who'll be able to do it. But I really want to take the original band out.
"Obviously Matt and I come as a package - whatever I do with Guns or Snakepit he falls in with, because if I'm not there Guns can't do anything - unless Axl makes some sort of stipulation that I have to get another drummer!
"But the last thing I want to go through is what I've just gone through with Guns and replace the f**king side band too!"
While Gilby's been on the road plugging his own solo record, 'Pawn Shop Guitars', Slash has been jamming with Pride & Glory/ex-Ozzy guitarist Zakk Wylde.
"It sounds like Guns N' Ozzy!" Slash laughs. "Zakk's a great friend of mine. We play a lot alike.
"I thought
I
was heavy, but he's even heavier! That's like an extreme - from Steven Adler and Izzy to Gilby and Zakk and Matt. It makes your head spin! It's like one of those carousels in the park that you run with, and after it gets to a certain speed you can't grab on!
"But we've managed to get Snakepit this far, so we'll just see what happens. I'm so happy doing this, cos with some of the pointless goings-on that seem to be inevitable with GN'R, at least I have this thing to keep me grounded. It's therapy!"
They're going to be playing medium-sized clubs.
"It's sort of like when Guns played The Marquee," reckons Slash.
But does it worry him that the other Guns solo projects - Izzy, Duff, Gilby - sold dismally?
"I wonder about that. Duff's I don't think was taken that seriously. Same with Izzy.
"When you're in Guns you think just because you're a member of this big huge thing, people will automatically flock to it. That's why I'm working to get the record as much exposure as possible.
"I want to take out some friends to support and play with and have a good time, but I won't name names yet."
So it doesn't look like Gilby's band will be opening after all.
"After a couple of nights he'll have regretted making that decision anyway!" snorts Slash.
"I told Renée (Slash's wife) we're taking a tour bus and she's like, 'A tour bus?! You're spoilt!'. As long as she's known me, with Guns it has always been aeroplanes!"
SLASH IS so eager to get back on the road again, I've got a sinking feeling he's gonna run out the door and flag down the next Mercedes! Best get in a final question. Since he's having such a good time with Snakepit, how the hell will he be able to go back to the madness that is Guns?
"Because Guns," he says without hesitation, "is the original band where my heart lies. I'm a very loyal member and friend to the other guys in the band, regardless of whatever chaotic shit happens in the process. I just wanted to get this off my chest while things were looking a little confusing to me.
"With Snakepit, I got away from all the absurd self-indulgence of Guns, it was a shot in the arm for me to be able to look at life from a perspective that I always thought was right anyway.
"I love the whole ground zero approach this band has, having to start from the bottom again. I feel more comfortable on the street now, just hanging around. People don't seem to be as scary as they used to be when they come up to you.
"With Guns, it had become this huge gargantuan machine. And there's nothing you can do about it, it's sort of depressing, you end up hiding away and hardly going anywhere. But now I don't feel any of that Rock Star persona. It reminds me of when Guns first got signed", he grins.
"It's great!"
Slash's Snakepit album 'It's Five O'clock Somewhere' is out this week!
***
SLASH! PIN-HEAD!
SLASH launches his own 'Snakepit' pinball machine!
ONE TRACK on Slash's new album is called 'Be The Ball'.
Sez the tousled-haired twanger: "It's about looking at life through the eyes of a pinball - which is so erratic you don't know where you're going or where you'll end up. I've always been a serious pinball freak!"
Slash stocked his home studio with machines when it started getting hard hanging out at arcades. And then he went and invented one - The Snakepit.
"This machine really is the most technically advanced game ever made," he says proudly. "There's stuff on there that's never been done before."
Including the only original, unreleased Guns tune since '...Illusion'!
"I took the original master tapes out of the vault and stripped them all down to 24 tracks, and then took the guitars and pulled them off. I lifted the riff off '...Jungle', and all Axl's vocals. The drum samples are ones that Matt uses when he does drum clinics. It's really unique the way it's done."
So, if we happen to have the several thousands it costs, where do we buy one?
"They're all gone now," Slash shakes his head. "I go into arcades all the time to see if it's there - without drawing attention to myself - just to see how loud it is and how many kids are lined up to play it.
"Pinballs are very out of vogue in the age of video games, but so far I've been really pleased."
***
SLASH & THE PORNO QUEEN SUICIDE!
The GN'R axeman speaks out about the death of his ex-lover and porn star Savannah!
SAVANNAH - REAL name Shannon Wilsey - committed suicide with a .40 calibre pistol last year aged 23. Her superstar lovers included Axl Rose, Vince Neil, Billy Idol, David Lee Roth, Mr Big's Billy Sheehan... and Slash.
"Savannah was a porno girl that I used to go out with," Slash recalls. "She shot herself. That was a really bad story. It was a time when I wasn't faithful to Renée (now his wife).
"I think it had a lot to do with the pressures of impending marriage, and also, having gotten clean of drugs, I needed to be addicted to something. So the next thing you know it was a major onslaught of women-chasing. And Savannah just popped up somewhere.
"As cute as she was and as much as I dug hanging out with her, she was really terrible, really bitchy to other people. I'm not like that at all, so finally I just didn't want to be around her any more and I split.
"But the fact that she went to the extreme of shooting herself bugs me. All she really needed was somebody to take care of her, because she was just a little kid in a really strange world.
"Now I've had all these girlfriends of hers telling me it was my fault. Meanwhile it's all over the papers, and my old lady will never forgive me for having done that in the first place. It was a nightmare!"

Blackstar

ADMIN




Posts

: 12212


Plectra

: 80095


Reputation

: 97


Join date

: 2018-03-17



Slash says in this interview that Axl wanted the Snakepit songs back when he had "got this band [Snakepit] together", which means not necessarily when the album was fully recorded (vocals and everything), but probably earlier.

It also aligns with what Slash said about Axl "not knowing" that the album was recorded so that's why he asked for the songs. It doesn't make much sense that Axl would ask the songs back when Slash had already found a singer, and even earlier, when it was in the press that he was looking for a singer. So maybe it was when Slash had recorded the instrumental tracks, which would make mid- to late June.

So I think it's plausible that the fight over the Snakepit songs, when Axl threatened to sue Slash, took place in late June. This is also when Gilby is de facto out of the band. Then Slash agrees to work simultaneously with Snakepit and GnR. Axl brings Paul, they rehearse at Slash's place for 1-2 weeks, then Slash says he can't work with Paul and there is another fight. So the GnR rehearsals stop, Slash completes his album and the next GnR episode is Sympathy For The Devil in October.

Blackstar

ADMIN




Posts

: 12212


Plectra

: 80095


Reputation

: 97


Join date

: 2018-03-17



Slash says that Axl was surprised that Slash had done the record in two weeks:
[Axl] just wanted these certain songs and he didn't like them at first. And this is way before Snakepit even became like, a reality. This is when I was just writing at home. And he didn't like them. So I was like: "Cool".

You know, it's sorta like old Guns stuff and then all of a sudden, after the album was finished, he goes: "Remember those tapes I have. You know, I want to...". He didn't know we'd finished the record. And he goes: "This song, this song, this song, this song and this song." And I went: "Dude, we finished it already. It's gone". And he goes: "You couldn't have done an album in two weeks." I said: "Oh yeah. I can". You can do that. And it turned into a big fight.
Two weeks from what? From when the songs were rejected? Not likely. It must have been two weeks since they last talked about what to do and perhaps Slash mentioned that he was doing his own record.
Regardless, Slash mentions in other interviews that Axl was surprised by how quickly Slash had done the album, so yes, this suggests it wasn't the album with vocals (which I assume took longer due to Slash's search for a singer) but the instrumental album.

Soulmonster

Band Lawyer







Posts

: 15410


Plectra

: 75145


Reputation

: 831


Join date

: 2010-07-06



---
Permissions in this forum:
You
cannot
reply to topics in this forum