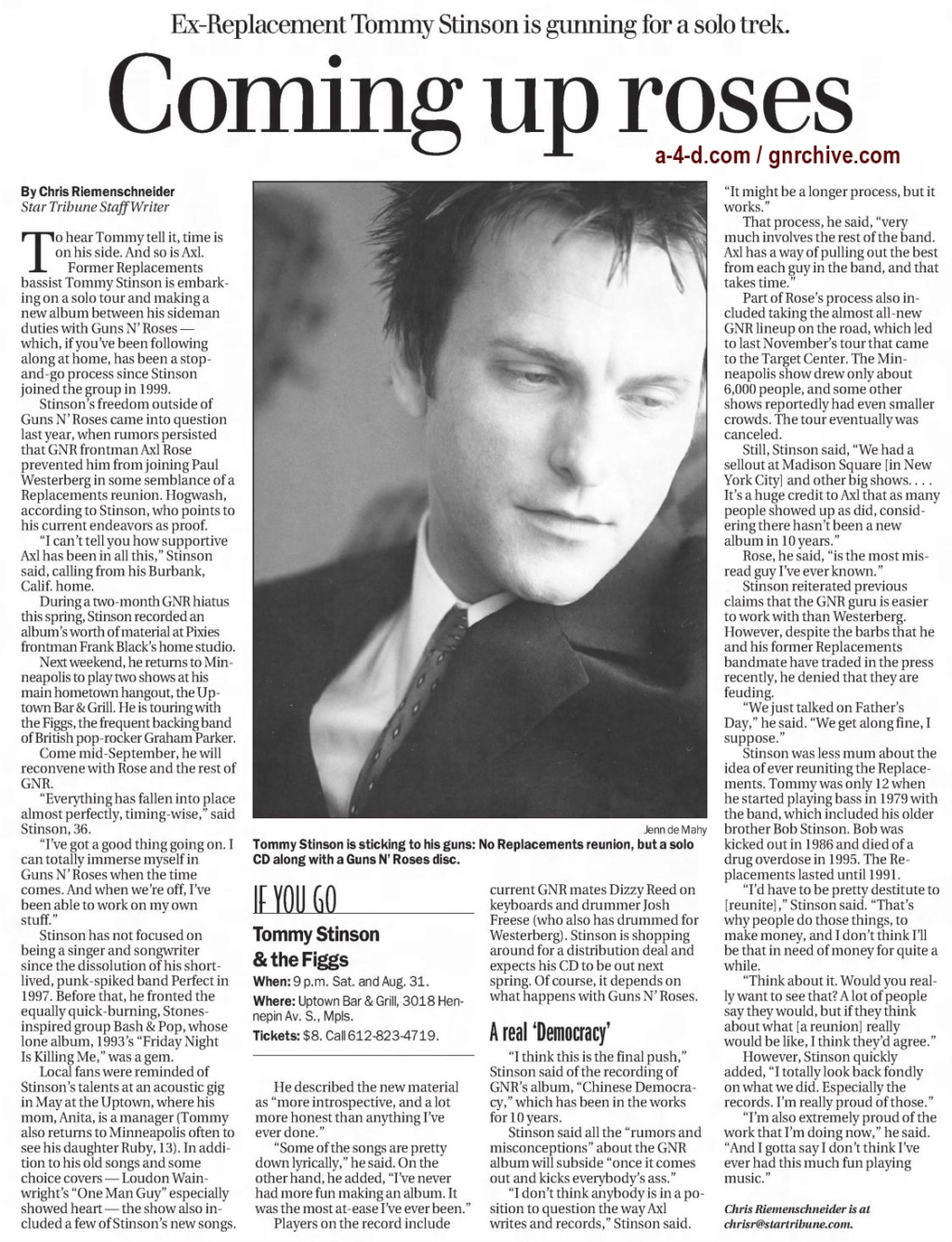 Coming up roses
Ex-Replacement Tommy Stinson is gunning for solo trek
Chris Riemenschneider
Star Tribune Staff Writer
To hear Tommy tell it, time is on his side. And so is Axl.
Former Replacements bassist Tommy Stinson is embarking on a solo tour and making a new album between his sideman duties with Guns N' Roses -- which, if you've been following along at home, has been a stop-and-go process since Stinson joined the group in 1999.
Stinson's freedom outside of Guns N' Roses came into question last year, when rumors persisted that GNR frontman Axl Rose prevented him from joining Paul Westerberg in some semblance of a Replacements reunion. Hogwash, according to Stinson, who points to his current endeavors as proof.
"I can't tell you how supportive Axl has been in all this," Stinson said, calling from his Burbank, Calif. home.
During a two-month GNR hiatus this spring, Stinson recorded an album's worth of material at Pixies frontman Frank Black's home studio.
Next weekend, he returns to Minneapolis to play two shows at his main hometown hangout, the Uptown Bar & Grill. He is touring with the Figgs, the frequent backing band of British pop-rocker Graham Parker.
Come mid-September, he will reconvene with Rose and the rest of GNR.
"Everything has fallen into place almost perfectly, timing-wise," said Stinson, 36.
"I've got a good thing going on. I can totally immerse myself in Guns N' Roses when the time comes. And when we're off, I've been able to work on my own stuff."
Stinson has not focused on being a singer and songwriter since the dissolution of his short-lived, punk-spiked band Perfect in 1997. Before that, he fronted the equally quick-burning, Stones-inspired group Bash & Pop, whose lone album, 1993's "Friday Night Is Killing Me," was a gem.
Local fans were reminded of Stinson's solo talents at an acoustic gig in May at the Uptown, where his mom, Anita, is a manager (Tommy also returns to Minneapolis often to see his daughter Ruby, 13). In addition to his old songs and some choice covers -- Loudon Wainwright's "One Man Guy" especially showed heart -- the show also included a few of Stinson's new songs.
He described the new material as "more introspective, and a lot more honest than anything I've ever done."
"Some of the songs are pretty down lyrically," he said. On the other hand, he added, "I've never had more fun making an album. It was the most at-ease I've ever been."
Players on the record include current GNR mates Dizzy Reed on keyboards and drummer Josh Freese (who also hasdrummed for Westerberg). Stinson is shopping around for a licensing deal and expects his CD to be out next spring. Of course, it depends on what happens with Guns N' Roses.
A real 'Democracy'
"I think this is the final push," Stinson said of the recording of GNR's album, "Chinese Democracy," which has been in the works for 10 years.
Stinson said all the "rumors and misconceptions" about the GNR album will subside "once it comes out and kicks everybody's ass."
"I don't think anybody is in a position to question the way Axl writes and records," Stinson said. "It might be a longer process, but it works."
That process, he said, "very much involves the rest of the band. Axl has a way of pulling out the best from each guy in the band, and that takes time."
Part of Rose's process also included taking the almost all-new GNR lineup on the road, which led to last November's tour that came to the Target Center. The Minneapolis show drew only about 6,000 people, and some other shows reportedly had even smaller crowds. The tour eventually was canceled.
Still, Stinson said, "We had a sellout at Madison Square and other big shows. . . . It's a huge credit to Axl that as many people showed up as did, considering there hasn't been a new album in 10 years."
Rose, he said, "is the most misread guy I've ever known."
Stinson reiterated previous claims that the GNR guru is easier to work with than Westerberg. However, despite the barbs that he and his former Replacements bandmate have traded in the press recently, he denied that they are feuding.
"We just talked on Father's Day," he said. "We get along fine, I suppose."
Stinson was less mum about the idea of ever reuniting the Replacements. Tommy was only 12 when he started playing bass in 1979 with the band, which included his older brother Bob Stinson. Bob was kicked out in 1986 and died of a drug overdose in 1995. The Replacements lasted until 1991.
"I'd have to be pretty destitute to [reunite]," Stinson said. "That's why people do those things, to make money, and I don't think I'll be that in need of money for quite a while.
"Think about it. Would you really want to see that? A lot of people say they would, but if they think about what [a reunion] really would be like, I think they'd agree."
However, Stinson quickly added, "I totally look back fondly on what we did. Especially the records. I'm really proud of those."
"I'm also extremely proud of the work that I'm doing now," he said. "And I gotta say I don't think I've ever had this much fun playing music."
*
IF YOU GO

Tommy Stinson & the Figgs

When: 9 p.m. Sat. and Aug. 31.

Where: Uptown Bar & Grill, 3018 Hennepin Av. S., Mpls.

Tickets: $8. Call 612-823-4719.
https://web.archive.org/web/20030829002929/http://www.startribune.com/stories/457/4052343.html

Blackstar

ADMIN




Posts

: 10619


Plectra

: 71347


Reputation

: 96


Join date

: 2018-03-17



---
Permissions in this forum:
You
cannot
reply to topics in this forum