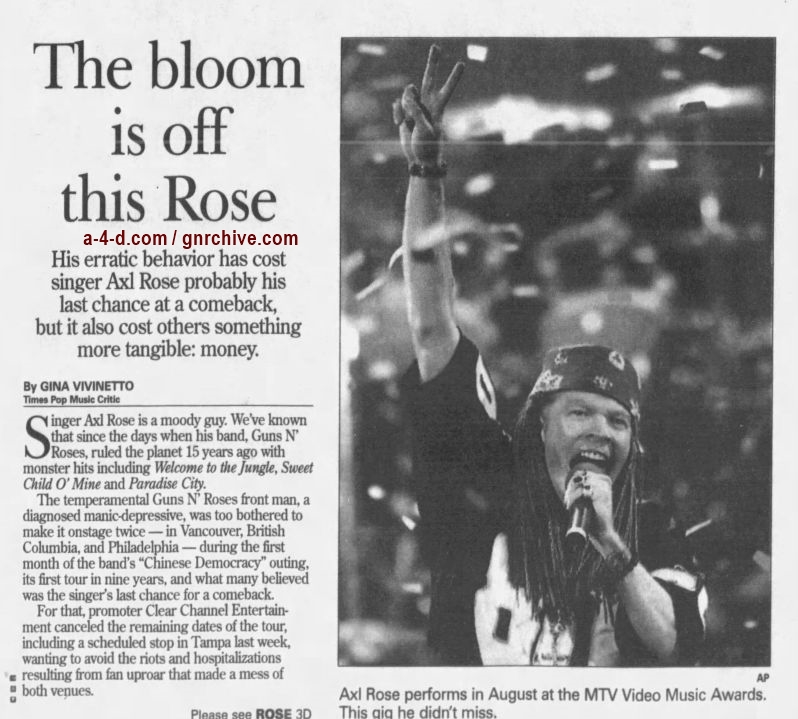 Transcript:
-----------------
The bloom is off this Rose
His erratic behavior has cost singer Axl Rose probably his last chance at a comeback, but it also cost others something more tangible: money.
By GINA VIVINETTO
Times Pop Music Critic
Singer Axl Rose is a moody guy. We've known that since the days when his band, Guns N' Roses, ruled the planet 15 years ago with monster hits including
Welcome to the Jungle
,
Sweet Child O'Mine
and
Paradise City
.
The temperamental Guns N' Roses front man, a diagnosed manic-depressive, was too bothered to make it onstage twice — in Vancouver, British Columbia, and Philadelphia — during the first month of the band's "Chinese Democracy" outing, its first tour in nine years, and what many believed was the singer's last chance for a comeback.
For that, promoter Clear Channel Entertainment canceled the remaining dates of the tour, including a scheduled stop in Tampa last week, wanting to avoid the riots and hospitalizations resulting from fan uproar that made a mess of both venues.
Rose was notorious back in the day for not showing up at concerts. Often he would have to be coaxed out of his hotel room at the last minute and whisked off in a waiting helicopter. When the singer did make it to the venues, he often used his time onstage to rant about critics, naysayers and other rock stars. (Rose used this tour's sold-out Madison Square Garden show to refresh everyone's memory about an unfavorable review the New York Times ran in 1991.)
The cancellation of "Chinese Democracy" will be remembered as a fiasco in rock history. And, most critics say, it has ruined any chance for a comeback for Rose. It has left in the dust thousands of perturbed fans and even more in financial loss.
Surprisingly, not everyone thinks Rose is a moody jerk.
Mickey Gillum, 50, owner and driver for Bay to Bay Limo, caters to an elite customer base of rock stars, celebrities and powerful CEOs. Gillum drove Guns N' Roses around for several days in 1991 when the band was in town for a concert at what is now Tropicana Field.
"They were a great bunch of guys," Gillum says.
Gillum didn't know that Rose had fired — or been left by, depending on whom you ask — the rest of the band's original members by 1996. He says he was looking forward to driving for them again last week. (Gillum's company had the account through Clear Channel.)
"Maybe Axl is like a Jekyll and Hyde — I don't know," Gillum says. "He was very personable. There was no friction with them. They even had a little paper fight in the car, like little boys. The individual named Slash sat up front with me, practicing on his guitar."
Rose was branded a racist and homophobe by the media in the late 1980s for the vitriolic song One in a Million, which included derogatory terms for blacks and homosexuals. Gillum, who is black, says he and Rose got along fine, discussing blues musicians they both admired, such as Muddy Waters and Bo Diddley.
Gillum isn't the only one who regrets he won't see Rose.
About 5,000 fans purchased tickets to last week's Tampa gig, according to Holly Brown, marketing director at the St Pete Tunes Forum, which has a capacity of nearly 20,000 for rock concerts. (The Guns N' Roses tour sold out in some cities, but others weren't so eager to see the band again.) That's 5,000 folks miffed that they won't catch one of rock's most notorious bad boys. They'll get their money back from Ticketmaster, except for some of those service charges.
Perhaps the Tampa Bay area is lucky. Fans here had enough time to cancel babysitting arrangements. The show was called off officially the day before it was to happen. Nobody had to pay outrageous $15, $20 or $25 parking costs outside the venue as did concertgoers in Philly and Vancouver. For fans in those cities, things were much worse.
Alysha Stepheanischin, 22, of Jasper, British Columbia, was at the fated Vancouver show at General Motors Place, where police reported 12 arrests from rioting.
Stepheanischin paid the $67 ticket price only to get caught in the melee of a rioting crowd and police officers. Stuck in the middle, Stepheanischin got struck by an officer's billy club.
"I don't blame the officer, there was so much going on," Stepheanischin told the
Edmonton Journal
. "I really wish we hadn't come."
The venue suffered an estimated $100,000 in damage.
At the First Union Center in Philadelphia, angry fans who had rented luxury suites for the night ended up throwing bar stools and television sets out of them upon hearing the show was canceled. The crowd of nearly 14,000 sat through lengthy sets by two opening acts before a spokesman for the venue walked onstage at 11:15 p.m. to announce that Guns N' Roses would not be playing because of a band member's illness, according to the
Philadelphia Daily News
. Five people at that show went to the hospital with injuries, the paper said.
Matt Cord, a DJ at WPLY-FM (100.3), a friend of Guns N' Roses bassist Tommy Stinson, told the paper that band members weren't even at the venue that night; they were in their hotel rooms by 10:30 p.m. Well, all of them except Rose, who was still in his New York hotel room, where, the paper reported, he refused to stop watching a basketball game on television.
Promoters were hoping Rose would change his mind and board the waiting helicopter, but he never did.
To prepare for the worst, the First Union Center stopped serving alcohol by 9:30 p.m., a tipoff to savvy fans who know Rose's history.
It's not just Guns N' Roses fans who suffer and lose money because of moody Rose.
For a concert the magnitude of the Guns N' Roses show, Brown says, the St Pete Times Forum hires a staff of nearly 300 just for the event If a concert is scrapped, they don't get paid. They are ushers. They are members of the cleanup crew. Ticket-takers. Police officers.
Sgt. Ken Orrill is supervisor of extra-duty officers at the Tampa Police Department. Orrill already had about 30 officers, including traffic controllers, ready to work the Guns N' Roses show. Those officers are paid $22 an hour for approximately six to seven hours of work for concerts.
That means each officer scheduled to work the Guns N' Roses show lost about $140. (However, Orrill says, it wasn't hard for officers to find other work when they heard the show was canceled.)
Don't forget security guards. And medical personnel venues hire for emergencies. Brown says the Forum also hires a "conversion crew" to rearrange the hockey arena into a concert setting. Those guys, too, went without pay last week.
Then there are the caterers. Food for Guns N' Roses and the band's crew was to be provided by the Forum's in-house catering. But in some cities, the shows were catered by independent companies.
Dave Gourdine owns Schmooze Inc., a catering company in Clearwater that prepares food for concerts. Gourdine says that when performers cancel a show, it can be a nightmare for those in charge of the food. Obviously, the closer the act cancels to the day — sometimes the hour — of the show, the more difficult it is for the caterer. Gourdine recalls the time in 1999 when he was hired to prepare food for 'N Sync and its crew, roughly 150 people, traveling with the group through several tour stops. 'N Sync canceled three of the shows.
"Once I load my stuff into the building," Gourdine says of his policy, "I'm getting paid for the day, whether or not the show goes on."
Gourdine says Schmooze Inc. charges between $5,000 and $6,000 to feed a band and its crew for a concert That's food for three meals, including snacks in dressing rooms and on the tour bus.
In the case of 'N Sync, Schmooze Inc. was given enough notice of the cancellation, so Gourdine wasn't paid.
"I had to eat the food," he says. Enough food for 150 people for three days, breakfast lunch and dinner.
"Obviously, we save the nonperishable things," Gourdine says, "but we have to throw away the fruit and vegetables." Why not take it home? "After working with it all day and night" he says, "you don't want to take it home."
Don't forget the limo drivers. Like Gillum.
How much did his company lose because of the cancellation? He won't say, but Gillum offers an industry standard of "several thousand dollars for several days."
Does Gillum have hard feelings?
"Well, I'm sad," he says. "It was work for my company. After 9/11, things have slowed down, and those concerts help a lot. But rock stars and actors, they're a different type of people. They're not normal people. They sleep all day and they're out all night. I take them around, they have to be incognito just to go out and play a game of pool. It's a different life."
Yes, but for Axl Rose, maybe not for long.

Blackstar

ADMIN




Posts

: 12236


Plectra

: 80262


Reputation

: 97


Join date

: 2018-03-17



---
Permissions in this forum:
You
cannot
reply to topics in this forum