November 8, 2002:
Concert cancellation sparks rampage by fans
By SHAWN CONNER
There were more guns than roses Thursday night when Vancouver rock fans protested the abrupt cancellation of the first Guns n' Roses show scheduled here in nearly a decade.
The band's notoriously unreliable lead singer Axl Rose didn't show up, but riot police did, using pepper gas and truncheons to disperse the angry crowd. Vandalism broke out after fans arrived to learn the show was cancelled and were denied entrance.
At Gate 8, near the Georgia Street viaduct, angry tickethold-ers used guardrails and whatever was at hand to batter the side windows of GM Place. Firecrackers were also set off.
The fans of the heavy-metal band, some wearing Guns n' Roses T-shirts or bandannas like
Rose's, cheered when one of the windows finally gave way with a crash, then left as police arrived.
"He f-— us in '93, and now he's doing it again," said Jason Hunt. He said he was 14 when the last scheduled Vancouver Guns n' Roses show, in 1993, was cancelled due to a riot in Montreal.
The most prevalent rumour about the cancellation, and one that apparently came from GM Place security staff, was that Rose had failed to arrive in Vancouver, although the rest of the band arrived Wednesday.
It was all news to the angry thousands who'd come expecting to see, if not the actual band, than a semblance of the band that has sold 80 million albums.
The Vancouver show was to have been the first of a 31-city tour.
Thursday's concert was scheduled to begin with a set by DJ Mixmaster Mike at 7:30.
Shortly after 8 p.m., however, what sounded like hundreds of people could be heard yelling and chanting near the venue's box office. People leaving the scene along Dunsmuir said the police had arrived and were using pepper spray.
Suddenly, from Dunsmuir, dozens of people could be seen bolting across the parking lot, chased by police. Several police officers hit at least two men with nightsticks while they lay on the ground. Another police officer filmed the people standing on Dunsmuir watching the violence below.
One observer said someone in the parking lot pointed a gun up at him. Another said people's reaction to the cancellation was stupid, but that Axl Rose had lost a lot of fans by not showing up.
The band may no longer have that many to lose.
Last edited by Blackstar on Tue May 19, 2020 6:53 pm; edited 1 time in total

Blackstar

ADMIN




Posts

: 9562


Plectra

: 65430


Reputation

: 97


Join date

: 2018-03-17



November 9, 2002: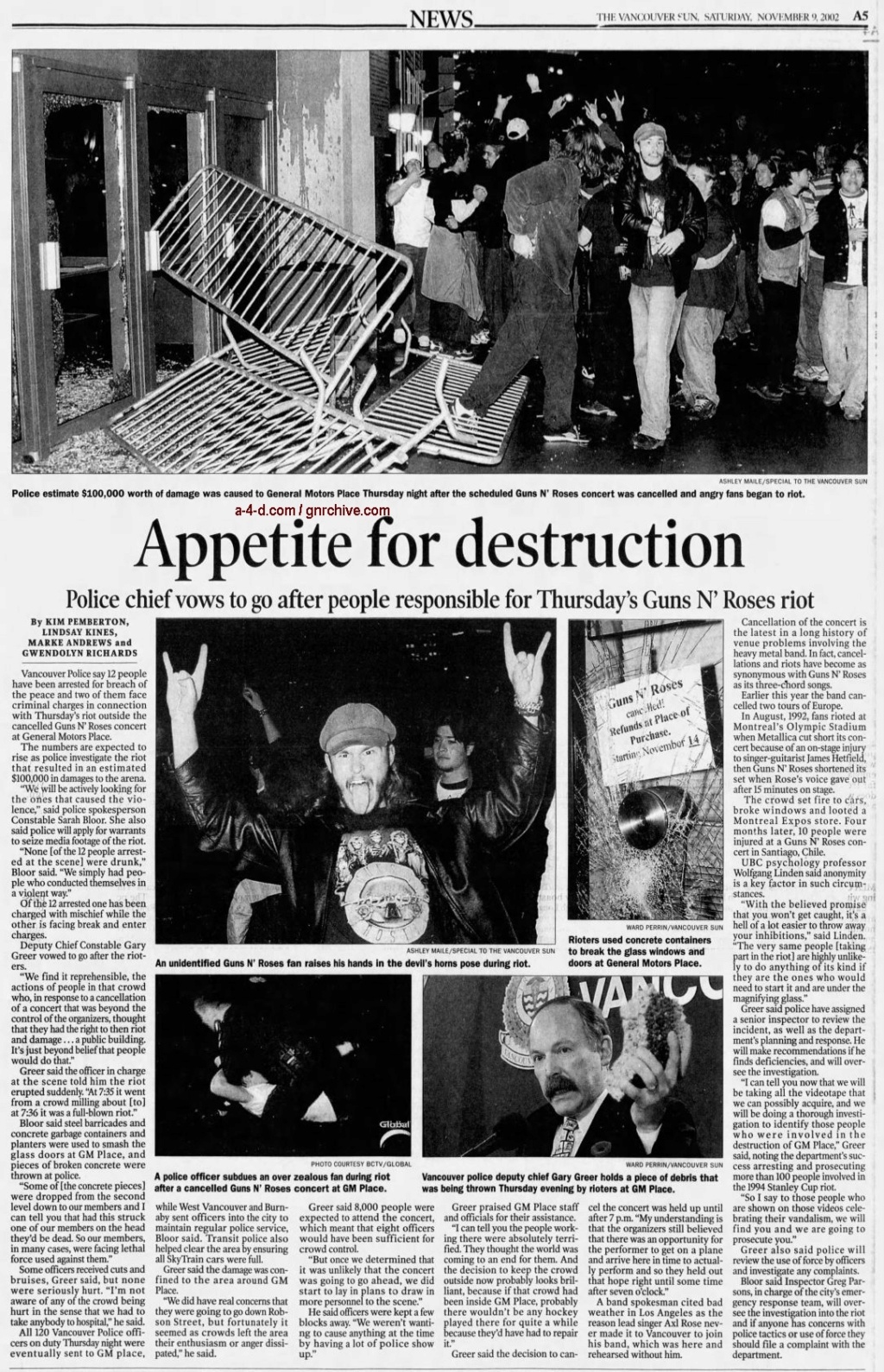 Appetite for destruction
Police chief vows to go after people responsible for Thursday's Guns N' Roses riot
By KIM PEMBERTON, LINDSAY KINES, MARKE ANDREWS and GWENDOLYN RICHARDS
Vancouver Police say 12 people have been arrested for breach of the peace and two of them face criminal charges in connection with Thursday's riot outside the cancelled Guns N' Roses concert at General Motors Place.
The numbers are expected to rise as police investigate the riot that resulted in an estimated $100,000 in damages to the arena.
"We will be actively looking for the ones that caused the violence," said police spokesperson Constable Sarah Bloor. She also said police will apply for warrants to seize media footage of the riot.
"None [of the 12 people arrested at the scene] were drunk," Bloor said. "We simply had people who conducted themselves in a violent way."
Of the 12 arrested one has been charged with mischief while the other is facing break and enter charges.
Deputy Chief Constable Gary Greer vowed to go after the rioters.
"We find it reprehensible, the actions of people in that crowd who, in response to a cancellation of a concert that was beyond the control of the organizers, thought that they had the right to then riot and damage... a public building. It's just beyond belief that people would do that."
Greer said the officer in charge at the scene told him the riot erupted suddenly. "At 7:35 it went from a crowd milling about [to] at 7:36 it was a full-blown riot."
Bloor said steel barricades and concrete garbage containers and planters were used to smash the glass doors at GM Place, and pieces of broken concrete were thrown at police.
"Some of [the concrete pieces] were dropped from the second level down to our members and I can tell you that had this struck one of our members on the head they'd be dead. So our members, in many cases, were facing lethal force used against them."
Some officers received cuts and bruises, Greer said, but none were seriously hurt. "I'm not aware of any of the crowd being hurt in the sense that we had to take anybody to hospital," he said.
All 120 Vancouver Police officers on duty Thursday night were eventually sent to GM place, while West Vancouver and Burnaby sent officers into the city to maintain regular police service, Bloor said. Transit police also helped clear the area by ensuring all Sky Train cars were full.
Greer said the damage was confined to the area around GM Place.
"We did have real concerns that they were going to go down Robson Street, but fortunately it seemed as crowds left the area their enthusiasm or anger dissipated," he said.
Greer said 8,000 people were expected to attend the concert, which meant that eight officers would have been sufficient for crowd control.
"But once we determined that it was unlikely that the concert was going to go ahead, we did start to lay in plans to draw in more personnel to the scene." He said officers were kept a few blocks away. "We weren't wanting to cause anything at the time by having a lot of police show up."
Greer praised GM Place staff and officials for their assistance.
"I can tell you the people working there were absolutely terrified. They thought the world was coming to an end for them. And the decision to keep the crowd outside now probably looks brilliant, because if that crowd had been inside GM Place, probably there wouldn't be any hockey played there for quite a while because they'd have had to repair it."
Greer said the decision to cancel the concert was held up until after 7 p.m. "My understanding is that the organizers still believed that there was an opportunity for the performer to get on a plane and arrive here in time to actually perform and so they held out that hope right until some time after seven o'clock."
A band spokesman cited bad weather in Los Angeles as the reason lead singer Axl Rose never made it to Vancouver to join his band, which was here and rehearsed without him.
Cancellation of the concert is the latest in a long history of venue problems involving the heavy metal band. In fact, cancellations and riots have become as synonymous with Guns N' Roses as its three-chord songs.
Earlier this year the band cancelled two tours of Europe.
In August, 1992, fans rioted at Montreal's Olympic Stadium when Metallica cut short its concert because of an on-stage injury to singer-guitarist James Hetfield, then Guns N' Roses shortened its set when Rose's voice gave out after 15 minutes on stage.
The crowd set fire to cars, broke windows and looted a Montreal Expos store. Four months later, 10 people were injured at a Guns N' Roses concert in Santiago, Chile.
UBC psychology professor Wolfgang Linden said anonymity is a key factor in such circumstances.
"With the believed promise that you won't get caught, it's a hell of a lot easier to throw away your inhibitions," said Linden. "The very same people [taking part in the riot] are highly unlikely to do anything of its kind if they are the ones who would need to start it and are under the magnifying glass."
Greer said police have assigned a senior inspector to review the incident, as well as the department's planning and response. He will make recommendations if he finds deficiencies, and will oversee the investigation.
"I can tell you now that we will be taking all the videotape that we can possibly acquire, and we will be doing a thorough investigation to identify those people who were involved in the destruction of GM Place," Greer said, noting the department's success arresting and prosecuting more than 100 people involved in the 1994 Stanley Cup riot.
"So I say to those people who are shown on those videos celebrating their vandalism, we will find you and we are going to prosecute you."
Greer also said police will review the use of force by officers and investigate any complaints.
Bloor said Inspector Greg Parsons, in charge of the city's emergency response team, will oversee the investigation into the riot and if anyone has concerns with police tactics or use of force they should file a complaint with the department.

Blackstar

ADMIN




Posts

: 9562


Plectra

: 65430


Reputation

: 97


Join date

: 2018-03-17



Readers' letters, November 13, 2002:

Immaturity ran riot after Guns N' Roses cancellation

The lowest common denominator strikes again.

Funcouver campaigners trying to administer a little Viagra to Vancouver's nightlife might find the rains have also just fallen on their parade.

Like some countries are deemed "not ready for democracy," Vancouver will likely be considered still not mature enough for longer opening hours, thanks to a few idiots.

The Guns N' Roses riot was really dumb. Temperamental Axl Rose is the problem, but trashing GM Place helps him with more publicity while probably hurting the rioters by not getting looser entertainment bylaws they'd be happy with — never mind fines and jail time.

Hit Axl Rose where it hurts, in his wallet. Boycott him. Support a dedicated band like King's X instead, whose guitarist will play even in a neck brace.

RICK GREEN
Vancouver

*

As the Vancouver Police Department searches for those responsible for the Guns N' Roses fracas, they should also be held to task for their own riotous behaviour. There were many instances of gratuitous, gleeful violence on the part of police, making them look like an out-of-control gang of bullies rather than a disciplined and professional police force. They could begin by charging the officer/thug who blindsided and knocked out the teeth of an innocent man who was clearly just trying to leave the area.


Blackstar

ADMIN




Posts

: 9562


Plectra

: 65430


Reputation

: 97


Join date

: 2018-03-17



---
Permissions in this forum:
You
cannot
reply to topics in this forum