November 8, 2002: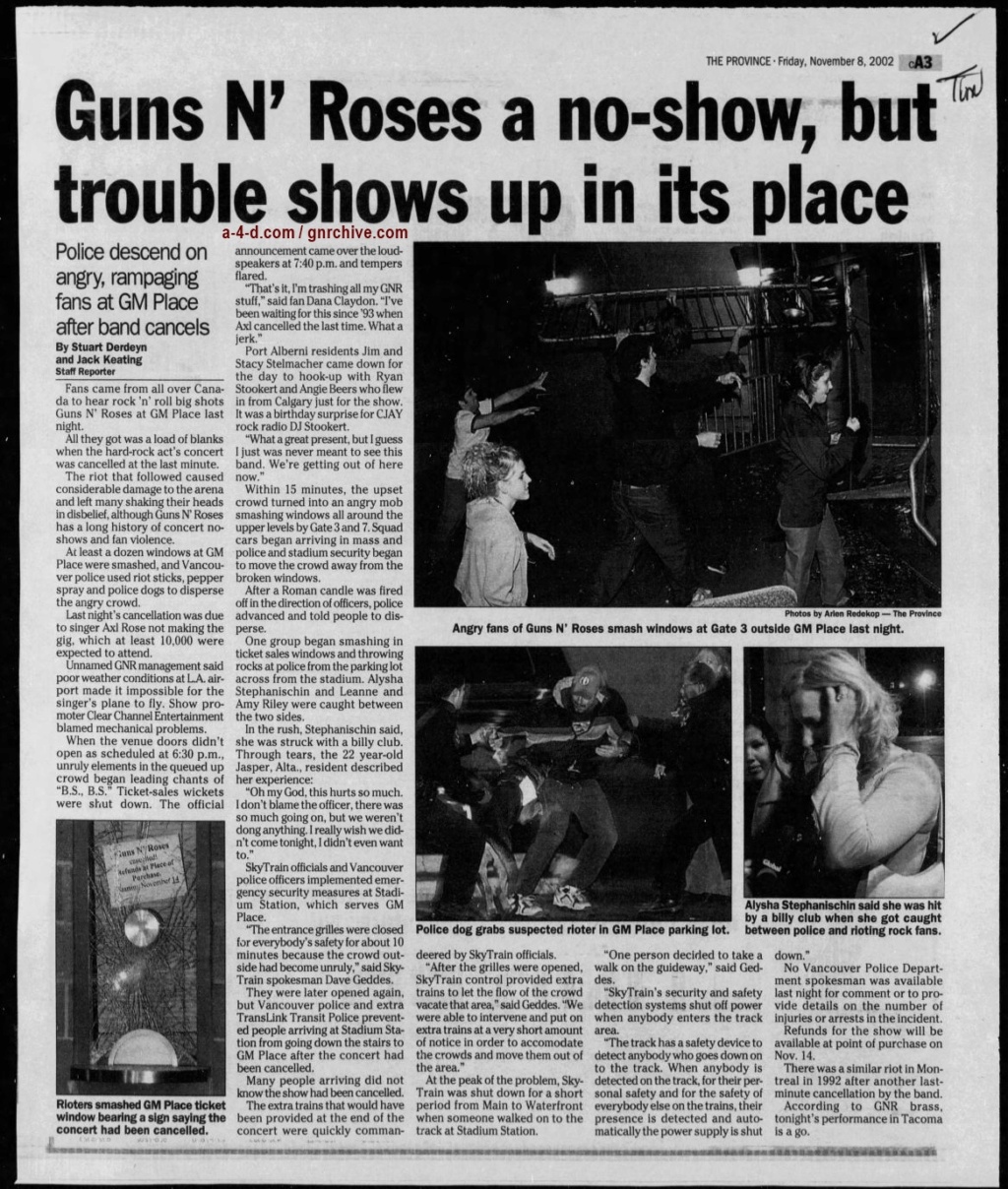 Guns N' Roses a no-show, but trouble shows up in its place
Police descend on angry, rampaging fans at GM Place after band cancels
By Stuart Derdeyn
and Jack Keating
Staff Reporter
Fans came from all over Canada to hear rock 'n' roll big shots Guns N' Roses at GM Place last night.
All they got was a load of blanks when the hard-rock act's concert was cancelled at the last minute.
The riot that followed caused considerable damage to the arena and left many shaking their heads in disbelief, although Guns N' Roses has a long history of concert no-shows and fan violence.
At least a dozen windows at GM Place were smashed, and Vancouver police used riot sticks, pepper spray and police dogs to disperse the angry crowd.
Last night's cancellation was due to singer Axl Rose not making the gig, which at least 10,000 were expected to attend.
Unnamed GNR management said poor weather conditions at LA. airport made it impossible for the singer's plane to fly. Show promoter Clear Channel Entertainment blamed mechanical problems.
When the venue doors didn't open as scheduled at 6:30 p.m., unruly elements in the queued up crowd began leading chants of "B.S., B.S." Ticket-sales wickets were shut down. The official announcement came over the loudspeakers at 7:40 p.m. and tempers flared.
"That's it, I'm trashing all my GNR stuff," said fan Dana Claydon. "I've been waiting for this since '93 when Axl cancelled the last time. What a jerk."
Port Alberni residents Jim and Stacy Stelmacher came down for the day to hook-up with Ryan Stookert and Angie Beers who flew in from Calgary just for the show. It was a birthday surprise for CJAY rock radio DJ Stookert.
"What a great present, but I guess I just was never meant to see this band. We're getting out of here now."
Within 15 minutes, the upset crowd turned into an angry mob smashing windows all around the upper levels by Gate 3 and 7. Squad cars began arriving in mass and police and stadium security began to move the crowd away from the broken windows.
After a Roman candle was fired off in the direction of officers, police advanced and told people to disperse.
One group began smashing in ticket sales windows and throwing rocks at police from the parking lot across from the stadium. Alysha Stephanischin and Leanne and Amy Riley were caught between the two sides.
In the rush, Stephanischin said, she was struck with a billy club. Through tears, the 22 year-old Jasper, Alta., resident described her experience:
"Oh my God, this hurts so much. I don't blame the officer, there was so much going on, but we weren't dong anything. I really wish we didn't come tonight, I didn't even want to."
SkyTrain officials and Vancouver police officers implemented emergency security measures at Stadium Station, which serves GM Place.
"The entrance grilles were closed for everybody's safety for about 10 minutes because the crowd outside had become unruly," said Sky-Train spokesman Dave Geddes.
They were later opened again, but Vancouver police and extra TransLink Transit Police prevented people arriving at Stadium Station from going down the stairs to GM Place after the concert had been cancelled.
Many people arriving did not know the show had been cancelled.
The extra trains that would have been provided at the end of the concert were quickly commandeered by SkyTrain officials.
"After the grilles were opened, SkyTrain control provided extra trains to let the flow of the crowd vacate that area," said Geddes. "We were able to intervene and put on extra trains at a very short amount of notice in order to accomodate the crowds and move them out of the area."
At the peak of the problem, SkyTrain was shut down for a short period from Main to Waterfront when someone walked on to the track at Stadium Station.
"One person decided to take a walk on the guideway," said Geddes.
"SkyTrain's security and safety detection systems shut off power when anybody enters the track area.
"The track has a safety device to detect anybody who goes down on to the track. When anybody is detected on the track, for their personal safety and for the safety of everybody else on the trains, their presence is detected and automatically the power supply is shut down."
No Vancouver Police Department spokesman was available last night for comment or to provide details on the number of injuries or arrests in the incident.
Refunds for the show will be available at point of purchase on Nov. 14.
There was a similar riot in Montreal in 1992 after another last-minute cancellation by the band.
According to GNR brass, tonight's performance in Tacoma is a go.
Last edited by Blackstar on Tue May 19, 2020 7:58 pm; edited 2 times in total

Blackstar

ADMIN




Posts

: 9562


Plectra

: 65430


Reputation

: 97


Join date

: 2018-03-17



November 10, 2002:
Riot was a fuse waiting to be lit
In the wake of the Guns N' Losers riot at GM Place last week. I'm left wondering if this disgusting display of barbarism could have been prevented.
If you don't want a bomb to go off. you don't light the fuse.
Which is exactly what happened down at the Garage Thursday night.
While the behaviour of these berserker bone-heads — who smashed up GM Place to the tune of several hundred thousand dollars after the Guns N' Roses concert was cancelled — is utterly inexcusable, it seems to me things didn't have to turn out the way they did.
Guns N' Roses, which was to launch the North American leg of its Chinese Democracy World Tour from Vancouver, arrived in town for rehearsals and soundchecks on Wednesday without lead singer Axl Rose.
On Thursday afternoon. Rose, an unpredictable prima donna, was still In L.A., where he was rumoured to be pounding back the comeback courage at an L A. bar.
With a show less than eight hours away and no lead singer, Clear Channel Entertainment, the local promoter, was understandably agitated.
By 3:30 p.m. Thursday, the promoters were beginning to panic. Still no Axl.
(The official story would later waver between technical problems with the plane, bad weather and a missed flight.)
4 p.m. 4:30. No Axl.
This is when the promoters should have had the cajones to make the call. But they didn't. Instead of getting on the radio and cancelling the show before 8,000 fans arrived en masse, they waited and waited, hoping Mr. Rose would somehow miraculously materialize. Which he never did.
Fans began arriving just after 6 p.m., many of them liquored up and ready to party with Axl and his all-new band.
The doors to GM Place were supposed to open at 6:30 p.m. The fans waited in the cold rain. And waited. The doors never did open, which was the only intelligent decision made that day.
At 7:05 p.m.. Clear Channel informed the Vancouver Police Department that the Guns N' Roses show wasn't going to happen.
At 7:30 p.m., a garbled message went out over GM Place's external PA system informing fans the show was cancelled. No reason was given.
The ticket window shutters came down and cancellation notices were posted behind the glass. Eight cops surveyed the scene.
At 7:36 all hell broke loose. Two minutes later, there were more than 100 cops on the scene, wading through the crowd with truncheons, pepper spray and police dogs.
It got ugly but in less than an hour it was over. Police clamped down tight before the riot could gravitate toward Robson Street.
One of the last stragglers stumbled off carrying his own bloodied teeth in his hand.
On Friday, while Clear Channel was hiding out, the VPD was gearing up for a massive operation to find suspects, aided in part by all those GNR fans who took time out from their busy riot to yuck it up for the TV cameras.
"We'll be taking all of the video tape that we can possibly acquire," deputy police chief Gary Greer said Friday morning at a news conference.
"We will find you and we are going to prosecute you."
For GNR fans planning on complaining about excessive force. Greer basically said Friday: Bring it on.
He said police were met with lethal force, and responded accordingly.
You throw chunks of concrete, bottles and barricades at the VPD and you're going to be hit with more than a ticket, as countless GNR fans found out last week.
"This is not to say that people who think too much force was used on them should not report to the police department or the police complaints commissioner their concerns," Greer said.
There were 12 arrests Thursday night and the police promise many more in the coming days and weeks.
"We will find the people responsible for this," said Greer.
***
The plug got pulled on us, says Axl Rose
By Sorelle Saidman
Special to The Province
Guns N' Roses frontman Axl Rose, whose cancelled performance caused an hour-long riot in Vancouver Thursday night, is placing the blame squarely on GM Place.
In a rare interview with KISW Radio in Seattle Friday afternoon, Rose launched into the Vancouver issue immediately after being welcomed to Seattle by the interviewer.
"We were going to play a show [ In Vancouver] and the plug got pulled on us," said Rose.
"We were fully able to meet our commitments and we don't really understand what happened. Basically, the building manager just decided, and in our opinion prematurely, that the show was just cancelled. and he didn't discuss it with anyone. He just announced it over the PA."
A statement from GM Place manager of operations Harvey Jones issued Friday said only that "a decision to cancel this show was made when it was recognized that the band could not take the stage at a reasonable time."
The rest of the statement pertained to the prosecution of the vandals and assurances that future events scheduled would not be affected by the damage. Calls to Jones yesterday were not returned.
According to a schedule posted back-stage at GM Place. Rose had been expected to take the stage at 9:45. The cancellation notices were posted on the venue doors at 7:37.
According to Rose, he was in a plane on his way to Vancouver when the plug was pulled. "It gets complicated." said Rose, "but the manager of the building said that the doors wouldn't open until he had confirmation that we were wheels up. that the plane was in the air, and as soon as he had that confirmation, he cancelled the show."
Sources close to the band told The Province the plane was diverted to Seattle when Rose was notified of the cancellation.
Guns N' Roses played Tacoma Friday night without incident. The band's next Canadian date is in Toronto Nov. 29.

Blackstar

ADMIN




Posts

: 9562


Plectra

: 65430


Reputation

: 97


Join date

: 2018-03-17



November 12, 2002: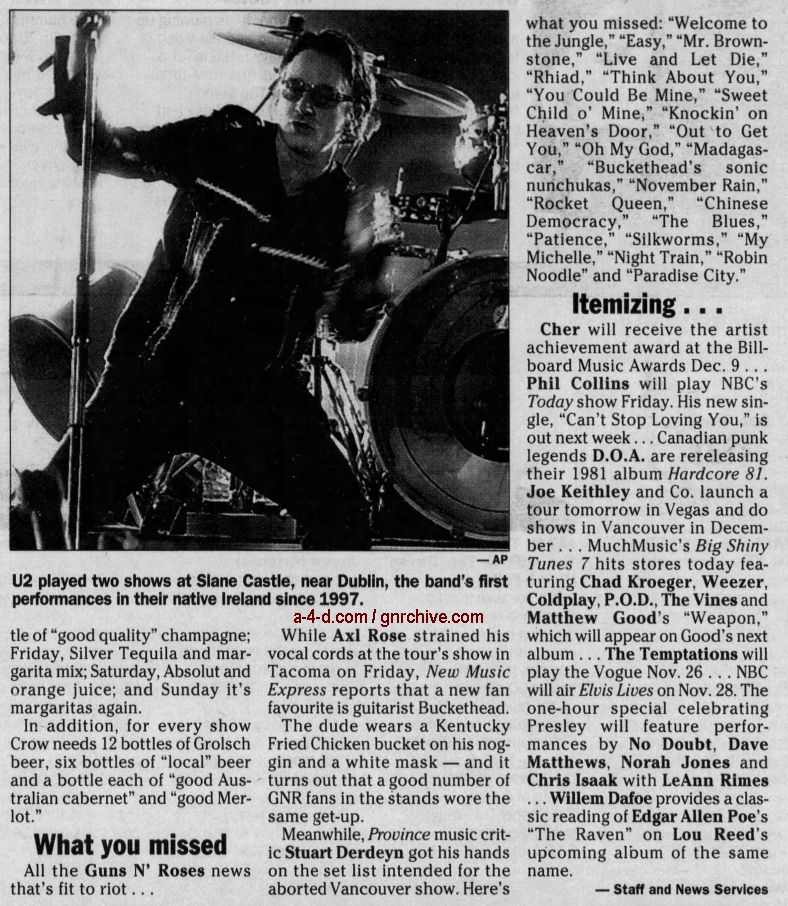 What you missed

All the Guns N' Roses news that's fit to riot...

While Axl Rose strained his vocal cords at the tour's show in Tacoma on Friday, New Music Express reports that a new fan favourite is guitarist Buckethead.

The dude wears a Kentucky Fried Chicken bucket on his noggin and a white mask — and it turns out that a good number of GNR fans in the stands wore the same get-up.

Meanwhile, Province music critic Stuart Derdeyn got his hands on the set list intended for the aborted Vancouver show. Here's what you missed: "Welcome to the Jungle," "Easy," "Mr. Brown-stone," "Live and Let Die," "Rhiad," "Think About You," "You Could Be Mine," "Sweet Child o' Mine," "Knockin' on Heaven's Door," "Out to Get You," "Oh My God," "Madagascar," "Buckethead's sonic nunchukas," "November Rain," "Rocket Queen," "Chinese Democracy," "The Blues," "Patience," "Silkworms," "My Michelle," "Night Train," "Robin Noodle" and "Paradise City."

Blackstar

ADMIN




Posts

: 9562


Plectra

: 65430


Reputation

: 97


Join date

: 2018-03-17



November 13, 2002:
Riot victim to sue
Man says he was trying to leave when police knocked out two teeth
Staff Reporter
A Guns and Roses fan who was lost two teeth when he says he was hit in the face by a police officer says he will file an official complaint today and sue the police.
Robert Parent, a 40-year-old studio operator with video game giant Electronic Arts, says he wasn't involved in last Thursday's riot at GM Place and was trying to leave when he was surrounded by police and security staff.
He said an officer knocked out two teeth and damaged others.
"I was thinking ... why is this going on, right? I mean... one officer is asking me to walk across the street and I'm doing that and I'm complying 100 per cent. So yeah, I was kind of shocked and confused."
Parent's lawyer Phil Rankin said he intends to sue. He also wants the officer charged criminally, and an apology.
The police are conducting an internal inquiry into the handling of the riot, but Rankin called it little more than a public relations gesture.
"They will probably say something like police were dealing with a difficult situation... they did the best they could in the circumstances."
Meanwhile, General Motors Place general manager Harvey Jones says he had no confirmation that Guns 'N Roses' lead man Axl Rose was en route to Vancouver when the show was cancelled.
Rose says he was flying to Vancouver, but Jones said he had no confirmation that Rose's private plane had left L.A. when the show was cancelled at 7:30 p.m.
"It was cancelled after discussions with all the parties," Jones said. "In my view the cancellation of the show was the right thing to have happened at that time, given the circumstances and where he was. He wouldn't have been here on time.
"We don't know for sure exactly when he left, and we don't know how long it was going to take him to get through Customs and get to the building and how long it would have taken him to prepare to get up on the stage.
"But if all of that had gone perfectly he was still going to be too late to be able to perform."
The band's manager, Merck Mercuriadis of Sanctuary Music Management in New York, did not return calls.
It's not known what time Rose's plane left Los Angeles, although he told a Seattle radio station that the show was cancelled after his plane was in the air.
Outraged fans rioted and caused at least $100,000 damage to the stadium. Twelve people were arrested for breach of the peace and four are facing criminal charges.
All 120 police officers on duty responded to the riot and police from West Vancouver and Burnaby maintained regular police service.
Const. Sarah Bloor said police are in the process of securing warrants to seize video tape of the riot shot by media outlets.
"We are still actively going to seek the arrests of those that were involved," Bloor said. "We're certainly going to have to request the public's assistance in identifying these individuals. It's the same that occurred with the Stanley Cup riots. You have to have the co-operation of the public in order to identify the persons responsible for the criminal activity and the violence."
She said anyone who believes "police were too forceful" can file a complaint with the department or through the Office of the Police Complaints Commissioner.
— with news services

Blackstar

ADMIN




Posts

: 9562


Plectra

: 65430


Reputation

: 97


Join date

: 2018-03-17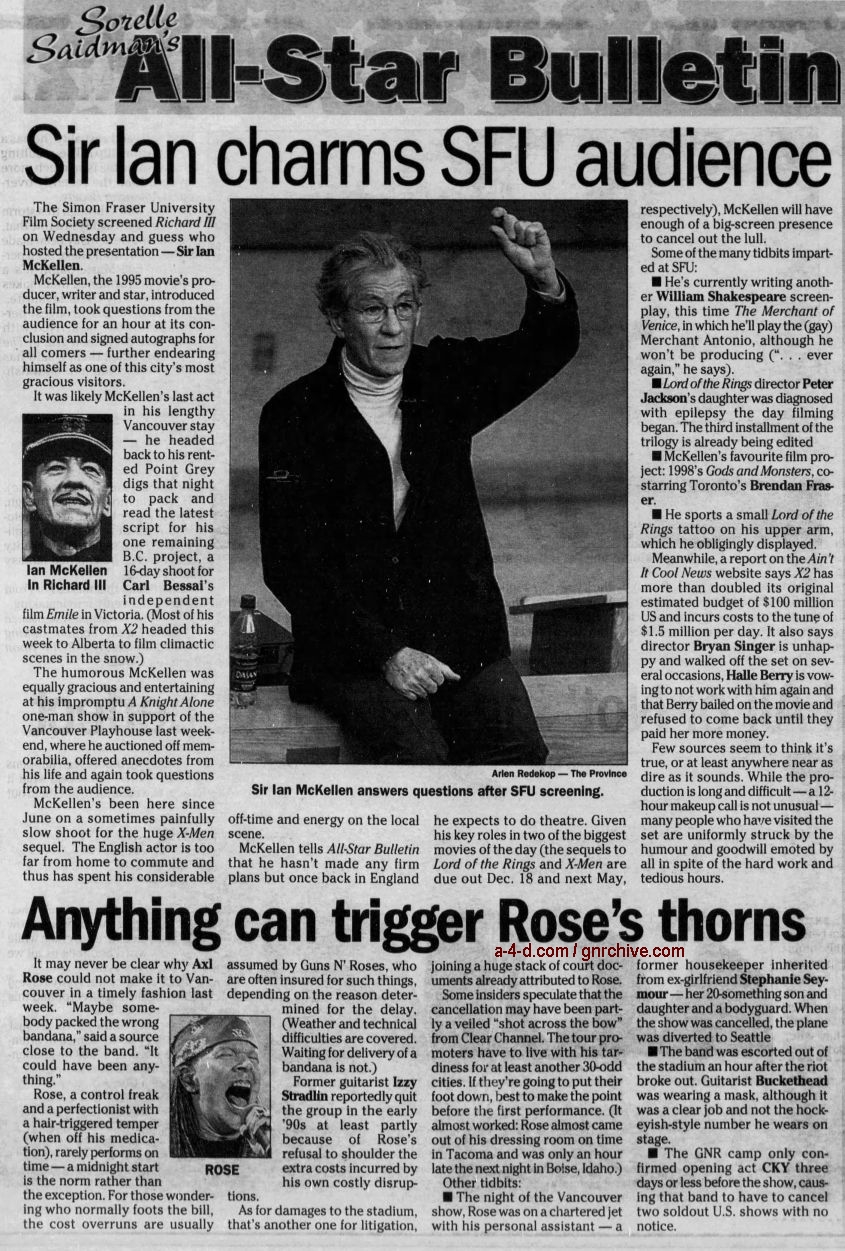 Sorelle Saidman's
All-Star Bulletin
[...]
Anything can trigger Rose's thorns
It may never be clear why Axl Rose could not make it to Vancouver in a timely fashion last week. "Maybe somebody packed the wrong bandana," said a source close to the band. "It could have been anything."
Rose, a control freak and a perfectionist with a hair-triggered temper (when off his medication), rarely performs on time a midnight start is the norm rather than the exception. For those wondering who normally foots the bill, the cost overruns are usually assumed by Guns N' Roses, who are often insured for such things, depending on the reason determined for the delay. (Weather and technical difficulties are covered. Waiting for delivery of a bandana is not.)
Former guitarist Izzy Stradlin reportedly quit the group in the early '90s at least partly because of Rose's refusal to shoulder the extra costs incurred by his own costly disruptions.
As for damages to the stadium, that's another one for litigation, joining a huge stack of court documents already attributed to Rose.
Some insiders speculate that the cancellation may have been partly a veiled "shot across the bow" from Clear Channel. The tour promoters have to live with his tardiness for at least another 30-odd cities. If they're going to put their foot down, best to make the point before the first performance. (It almost worked: Rose almost came out of his dressing room on time in Tacoma and was only an hour late the next night in Boise, Idaho.)
Other tidbits:
■ The night of the Vancouver show, Rose was on a chartered jet with his personal assistant — a
former housekeeper inherited from ex-girlfriend Stephanie Seymour — her 20-something son and daughter and a bodyguard. When the show was cancelled, the plane was diverted to Seattle
■ The band was escorted out of the stadium an hour after the riot broke out. Guitarist Buckethead was wearing a mask, although it was a clear job and not the hock-eyish-style number he wears on stage.
■ The GNR camp only confirmed opening act CKY three days or less before the show, causing that band to have to cancel two soldout U.S. shows with no notice.

Blackstar

ADMIN




Posts

: 9562


Plectra

: 65430


Reputation

: 97


Join date

: 2018-03-17



---
Permissions in this forum:
You
cannot
reply to topics in this forum