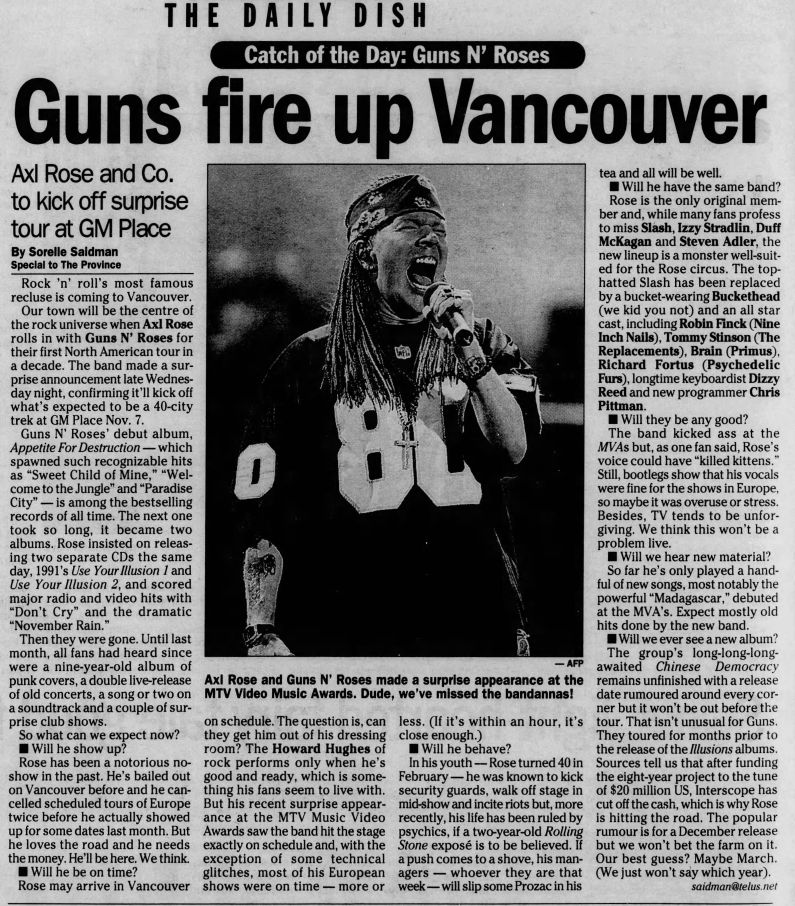 Transcript:
--------------
THE DAILY DISH
Catch of the Day: Guns N' Roses
Guns fire up Vancouver
Axl Rose and Co. to kick off surprise tour at GM Place
By Sorelle Saidman
Special to The Province
Rock 'n' roll's most famous recluse is coming to Vancouver.
Our town will be the centre of the rock universe when Axl Rose rolls in with Guns N' Roses for their first North American tour in a decade. The band made a surprise announcement late Wednesday night, confirming it'll kick off what's expected to be a 40-city trek at GM Place Nov. 7.
Guns N' Roses' debut album,
Appetite For Destruction
— which spawned such recognizable hits as "Sweet Child of Mine," "Welcome to the Jungle" and "Paradise City" — is among the bestselling records of all time. The next one took so long, it became two albums. Rose insisted on releasing two separate CDs the same day, 1991's
Use Your Illusion 1
and
Use Your Illusion 2
, and scored major radio and video hits with "Don't Cry" and the dramatic "November Rain."
Then they were gone. Until last month, all fans had heard since were a nine-year-old album of punk covers, a double live-release of old concerts, a song or two on a soundtrack and a couple of surprise club shows.
So what can we expect now?
■ Will he show up?
Rose has been a notorious no-show in the past. He's bailed out on Vancouver before and he cancelled scheduled tours of Europe twice before he actually showed up for some dates last month. But he loves the road and he needs the money. He'll be here. We think.
■ Will he be on time?
Rose may arrive in Vancouver on schedule. The question is, can they get him out of his dressing room? The Howard Hughes of rock performs only when he's good and ready, which is something his fans seem to live with. But his recent surprise appearance at the MTV Music Video Awards saw the band hit the stage exactly on schedule and, with the exception of some technical glitches, most of his European shows were on time — more or less. (If it's within an hour, it's close enough.)
■ Will he behave?
In his youth — Rose turned 40 in February—he was known to kick security guards, walk off stage in mid-show and incite riots but, more recently, his life has been ruled by psychics, if a two-year-old
Rolling Stone
exposé is to be believed. If a push comes to a shove, his managers — whoever they are that week—will slip some Prozac in his tea and all will be well.
■ Will he have the same band?
Rose is the only original member and, while many fans profess to miss Slash, Izzy Stradlin, Duff McKagan and Steven Adler, the new lineup is a monster well-suited for the Rose circus. The top-hatted Slash has been replaced by a bucket-wearing Buckethead (we kid you not) and an all star cast, including Robin Finck (Nine Inch Nails), Tommy Stinson (The Replacements), Brain (Primus), Richard Fortus (Psychedelic Furs), longtime keyboardist Dizzy Reed and new programmer Chris Pittman.
■ Will they be any good?
The band kicked ass at the
MVA
s but, as one fan said, Rose's voice could have "killed kittens." Still, bootlegs show that his vocals were fine for the shows in Europe, so maybe it was overuse or stress. Besides, TV tends to be unforgiving. We think this won't be a problem live.
■ Will we hear new material?
So far he's only played a handful of new songs, most notably the powerful "Madagascar," debuted at the
MVA
's. Expect mostly old hits done by the new band.
■ Will we ever see a new album?
The group's long-long-long-awaited
Chinese Democracy
remains unfinished with a release date rumoured around every corner but it won't be out before the tour. That isn't unusual for Guns. They toured for months prior to the release of the
Illusions
albums. Sources tell us that after funding the eight-year project to the tune of $20 million US, Interscope has cut off the cash, which is why Rose is hitting the road. The popular rumour is for a December release but we won't bet the farm on it. Our best guess? Maybe March. (We just won't say which year).

Blackstar

ADMIN




Posts

: 10691


Plectra

: 71708


Reputation

: 96


Join date

: 2018-03-17



---
Permissions in this forum:
You
cannot
reply to topics in this forum