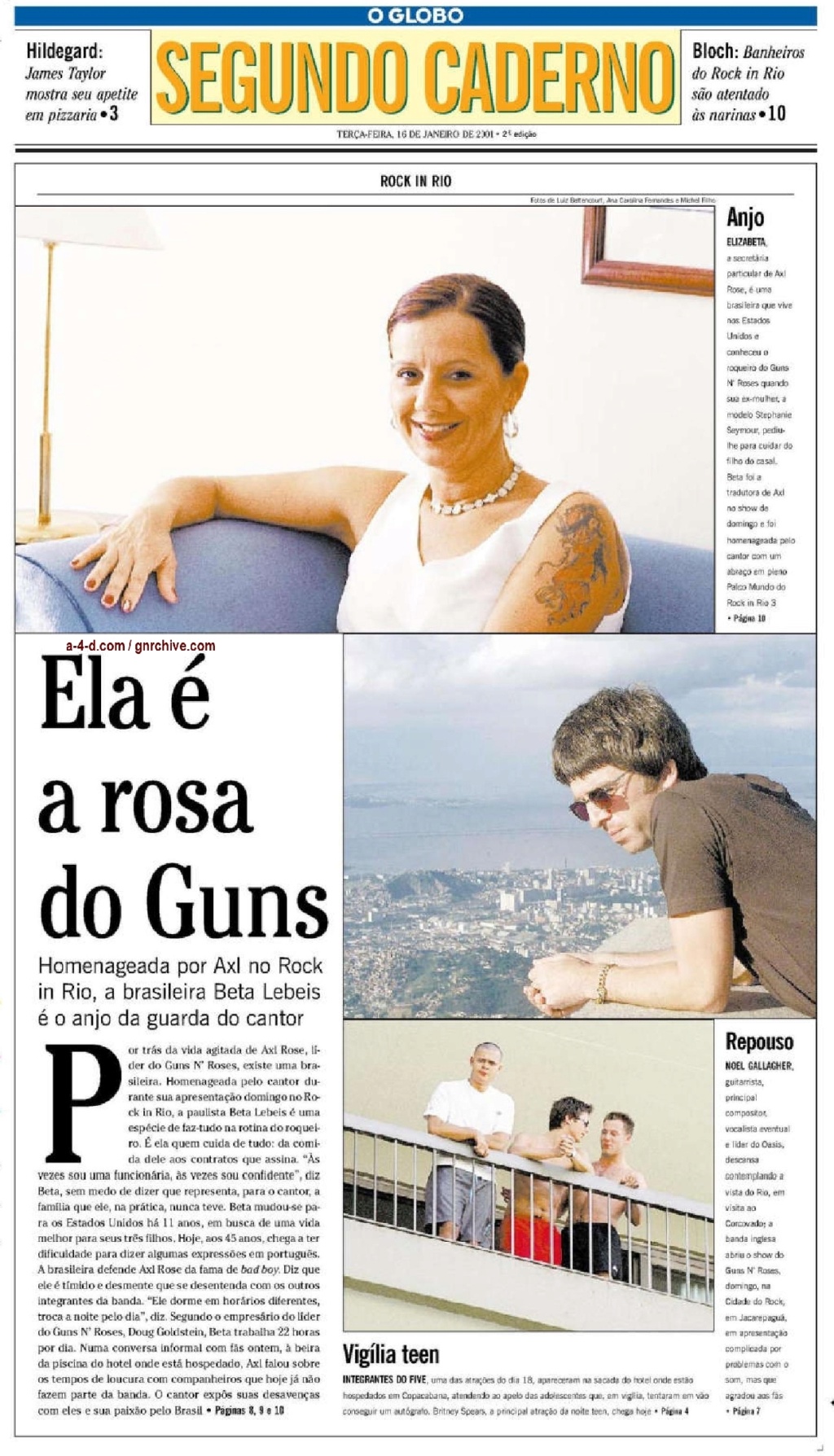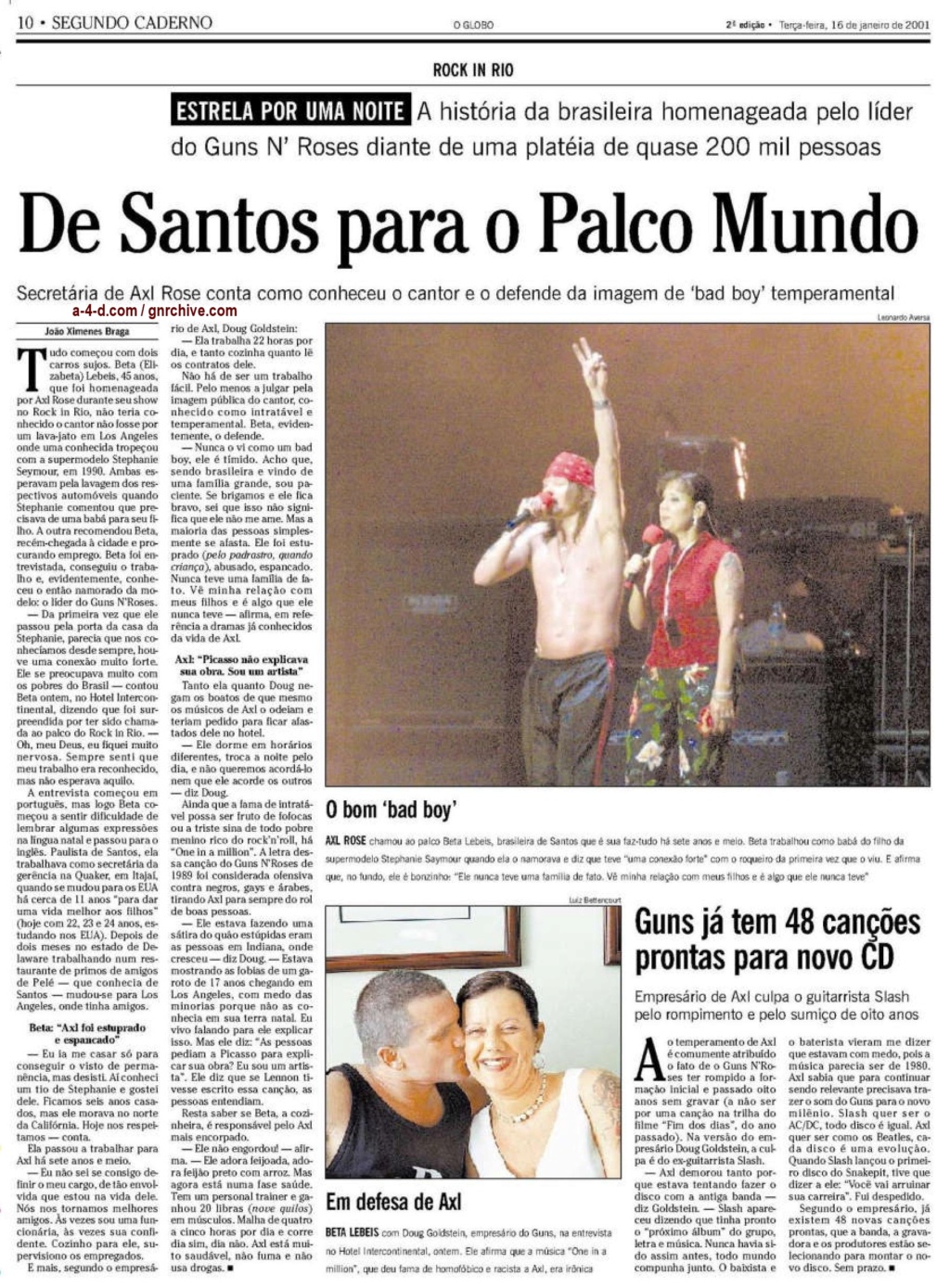 Google translation with corrections:
---------------------------------------------
She is the rose of Guns
Honored by Axl at Rock in Rio, Brazilian Beta Lebeis is the singer's guardian angel
Behind the busy life of Axl Rose, leader of Guns N 'Roses, there is a Brazilian [woman]. Honored by the singer during his performance at Rock in Rio on Sunday, Beta Lebeis from São Paulo is a kind of handyperson in the rocker's routine. She takes care of everything: from his food to the contracts he signs. "Sometimes I'm an employee, sometimes I'm a confidant", says Beta, not afraid to say that she represents for the singer the family that he, in effect, never had. Beta moved to the United States 11 years ago, in search of a better life for her three children. Today, at the age of 45, she finds it difficult to say some expressions in Portuguese. The Brazilian woman defends Axl Rose against the bad boy reputation. She says that he is shy and denies that he has problems with the other members of the band. "He sleeps at different hours, he is  a night owl", she says. According to the Guns N' Roses leader's manager, Doug Goldstein, Beta works 22 hours a day. In an informal conversation with fans yesterday, by the pool of the hotel where he is staying, Axl recounted the crazy times with his former bandmates. The singer talked about his disagreements with them and his passion for Brazil.
***
From Santos to the World Stage
STAR FOR ONE NIGHT
The story of the Brazilian woman honored by the leader of Guns N 'Roses in front of an audience of almost 200 thousand people
Axl Rose's assistant tells how she met the singer and defends him against the temperamental 'bad boy' image
João Ximenes Braga
It all started with two dirty cars. Beta (Elizabeta) Lebeis, 45, who was honored by Axl Rose during his concert at Rock in Rio, wouldn't have met the singer had it not been for a car wash in Los Angeles where a well-known woman stumbled upon supermodel Stephanie Seymour in 1990. They were both waiting for their car wash, when Stephanie mentioned that she needed a baby sitter for her son. The other woman recommended Beta, who had just moved to the city and was looking for a job. Beta was interviewed, got the job and, of course, met the model's then boyfriend: the leader of Guns N' Roses. 
"The first time he walked through Stephanie's door, it seemed like we had known each other forever, there was a very strong connection. He was very worried about the poor in Brazil," recounted Beta yesterday at the Intercontinental Hotel. She said she was surprised that she was called to the stage at Rock In Rio: "Oh my God, I was very nervous. I always felt that my work was appreciated, but I didn't expect that." 
The interview started in Portuguese, but soon Bela began to have difficulty remembering some expressions in her native language and switched to English. A native of Santos in São Paulo, she worked as an executive secretary at Quaker in Itajai, until she made her way to the United States about 11 years ago in order "to provide a better life for her children" (now 22, 23 and 24 years old and studying in the USA). After two months in the state of Delaware working at a restaurant owned by Pelé's cousins ​​- who she knew from Santos - she moved to Los Angeles, where she had friends. 
Beta: "Axl was raped and beaten"
"I was going to get married there just to get a visa, but I gave up. Then I met an uncle of Stephanie's and I liked him. We were married for six years, but he lived in Northern California. Today we respect each other," she says.  
She started working for Axl seven and a half years ago. 
"I don't know if I can define my position, being as involved as I am in his life. We have become best friends. Sometimes I'm an employee, sometimes I am his confidant. I cook for him, I supervise the employees." 
And even more, according to Axl's manager, Doug Goldstein: "She works 22 hours a day, and she both cooks and reads his contracts." 
It doesn't have to be an easy job, at least judging from the singer's public image, known as intractable and temperamental. Beta, of course, defends him. 
"I never saw him as a bad boy. He is timid. I think that, being Brazilian and coming from a large family, I am patient. If we fight and he gets mad, I know that it doesn't mean he doesn't love me. But most people just walk away. He was raped (by his stepfather as a child), abused, beaten. He never really had a family. He sees my relationship with my children and it's something he never had," she says, referring to the well-known dramas in Axl's life. 
Axl: "Picasso didn't explain his work. I'm an artist."
Both she and Doug deny rumors that even Axl's musicians hate him and asked to stay away from him at the hotel. 
"He sleeps at different hours, he's a night owl, and we don't want to wake him up or him to wake up the others," says Doug. 
Although Axl's reputation as an intractable person may be the result of gossip or the sad fate of every poor rich boy in rock 'n' roll, there is "One in a million". The lyrics of this 1989 Guns N' Roses song were considered offensive against blacks, gays and Arabs, removing Axl from the good people list forever. 
"He was making a joke about how stupid people were in Indiana, where he grew up," says Doug. "He was showing the phobias of a 17 year old boy arriving in Los Angeles and being afraid of minorities because he didn't know them in his homeland. I keep telling him to explain it, but he says, 'Did people ask Picasso to explain his work? I'm an artist.' He says that if Lennon had written that song, people would understand." 
What is left to know is whether Beta's cooking is responsible for the full-bodied Axl. 
"He hasn't got fat!" she says. "He loves feijoada, he loves black beans with rice. But now he's leading a healthy lifestyle. He has a personal trainer and has gained 20 pounds (nine kilos) in muscle. He works out four to five hours a day and goes running every other day. Axl is very healthy, he doesn't smoke and he doesn't do drugs.'  
*** 
Guns already has 48 songs ready for new album
Axl's manager blames guitarist Slash for the breakup and for the loss of eight years.
Axl's temperament has often been blamed for the fact that the original Guns N' Roses lineup broke up and the band has spent eight years without recording (except for a song on the soundtrack to the film "End of Days" last year). According to manager Doug Goldstein's version, it's the fault of former Guns guitarist, Slash.  
"Axl took so long because he was trying to make the record with the old band," says Goldstein. "Slash came saying that he had the band's 'next album' ready, lyrics and music. It had never been like this before, everyone wrote together. The bassist and the drummer came to me and told me they were afraid, because the songs sounded like they were from the '80s. Axl knew that he needed to bring the Guns N' Roses' sound into the new millennium in order to stay relevant. Slash wants to be like AC​​/DC, every record is the same. Axl wants to be like the Beatles, every record is an evolution. When Slash released the first Snakeplt record, I had to tell him, 'You're going to ruin your career.' I got fired. 
According to the manager, there are already 48 new songs ready, which the band, the record company and the producers are selecting from to compile the new album. There is no deadline.

Blackstar

ADMIN




Posts

: 12210


Plectra

: 80073


Reputation

: 97


Join date

: 2018-03-17



---
Permissions in this forum:
You
cannot
reply to topics in this forum