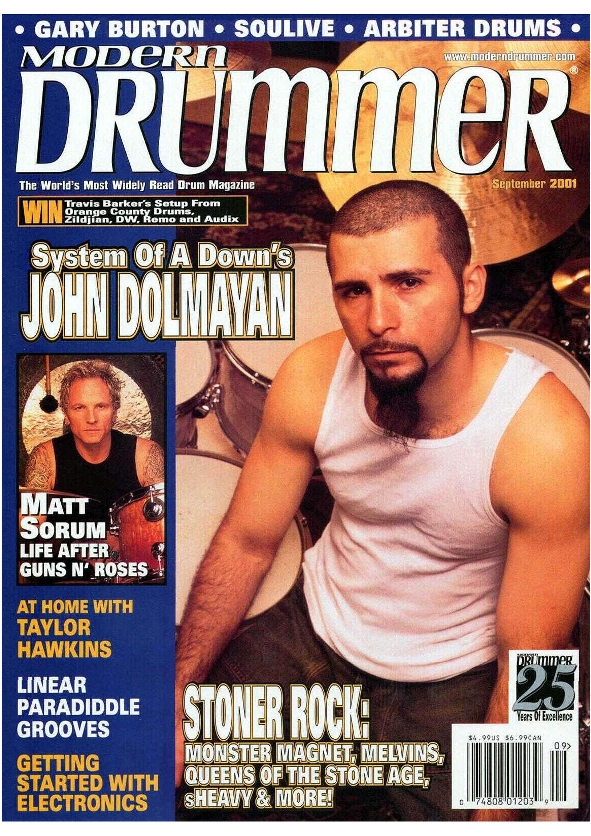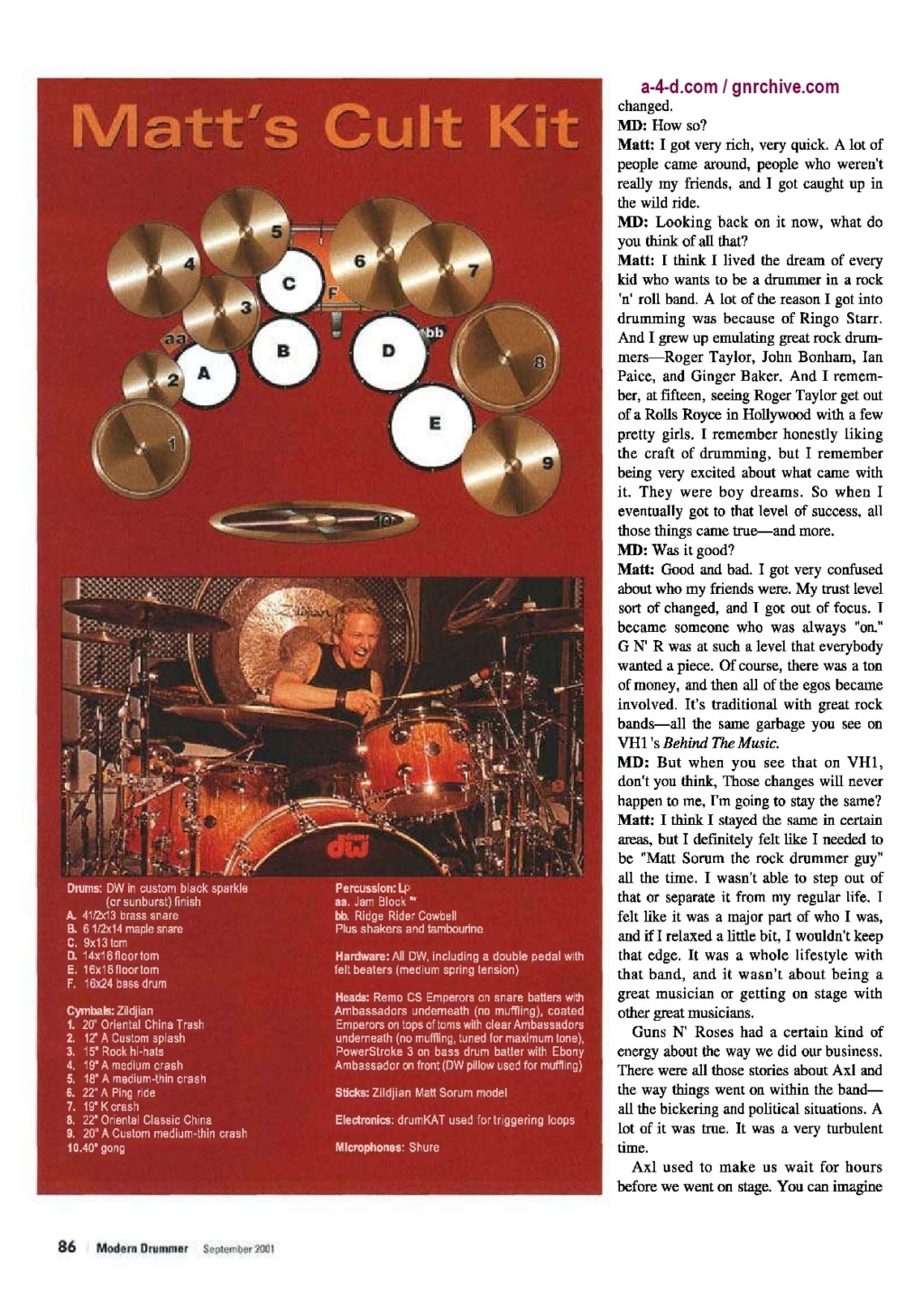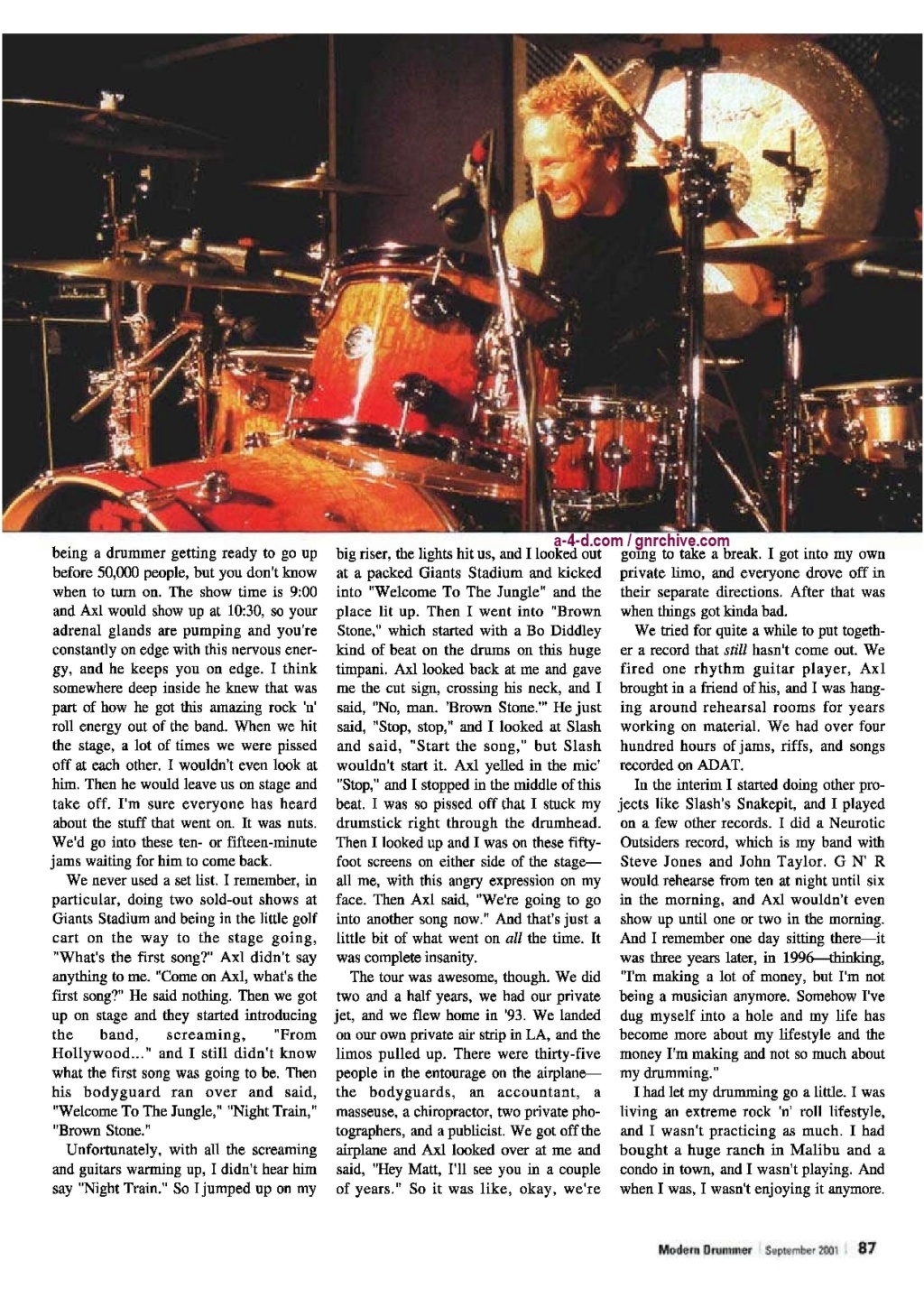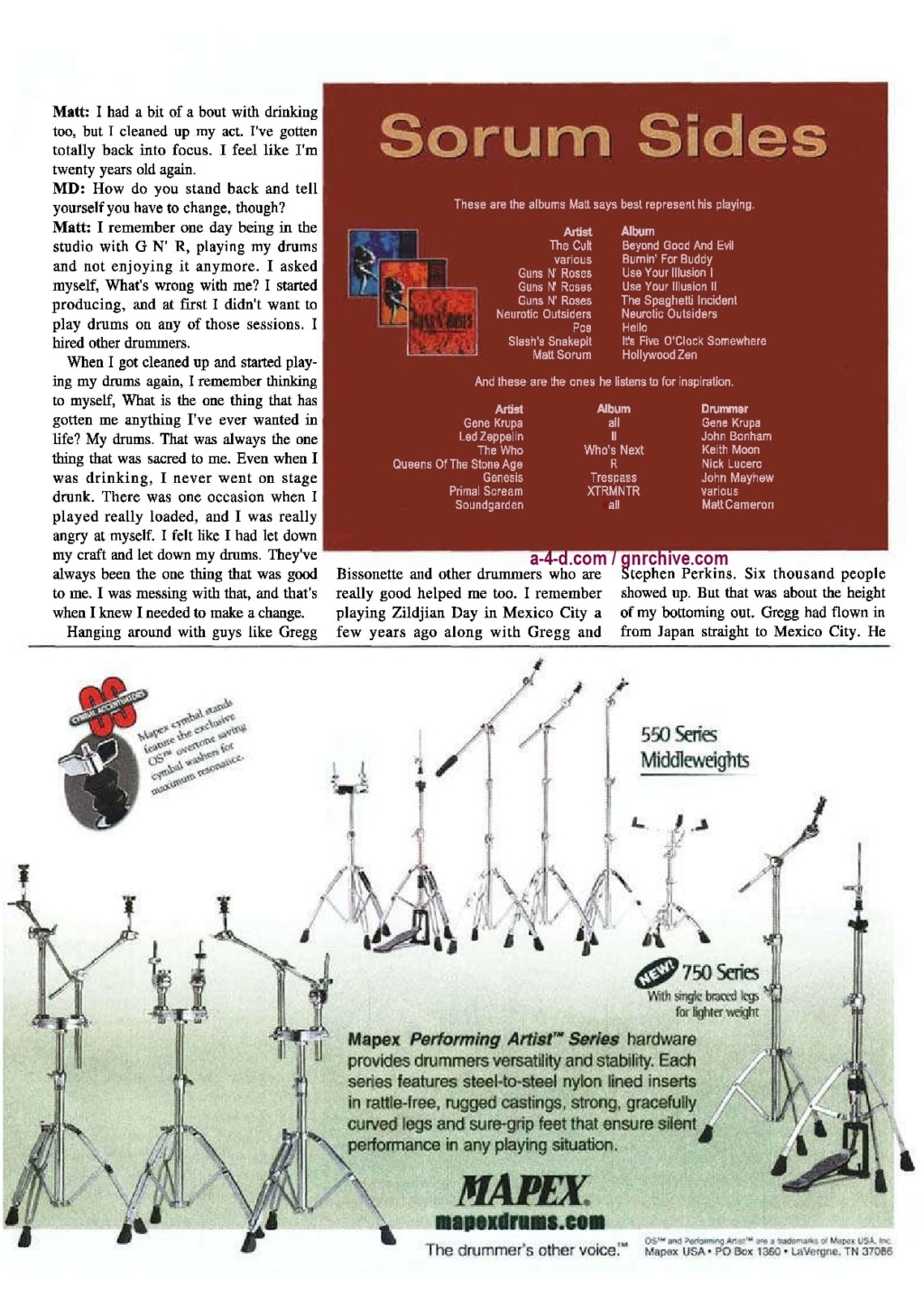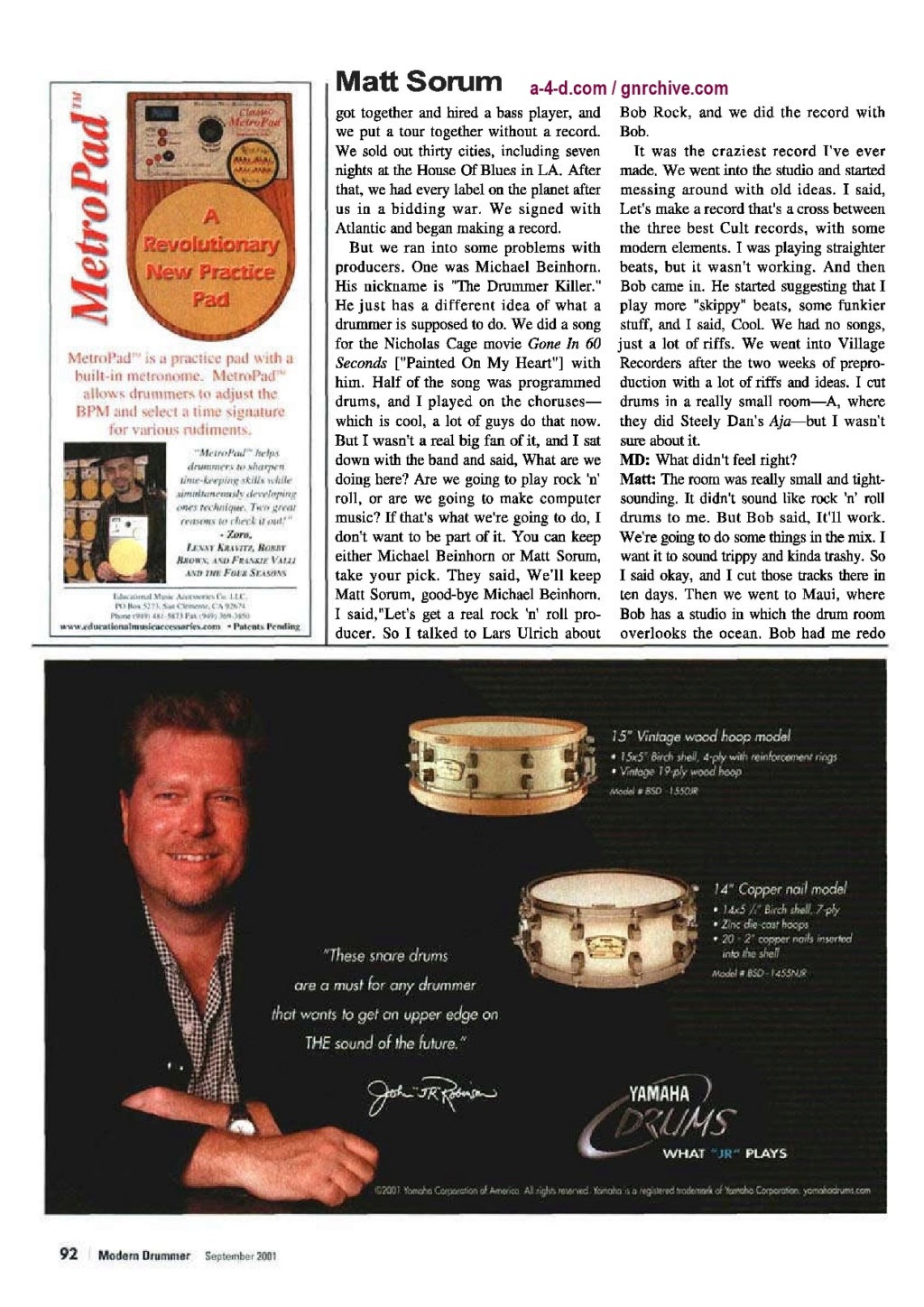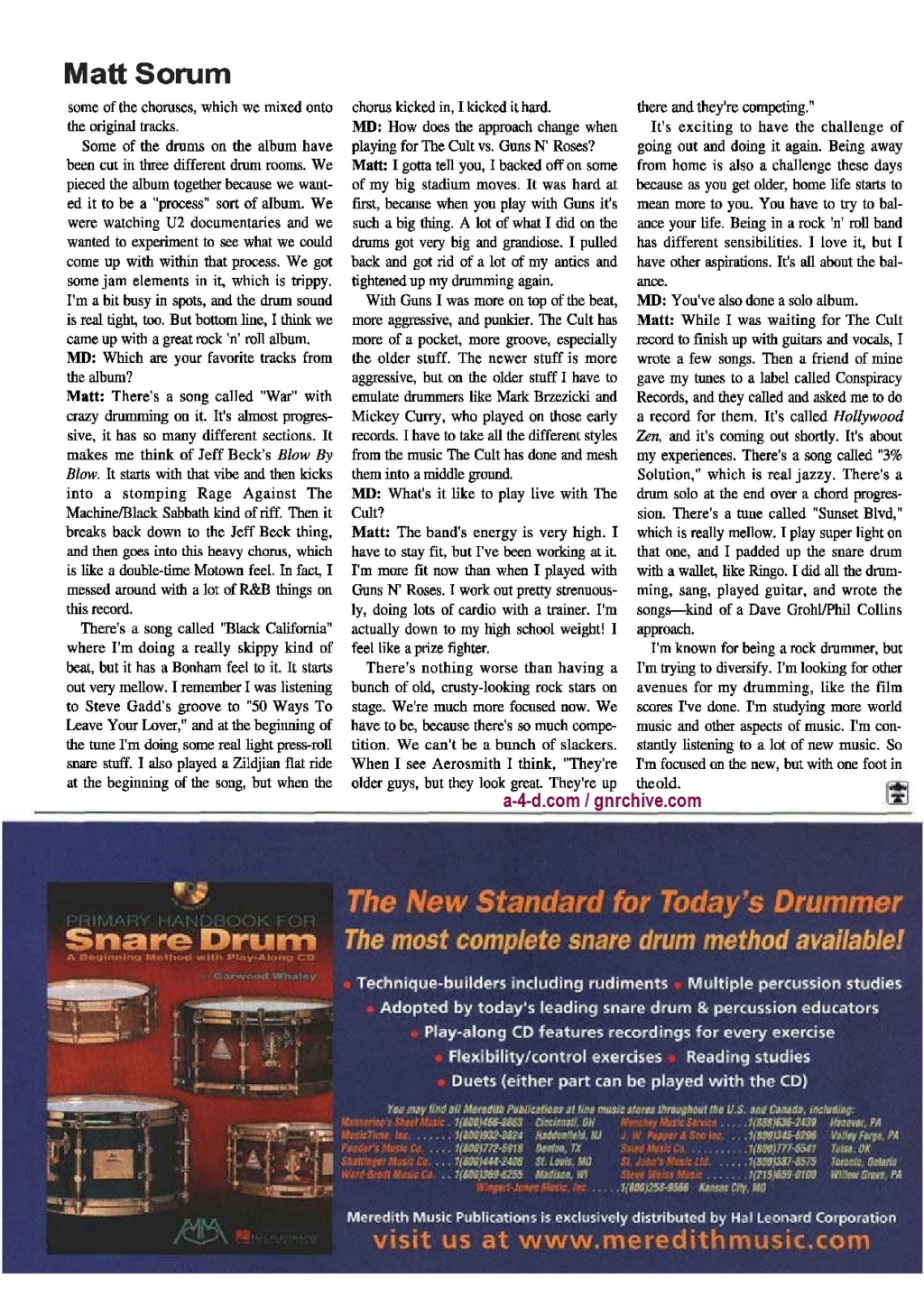 Matt Sorum: Surviving Super Stardom
By Robyn Flans
Photos by Alex Solca
Matt Sorum is feeling great these days. The past decade brought him great notoriety and financial comfort. But it also provided him with invaluable insight and important life lessons.
Sorum had strayed far from the high school student who was consumed by drums, who played in jazz ensemble, marching band, and the Mission Viejo High School Drum Corps, and who practiced at home to early Genesis and Gentle Giant records. Eventually Matt got into drummers like Billy Cobham, Lenny White, and Tony Williams, but rock won out. By the time he was fifteen, the young drummer was playing the club circuit in Hollywood, sixty miles north of where he lived. Upon high school graduation, Matt moved to Hollywood on his own to pursue a career in music.
Although Sorum did some sessions in the '80s for such artists as Eric Carmen, Gladys Knight, Belinda Carlisle, and Spencer Davis, his true love was honored when he hooked up with The Cult in the late '80s. But then, after a year and a half, Sorum was invited to join Guns N' Roses, a situation he knew he couldn't turn down.
From 1990 to 1997, Sorum lived every drummer's boyhood dream - success, luxury, fans, huge audiences, and all the trappings. They were exciting yet tumultuous years that created problems he hadn't anticipated. After taking some time to regroup and come back down to earth, Matt is now involved with a diverse array of projects including producing several artists, recording a solo album, and touring with The Cult after recording their latest release, Beyond Good And Evil. It's a good name for a record - and could almost be the title for where Matt's been since we last caught up with him.
MD: At our last interview, in 1991, you were just about to embark on your first Guns N' Roses tour. What was that whole experience like?
Matt: My first show with them was at a huge stadium - 175,000 people. I had played big gigs with The Cult in the late '80s but this was something else. I remember Axl had his guy call me at the hotel right before the gig, "Matt, Axl would like you to do a drum solo tonight." So I thought, "Okay, I'm going to do a drum solo in front of 175,000 people! I'm in Brazil, they love drums. If I get into more of a rhythmic, group participation sort of thing, it'll be effective."
So Axl introduced me as the new guy - "The Assassin," he called me - and all of a sudden about fifty spotlights hit me. I launched into every drum solo lick I ever knew. Fifteen minutes later, I was still going - the sound, the PA, the people made it seem so surreal. I thought about when I saw John Bonham at the Forum and all the great drummers and drum solos I'd seen back in the day.
I remember kicking quarter notes on the bass drum, standing up and clapping my hands - and there were 175,000 people's arms up in the air clapping with me. They kept clapping, so I soloed to that. Then I kicked the band into "You Can Be Mine," which had that big drum intro. We did two nights, and the second night I soloed even longer. I remember looking over to the side of the stage and Axl was standing there, ready to come back on, and I was thinking, Hey man, you can wait. I soloed every night after that.
The band really embraced me and took me seriously as an integral part of what they had become. It brought me a lot of notoriety as a rock drummer. And it was wild. After that tour, I was famous - people knew my face, I couldn't go out. I'd be in different countries and couldn't leave the hotels. I got chased by people. I remember getting off the airplane in Japan and there were a thousand kids waiting there at the airport. When we went to Rio for the first time, I was instantly recognized because we had seven top-10 singles on the charts. When we got there, it was basically like being The Beatles. Things got really craz. We were flying around on a private 727 jet. I had my own bodyguard and bag guy. We all had our own limos! We did two and a half years of stadiums, and it was huge. And my life changed.
MD: How so?
Matt: I got very rich, very quick. A lot of people came around, people who weren't really my friends, and I got caught up in the wild ride.
MD: Looking back on it now, what do you think of all that?
Matt: I think I lived the dream of every kid who wants to be a drummer in a rock 'n' roll band. A lot of the reason I got into drumming was because of Ringo Starr. And I grew up emulating great rock drummers - Roger Taylor, John Bonham, Ian Paice, and Ginger Baker. And I remember, at fifteen, seeing Roger Taylor get out of a Rolls Royce in Hollywood with a few pretty girls. I remember honestly liking the craft of drumming, but I remember being very excited about what came with it. They were boy dreams. So when I eventually got to that level of success, all those things came true - and more.
MD: Was it good?
Matt: Good and bad. I got very confused about who my friends were. My trust level sort of changed, and I got out of focus. I became someone who was always "on." GN'R was at such a level that everybody wanted a piece. Of course, there was a ton of money, and then all of the egos became involved. It's traditional with great rock bands - all the same garbage you see on VH1's Behind The Music.
MD: But when you see that on VH1, don't you think, Those changes will never happen to me, I'm going to stay the same?
Matt: I think that I stayed the same in certain areas, but I definitely felt like I needed to be "Matt Sorum the rock drummer guy" all the time. I wasn't able to step out of that or separate it from my regular life. I felt like it was a major part of who I was, and if I relaxed a little bit, I wouldn't keep that edge. It was a whole lifestyle with that band, and it wasn't abou tbeing a great musician or getting on stage with other great musicians.
Guns N' Roses had a certain kind of energy about the way we did our business. There were all those stories about Axl and the way things went on within the band - all the bickering and political situations. A lot of it was true. It was a very turbulent time.
Axl used to make us wait for hours before we went on stage. You can imagine being a drummer getting ready to go up before 50,000 people, but you don't know when to turn on. The show time is 9:00 and Axl would show up at 10:30, so your adrenal glands are pumping and you're constantly on edge with this nervous energy, and he keeps you on edge. I think somewhere deep inside he knew that was part of how he got this amazing rock 'n' roll energy out of the band. When we hit the stage, a lot of times we were pissed off at each other. I wouldn't even look at him. Then he would leave us on stage and take off. I'm sure everyone has heard about the stuff that went on. It was nuts. We'd go into these ten- or fifteen-minute jams waiting for him to come back.
We never used a set list. I remember, in particular, doing two sold-out shows at Giants Stadium and being in the little golf cart on the way to the stage going, "What's the first song?" Axl didn't say anything to me. "Come on Axl, what's the first song?" Axl didn't say anything to me. "Come on Axl, what's the first song?" He said nothing. Then we got up on stage and they started introducing the band, screaming, "From Hollywood..." and I still didn't know what the first song was going to be. Then his bodyguard ran over and said, "Welcome To The Jungle," "Night Train," "Brown Stone."
Unfortunately, with all the screaming and guitars warming up, I didn't hear him say "Night Train." So I jumped up on my big riser, the lights hit us, and I looked out at a packed Giants Stadium and kicked into "Welcome To The Jungle" and the place lit up. Then I went into "Brown Stone," which started with a Bo Diddley kind of beat on the drums on this huge timpani. Axl looked back at me and gave me the cut sign, crossing his neck, and I said, "No, man. 'Brown Stone.'" He just said, "Stop, stop," and I looked at Slash and said, "Start the song," but Slash wouldn't start it. Axl yelled in the mic' "Stop," and I stopped in the middle of this beat. I was so pissed off that I stuck my drumstick right through the drumhead. Then I looked up and I was on these fifty-foot screens on either side of the stage - all me, with this angry expression on my face. Then Axl said, "We're going to go into another song now." And that's just a little bit of what went on all of the time. It was complete insanity.
The tour was awesome, though. We did two and a half years, we had our private jet, and we flew home in '93. We landed on our own private air strip in LA, and the limos pulled up. There were thirty-five people in the entourage on the airplane - the bodyguards, an accountant, a masseuse, a chiropractor, two private photographers, and a publicist. We got off the airplane and Axl looked over at me and said, "Hey Matt, I'll see you in a couple of years." So it was like, okay, we're going to take a break. I got into my own private limo, and everyone drove off in their separate directions. After that was when things got kinda bad.
We tried for quite a while to put together a record taht still hasn't come out. We fired one rhythm guitar player, Axl brought in a friend of his, and I was hanging around rehearsal rooms for years working on material. We had over four hundred hours of jams, riffs, and songs recorded on ADAT.
In the interim I started doing other projects like Slash's Snakepit, and I played on a few other records. I did a Neurotic Outsiders record, which is my band with Steve Jones and John Taylor. GN'R would erhearse from ten at night until six in the morning, and Axl wouldn't even show up until one or two in the morning. And I remember one day sitting there - it was three years later, in 1996 - thinking, "I'm making a lot of money, but I'm not being a musician anymore. Somehow I've dug myself into a hole and my life has become more about my lifestyle and the money I'm making and not so much about my drumming."
I had let my drumming go a little. I was living an extreme rock 'n' roll lifestyle, and I wasn't practicing as much. I had bought a huge ranch in Malibu and a condo in town, and I wasn't playing. And when I was, I wasn't enjoying it anymore. So I said to myself, I have to quit this band. I really didn't want to quit, because I always try to see things through to the end. But Axl and I got into it and he ended up firing me.
MD: What were you suggesting?
Matt: At that point, Slash wasn't around, so I said, "We've got to get Slash back and start making this record." Axl said, "We don't need Slash," but I said, "Seems to me all the great songs - 'Welcome To The Jungle' and 'Sweet Child Of Mine' - were very much you and Slash. We need you two guys together." So he said, "Are you going to quit then?" I said, "No, I'm not going to quit." And then he said, "Well, then you're fired." And about a month later, I got the notice from the lawyers that I was out.
Then my whole life took a turn. I thought, I've got to get back to playing music. I'm going to get my act together. I'm going to get out of these silly , stupid houses I'm living in. So I downsized. I figured, I have to walk away from a huge financial thing to be happy, which was tough. But I wanted to play again and decided I would beat Axl out on the road.
Since I left that band, I produced Poe, who had a top-40 hit. I also produced Candlebox, I did the scores to some films, including The Last Marshall, Librarian, Sound Man, and Fish In A Barrel. I put together a production company with a partner who is an amazing string instrumentalist. And I have my own studio and an agent who handles me on the film stuff. This is the most fun I've had ever. Every film is different and it's so much fun to come up with all these different styles of music. Now I've been thinking about the next phase of my life.
MD: It's not easy to make your way out of the rock 'n' roll lifestyle.
Matt: I had a bit of a bout with drinking too, but I cleaned up my act. I've gotten totally back into focus. I feel like I'm twenty years old again.
MD: How do you stand back and tell yourself you have to change, though?
Matt: I remember one day being in the studio with GN'R, playing my drums and not enjoying it anymore. I asked myself, What's wrong with me? I started producing, and at first I didn't want to play drums on any of those sessions. I hired other drummers.
When I got cleaned up and started playing my drums again, I remember thinking to myself, What is the one thing that has gotten me anything I've ever wanted in life? My drums. That was always the one thing that was sacred to me. Even when I was drinking, I never went on stage drunk. There was one occasion when I played really loaded, and I was really angry at myself. I felt like I had let down my craft and let down my drums. They've always been the one thing that was good to me. I was messing with that, and that's when I knew I needed to make a change.
Hanging around with guys like Gregg Bissonette and other drummers who are really good helped me too. I remember playing Zildijian Day in Mexico City a few years ago along with Gregg and Stephen Perkins. Six thousand people showed up. But that was about the height of my bottoming out. Gregg had flown in from Japan straight to Mexico City. He had just gotten off the plane and was sleepig in the dressing room. I remember my solo: I was tired, and I sounded tired. But then Gregg got up there, having barely slept and having flown for twenty hours, and he just slayed! I thought, "He is focused! He is awesome!" He blew me away and really inspired me. And he's always been such a gentleman, just like Louie Bellson. I said to myself, If I'm going to emulate anybody, these are the guys.
I don't want to be one of those arrogant guys running around saying they know everything, because I don't. I want to give people an honest representation of where I've been. For another drummer who may be getting into that kind of rock 'n' roll lifestyle, I would say, See for yourself. But for me, I'm glad I came through it and got out of it. In a nutshell, it was a wild, wild ride.
MD: You left The Cult to go with Guns N' Roses, but obviously you didn't burn any bridges with The Cult, as you're back with them now.
Matt: When I left The Cult in '89 to join Guns N' Roses, I was a sideman. At that point, I felt very embraced by the guys in Guns, and I couldn't say no. I went to the Cult guys and they understood.
MD: How did the offer to re-join the band come up?
Matt: About two years ago my band The Neurotic Outsiders was playing periodic shows at The Viper Room, and people would sit in with us. Then I was watching MTV one day and that band Buckcherry had a hit, and it remeinded me of The Cult. I wanted to get into a band again and go out on the road. I missed it. So I called Billy [Duffy] in England and said, "I just saw this band Buckcherry, and I'm feeling that it's okay to play rock 'n' roll again. What do you think about talking to Ian [Astbury] and getting back together?" They had been split up for four of five years at that point.
I suggested to Billy that he come out here and stay with me. I had a gig with Neurotic at The Viper Room, and I told Billy he should come down. I called Ian too. We played "Love Removeal Machine" and "Wildflower" from their Electric album, and the crowd went nuts. We looked at each other and thought, We need to do this agin. So the three of us got together and hired a bass player, and we put a tour together without a record. We sold out thirty cities, including seven nights at the House Of Blues in LA. After that, we had every label on the planet after us in a bidding war. We signed with Atlantic and began making a record.
But we ran into some problems with producers. One was Michael Beinhorn. His nickname is "The Drummer Killer." He just has a different idea of what a drummer is supposed to do. We did a song for the Nicholas Cage movie Gone In 60 Seconds ["Painted On My Heart"] with him. Half of the song was programmed drums, and I played on the choruses - which is cool, a lot of guys do that now. But I wasn't a real big fan of it, and I sat down with the band and said, What are we doing here? Are we going to play rock 'n' roll, or are we going to make computer music? If that's what we're going to do, I don't want to be part of it. You can keep either Michael Beinhorn or Matt Sorum, take your pick. They said, We'll keep Matt Sorum, good-bye Michael Beinhorn. I said, Let's get a real rock 'n' roll producer. So I talked to Lars Ulrich about Bob Rock, and we did the record with Bob.
It was the craziest record I've ever made. We went into the studio and started messing around with old ideas. I said, Let's make a record that's a cross between the three best Cult records, with some modern elements. I was playing straighter beats, but it wasn't working. And then Bob came in. He started suggesting that I play more "skippy" beats, some funkier stuff, and I said, Cool. We had no songs, just a lot of riffs. We went into Village Recorders after the two weeks of preproduction with a lot of riffs and ideas. I cut drums in a really small room - A, where they did Steely Dan's Aja - but I wasn't sure about it.
MD: What didn't feel right?
Matt: The room was really small and tight-sounding. It didn't sound like rock 'n' roll drums to me. But Bob said, It'll work. We're going to do some things in the mix. I want it to sound trippy and kinda trashy. So I said okay, and I cut those tracks there in ten days. Then we went to Maui, where Bob has a studio in which the drum room overlooks the ocean. Bob had me redo some of the choruses, which we mixed onto the original tracks.
Some of the drums on the album have been cut in three different drum rooms. We pieced the album together because we wanted it to be a "process" sort of album. We were watching U2 documentaries and we wanted to experiment to see what we could come up with within that process. We got some jam elements in it, which is trippy. I'm a bit busy in spots, and the drum sound is real tight, too. But the bottom line, I think we came up with a great rock 'n' roll album.
MD: Which are your favorite tracks from the album?
Matt: There's a song called "War" with crazy drumming on it. It's almost progressive, it has so many different sections. It makes me think of Jeff Beck's Blow By Blow. It starts with that vibe and then kicks into a stomping Rage Against The Machine/Black Sabbath kind of riff. Then it breaks back down to the Jeff Beck thing, and then goes into this heavy chorus, which is like a double-time Motown feel. In fact, I messed around with a lot of R&B; things on this record.
There's a song called "Black California" where I'm doing a really skippy kind of beat, but it has a Bonham feel to it. It starts out very mellow. I remember I was listening to Steve Gadd's groove to "50 Ways To Leave Your Lover," and at the beginning of the tune I'm doing some real light press-roll snare stuff. I also played a Zildjian flat ride at the beginning fo the song, but when the chorus kicked in, I kicked it hard.
MD: How does the approach change when playing for The Cult vs. Guns N' Roses?
Matt: I gotta tell you, I backed off on some of my big stadium moves. It was hard at first, because when you play with Guns it's such a big thing. A lot of what I did on the drums got very big and grandiose. I pulled back and got rid of a lot of my antics and tightened up my drumming again.
With Guns I was more on top of the beat, more aggressive, and punkier. The Cult has more of a pocket, more groove, especially the older stuff. The newer stuff is more agressive, but on the older stuff I have to emulate drummers like Mark Brzezicki and Mickey Curry, who played on those early records. I have to take all the different styles from the music The Cult has done and mesh them into a middle ground.
MD: What's it like to play live with The Cult?
Matt: The band's energy is very high. I have to stay fit, but I've been working at it. I'm more fit now than when I played with Guns N' Roses. I work out pretty strenuously, donig lots of cardio with a trainer. I'm actually down to my high school weight! I feel like a prize fighter.
There's nothing worse than having a bunch of old, crusty-looking rock stars on stage. We're much more focused now. We have to be, because there's so much competition. We can't be a bunch of slackers. When I see Aerosmith I think, "They're older guys, but they look great. They're up there and they're competing."
It's exciting to have the challenge of going out and doing it again. Being away from home is also a challenge these days because as you get older, home life starts to mean more to you. You have to try to balance your life. Being in a rock 'n' roll band has different sensibilities. I love it, but I have other aspirations. It's all about the balance.
MD: You've also done a solo album.
Matt: While I was waiting for The Cult record to finish up with guitars and vocals, I wrote a few songs. Then a friend of mine gave my tunes to a label called Conspiracy Records, and they called and asked me to do a record for them. It's called Hollywood Zen, and it's coming out shortly. It's about my experiences. There's a song called "3% Solution," which is real jazzy. There's a drum solo at the end over a chord progression. There's a tune called "Sunset Blvd," which is really mellow. I play super light on that one, and I padded up the snare drum with a wallet, like Ringo. I did all the drumming, sang, played guitar, and wrote the songs - kind of a Dave Grohl/Phil Collins approach.
I'm known for being a rock drummer, but I'm trying to diversify. I'm looking for other avenues for my drumming, like the film scores I've done. I'm studying more world music and other aspects of music. I'm constantly listening to a lot of new music. So I'm focused on the new, but with one foot in the old.

Blackstar

ADMIN




Posts

: 9414


Plectra

: 64297


Reputation

: 97


Join date

: 2018-03-17



---
Permissions in this forum:
You
cannot
reply to topics in this forum