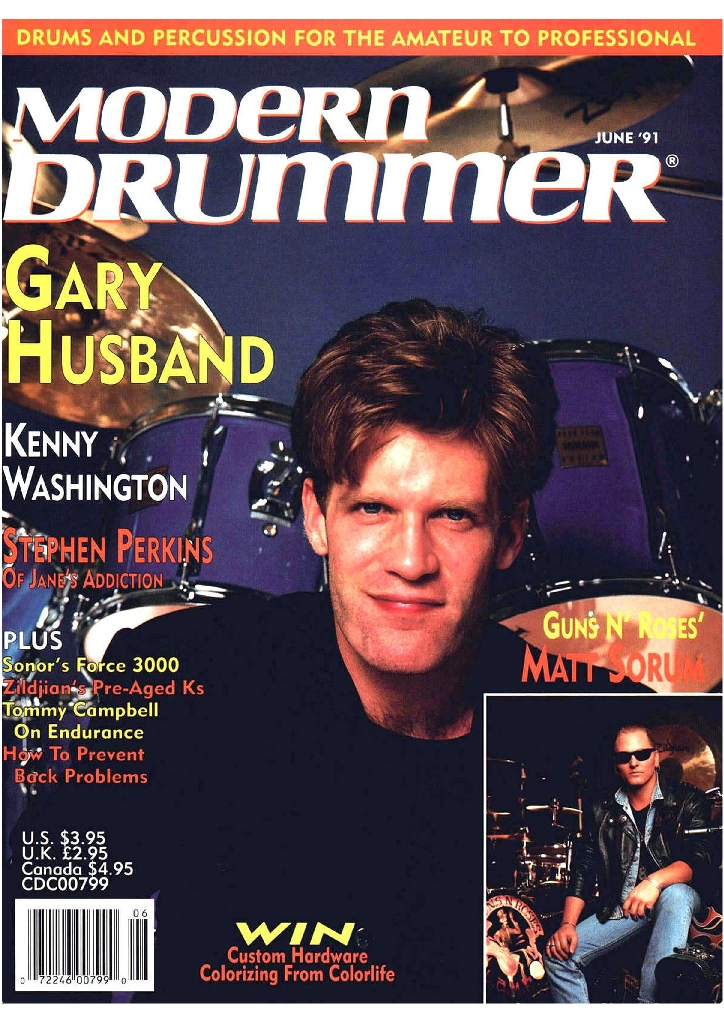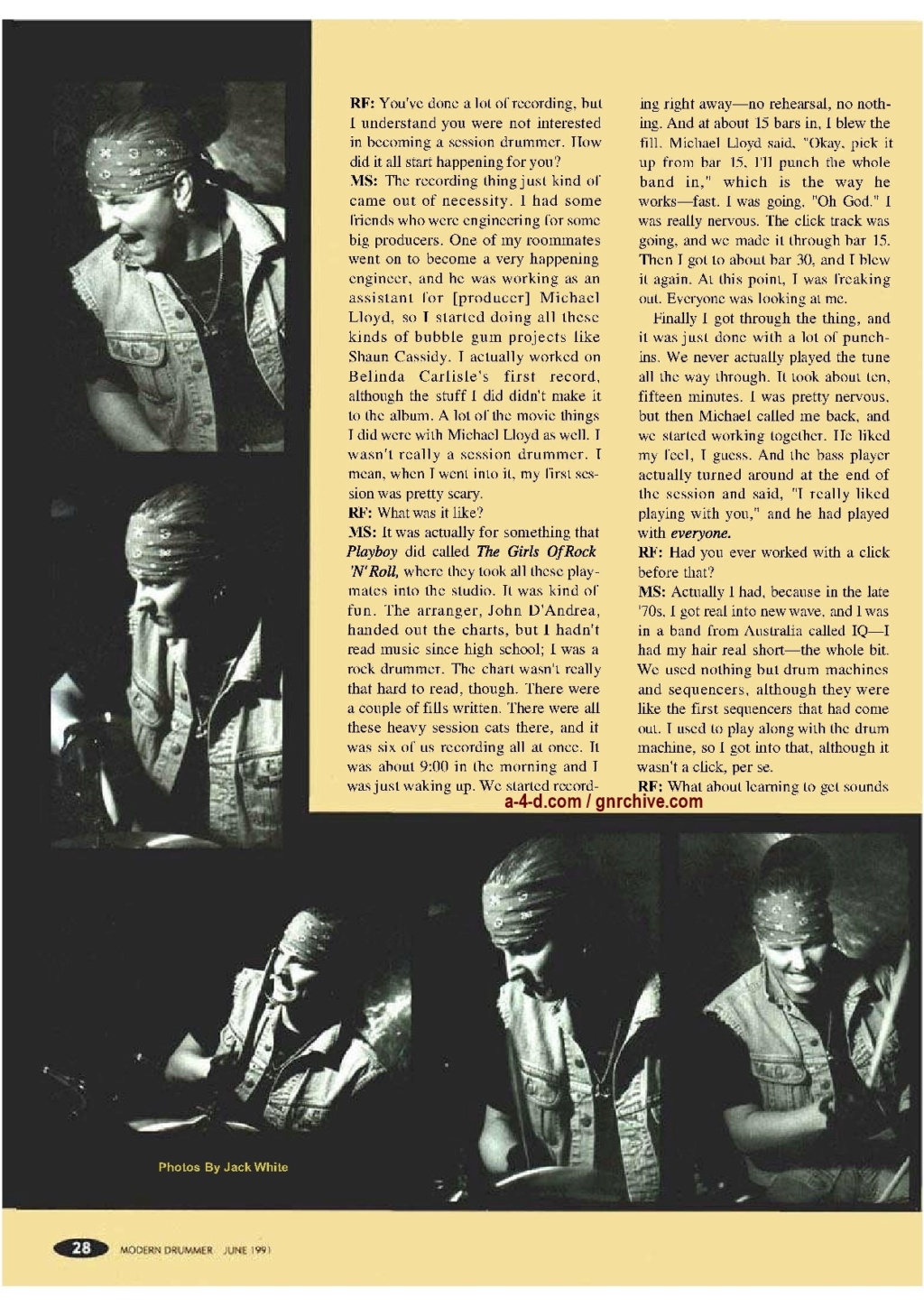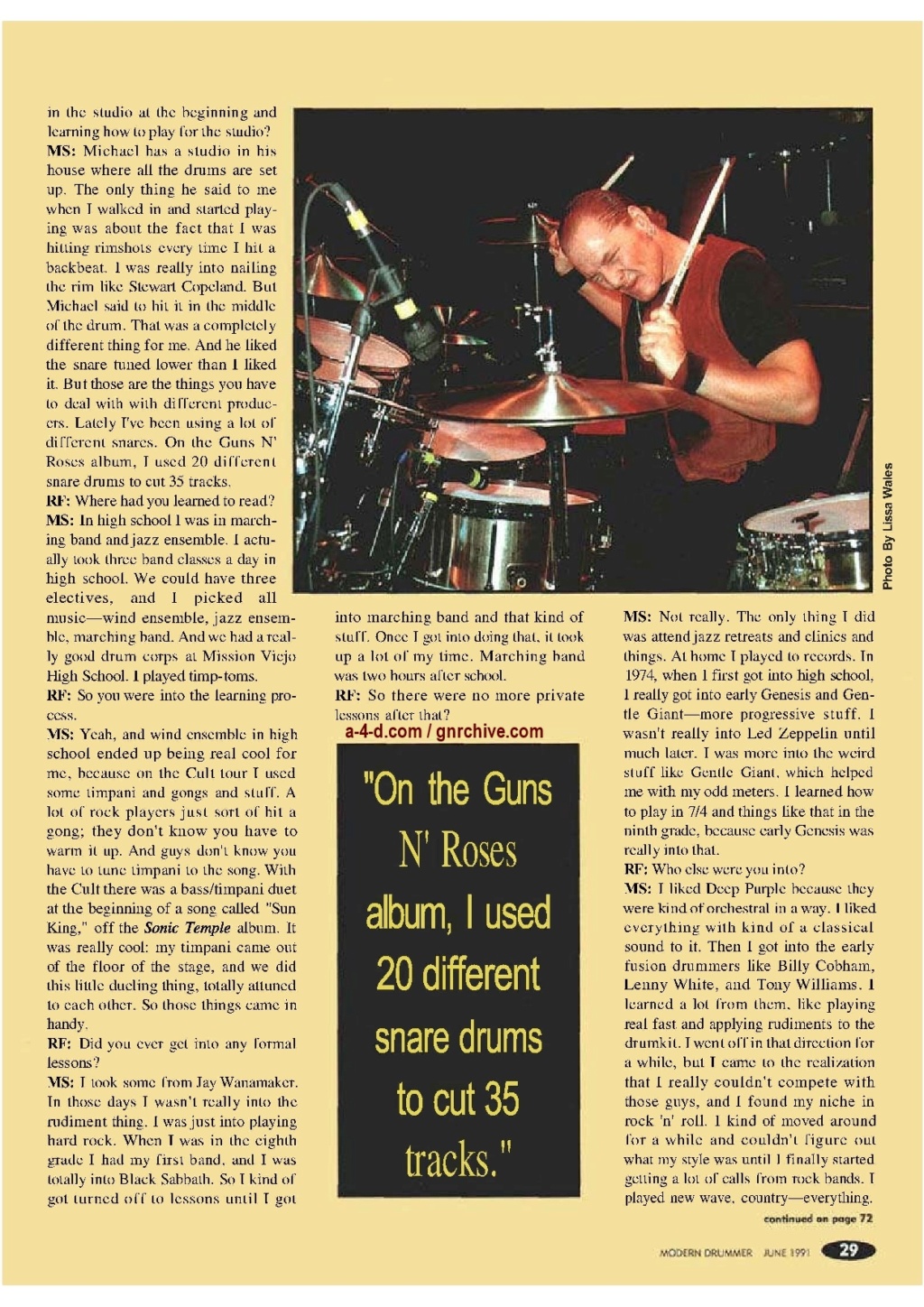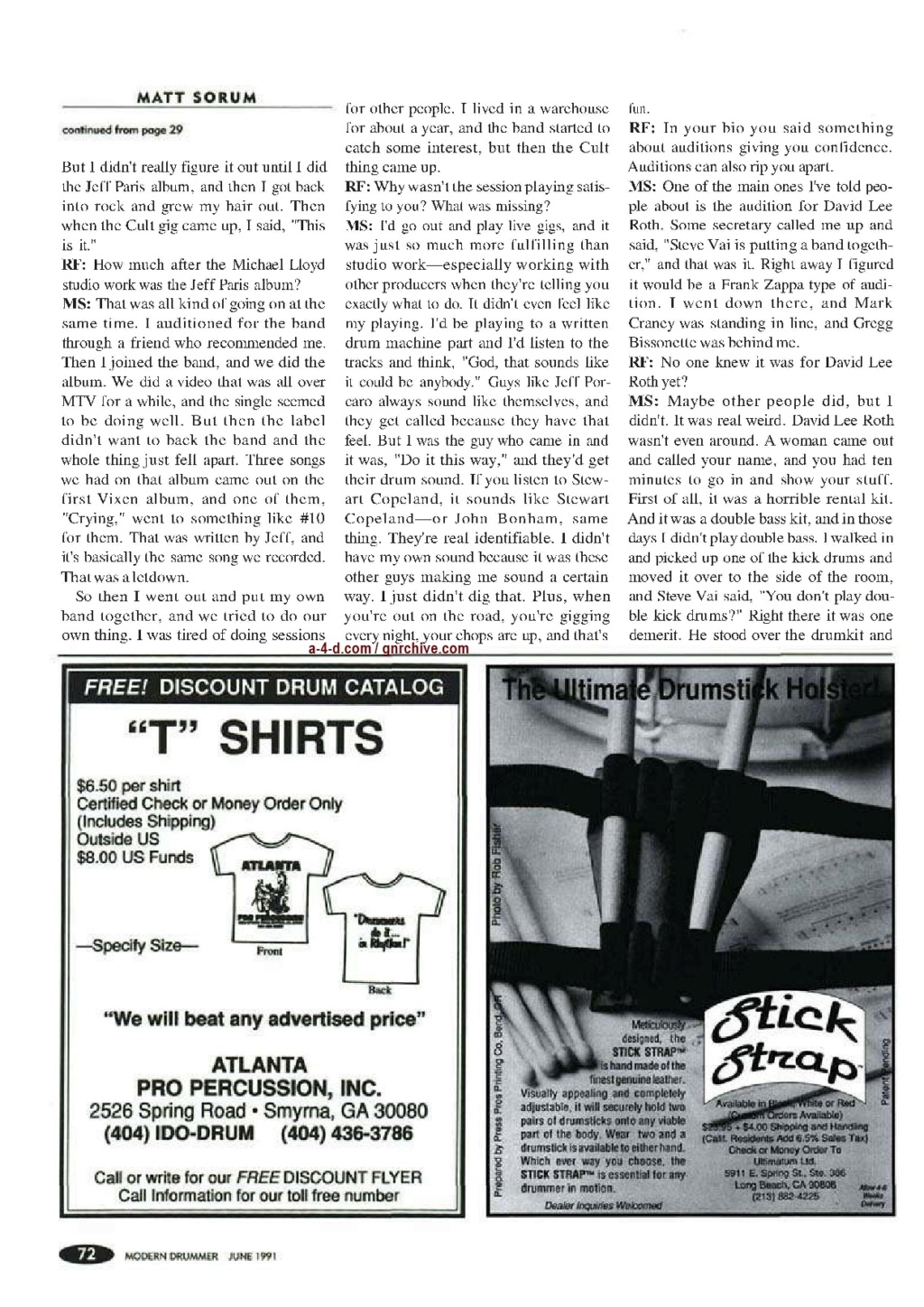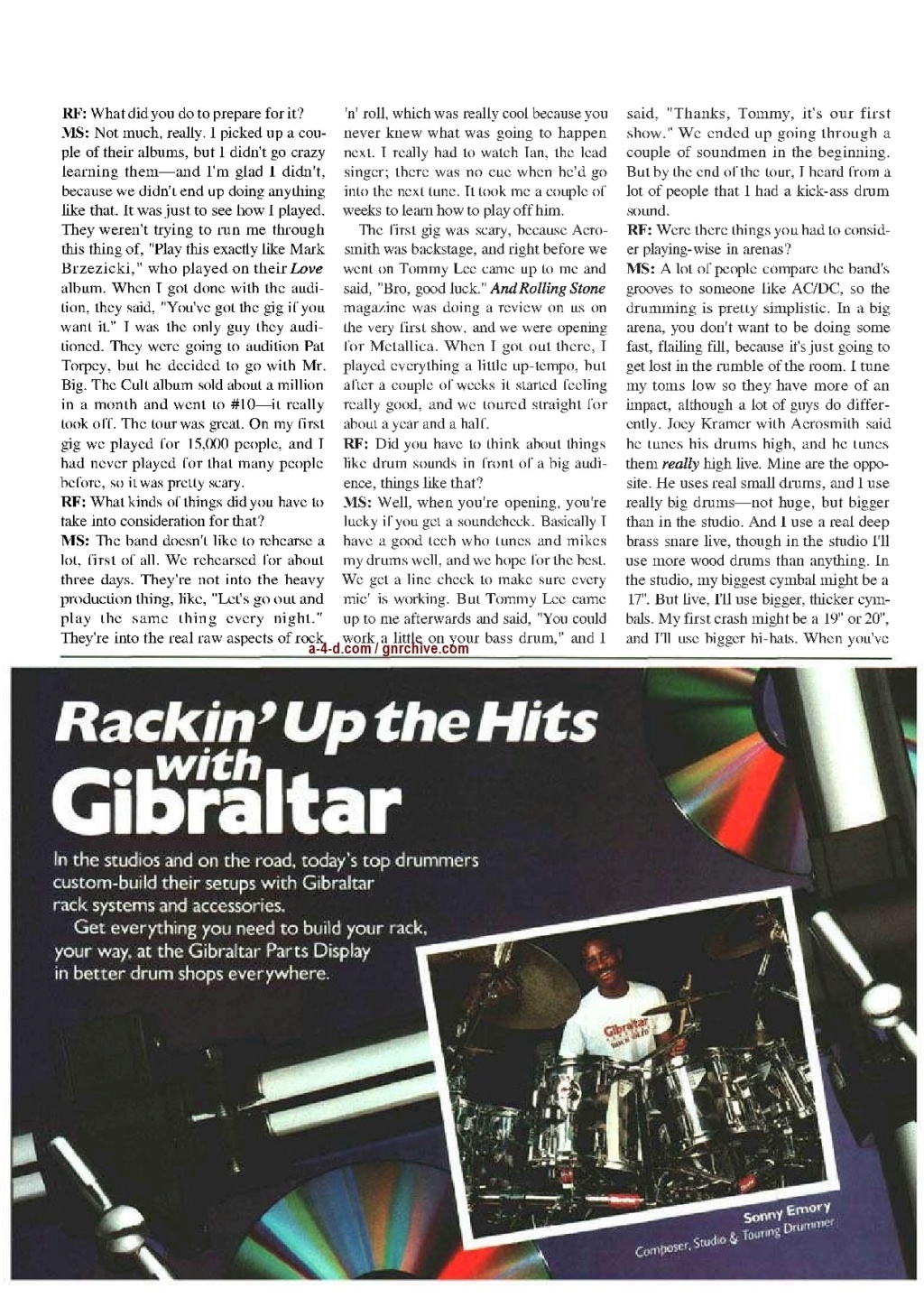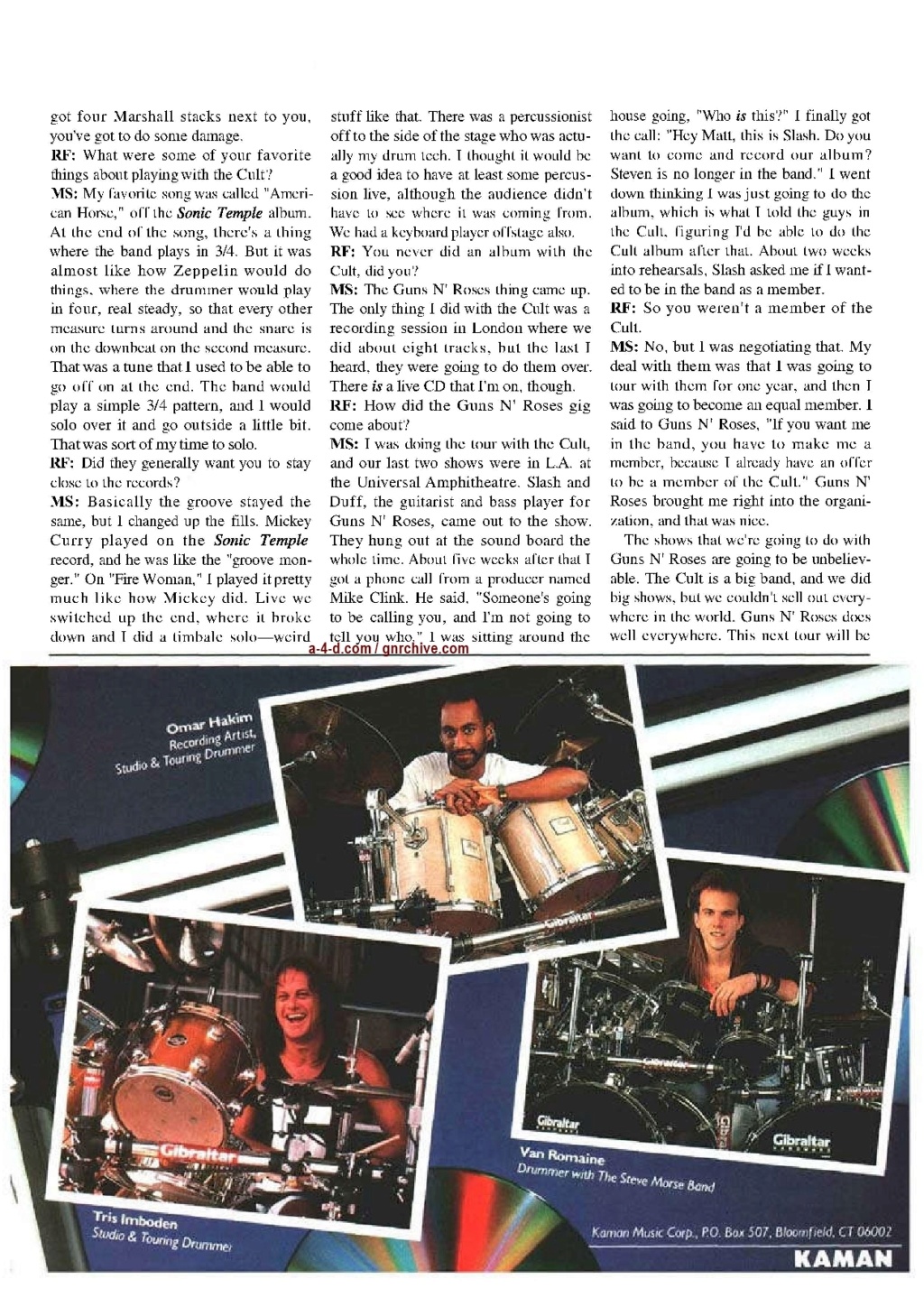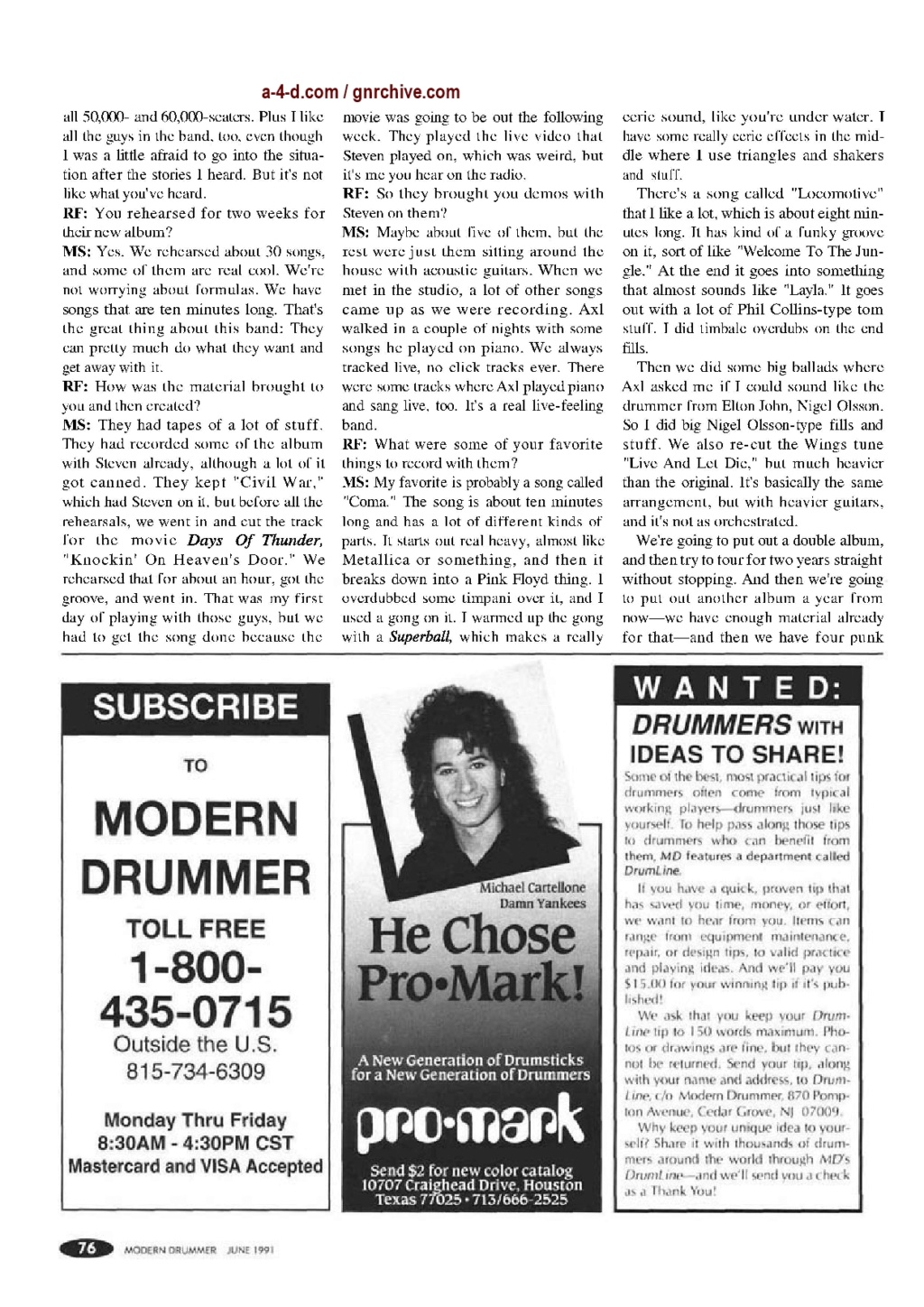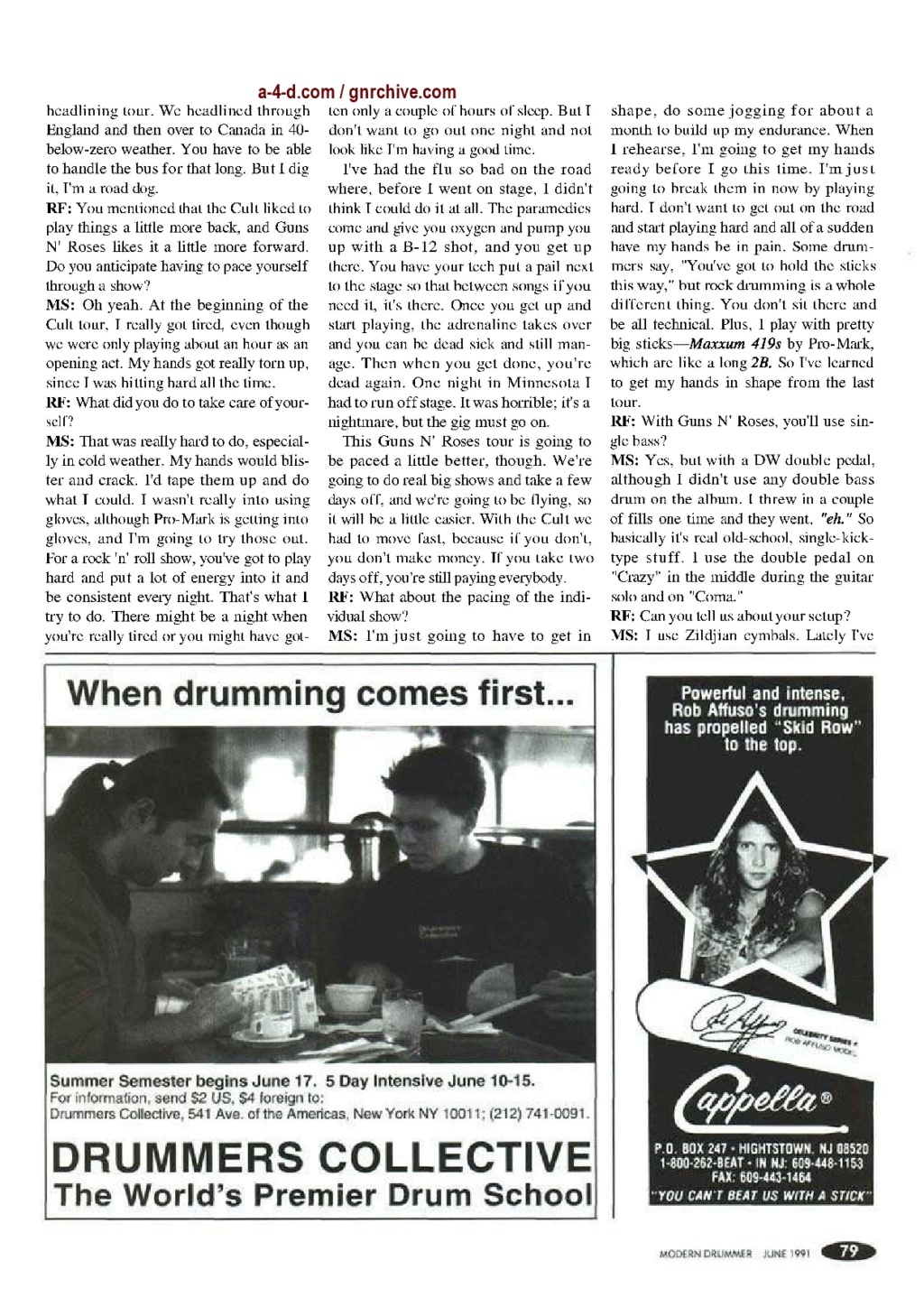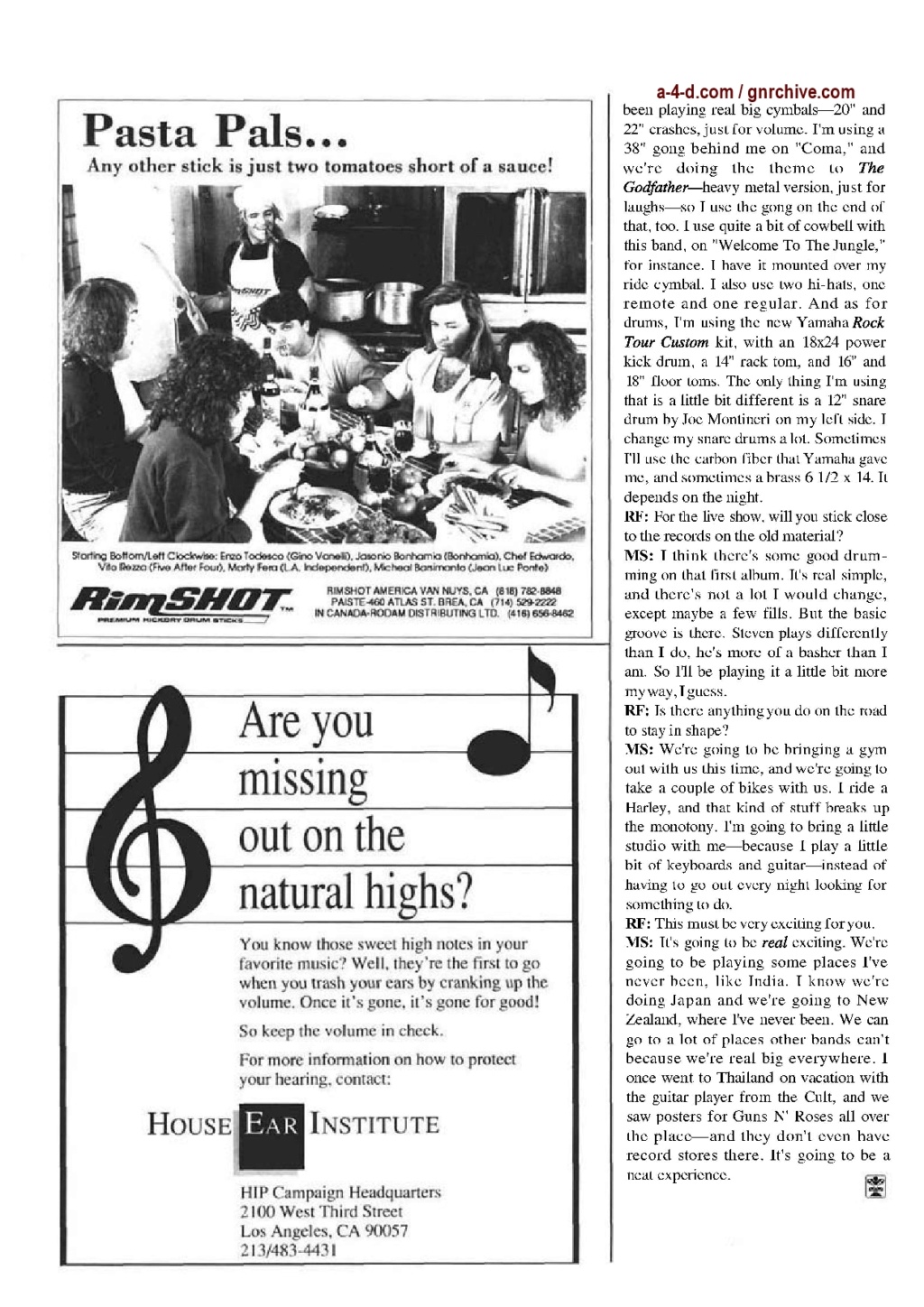 Transcript:
------------------
Matt Sorum
Guns N' Roses' New Stickman
By Robyn Flans
Matt Sorum is pretty excited about joining one of heavy metal's most popular groups, Guns N' Roses. After one listen, you'd think their music was all Matt had ever played. He knows, however, it's all of his combined past experience—from high school band to a variety of pop sessions—that has prepared him for his success today.
"If you just listen to AC/DC or Deep Purple all day, that just doesn't give you a well-rounded idea of music," Matt asserts. "If you listen to John Bonham, he had a lot of R&B undertones; you can tell he could play any style. When I played with Gladys Knight, the groove that I did was basically rock over R&B. Rock drummers should listen to all different types of drumming. Gregg Bissonette got the David Lee Roth gig because he can play it all. I remember I once subbed for him at Disneyland on a Top-40 gig, and he had all of the music charted out, just to help me out. That gives you an idea that he knows more about things than most people realize.
"Everything I have learned over the years has come into play," Matt emphasizes. "My marching band experience came in handy when I was with the Cult and I had to play timpani. Years ago I played a lot of brushes in a jazz ensemble, and I just played a little brushes on the new Guns N' Roses album. These things all come back to help you."
RF: You've done a lot of recording, but I understand you were not interested in becoming a session drummer. How did it all start happening for you?
MS: The recording thing just kind of came out of necessity. I had some friends who were engineering for some big producers. One of my roommates went on to become a very happening engineer, and he was working as an assistant for [producer] Michael Lloyd, so I started doing all these kinds of bubble gum projects like Shaun Cassidy. I actually worked on Belinda Carlisle's first record, although the stuff I did didn't make it to the album. A lot of the movie things I did were with Michael Lloyd as well. I wasn't really a session drummer. I mean, when I went into it, my first session was pretty scary.
RF: What was it like?
MS: It was actually for something that
Playboy
did called T
he Girls Of Rock 'N' Roll
, where they took all these playmates into the studio. It was kind of fun. The arranger, John D'Andrea, handed out the charts, but I hadn't read music since high school; I was a rock drummer. The chart wasn't really that hard to read, though. There were a couple of fills written. There were all these heavy session cats there, and it was six of us recording all at once. It was about 9:00 in the morning and I was just waking up. We started recording right away—no rehearsal, no nothing. And at about 15 bars in, I blew the fill. Michael Lloyd said, "Okay, pick it up from bar 15, I'll punch the whole band in," which is the way he works—fast. I was going, "Oh God." I was really nervous. The click track was going, and we made it through bar 15. Then I got to about bar 30, and I blew it again. At this point, I was freaking out. Everyone was looking at me.
Finally I got through the thing, and it was just done with a lot of punch-ins. We never actually played the tune all the way through. It took about ten, fifteen minutes. I was pretty nervous, but then Michael called me back, and we started working together. He liked my feel, I guess. And the bass player actually turned around at the end of the session and said, "I really liked playing with you," and he had played with everyone.
RF: Had you ever worked with a click before that?
MS: Actually I had, because in the late '70s, I got real into new wave, and I was in a band from Australia called IQ—I had my hair real short—the whole bit. We used nothing but drum machines and sequencers, although they were like the first sequencers that had come out. I used to play along with the drum machine, so I got into that, although it wasn't a click, per se.
RF: What about learning to get sounds in the studio at the beginning and learning how to play for the studio?
MS: Michael has a studio in his house where all the drums are set up. The only thing he said to me when I walked in and started playing was about the fact that I was hitting rimshots every time I hit a backbeat. I was really into nailing the rim like Stewart Copeland. But Michael said to hit it in the middle of the drum. That was a completely different thing for me. And he liked the snare tuned lower than I liked it. But those are the things you have to deal with with different producers. Lately I've been using a lot of different snares. On the Guns N' Roses album, I used 20 different snare drums to cut 35 tracks.

RF: Where had you learned to read?
MS: In high school I was in marching band and jazz ensemble. I actually took three band classes a day in high school. We could have three electives, and I picked all music—wind ensemble, jazz ensemble, marching band. And we had a really good drum corps at Mission Viejo High School. I played timp-toms.
RF: So you were into the learning process.
MS: Yeah, and wind ensemble in high school ended up being real cool for me, because on the Cult tour I used some timpani and gongs and stuff. A lot of rock players just sort of hit a gong; they don't know you have to warm it up. And guys don't know you have to tune timpani to the song. With the Cult there was a bass/timpani duet at the beginning of a song called "Sun King," off the
Sonic Temple
album. It was really cool: my timpani came out of the floor of the stage, and we did this little dueling thing, totally attuned to each other. So those things came in handy.
RF: Did you ever get into any formal lessons?
MS: I took some from Jay Wanamaker. In those days I wasn't really into the rudiment thing. I was just into playing hard rock. When I was in the eighth grade I had my first band, and I was totally into Black Sabbath. So I kind of got turned off to lessons until I got into marching band and that kind of stuff. Once I got into doing that, it took up a lot of my time. Marching band was two hours after school.
RF: So there were no more private lessons after that?
MS: Not really. The only thing I did was attend jazz retreats and clinics and things. At home I played to records. In 1974, when I first got into high school, I really got into early Genesis and Gentle Giant—more progressive stuff. I wasn't really into Led Zeppelin until much later. I was more into the weird stuff like Gentle Giant, which helped me with my odd meters. I learned how to play in 7/4 and things like that in the ninth grade, because early Genesis was really into that.
RF: Who else were you into?
MS: I liked Deep Purple because they were kind of orchestral in a way. I liked everything with kind of a classical sound to it. Then I got into the early fusion drummers like Billy Cobham, Lenny White, and Tony Williams. I learned a lot from them, like playing real fast and applying rudiments to the drumkit. I went off in that direction for a while, but I came to the realization that I really couldn't compete with those guys, and I found my niche in rock 'n' roll. I kind of moved around for a while and couldn't figure out what my style was until I finally started getting a lot of calls from rock bands. I played new wave, country—everything. But I didn't really figure it out until I did the Jeff Paris album, and then I got back into rock and grew my hair out. Then when the Cult gig came up, I said, "This is it."
RF: How much after the Michael Lloyd studio work was the Jeff Paris album?
MS: That was all kind of going on at the same time. I auditioned for the band through a friend who recommended me. Then I joined the band, and we did the album. We did a video that was all over MTV for a while, and the single seemed to be doing well. But then the label didn't want to back the band and the whole thing just fell apart. Three songs we had on that album came out on the first Vixen album, and one of them, "Crying," went to something like
#10
for them. That was written by Jeff, and it's basically the same song we recorded. That was a letdown.
So then I went out and put my own band together, and we tried to do our own thing. I was tired of doing sessions for other people. I lived in a warehouse for about a year, and the band started to catch some interest, but then the Cult thing came up.
RF: Why wasn't the session playing satisfying to you? What was missing?
MS: I'd go out and play live gigs, and it was just so much more fulfilling than studio work—especially working with other producers when they're telling you exactly what to do. It didn't even feel like my playing. I'd be playing to a written drum machine part and I'd listen to the tracks and think, "God, that sounds like it could be anybody." Guys like Jeff Porcaro always sound like themselves, and they get called because they have that feel. But I was the guy who came in and it was, "Do it this way," and they'd get their drum sound. If you listen to Stewart Copeland, it sounds like Stewart Copeland—or John Bonham, same thing. They're real identifiable. I didn't have my own sound because it was these other guys making me sound a certain way. I just didn't dig that. Plus, when you're out on the road, you're gigging every night, your chops are up, and that's fun.
RF: In your bio you said something about auditions giving you confidence. Auditions can also rip you apart.
MS: One of the main ones I've told people about is the audition for David Lee Roth. Some secretary called me up and said, "Steve Vai is putting a band together," and that was it. Right away I figured it would be a Frank Zappa type of audition. I went down there, and Mark Craney was standing in line, and Gregg Bissonette was behind me.
RF: No one knew it was for David Lee Roth yet?
MS: Maybe other people did, but I didn't. It was real weird. David Lee Roth wasn't even around. A woman came out and called your name, and you had ten minutes to go in and show your stuff. First of all, it was a horrible rental kit. And it was a double bass kit, and in those days I didn't play double bass. I walked in and picked up one of the kick drums and moved it over to the side of the room, and Steve Vai said, "You don't play double kick drums?" Right there it was one demerit. He stood over the drumkit and said, "Play your fastest heavy metal beat," so I played my fastest heavy metal beat. Then he said, "Play your heaviest rock groove," so I just played the groove to AC/DC's "Back In Black." Then he said, "Play your hi-hat on quarter notes, and I'm going to say a drum fill, and I want you to follow it on the next measure." So he said a drum fill and I had to play it on the kit.
At one point he voiced some fill, I played it, and he came back to me and said, "I didn't do a flam on the "&" of 3 of the second measure." I was going, "Oh man, can't we just jam?" It was a different kind of audition. As I was leaving he said, "I'll give you four stars out of five." And that was that. Even though I didn't get the gig, though, he ended up calling Ed Mann and telling him about me. I wound up playing with Ed for almost a year.
RF: What was that like?
MS: We used to rehearse over at Missing Persons' studio, which was really cool. Ed would play vibes and stuff, and we played rock grooves and funk grooves, and a couple of odd-meter things. It was really neat. I was doing that gig while I was doing three other bands too. We were about to go into the studio, but then I got into doing an album with Tori Read and started playing with her a lot more, and then Ed went back out with Zappa.
RF: You were saying that auditions build your confidence, but how can that be when you don't get the gig?
MS: That David Lee Roth audition was tough, but right after that, I said to myself, "Why don't I play double bass?" That motivated me a bit to get better, and I started to learn how to play double kick drums. I got a big double kick drumkit. I'd say to any drummer, "Even if you don't play two bass drums, at least have a double pedal." The Cult was completely opposite. I went in with two kick drums and they said, "We're into the one-kick-drum look." But I'd still say to any drummer that you should know how to do it.
RF: Any audition tips?
MS: With the Cult, I looked at the album cover to check out how these guys looked. You don't want to walk in wearing something that won't mix. I'm not saying look is everything, but it's important. The Cult was into a more straight-ahead look, so you wouldn't want to walk in wearing some flashy outfit while they're just in jeans. Guns N' Roses is a little more flamboyant, but along the same lines. A lot of these heavy metal bands have the big bouffant hairdos, but the Cult wouldn't go for that. You have to look at that aspect of it when you go in to audition.
RF: How did the Cult gig come up for you?
MS: I was playing around town a lot, and a few different people recommended me. The Cult is an English band, so they were looking for English players, but Steve Jones from the Sex Pistols and his bass player, Terry Nails, recommended me, as well as Chuck Wright, the bass player from House Of Lords. So they finally called me up and asked me to come down to audition. I went down, and it was a real cool audition; we jammed stuff like Zeppelin. It wasn't a real pressure situation like other auditions I had been involved with.
RF: What did you do to prepare for it?
MS: Not much, really. I picked up a couple of their albums, but I didn't go crazy learning them—and I'm glad I didn't, because we didn't end up doing anything like that. It was just to see how I played. They weren't trying to run me through this thing of, "Play this exactly like Mark Brzezicki," who played on their Love album. When I got done with the audition, they said, "You've got the gig if you want it." I was the only guy they auditioned. They were going to audition Pat Torpey, but he decided to go with Mr. Big. The Cult album sold about a million in a month and went to
#10
—it really took off. The tour was great. On my first gig we played for 15,000 people, and I had never played for that many people before, so it was pretty scary.
RF: What kinds of things did you have to take into consideration for that?
MS: The band doesn't like to rehearse a lot, first of all. We rehearsed for about three days. They're not into the heavy production thing, like, "Let's go out and play the same thing every night." They're into the real raw aspects of rock 'n' roll, which was really cool because you never knew what was going to happen next. I really had to watch Ian, the lead singer; there was no cue when he'd go into the next tune. It took me a couple of weeks to learn how to play off him.
The first gig was scary, because Aerosmith was backstage, and right before we went on Tommy Lee came up to me and said, "Bro, good luck." And
Rolling Stone
magazine was doing a review on us on the very first show, and we were opening for Metallica. When I got out there, I played everything a little up-tempo, but after a couple of weeks it started feeling really good, and we toured straight for about a year and a half.
RF: Did you have to think about things like drum sounds in front of a big audience, things like that?
MS: Well, when you're opening, you're lucky if you get a soundcheck. Basically I have a good tech who tunes and mikes my drums well, and we hope for the best. We get a line check to make sure every mic' is working. But Tommy Lee came up to me afterwards and said, "You could work a little on your bass drum," and I said, "Thanks, Tommy, it's our first show." We ended up going through a couple of soundmen in the beginning. But by the end of the tour, I heard from a lot of people that I had a kick-ass drum sound.
RF: Were there things you had to consider playing-wise in arenas?
MS: A lot of people compare the band's grooves to someone like AC/DC, so the drumming is pretty simplistic. In a big arena, you don't want to be doing some fast, flailing fill, because it's just going to get lost in the rumble of the room. I tune my toms low so they have more of an impact, although a lot of guys do differently. Joey Kramer with Aerosmith said he tunes his drums high, and he tunes them really high live. Mine are the opposite. He uses real small drums, and I use really big drums—not huge, but bigger than in the studio. And I use a real deep brass snare live, though in the studio I'll use more wood drums than anything. In the studio, my biggest cymbal might be a 17". But live, I'll use bigger, thicker cymbals. My first crash might be a 19" or 20", and I'll use bigger hi-hats. When you've got four Marshall stacks next to you, you've got to do some damage.
RF: What were some of your favorite things about playing with the Cult?
MS: My favorite song was called "American Horse," off the
Sonic Temple
album. At the end of the song, there's a thing where the band plays in 3/4. But it was almost like how Zeppelin would do things, where the drummer would play in four, real steady, so that every other measure turns around and the snare is on the downbeat on the second measure. That was a tune that I used to be able to go off on at the end. The band would play a simple 3/4 pattern, and I would solo over it and go outside a little bit. That was sort of my time to solo.
RF: Did they generally want you to stay close to the records?
MS: Basically the groove stayed the same, but I changed up the fills. Mickey Curry played on the
Sonic Temple
record, and he was like the "groove monger." On "Fire Woman," I played it pretty much like how Mickey did. Live we switched up the end, where it broke down and I did a timbale solo—weird stuff like that. There was a percussionist off to the side of the stage who was actually my drum tech. I thought it would be a good idea to have at least some percussion live, although the audience didn't have to see where it was coming from. We had a keyboard player offstage also.
RF: You never did an album with the Cult, did you?
MS: The Guns N' Roses thing came up. The only thing I did with the Cult was a recording session in London where we did about eight tracks, but the last I heard, they were going to do them over. There is a live CD that I'm on, though.
RF: How did the Guns N' Roses gig come about?
MS: I was doing the tour with the Cult, and our last two shows were in L.A. at the Universal Amphitheatre. Slash and Duff, the guitarist and bass player for Guns N' Roses, came out to the show. They hung out at the sound board the whole time. About five weeks after that I got a phone call from a producer named Mike Clink. He said, "Someone's going to be calling you, and I'm not going to tell you who." I was sitting around the house going, "Who is this?" I finally got the call: "Hey Matt, this is Slash. Do you want to come and record our album? Steven is no longer in the band." I went down thinking I was just going to do the album, which is what I told the guys in the Cult, figuring I'd be able to do the Cult album after that. About two weeks into rehearsals, Slash asked me if I wanted to be in the band as a member.
RF: So you weren't a member of the Cult.
MS: No, but I was negotiating that. My deal with them was that I was going to tour with them for one year, and then I was going to become an equal member. I said to Guns N' Roses, "If you want me in the band, you have to make me a member, because I already have an offer to be a member of the Cult." Guns N' Roses brought me right into the organization, and that was nice.
The shows that we're going to do with Guns N' Roses are going to be unbelievable. The Cult is a big band, and we did big shows, but we couldn't sell out everywhere in the world. Guns N' Roses does well everywhere. This next tour will be all 50,000- and 60,000-seaters. Plus I like all the guys in the band, too, even though I was a little afraid to go into the situation after the stories I heard. But it's not like what you've heard.
RF: You rehearsed for two weeks for their new album?
MS: Yes. We rehearsed about 30 songs, and some of them are real cool. We're not worrying about formulas. We have songs that are ten minutes long. That's the great thing about this band: They can pretty much do what they want and get away with it.
RF: How was the material brought to you and then created?
MS: They had tapes of a lot of stuff. They had recorded some of the album with Steven already, although a lot of it got canned. They kept "Civil War," which had Steven on it, but before all the rehearsals, we went in and cut the track for the movie
Days Of Thunder
, "Knockin' On Heaven's Door." We rehearsed that for about an hour, got the groove, and went in. That was my first day of playing with those guys, but we had to get the song done because the movie was going to be out the following week. They played the live video that Steven played on, which was weird, but it's me you hear on the radio.
RF: So they brought you demos with Steven on them?
MS: Maybe about five of them, but the rest were just them sitting around the house with acoustic guitars. When we met in the studio, a lot of other songs came up as we were recording. Axl walked in a couple of nights with some songs he played on piano. We always tracked live, no click tracks ever. There were some tracks where Axl played piano and sang live, too. It's a real live-feeling band.
RF: What were some of your favorite things to record with them?
MS: My favorite is probably a song called "Coma." The song is about ten minutes long and has a lot of different kinds of parts. It starts out real heavy, almost like Metallica or something, and then it breaks down into a Pink Floyd thing. I overdubbed some timpani over it, and I used a gong on it. I warmed up the gong with a Superball, which makes a really eerie sound, like you're under water. I have some really eerie effects in the middle where I use triangles and shakers and stuff.
There's a song called "Locomotive" that I like a lot, which is about eight minutes long. It has kind of a funky groove on it, sort of like "Welcome To The Jungle." At the end it goes into something that almost sounds like "Layla." It goes out with a lot of Phil Collins-type tom stuff. I did timbale overdubs on the end fills.
Then we did some big ballads where Axl asked me if I could sound like the drummer from Elton John, Nigel Olsson. So I did big Nigel Olsson-type fills and stuff. We also re-cut the Wings tune "Live And Let Die," but much heavier than the original. It's basically the same arrangement, but with heavier guitars, and it's not as orchestrated.
We're going to put out a double album, and then try to tour for two years straight without stopping. And then we're going to put out another album a year from now—we have enough material already for that—and then we have four punk songs that we're going to release as an EP. There's one by the Damned, one by Fear, one by the Sex Pistols.... We played all four songs in the studio live one day—just bashed it out, first take, real sloppy, but like the old punk stuff. If we decide to play that stuff live, it's going to be great. When you have 100,000 kids out there, they want to hear energy.
RF: What would you say this band requires of you as a drummer?
MS: This band requires a lot out of a drummer, but mainly energy. To be able to go into the studio and cut 35 tracks was...well, by track 35 I was pretty beat. It took a month, but we only like to do two tracks a day, regardless of how long it takes. There were days when I felt really good and I could have done ten, but they didn't like to work that way. The attitude is how everyone feels, not just one person. I had to sacrifice sometimes because even if my drum track wasn't the greatest, if everyone was happy with it, it went. That's how this band works.
RF: How many takes would you normally do on a song?
MS: Two maybe. Those tougher songs maybe took six, but the band doesn't believe in punching in anywhere, ever, so those eight-minute songs had to make it all the way to the end. On the song "Coma," I made it all the way through the track and then blew the last fill. When that kind of stuff happened I'd say, "Can't we just punch that in?" "No way, sorry." They like the consistency, and if the band moves around and makes it all the way through, that's the real stuff. That kind of stuff was hard; that took a lot out of me, recording ten-minute songs.
RF: Did you use anything to just dial up the tempo?
MS: Yes, I did dial up some tempos, but usually once we got in the studio...Slash is real good with tempos, and he likes stuff real up. With the Cult, we were into playing everything back, slower and heavier. With Guns N' Roses it's faster, more energetic, so there's a lot of stuff that's real up on the album and on top of the beat. And live, that's going to work great. When we'd take some of the stuff off the Sonic Temple album with the Cult, it didn't work because it didn't always get the crowd moving. With Guns N' Roses, in the studio we played it just like it was live. They stood in front of me, and everyone jumped around. It was a lot of fun.
RF: You said something before about touring for long periods of time—if you can handle it. I wondered what "handling" means. What do you have to look out for?
MS: The Cult toured at a pretty frantic pace. We went four months with Metallica to start with, and we took no time off—five, six nights a week. It might be three nights on, one off, two on...but that one off was always a traveling night where we had to drive 750 miles on the tour bus. When you bounce around on a bus, you really don't get proper sleep. For me, it was my first big tour, so it was one big party after another. Then we took one week off and went out on tour with Aerosmith, and that was, "Wow, I grew up with this band!" Being able to tour with them and hang out with Steven Tyler was another big wow. But the pace was frantic. Then we took two days off, rehearsed for a day, and started our headlining tour. We headlined through England and then over to Canada in 40-below-zero weather. You have to be able to handle the bus for that long. But I dig it, I'm a road dog.
RF: You mentioned that the Cult liked to play things a little more back, and Guns N' Roses likes it a little more forward. Do you anticipate having to pace yourself through a show?
MS: Oh yeah. At the beginning of the Cult tour, I really got tired, even though we were only playing about an hour as an opening act. My hands got really torn up, since I was hitting hard all the time.
RF: What did you do to take care of yourself?
MS: That was really hard to do, especially in cold weather. My hands would blister and crack. I'd tape them up and do what I could. I wasn't really into using gloves, although Pro-Mark is getting into gloves, and I'm going to try those out. For a rock 'n' roll show, you've got to play hard and put a lot of energy into it and be consistent every night. That's what I try to do. There might be a night when you're really tired or you might have gotten only a couple of hours of sleep. But I don't want to go out one night and not look like I'm having a good time.
I've had the flu so bad on the road where, before I went on stage, I didn't think I could do it at all. The paramedics come and give you oxygen and pump you up with a B-12 shot, and you get up there. You have your tech put a pail next to the stage so that between songs if you need it, it's there. Once you get up and start playing, the adrenaline takes over and you can be dead sick and still manage. Then when you get done, you're dead again. One night in Minnesota I had to run off stage. It was horrible; it's a nightmare, but the gig must go on.
This Guns N' Roses tour is going to be paced a little better, though. We're going to do real big shows and take a few days off, and we're going to be flying, so it will be a little easier. With the Cult we had to move fast, because if you don't, you don't make money. If you take two days off, you're still paying everybody.
RF: What about the pacing of the individual show?
MS: I'm just going to have to get in shape, do some jogging for about a month to build up my endurance. When I rehearse, I'm going to get my hands ready before I go this time. I'm just going to break them in now by playing hard. I don't want to get out on the road and start playing hard and all of a sudden have my hands be in pain. Some drummers say, "You've got to hold the sticks this way," but rock drumming is a whole different thing. You don't sit there and be all technical. Plus, I play with pretty big sticks—Maxxum 419s by Pro-Mark, which are like a long 2B. So I've learned to get my hands in shape from the last tour.
RF: With Guns N' Roses, you'll use single bass?
MS: Yes, but with a DW double pedal, although I didn't use any double bass drum on the album. I threw in a couple of fills one time and they went, "eh." So basically it's real old-school, single-kick-type stuff. I use the double pedal on "Crazy" in the middle during the guitar solo and on "Coma."
RF: Can you tell us about your setup?
MS: I use Zildjian cymbals. Lately I've been playing real big cymbals—20" and 22" crashes, just for volume. I'm using a 38" gong behind me on "Coma," and we're doing the theme to
The Godfather
—heavy metal version, just for laughs—so I use the gong on the end of that, too. I use quite a bit of cowbell with this band, on "Welcome To The Jungle," for instance. I have it mounted over my ride cymbal. I also use two hi-hats, one remote and one regular. And as for drums, I'm using the new Yamaha Rock Tour Custom kit, with an 18x24 power kick drum, a 14" rack tom, and 16" and 18" floor toms. The only thing I'm using that is a little bit different is a 12" snare drum by Joe Montineri on my left side. I change my snare drums a lot. Sometimes I'll use the carbon fiber that Yamaha gave me, and sometimes a brass 6 1/2 x 14. It depends on the night.
RF: For the live show, will you stick close to the records on the old material?
MS: I think there's some good drumming on that first album. It's real simple, and there's not a lot I would change, except maybe a few fills. But the basic groove is there. Steven plays differently than I do, he's more of a basher than I am. So I'll be playing it a little bit more my way, I guess.
RF: Is there anything you do on the road to stay in shape?
MS: We're going to be bringing a gym out with us this time, and we're going to take a couple of bikes with us. I ride a Harley, and that kind of stuff breaks up the monotony. I'm going to bring a little studio with me—because I play a little bit of keyboards and guitar—instead of having to go out every night looking for something to do.
RF: This must be very exciting for you.
MS: It's going to be
real
exciting. We're going to be playing some places I've never been, like India. I know we're doing Japan and we're going to New Zealand, where I've never been. We can go to a lot of places other bands can't because we're real big everywhere. I once went to Thailand on vacation with the guitar player from the Cult, and we saw posters for Guns N' Roses all over the place—and they don't even have record stores there. It's going to be a neat experience.

Blackstar

ADMIN




Posts

: 9344


Plectra

: 63744


Reputation

: 97


Join date

: 2018-03-17



I found a site where I could download all the issues of this magazine from 1985 to 2001. I looked if there were any interviews with Steven, but I haven't found any.

Blackstar

ADMIN




Posts

: 9344


Plectra

: 63744


Reputation

: 97


Join date

: 2018-03-17



Brilliant interview! I was wondering why there was so few interviews from Matt right after he joined GN'R. This helps.

It would be strange if there wasn't an interview of Steven too at that site.

Soulmonster

Stage manager







Posts

: 14730


Plectra

: 72393


Reputation

: 827


Join date

: 2010-07-06



---
Permissions in this forum:
You
cannot
reply to topics in this forum