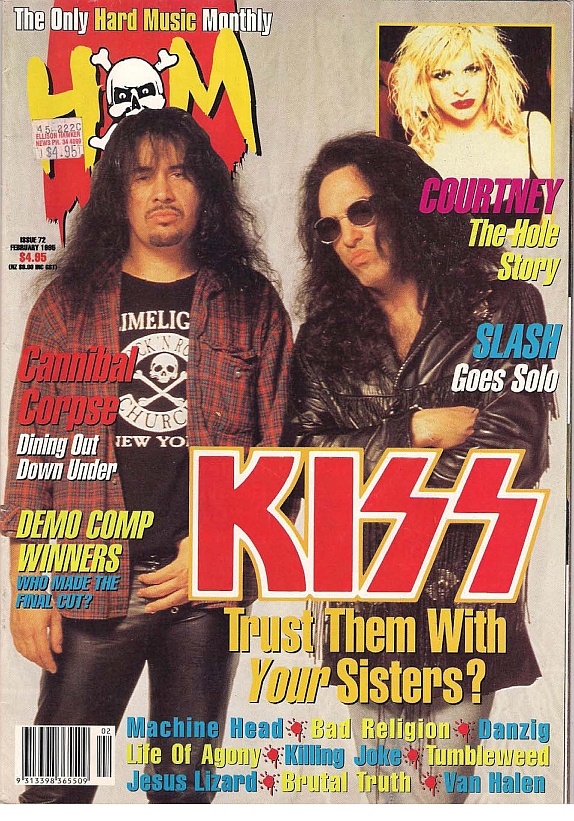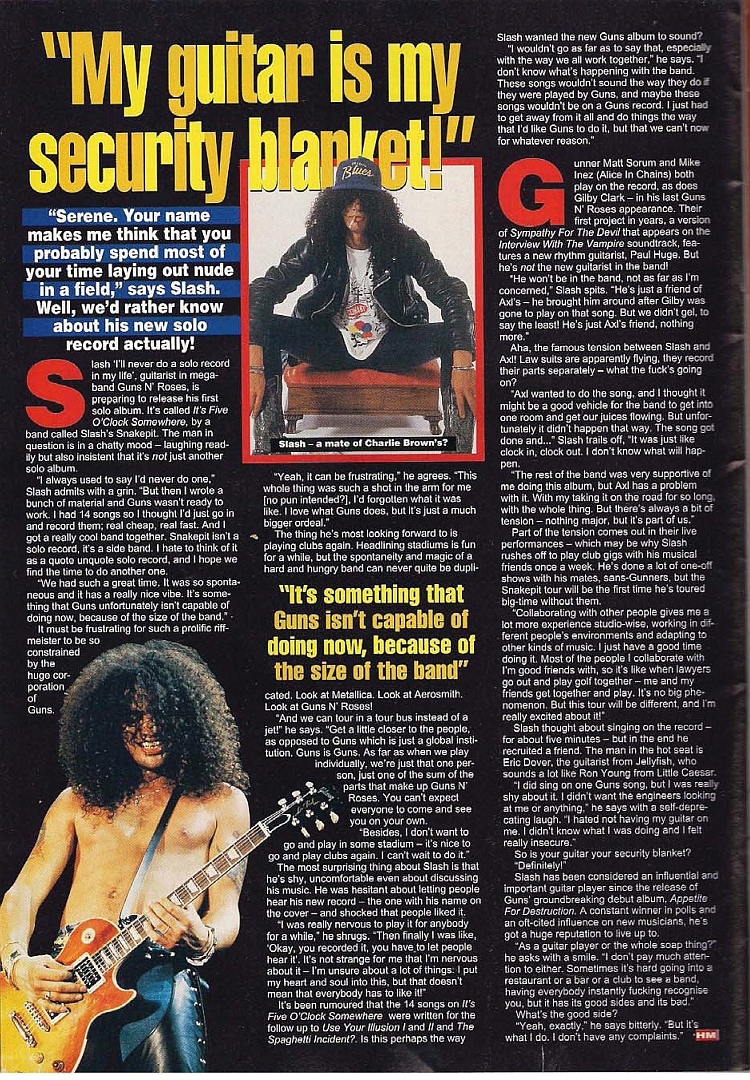 Transcript:
----------------
"My guitar is my security blanket!"
"Serene. Your name makes me think that you probably spend most of your time laying out nude in a field," says Slash. Well, we'd rather know about his new solo record actually!
Slash 'I'll never do a solo record in my life', guitarist in megaband Guns N' Roses, is preparing to release his first solo album. It's called
It's Five O'clock Somewhere
, by a band called Slash's Snakepit. The man in question is in a chatty mood - laughing readily but also insistent that it's not just another solo album.
"I always used to say I'd never do one," Slash admits with a grin. "But then I wrote a bunch of material and Guns wasn't ready to work. I had 14 songs so I thought I'd just go in and record them; real cheap, real fast. And I got a really cool band together. Snakepit isn't a solo record, it's a side band. I hate to think of it as a quote unquote solo record, and I hope we find the time to do another one.
"We had such a great time. It was so spontaneous and it has a really nice vibe. It's some-thing that Guns unfortunately isn't capable of doing now, because of the size of the band."
It must be frustrating for such a prolific riff-meister to be so constrained by the huge corporation of Guns.
"Yeah, it can be frustrating,' he agrees. "This whole thing was such a shot in the arm for me [no pun intended?], I'd forgotten what it was like. I love what Guns does, but it's just a much bigger ordeal."
The thing he's most looking forward to is playing clubs again. Headlining stadiums is fun for a while, but the spontaneity and magic of a hard and hungry band can never quite be duplicated. Look at Metallica. Look at Aerosmith. Look at Guns N' Roses!
"And we can tour in a tour bus instead of a jet!" he says. "Get a little closer to the people, as opposed to Guns which is just a global institution. Guns is Guns. As far as when we play individually, we're just that one person, just one of the sum of the parts that make up Guns N' Roses. You can't expect everyone to come and see you on your own.
"Besides, I don't want to go and play in some stadium - it's nice to go and play clubs again. I can't wait to do it." The most surprising thing about Slash is that he's shy, uncomfortable even about discussing his music. He was hesitant about letting people hear his new record - the one with his name on the cover - and shocked that people liked it.
"l was really nervous to play it for anybody for a while," he shrugs. "Then finally I was like, 'Okay, you recorded it, you have to let people hear it'. It's not strange for me that I'm nervous about it - I'm unsure about a lot of things. I put my heart and soul into this, but that doesn't mean that everybody has to like it!"
It's been rumoured that the 14 songs on
It's Five O'Clock Somewhere
were written for the follow up to
Use Your Illusion I
and
II
and
The Spaghetti Incident?
. Is this perhaps the way Slash wanted the new Guns album to sound?
"I wouldn't go as far as to say that, especially with the way we all work together," he says. "I don't know what's happening with the band. These songs wouldn't sound the way they do
if they were played by Guns, and maybe these songs wouldn't be on a Guns record. I just had to get away from it all and do things the way that I'd like Guns to do it, but that we can't now for whatever reason."
Gunner Matt Sorum and Mike Inez (Alice In Chains) both play on the record, as does Gilby Clark - in his last Guns N' Roses appearance. Their first project in years, a version of
Sympathy For The Devil
that appears on the
Interview With The Vampire
soundtrack, features a new rhythm guitarist, Paul Huge. But he's not the new guitarist in the band!
"He won't be in the band, not as far as I'm concerned," Slash spits. "He's just a friend of Axl's - he brought him around after Gilby was gone to play on that song. But we didn't gel, to say the least! He's just Axl's friend, nothing more."
Aha, the famous tension between Slash and Axl! Law suits are apparently flying, they record their parts separately - what the fuck's going on?
"Axl wanted to do the song, and I thought it might be a good vehicle for the band to get into one room and get our juices flowing. But unfortunately it didn't happen that way. The song got done and..." Slash trails off, "It was just like clock in, clock out. I don't know what will happen.
"The rest of the band was very supportive of me doing this album, but Axl has a problem with it. With my taking it on the road for so long with the whole thing. But there's always a bit of tension - nothing major, but it's part of us."
Part of the tension comes out in their live performances - which may be why Slash rushes off to play club gigs with his musical friends once a week. He's done a lot of one-of shows with his mates, sans-Gunners, but the Snakepit tour will be the first time he's toured big-time without them.
"Collaborating with other people gives me a lot more experience studio-wise, working in different people's environments and adapting to other kinds of music. I just have a good time doing it. Most of the people I collaborate with I'm good friends with, so it's like when lawyers go out and play golf together - me and my friends get together and play. It's no big phenomenon. But this tour will be different, and I'm really excited about it!"
Slash thought about singing on the record -for about five minutes - but in the end he recruited a friend. The man in the hot seat is Eric Dover, the guitarist from Jellyfish, who sounds a lot like Ron Young from Little Caesar "I did sing on one Guns song, but I was really shy about it. I didn't want the engineers looking at me or anything," he says with a self-deprecating laugh. "I hated not having my guitar on me. I didn't know what I was doing and I felt really insecure."
So is your guitar your security blanket? "Definitely!"
Slash has been considered an influential and important guitar player since the release of Guns' groundbreaking debut album,
Appetite For Destruction
. A constant winner in polls and an oft-cited influence on new musicians, he's got a huge reputation to live up to.
"As a guitar player or the whole soap thing?" he asks with a smile. "I don't pay much attention to either. Sometimes it's hard going into a restaurant or a bar or a club to see a band, having everybody instantly fucking recognise you, but it has its good sides and its bad." What's the good side?
"Yeah, exactly," he says bitterly. "But it's what I do. I don't have any complaints."

Blackstar

ADMIN




Posts

: 12210


Plectra

: 80073


Reputation

: 97


Join date

: 2018-03-17



---
Permissions in this forum:
You
cannot
reply to topics in this forum