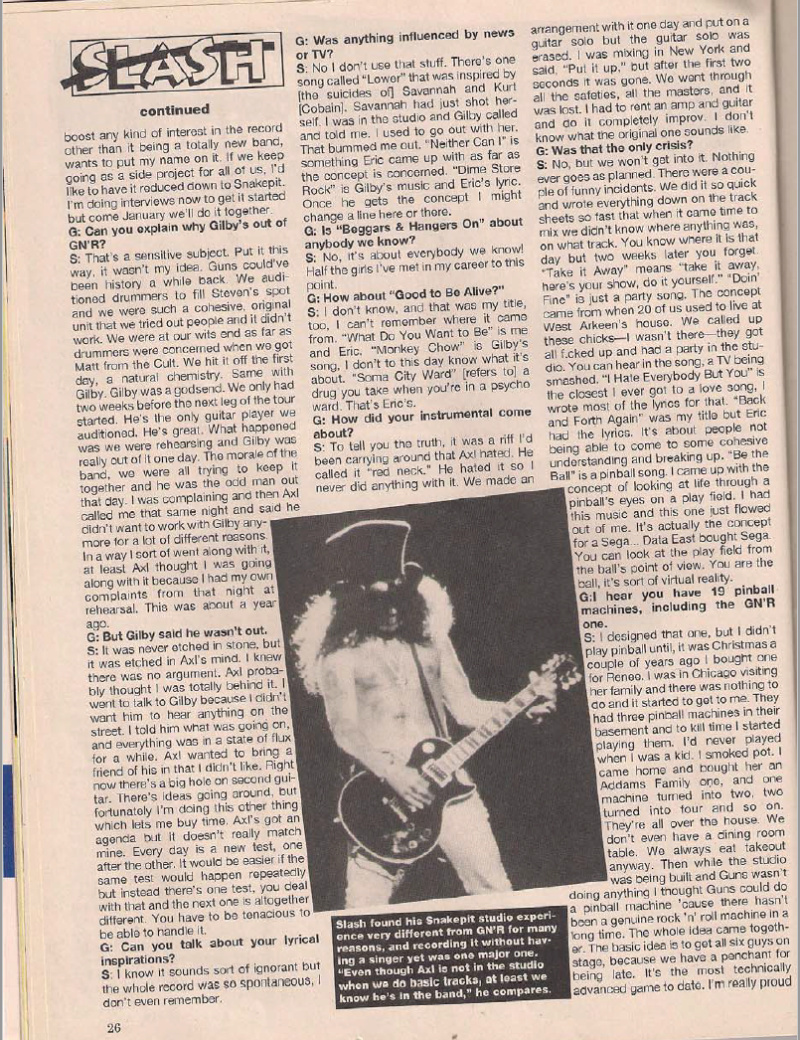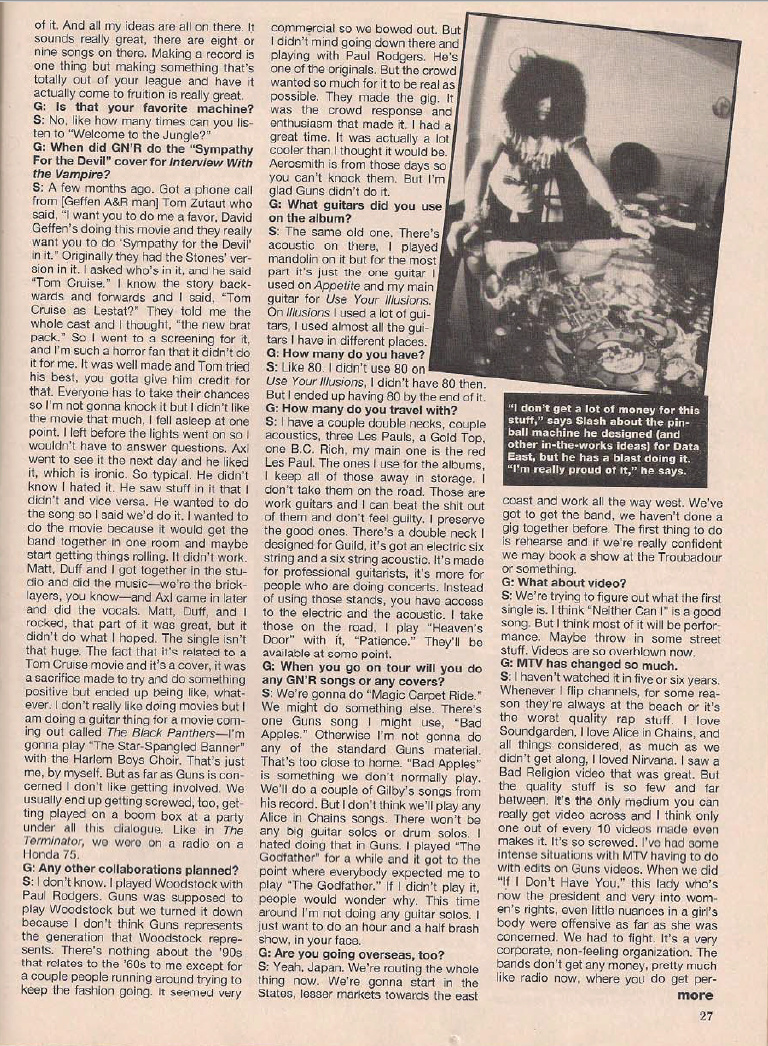 Transcript:
SLASH

WELCOME TO THE SNAKEPIT

A little something on the side from GN'R's guitarist & friends
by Gerri Miller
It's been a while since we had an in-depth interview with Slash, but the release of his first solo effort was the perfect time to catch up with the Guns N'Roses axeslinger and get to the bottom of all those GN'R breakup rumors while getting the details on It's Five O'Clock Somewhere, a smokin' 14-track effort produced by Mike Clink that show-cases the talents of Slash. drummer Matt Sorum, bassist Mike Inez, rhythm guitarist Gilby Clarke, and singer Eric Dover, formerly of Jellyfish. Kicking off with the bluesdy heavy, harmonica-flavored "Neither Can I" segueing to the burning "Dime Store Rock" and groovin' 'Beggars & Hangers On;' the album rocks on with kickass tunes like "Monkey Chow," "Soma City Ward," "Take It Away," "Be the Ball." and "Doin' Fine," the killer instrumental "Fizz Da Pit," and a bluesy ballad with attitude, "Back & Forth Again." Slash had plenty to say about the songs and more as we sat down to talk in December.
G: Going in to do this album, was there any particular strategy or approach that you took?
S: What happened was, we [Guns N' Roses] got off the road and everybody sort of goes and does their own thing. The first thing I did was build a studio In my house. During a week break I planned it out and and figured what equipment I wanted, and then while we wore gone they were working on it. When we came back and the tour was finally over, started recording in there, wrote all these songs. It's not like I was trying to make a huge statement, it's just the way I wanted It to sound. I didn't give it that much thought. We would write these songs in one night. When I first started writing stuff, Matt and I would get together - here's this riff, here's that riff — we'd finally get from point A to B and put it all together and leave it at that. There wasn't a lot of orchestration, like "November Rain." There were no vocals on it at this point but the songs were arranged.
G: Did you write anything on the last GN'R tour?
S: Some of the ideas for some of the material are stuff I'd play on my acoustic around the hotel room that I thought were cool. I had a little mini studio on the road with me. I used it a little bit.
G: Did any of those make the album?
S: Not that I can think of, maybe one of them at best. Any ideas that I still had in my head after all this time of touring I figured were good enough to use. So I put all these songs down. Matt and I would play them—I played bass. Then Gilby got involved and Mike Inez got involved. Gilby redid all the rhythm guitar parts that I'd already recorded and Inez came down and redid the bass parts. That was very fortunate because I'm not a good bass player. Then we auditioned 40 some-odd singers. It was very tedious. It just seemed endless. I'd have all the music there for the auditions and have the singer come up, and have Adam—my guitar tech—set everything up. I wouldn't be there—sometimes it's a little intimidating having somebody standing over your shoulder. So I'd listen to it the next day. We were in the studio doing basic tracks at this point. I'd tried out the guy from Little Caesar, Ron Young—I liked his approach but it only worked for a few songs. We tried out all kinds of guys from bands you would know. Gilby's drummer Marc [Danzetsen] said to Gilby, "If Slash likes Ron, I know a guy that he's gonna love." I heard Eric's demo tape and I thought he was great so I had him come down.
G: Were you aware of him in Jellyfish?
S: I wasn't really familiar with Jellyfish's music at all. When he was in Jellyfish he was singing background vocals and playing guitar. One of the first songs Eric did was a song called "Beggars & Hangers On," where ho wrote almost the whole song in one night. I was really impressed with that, and he's a really nice guy and he's easy to work with. I liked his attitude and the way he approached It. Anyway, we had finished the entire record with no vocals. So we went to Rumbo in the Valley and wrote the lyrics and melodies for 13 songs in one day. I had a couple ideas, Eric wrote his ideas from listening to the tapes, and I had two songs with lyrics I'd finished myself, "Be the Ball" and "Take it Away." So that's how we did it. I have Guns on my mind so I couldn't take forever to put together the quintessential new rock band 'cause that wasn't my point. It was just a release for me. I have to worry about pre-production for Guns, and who's gonna play guitar now that Gilby's not in the band. And now that it's finished I figured, "Let's go out and do this for awhile.' So that's why Guns is sort of on hiatus, but we haven't split up or anything. There are all kinds of rumors going around.
G: I heard one that you said you didn't care if you ever played with Axl again.
S: I'm very low key when I talk publicly. I don't say shit. I don't want to talk badly about Guns.
G: There are rumors it's over.
S: No, it's not over. Nobody's quit or anything. The band is still together. Duffs working at his studio, Axl's out in Malibu. Halloween is the last time I saw him, but we talk. There's no bad blood between us, we just haven't figured out what we want to do and I'm a little concerned about the direction Guns goes in. We were supposed to do some stuff this month but we haven't done anything up till now and in March I'm gone [on tour]. Maybe in February, if we can come to some sort of an agreement as to what we're gonna do. So I did what I said I'd never do, which is a solo record, to get It out of my system. We'd been doing so many ballads and conceptual videos that I started to get a little concerned about where it was going. When you listen to everybody's solo albums you can hear the individual input in Guns. Mine sounds like the aspect of Guns that I am, Duff sounds like the aspect of Guns that he is. I didn't do this to try to knock anybody's socks off, it was more of a personal release. It's within our contracts to do one.
G: You're obligated?
S: No, but we can. There's no rules, you can do it way under budget so it doesn't cost a lot and the only thing you can do is support it. I have no idea what it's gonna do, the only thing I can do is promote it as much as I can so for the amount of effort spent, the money that goes into it. that I do what I can for it. Regardless of what happens with Guns, right now I'm doing this till next summer.
G: On the road again.
S: Oh yeah, I can't wait. I want to go play clubs. That's ono aspect of Guns we can no longer change at this point. I wanted to go on a club tour fur Spaghetti Incident, get back to the kids, but Axl and I didn't agree on that one. Anyway, at this point Guns can only really go out and play stadiums and it gets sterile after a while. I go jam in clubs to get that vibe. I do it all the time. It keeps my chops up 'cause I don't like to sit around the house and practice. At the same time it gets me into a bar erwironinent where I feel really most comfortable. The stadium stuff is fun while you're on stage but the rest of it is just bullshit. I hung out with the Stones a lot in the recent couple months, a band that's obviously bigger than Guns is, and see how they work with it. With all that's going on in the world, all things considered, it's really insignificant, it's just a rock 'n' roll band. It can make a lot of people happy and that's all it pretty much can do.
G: So you're playing clubs.
S: Yeah, like 1000-1500 seaters. March. We're all from different bands so it's hard to tie it all together. There's me and Matt, and Gilby's tour is gonna end, and Alice in Chains isn't doing anything right now and Eric's working on a record with one of the guys in Jellyfish. Anyone can turn around on me at any given point and go, "Look I can't do it," which I don't want to have happen. I'm gonna tour regardless but I want to do it with the people who played on the album. Nobody can play like these guys.
G: How does doing this compare to GN'R?
S: GN'R is an institution now. I know Matt and Duff and Axl and Gilby for so long, we just do what we do. It doesn't take much thought. This is different. This is the first record that Matt's been able to do whatever he wanted on because most of the songs were arranged when we did the Use Your Illusion set and the songs were pretty much done when he was in the Cult. He had to work within the confines of what was there. This was something we did together and he had free rein on. Mike was just awesome. He plays completely different from Duff, which made me play different. Usually I would play riffs with Duff and then guitar solos and Izzy would play rhythm. Now Gilby and I are playing rhythm and Mike's playing the bass line and then I do the solos. Its fun, I'm having a good time. The stuff I wrote was so spontaneous, there's mistakes all over the place—we just did it. With Guns there's a little more pressure as far as the quality of the album. My Integrity level is high anyway, even for my own stuff, but we didn't get into detail too much.
G: You worked with Mike Clink again, does that make It easier?
S: yeah, he knows me really well. Most of the people involved were very familiar. It was just coming up with a new band. I dig exploring In me studio and playing all the time.
G: How long did It take start to finish?
S: Close to two weeks to record and another two to do the vocals, a couple of days to mix it, and a day to master.
G: Did you have any songs loft over?
S: I only took the songs that I wanted to record.
G: There are some similarities between Eric's voice and Axl's.
S: They both have a high range. Sometimes he'd be in there screaming and I'd go, "Are you all right?" It hurt to hear it. Mike and I would go, "Does he sound like Axl?" If it did, we'd change it. But it was cool to listen to him sing. He went into a gig with all these seasoned guys, who've been around, and he handled it really well. I'm a hard worker and he kept up with me the whole time while we were writing the lyrics. He blew those fuckers out so quick. I was really impressed. Plus it's a youthful energy to have around. We didn't have to spend a lot of time doing fixes. We'd have an entire song done at the end of the night. We'd start like one or two in the afternoon and be done by one o'clock, Just before the bars closed. It's five o'clock somewhere.
G: Speaking of where did you yet that title?
S: When we went to England, I think It was Donington, we were going to the airport and I was in a really bad mood. I went to the bar at the hotel and I said, "I know it's only 10 o'clock in the morning, but can I have a Jack and coke?" He said "It's five o'clock somewhere." and I've lived by that over since. The whole reason behind the title is it's really wide open. It's five o'clock somewhere, there's something happening going on. With all the pressures of everything I'm dealing with-Guns, the scene, the business-there's a way to get away from it. It's an attitude you take with you.
G: What's the cover like?
S: I'll show it to you. (It's a Slash-like snake wearing a top hat with a cigarette butt in its mouth on a red background). My brother Ash did it—he's younger than me so he lost two letters. He has a company called Conart that does street art. This was spray palmed on a wall, 14 feet tall. It says Slash's Snakepit because the record company, in order to boost any kind of interest in the record other than it being a totally new band, wants to put my name on it. If we keep going as a side project for all of us, I'd like to have it reduced down to Snakepit. I'm doing interviews now to get it started but come January well do it together.
G: Can you explain why Gilby's out of GN'R?
S: That's a sensitive subject. Put it this way, it wasn't my idea. Guns could've been history a while back. We auditioned drummers to fill Steven's spot and we were such a cohesive, original unit that we tried out people and it didn't work. We were at our wits end as far as drummers were concerned when we got Matt from the Cult. We hit it off the first day, a natural chemistry. Same with Gilby. Gilby was a godsend. We only had two weeks before the next leg of the tour started. He's the only guitar player we auditioned. He's great. What happened was we were rehearsing and Gilby was really out of it one day. The morale of the band, we were all trying to keep it together and he was the odd man out that day. I was complaining and then Axl called me that same night and said he didn't want to work with GlIby anymore for a lot of different masons. In a way I sort of went along with it, at least Axl thought I was going along with it because I had my own complaints from that night at rehearsal. This was about a year ago.
G: But Gilby said he wasn't out.
S: It was never etched in stone, but it was etched in Axl's mind. I knew there was no argument. Axl probably thought I was totally behind it. I went to talk to Gilby because I didn't want him to hear anything on the street. I told him what was going on, and everything was in a state of flux for a while. Axl wanted to bring a friend of his in that I didn't like. Right now there's a big hole on second guitar. There's ideas going around, but fortunately I'm doing this other thing which lets me buy time. Axl's got an agenda but it doesn't really match mine. Every day is a new test, one after the other. It would be easier if the same test would happen repeatedly but instead there's one test, you deal with that and the next one is altogether different. You have to be tenacious to be able to handle it.
G: Can you talk about your lyrical Inspirations?
S: I know it sounds sort of ignorant but the whole record was so spontaneous, I don't even remember.
G: Was anything influenced by news or TV?
S: No I don't use that stuff. There's one song called "Lower" that was inspired by (the suicides of] Savannah and Kurt Cobain. Savannah had just shot herself. I was in the studio and Gilby called and told me. I used to go out with her. That bummed me out. "Neither Can I" is something Eric came up with as far as the concept is concerned. "Dime Store Rock" is Gilby's music and Eric's lyric. Once he gets the concept I might change a line here or there.
G: Is "Beggars & Hangers On" about anybody we know?
S: No, it's about everybody we know! Half the girls I've met in my career to this point.
G: How about "Good to Be Alive?"
S: I don't know, and that was my title, too, I can't remember where it came from. "What Da You Want to Be" is me and Eric. "Monkey Chow" is Gilby's song, I don't to this day know what it's about. "Soma City Ward" [refers to] a drug you take when you're in a psycho ward. That's Eric's.
G: How did your instrumental come about?
S: To tell you the truth. It was a riff I'd been carrying around that Axl hated. He called it 'red neck." He hated it so never did anything with It. We made an arrangement with it one day and put on a guitar solo but the guitar solo was erased. I was mixing in New York and said. "Put it up," but after the first two seconds it was gone. We went through all the safeties, all the masters, and it was lost. I had to rent an amp and guitar and do it completely improv. I don't know what the original one sounds like.
G: Was that the only crisis?
S: No, but we won't get into it. Nothing ever goes as planned. There were a couple of funny incidents. We did it so quick and wrote everything down on the track sheets so fast that when it came time to mix we didn't know where anything was, on what track. You know where it is that day but two weeks later you forget. "Take it Away" means -take it away, here's your show, do it yourself." ''Doin' Fine" is just a party song. The concept came from when 20 of us used to live at West Arkeen's house. We called up these chicks—I wasn't there—they got all f.cked up and had a party in the studio. You can hear in the song, a TV being smashed. "I Hate Everybody But You" is the closest I ever got to a love song, I wrote most of the lyrics for that. "Back and Forth Again" was my title but Eric had the lyrics. It's about people not being able to come to some cohesive understanding and breaking up. "Be the Ball" is a pinball song. I came up with the concept of looking at life through a pinball's eyes on a play field. I had this music and this one just flowed out of me. It's actually the concept for a Sega... Data East bought Sega. You can look at the play field from the ball's point of view. You are the ball, it's sort of virtual reality.
G: I hear you have 19 pinball machines, including the GN'R one.
S: I designed that one, but I didn't play pinball until, It was Christmas a couple of years ago I bought one for Renee. I was in Chicago visiting her family and there was nothing to do and it started to get to me. They had three pinball machines in their basement and to kill time I started playing them. I'd never played when I was a kid. I smoked pot. I came home and bought her an Addams Family one, and one machine turned into two, two turned into four and so on. They're all over the house. We don't even have a dining room table. We always eat takeout anyway. Then while the studio was being built and Guns wasn't doing anything I thought Guns could do a pinball machine 'cause there hasn't been a genuine rock 'n' roll machine in a long time. The whole idea came together. The basic idea is to get all six guys on stage, because we have a penchant for being late. It's the most technically advanced game to date. I'm really proud of it. And all my ideas are all on there. It sounds really great, there are eight or nine songs on there. Making a record is one thing but making something that's totally out of your league and have it actually come to fruition is really great.
G: Is that your favorite machine?
S: No, like how many tunes can you listen to 'Welcome to the Jungle?"
G: When did GN'R do the "Sympathy For the Delia" cover for Interview With the Vampire?
S: A few months ago. Got a phone call from [Geffen eyeR man) Tom Zutaut who said, "I want you to do me a favor. David Geffen's doing this movie and they really want you to do 'Sympathy for the Devil' in it." Originally they had the Stones' version in it. I asked who's in it, and he said Tom Cruise.' I know the story backwards and forwards and I said, ''Tom Cruise as Lestat?" They told me the whole cast and I thought, "the new brat pack" So I went to a screening for it, and I'm such a horror fan that it didn't do it for me. It was well made and Tom tried his best, you gotta give him credit for that. Everyone has to take their chances so I'm not gonna knock it but I didn't like the movie that much. I fell asleep at one point. I left before the lights went on so I wouldn't have to answer questions. Axl went to see it the next day and he liked it, which is ironic. So typical. He didn't know I hated it. He saw stuff in it that I didn't and vice versa. He wanted to do the song so I said we'd do it. I wanted to do the movie because it would get the band together in one room and maybe start getting things rolling. It didn't work. Matt, Duff and I got together In the studio and did the music—we're the brick-layers, you know—and Axl came in later and did the vocals. Matt, Duff, and I rocked, that part of it was great, but it didn't do what I hoped. The single isn't that huge. The fact that it's related to a Tom Cruise movie and it's a cover, it was a sacrifice made to try and do something positive but ended up being like, whatever. I don't really like doing movies but I am doing a guitar thing for a movie coming out called The Black Panthers—I'm gonna play The Star-Spangled Banner' with the Harlem Boys Choir. That's just me, by myself. But as far as Guns is concerned I don't like getting involved. We usually end up getting screwed, too, getting played on a boom box at a party under all this dialogue. Like in The Terminator, we were on a radio on a Honda 75.
G: Any other collaborations planned?
S: I don't know. I played Woodstock with Paul Rodgers. Guns was supposed to play Woodstock but we turned it down because I don't think Guns represents the generation that Woodstock represents. There's nothing about the '9os that relates to the '60s to me except for a couple people running around trying to keep the fashion going. It seemed very commercial so we bowed out. But I didn't mind going down there and playing with Paul Rodgers. He's one of the originals. But the crowd wanted so much for it to be real as possible. They made the gig. It was the crowd response and enthusiasm that made it. I had a great time. It was actually a lot cooler than I thought it would be. Aerosmith is from those days so you can't knock them. But I'm glad Guns didn't do it.
G: What guitars did you use on the album?
S: The same old one. There's acoustic on there, I played mandolin on it but for the most part it's just mu one guitar I used on Appetite and my main guitar for Use Your Illusions. On Illusions I used a lot of guitars, I used almost all the guitars I have in different places.
G: How many do you have?
S: Like 80. I didn't use 80 on Use Your Illusions, I didn't have 80 then. But I ended up having 80 by the end of it.
G: How many do you travel with?
S: I have a couple double necks, couple acoustics, three Les Pauls, a Gold Top, one B.C. Rich. My main one is the red Les Paul. The ones I use for the albums, I keep all of those away in storage. I don't take them on the road. Those are work guitars and I can beat the shit out of them and don't feel guilty. I preserve the good ones. There's a double neck I designed for Guild, it's got an electric six string and a six string acoustic. It's made for professional guitarists, it's more for people who are doing concerts. Instead of using those stands, you have access to the electric and the acoustic. I take those on the road. I play "Heaven's Door" with it, "Patience." They'll be available at some point.
G: When you go on tour will you do any GN'R songs or any covers?
S: We're gonna do "Magic Carpet Ride." We might do something else. There's one Guns song I might use, 'Bad Apples." Otherwise I'm not gonna do any of the standard Guns material. That's too close to home. "Bad Apples" is something we don't normally play. We'll do a couple of Gilby's songs from his record. But I don't think we'll play any Alice in Chains songs. There won't be any big guitar solos or drum solos. I hated doing that in Guns. I played "The Godfather" for a while and it got to the point where everybody expected me to play "The Godfather." If I didn't play it, people would wonder why. This time around I'm not doing any guitar solos. I just want to do an hour and a half brash show, in your face.
G: Are you going overseas, too?
S: Yeah, Japan. We're routing the whole thing now. We're gonna start in the States, lesser markets towards the east coast and work all the way west. We've got to get the band, we haven't done a gig together before. The first thing to do is rehearse and if we're really confident we may book a show at the Troubadour or something.
G: What about video?
S: We're trying to figure out what the first single is. I think "Neither Can I" is a good song. But I think most of it will be performance. Maybe throw in some street stuff. Videos are so overblown now.
G: MTV has changod so much.
S: I haven't watched it in five or six years. Whenever I flip channels, for some reason they're always at the beach or it's the worst quality rap stuff. I love Soundgarden. I love Alice in Chains, and all things considered, as much as we didn't get along, I loved Nirvana. I saw a Bad Religion video that was great. But the quality stuff is so few and far between. It's the only medium you can really get video across and I think only one out of every 10 videos made even makes it. It's so screwed. I've had aome intense situations with MTV having to do with edits on Guns videos. When we did "If I Don't Have You," this lady who's now the president and very into women's rights, even little nuances in a girl's body were offensive as far as she was concerned. We had to fight. It's a very corporate, non-feeling organization. The bands don't get any money, pretty much like radio now, where you do get percentage from radio. I think we should all...
G: Boycott it?
S: Yeah, as long as this bullshit's going on. It's sort of hypocritical for me to say this— I want to have a video and have it played on MTV. But I think at some point there'll be some underground video station that will get wide acceptance.
G: What do you think of the way it's going, the change in music?
S: It changes constantly. When we came out we were the only band like that at the time. It goes through those phases. There'll be one band that manages to come out and somehow squeeze their way through the bullshit and kids got exposed to it. We wouldn't have sold anything it hadn't been tar opening for other bands and playing on tour for two years. Then the record company goes, "Oh, they're popular," like they knew all along. Maybe one guy know. But next thing you know there are 50 bands like that. Then the scene changes and like with the Seattle thing, one band comes out of that and people jumped on it and all of a sudden we have grunge. Which is fine 'cause we have some great bands. But I can't even tell some of the bands apart. Its a ritual that will go on forever.
G: What are you listening to?
S. I listen to the radio for the most part at home, but in the car I've got Mike Monroe's record. Demolition 23. I haven't heard music like that in ages, like Pistols type stuff. I have my record in the car just to see if I still like it. I've also got Blackthorne in the car. I still like Metallica, I like Megadeth's new record. There's one Green Day song I like. It's a whole new scene. I love the new Stones record. That's close to me 'cause I only heard it six million times before it was released. I was in Ireland at [Ron] Wood's and I heard it every day for two weeks. It's like the only CD we had. We were playing snooker every night, drunk out of our minds, listening to the same Stones record. I went and jammed with Ronnie in London after that. Stayed at his house there and it's still the only record he had. But it's a good record, the first Stones record I've really liked since Some Girls. But we're talking about generations of music that most kids don't pay attention to. I still listen to old stuff, like Deep Purple.
G: So update me on the snakes, how many do you have?
S: I have two warehouses now. I have a ton of snakes and I have some associates, we breed them.
G: All the same kind?
S: No. All different ones. They're extraordinary. I used to name them but after it got to be so many I stopped. They can't hear anyway. We have a lot of lizards, too. We have a mail order thing going. I used to give snakes to all my friends. Mike Inez has one, Adam has one. Albino Burmese pythons. Axl's got one.
G: How big do they get?
S: The average is between 12 and 16, 17 feet.
G: Is that the biggest you have?
S: No. we have 25 footers. I have some rattlers at my house. When the earth-quake hit, my house was hit really hard. All the cages have plexiglas fronts so I didn't lose the snakes. but before that all the snakes were in the house, every room had snakes in it. But I had to move out of there. I still own it but it's not live-able. I'm back in Hollywood, which is nice. I'm leasing this one. Before I was on the cusp between the Valley and Hollywood. I hate the Valley. But Renee's from the Valley so I ended up hanging out there for the most part. The building where the snakes are is in the Valley. I just have a couple of snakes at my house, little guys that were caught over by Matt's house. They're great. I love them. Snakes aren't that big a deal but it's an inbred thing, we've all boon taught that they're evil.
G: How's Renee, everything cool?
S: She's wonderful, she's pursuing hor acting career. She's done commercials but she's trying to get a good movie part. I drive her crazy. It's just the way I am. We've been married for two years and been together I guess five years. We've had our ups and downs. I told her we're gonna be on a tour bus. She'll come in and out, she's not into f.ckin' gigs and all that. She's not from that side of the fence, which is probably why I married her. I knew a lot of girls from my side of the fence. They're trouble.
G: Plan on any kids?
S: No. We have enough animals. The biological clock has stopped at this point. We have cats and dogs. We almost lost one of the cats to one of the snakes once. We try to keep them separated.
G: So the January '93 earthquake damaged your house.
S: On the hill where I was by Mulholland, it was an 8.3 not 6.9. I lost all my neighbors, all their houses collapsed. Mine was the only one that didn't completely fall down. My cousin-in-law from Chicago was staying with us. he'd never been to LA. before. First earthquake. It moved through town in veins. I have a house I used to live in that I still own that I'm trying to sell, the first house I ever bought in Laurel Canyon. That house, nothing even fell off the mantel.
G: I had no damage but I was pretty jumpy from the aftershocks.
S: I'm still like that. We went to Chicago after the earthquake, I was like, 'Fuck this." A house is material. The things I care about—my guitars, my wife, my snakes, my cats— everything was fine. It was very grounding. I think LA. needed it. We just don't need another one right away. It's funny, when it happened I'd just mixed three demos of the Snakepit tunes in my studio. I'd never mixed three series in one night. I went to bed, kissed Renee, we started to get into it, and all of a sudden the TV flew across the room. It was very surreal. I cut my foot a little. The refrigerator flew like five feet. Everything broke except a huge half gallon of Jack Daniel's that hadn't been opened yet. The only picture that didn't fall was one from my and Renee's wedding.
G: Anything else you want to say to your fans?
S: I can't wait to get out and play and see if anybody likes it and thinks it's cool. The whole challenge of the thing is what makes it fun. I had to get away from Guns for a minute just because it's such an institution. I want to get really inspired to do any now Guns stuff. Guns is big enough that it doesn't matter what year we come out with a record so much. I know that people want one to come out, but I want to make sure that it's a great Guns record, not churn it out just because. So I'll get away from it for a while, have fun dicking around in clubs and get toe to toe with the kids. I'm looking forward to It. *

Soulmonster

Band Lawyer







Posts

: 15355


Plectra

: 74818


Reputation

: 831


Join date

: 2010-07-06



---
Permissions in this forum:
You
cannot
reply to topics in this forum