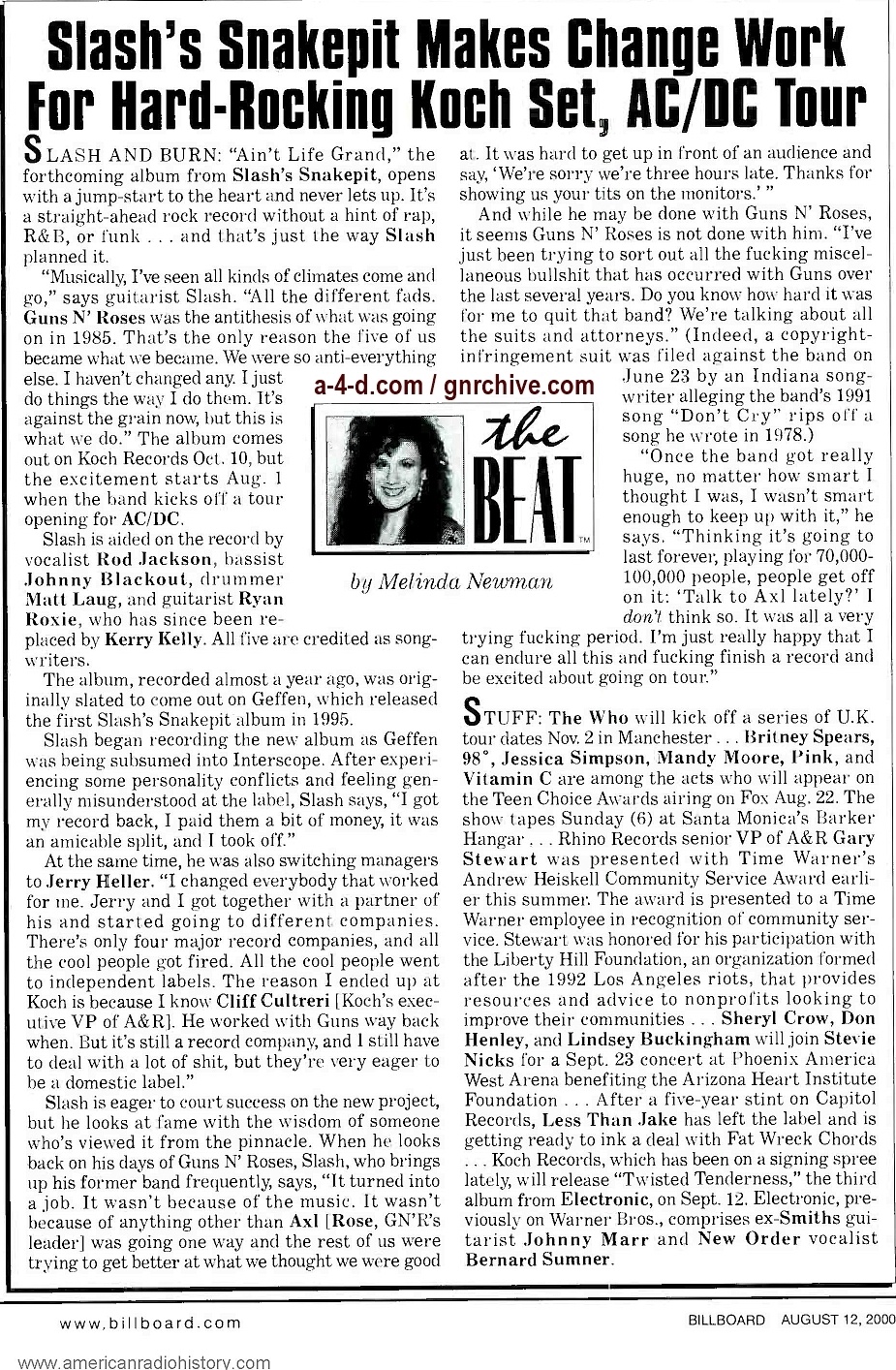 Transcript:
-------------------
Slash's Snakepit Makes Change Work For Hard-Rocking Koch Set, AC/DC Tour
By Melinda Newman
SLASH AND BURN: "Ain't Life Grand," the forthcoming album from Slash's Snakepit, opens with a jump-start to the heart and never lets up. It's a straight-ahead rock record without a hint of rap, R&B, or funk... and that's just the way Slash planned it.
"Musically, I've seen all kinds of climates come and go," says guitarist Slash. "All the different fads. Guns N' Roses was the antithesis of what was going on in 1985. That's the only reason the five of us became what we became. We were so anti-everything else. I haven't changed any. I just do things the way I do them. It's against the grain now, but this is what we do." The album comes out on Koch Records Oct. 10, but the excitement starts Aug. 1 when the band kicks off a tour opening for AC/DC.
Slash is aided on the record by vocalist Rod Jackson, bassist Johnny Blackout, drummer Matt Laug, and guitarist Ryan Roxie, who has since been replaced by Kerry Kelly. All five are credited as songwriters.
The album, recorded almost a year ago, was originally slated to come out on Geffen, which released the first Slash's Snakepit album in 1995.
Slash began recording the new album as Geffen was being subsumed into Interscope. After experiencing some personality conflicts and feeling generally misunderstood at the label, Slash says, "I got my record back, I paid them a bit of money, it was an amicable split, and I took off."
At the same time, he was also switching managers to Jerry Heller. "I changed everybody that worked for me. Jerry and I got together with a partner of his and started going to different companies. There's only four major record companies, and all the cool people got fired. All the cool people went to independent labels. The reason I ended up at Koch is because I know Cliff Cultreri [Koch's executive VP of A&R]. He worked with Guns way back when. But it's still a record company, and I still have to deal with a lot of shit, but they're very eager to be a domestic label."
Slash is eager to court success on the new project, but he looks at fame with the wisdom of someone who's viewed it from the pinnacle. When he looks back on his days of Guns N' Roses, Slash, who brings up his former band frequently, says, "It turned into a job. It wasn't because of the music. It wasn't because of anything other than Axl [Rose, GN'R's leader] was going one way and the rest of us were trying to get better at what we thought we were good at. It was hard to get up in front of an audience and say, 'We're sorry we're three hours late. Thanks for showing us your tits on the monitors."
And while he may be done with Guns N' Roses, it seems Guns N' Roses is not done with him. "I've just been trying to sort out all the fucking miscellaneous bullshit that has occurred with Guns over the last several years. Do you know how hard it was for me to quit that band? We're talking about all the suits and attorneys." (Indeed, a copyright-infringement suit was filed against the band on June 23 by an Indiana songwriter alleging the band's 1991 song "Don't Cry" rips off a song he wrote in 1978.)
"Once the band got really huge, no matter how smart I thought I was, I wasn't smart enough to keep up with it," he says. "Thinking it's going to last forever, playing for 70,000-100,000 people, people get off on it: 'Talk to Axl lately?' I
don't
think so. It was all a very trying fucking period. I'm just really happy that I can endure all this and fucking finish a record and be excited about going on tour."

Blackstar

ADMIN




Posts

: 12244


Plectra

: 80304


Reputation

: 97


Join date

: 2018-03-17



---
Permissions in this forum:
You
cannot
reply to topics in this forum