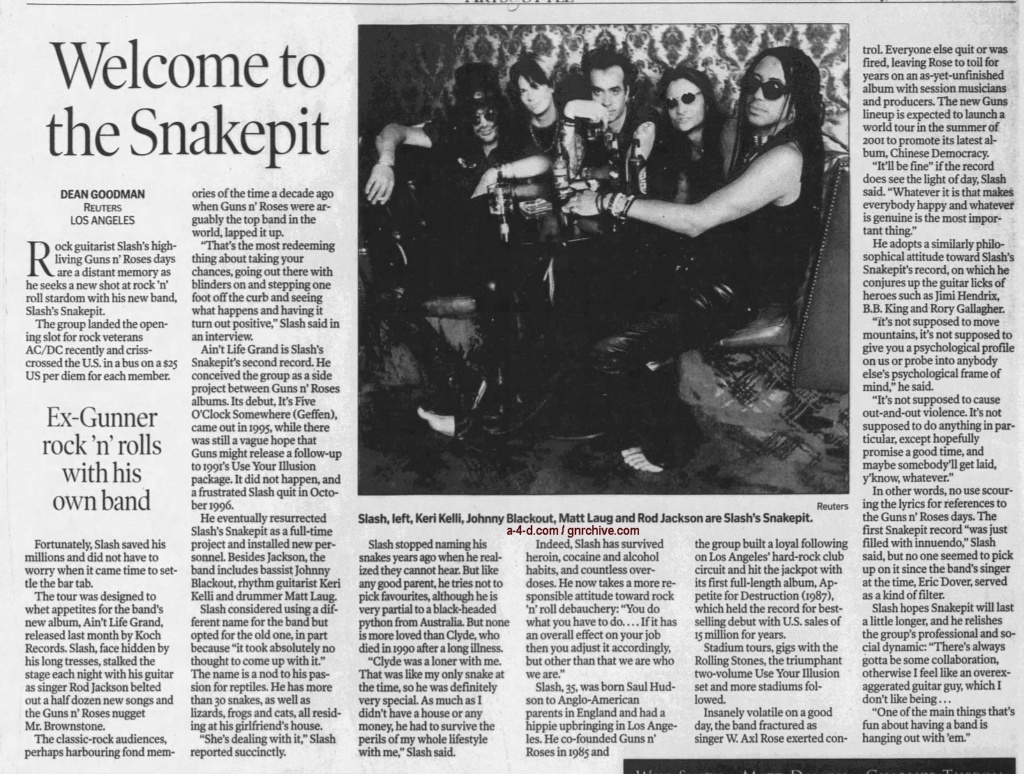 Welcome to the Snakepit
Ex-Gunner rock 'n' rolls with his own band
DEAN GOODMAN
Reuters
LOS ANGELES
Rock guitarist Slash's high-living Guns n' Roses days are a distant memory as he seeks a new shot at rock 'n' roll stardom with his new band, Slash's Snakepit.
The group landed the opening slot for rock veterans AC/DC recently and crisscrossed the U.S. in a bus on a $25 US per diem for each member.
Fortunately, Slash saved his millions and did not have to worry when it came time to settle the bar tab.
The tour was designed to whet appetites for the band's new album,
Ain't Life Grand
, released last month by Koch Records. Slash, face hidden by his long tresses, stalked the stage each night with his guitar as singer Rod Jackson belted out a half dozen new songs and the Guns n' Roses nugget
Mr. Brownstone
.
The classic-rock audiences, perhaps harbouring fond memories of the time a decade ago when Guns n' Roses were arguably the top band in the world, lapped it up.
"That's the most redeeming thing about taking your chances, going out there with blinders on and stepping one foot off the curb and seeing what happens and having it turn out positive," Slash said in an interview.
Ain't Life Grand
is Slash's Snakepit's second record. He conceived the group as a side project between Guns n' Roses albums. Its debut,
It's Five O'clock Somewhere
(Geffen), came out in 1995, while there was still a vague hope that Guns might release a follow-up to 1991's Use Your Illusion package. It did not happen, and a frustrated Slash quit in October 1996.
He eventually resurrected Slash's Snakepit as a full-time project and installed new personnel. Besides Jackson, the band includes bassist Johnny Blackout, rhythm guitarist Keri Kelli and drummer Matt Laug.
Slash considered using a different name for the band but opted for the old one, in part because "it took absolutely no thought to come up with it." The name is a nod to his passion for reptiles. He has more than 30 snakes, as well as lizards, frogs and cats, all residing at his girlfriend's house.
"She's dealing with it," Slash reported succinctly.
Slash stopped naming his snakes years ago when he realized they cannot hear. But like any good parent, he tries not to pick favourites, although he is very partial to a black-headed python from Australia. But none is more loved than Clyde, who died in 1990 after a long illness.
"Clyde was a loner with me. That was like my only snake at the time, so he was definitely very special. As much as I didn't have a house or any money, he had to survive the perils of my whole lifestyle with me," Slash said.
Indeed, Slash has survived heroin, cocaine and alcohol habits, and countless overdoses. He now takes a more responsible attitude toward rock 'n' roll debauchery: "You do what you have to do.... If it has an overall effect on your job then you adjust it accordingly, but other than that we are who we are."
Slash, 35, was born Saul Hudson to Anglo-American parents in England and had a hippie upbringing in Los Angeles. He co-founded Guns n' Roses in 1985 and the group built a loyal following on Los Angeles' hard-rock club circuit and hit the jackpot with its first frill-length album,
Appetite for Destruction
(1987), which held the record for bestselling debut with U.S. sales of 15 million for years.
Stadium tours, gigs with the Rolling Stones, the triumphant two-volume Use Your Illusion set and more stadiums followed.
Insanely volatile on a good day, the band fractured as singer W. Axl Rose exerted control. Everyone else quit or was fired, leaving Rose to toil for years on an as-yet-unfinished album with session musicians and producers. The new Guns lineup is expected to launch a world tour in the summer of 2001 to promote its latest album,
Chinese Democracy
.
"It'll be fine" if the record does see the light of day, Slash said. "Whatever it is that makes everybody happy and whatever is genuine is the most important thing."
He adopts a similarly philosophical attitude toward Slash's Snakepit's record, on which he conjures up the guitar licks of heroes such as Jimi Hendrix, B.B. King and Rory Gallagher.
"it's not supposed to move mountains, it's not supposed to give you a psychological profile on us or probe into anybody else's psychological frame of mind," he said.
"It's not supposed to cause out-and-out violence. It's not supposed to do anything in particular, except hopefully promise a good time, and maybe somebody'll get laid, y'know, whatever."
In other words, no use scouring the lyrics for references to the Guns n' Roses days. The first Snakepit record "was just filled with innuendo," Slash said, but no one seemed to pick up on it since the band's singer at the time, Eric Dover, served as a kind of filter.
Slash hopes Snakepit will last a little longer, and he relishes the group's professional and social dynamic: "There's always gotta be some collaboration, otherwise I feel like an over-exaggerated guitar guy, which I don't like being...
"One of the main things that's fun about having a band is hanging out with 'em."

Blackstar

ADMIN




Posts

: 9425


Plectra

: 64357


Reputation

: 97


Join date

: 2018-03-17



---
Permissions in this forum:
You
cannot
reply to topics in this forum