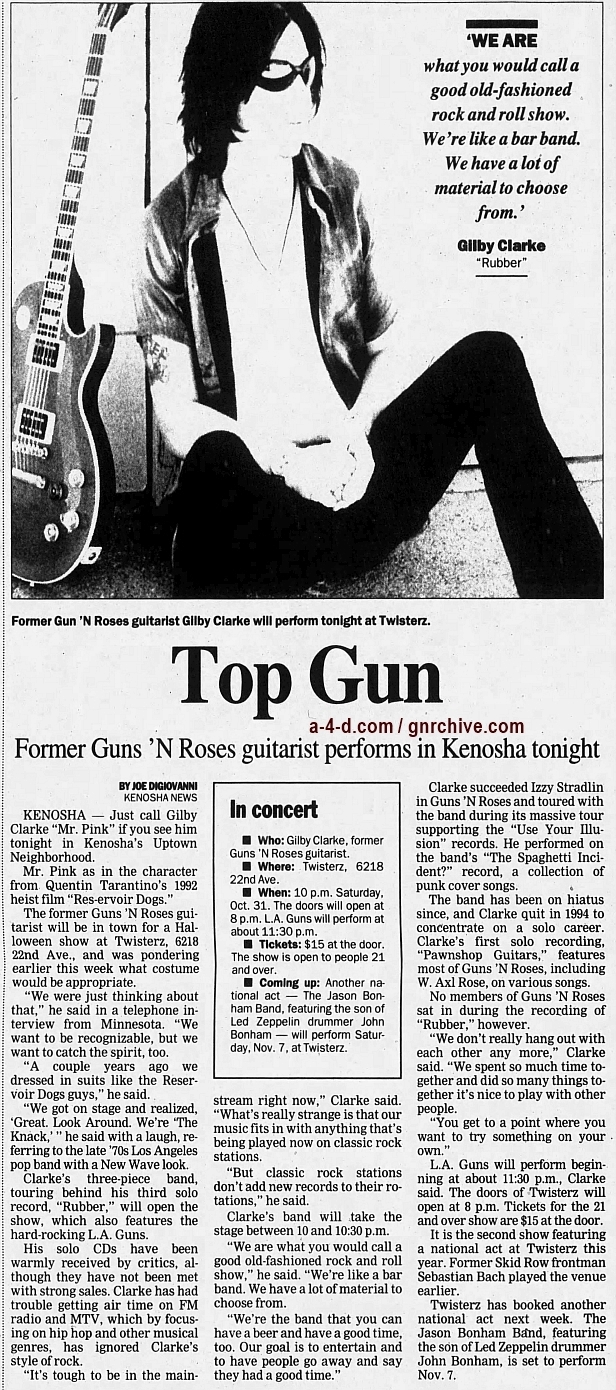 Transcript:
----------------
Top Gun
Former Guns 'N Roses guitarist performs in Kenosha tonight
BY JOE DIGIOVANNI
KENOSHA NEWS
KENOSHA — Just call Gilby Clarke "Mr. Pink" if you see him tonight in Kenosha's Uptown Neighborhood.
Mr. Pink as in the character from Quentin Tarantino's 1992 heist film "Reservoir Dogs."
The former Guns 'N Roses guitarist will be in town for a Halloween show at Twisterz, 6218 22nd Ave., and was pondering earlier this week what costume would be appropriate.
"We were just thinking about that," he said in a telephone interview from Minnesota. "We want to be recognizable, but we want to catch the spirit, too.
"A couple years ago we dressed in suits like the Reservoir Dogs guys," he said.
"We got on stage and realized, 'Great. Look Around. We're 'The Knack,' " he said with a laugh, referring to the late 70s Los Angeles pop band with a New Wave look.
Clarke's three-piece band, touring behind his third solo record, "Rubber," will open the show, which also features the hard-rocking L. A. Guns.
His solo CDs have been warmly received by critics, although they have not been met with strong sales. Clarke has had trouble getting air time on FM radio and MTV, which by focusing on hip hop and other musical genres, has ignored Clarke's style of rock.
"It's tough to be in the mainstream right now," Clarke said. "What's really strange is that our music fits in with anything that's being played now on classic rock stations.
"But classic rock stations don't add new records to their rotations," he said.
Clarke's band will take the stage between 10 and 10:30 p.m.
"We are what you would call a good old-fashioned rock and roll show," he said. "We're like a bar band. We have a lot of material to choose from.
"We're the band that you can have a beer and have a good time, too. Our goal is to entertain and to have people go away and say they had a good time."
Clarke succeeded Izzy Stradlin in Guns 'N Roses and toured with the band during its massive tour supporting the "Use Your Illusion" records. He performed on the band's "The Spaghetti Incident?" record, a collection of punk cover songs.
The band has been on hiatus since, and Clarke quit in 1994 to concentrate on a solo career. Clarke's first solo recording, "Pawnshop Guitars," features most of Guns 'N Roses, including W. Axl Rose, on various songs.
No members of Guns 'N Roses sat in during the recording of "Rubber," however.
"We don't really hang out with each other any more," Clarke said. "We spent so much time together and did so many things together it's nice to play with other people.
"You get to a point where you want to try something on your own."
L.A. Guns will perform beginning at about 11:30 p.m., Clarke said. The doors of Twisterz will open at 8 p.m. Tickets for the 21 and over show are $15 at the door.
It is the second show featuring a national act at Twisterz this year. Former Skid Row frontman Sebastian Bach played the venue earlier.
Twisterz has booked another national act next week. The Jason Bonham Band, featuring the son of Led Zeppelin drummer John Bonham, is set to perform Nov. 7.

Blackstar

ADMIN




Posts

: 8579


Plectra

: 59233


Reputation

: 97


Join date

: 2018-03-17



---
Permissions in this forum:
You
cannot
reply to topics in this forum