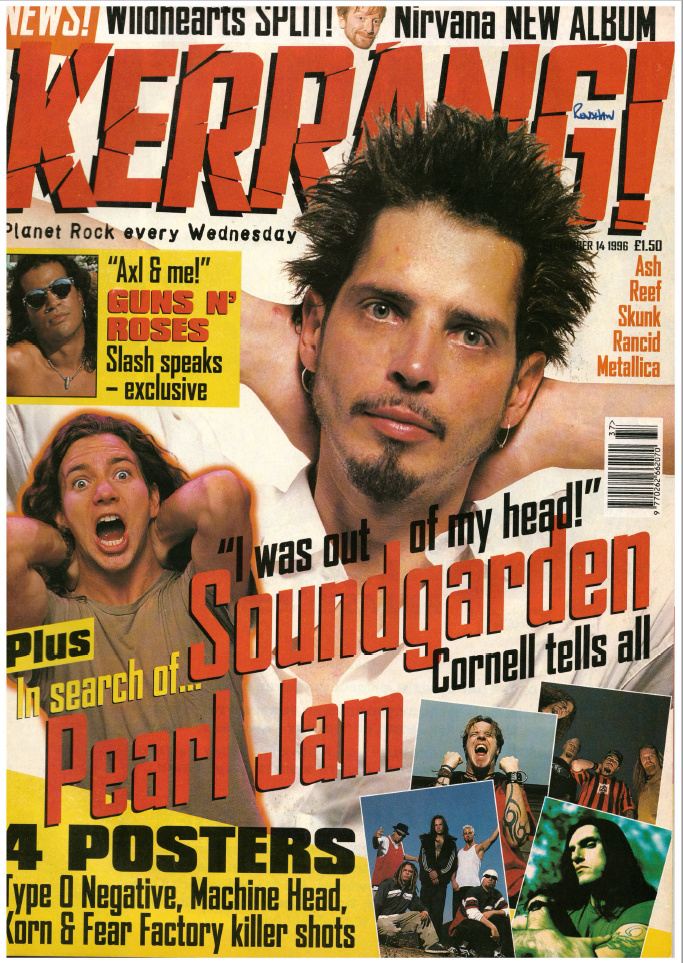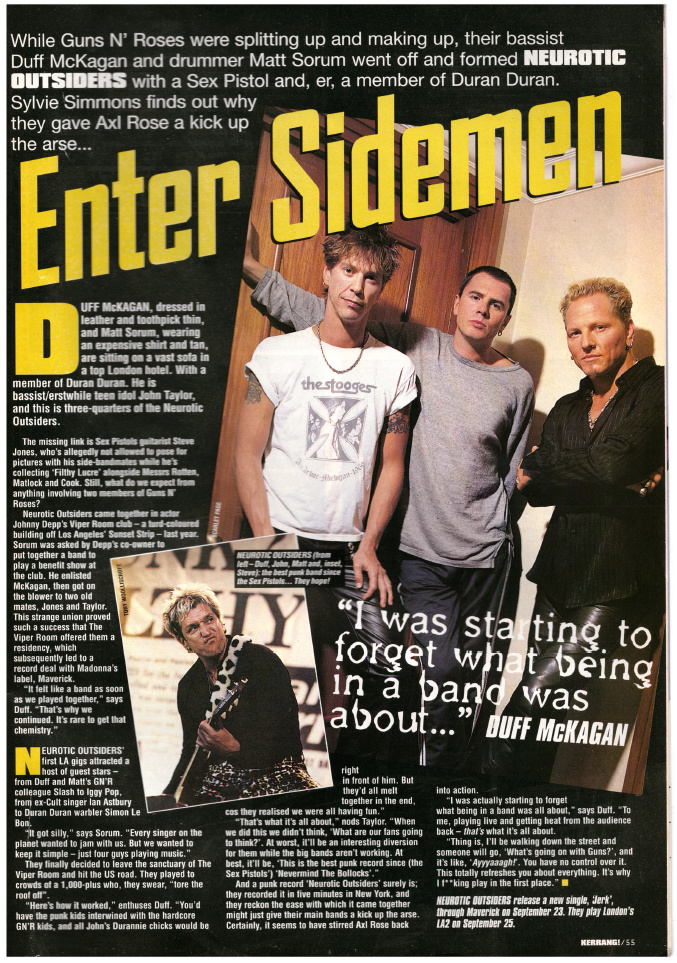 Transcript:
While Guns N' Roses were splitting up and making up, their bassists Duff McKagan and drummer Matt Sorum went off and formed NEUROTIC OUTSIDERS with a Sex Pistol and, er, a members of Duran Duran. Sylvie Simmons finds out why they gave Axl Rose a kick up the arse...
ENTER SIDEMEN
DUFF McKagan, dressed in leather and toothpick thin, and Matt Sorum, wearing an expensive shirt and tan, are sitting on a vast sofa in a top London hotel. With a member of Duran Duran. He is bassist/erstwhile teen idol John Taylor, and this is three-quarters of the Neurotic Outsiders.
The missing link is Sex Pistols guitarist Steve Jones, who's allegedly not allowed to pose for pictures with his side-bandmates while he is collecting "Filthy Lucre" alongside Messrrs Rotten, Matlock and Cook. Still, what do we expect from anything involving two members of Guns N' Roses?
Neurotic Outsiders came together in actor Johnny Depp's Viper Room - a turd-coloured building off Los Angeles' Sunset Strip - last year. Sorum was asked by Depp's co-owner to put together a band to play a benefit show at the club. He enlisted McKagan, then got on the blower to two old mates, Jones and Taylor. This strange union proved such a success that The Viper Room offered them a residency, which subsequently led to a record deal with Madonna s label, Maverick.
'It felt like a band as soon as we played together,' says Duff. "That's why we continued. Its rare to get that chemistry."
NEUROTIC OUTSIDERS' first LA gigs attracted a host of guest stars - from Duff and Matt's GN'R colleague Slash to lggy Pop, from ex-Cult singer Ian Astbury to Duran Duran warbler Simon Le Bon.
"It got silly," says Sorum. "Every singer on the planet wanted to jam with us. But we wanted to keep it simple - just four guys playing music."
They finally decided to leave the sanctuary of The Viper Room and hit the US road. They played to crowds of a 1,000-plus who, they swear, "tore the roof off."
"Here's how it worked," enthuses Duff. "You'd have the punk kids interwined with the hardcore GN'R kids, and all of John's Durranie chicks would be ringt in front of him. But they'd all melt together in the end, cos they realised we were all having fun.
"That's what it's all about, " nods Taylor. "When we did this we didn't think, 'What are our fans going to think?'. At worst, it'll be an Interesting diversion for them while the big bands aren't working. At best, it'll be. 'This is the best punk record since (the Sex Pistols') Nevermind The Bollocks'."
And a punk record 'Neurotic Outsiders' surely is; they recorded it in five minutes in New York. and they reckon the ease with which it came together might just give their main bands a kick up the arse. Certainly, it seems to have stirred Axl Rose back into action.
"I was actually starting to forget what being in a band was all about," says Duff. "To me, playing live and getting heat from the audience back -
that's
what it's all about.
"Thing is, I'll be walking down the streets and someone will go, 'What's going on with Guns?', and it's like '
Ayyyaagh!
'. You have no control over it. This totally refreshes you about everything. It's why I f**king play in the first place'"
NEUROTIC OUTSIDERS release a new single, 'Jerk', through Maverick on September 23. They play London's LA2 on September 25.

Soulmonster

Stage manager







Posts

: 14638


Plectra

: 72045


Reputation

: 827


Join date

: 2010-07-06



---
Permissions in this forum:
You
cannot
reply to topics in this forum