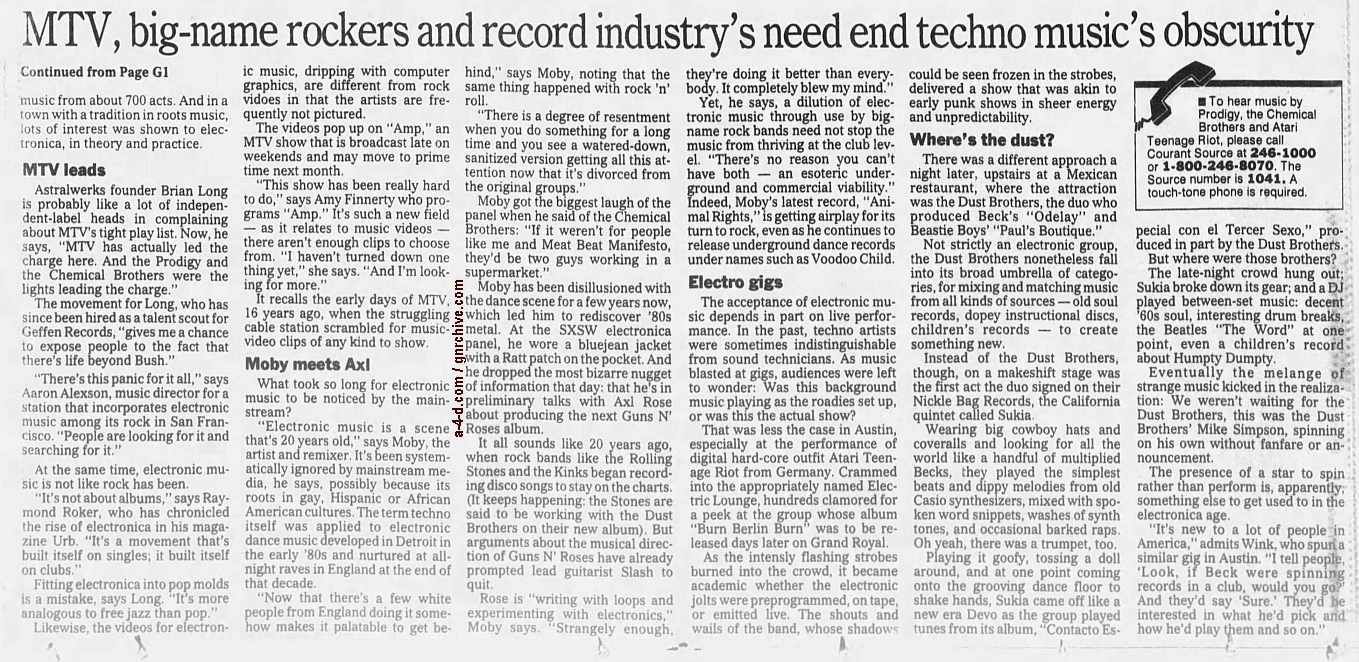 Transcript:
----------------
Mainstream 'discovers' electro sound
By ROGER CATLIN
Courant Rock Critic
[...]
Moby meets Axl
What took so long for electronic music to be noticed by the mainstream?
"Electronic music is a scene that's 20 years old," says Moby, the artist and remixer. It's been systematically ignored by mainstream media, he says, possibly because its roots in gay, Hispanic or African American cultures. The term techno itself was applied to electronic dance music developed in Detroit in the early '80s and nurtured at all-night raves in England at the end of that decade.
"Now that there's a few white people from England doing it somehow makes it palatable to get behind," says Moby, noting that the same thing happened with rock 'n' roll.
"There is a degree of resentment when you do something for a long time and you see a watered-down, sanitized version getting all this attention now that it's divorced from the original groups."
Moby got the biggest laugh of the panel when he said of the Chemical Brothers: "If it weren't for people like me and Meat Beat Manifesto, they'd be two guys working in a supermarket."
Moby has been disillusioned with the dance scene for a few years now, which led him to rediscover '80s metal. At the SXSW electronica panel, he wore a bluejean jacket with a Ratt patch on the pocket. And he dropped the most bizarre nugget of information that day: that he's in preliminary talks with Axl Rose about producing the next Guns N' Roses album.
It all sounds like 20 years ago, when rock bands like the Rolling Stones and the Kinks began recording disco songs to stay on the charts. (It keeps happening: the Stones are said to be working with the Dust Brothers on their new album). But arguments about the musical direction of Guns N' Roses have already prompted lead guitarist Slash to quit.
Rose is "writing with loops and experimenting with electronics," Moby says. "Strangely enough, they're doing it better than everybody. It completely blew my mind."
Yet, he says, a dilution of electronic music through use by big-name rock bands need not stop the music from thriving at the club level. "There's no reason you can't have both — an esoteric underground and commercial viability." Indeed, Moby's latest record, "Animal Rights," is getting airplay for its turn to rock, even as he continues to release underground dance records under names such as Voodoo Child.
[...]

Blackstar

ADMIN




Posts

: 10247


Plectra

: 69465


Reputation

: 96


Join date

: 2018-03-17



---
Permissions in this forum:
You
cannot
reply to topics in this forum