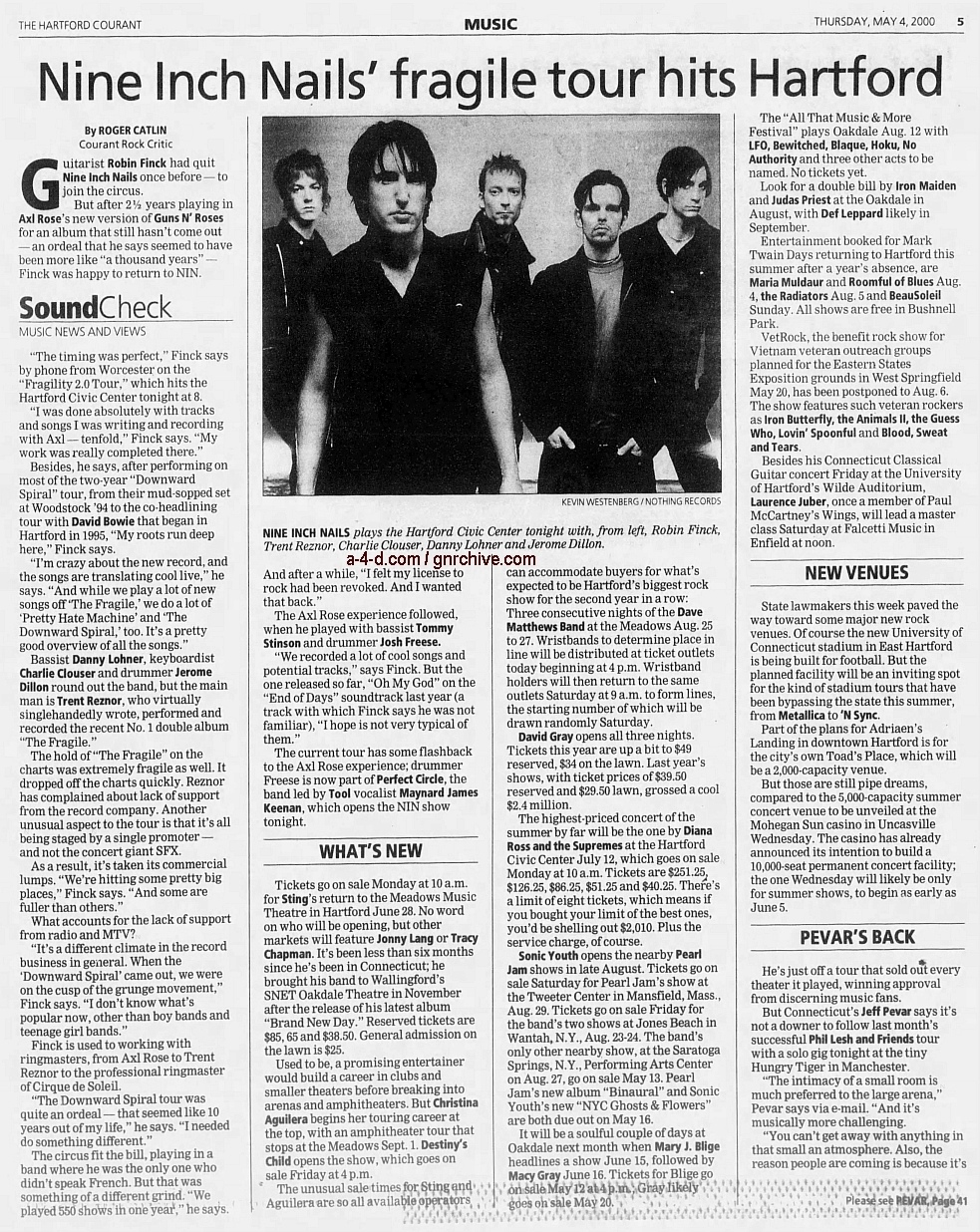 Nine Inch Nails' Fragile Tour Hits Hartford

Guitarist Robin Finck had quit Nine Inch Nails once before - to join the circus. But after 2½ years playing in Axl Rose's new version of Guns N' Roses for an album that still hasn't come out - an ordeal that he says seemed to have been more like "a thousand years" - Finck was happy to return to NIN.

"The timing was perfect," Finck says by phone from Worcester on the "Fragility 2.0 Tour," which hits the Hartford Civic Center tonight at 8.

"I was done absolutely with tracks and songs I was writing and recording with Axl - tenfold," Finck says. "My work was really completed there."

Besides, he says, after performing on most of the two-year "Downward Spiral" tour, from their mud-sopped set at Woodstock '94 to the co-headlining tour with David Bowie that began in Hartford in 1995, "My roots run deep here," Finck says.

"I'm crazy about the new record, and the songs are translating cool live," he says. "And while we play a lot of new songs off `The Fragile,' we do a lot of `Pretty Hate Machine' and `The Downward Spiral,' too. It's a pretty good overview of all the songs."

Bassist Danny Lohner, keyboardist Charlie Clouser and drummer Jerome Dillon round out the band, but the main man is Trent Reznor, who virtually singlehandedly wrote, performed and recorded the recent No. 1 double album "The Fragile."

The hold of "The Fragile" on the charts was extremely fragile as well. It dropped off the charts quickly. Reznor has complained about lack of support from the record company. Another unusual aspect to the tour is that it's all being staged by a single promoter - and not the concert giant SFX.

As a result, it's taken its commercial lumps. "We're hitting some pretty big places," Finck says. "And some are fuller than others."

What accounts for the lack of support from radio and MTV?

"It's a different climate in the record business in general. When the `Downward Spiral' came out, we were on the cusp of the grunge movement," Finck says. "I don't know what's popular now, other than boy bands and teenage girl bands."

Finck is used to working with ringmasters, from Axl Rose to Trent Reznor to the professional ringmaster of Cirque de Soleil.

"The Downward Spiral tour was quite an ordeal - that seemed like 10 years out of my life," he says. "I needed do something different."

The circus fit the bill, playing in a band where he was the only one who didn't speak French. But that was something of a different grind. "We played 550 shows in one year," he says. And after a while, "I felt my license to rock had been revoked. And I wanted that back."

The Axl Rose experience followed, when he played with bassist Tommy Stinson and drummer Josh Freese.

"We recorded a lot of cool songs and potential tracks," says Finck. But the one released so far, "Oh My God" on the "End of Days" soundtrack last year (a track with which Finck says he was not familiar), "I hope is not very typical of them."

The current tour has some flashback to the Axl Rose experience; drummer Freese is now part of Perfect Circle, the band led by Tool vocalist Maynard James Keenan, which opens the NIN show tonight.

Soulmonster

Stage manager







Posts

: 14766


Plectra

: 72596


Reputation

: 827


Join date

: 2010-07-06




Blackstar

ADMIN




Posts

: 9568


Plectra

: 65464


Reputation

: 97


Join date

: 2018-03-17



---
Permissions in this forum:
You
cannot
reply to topics in this forum