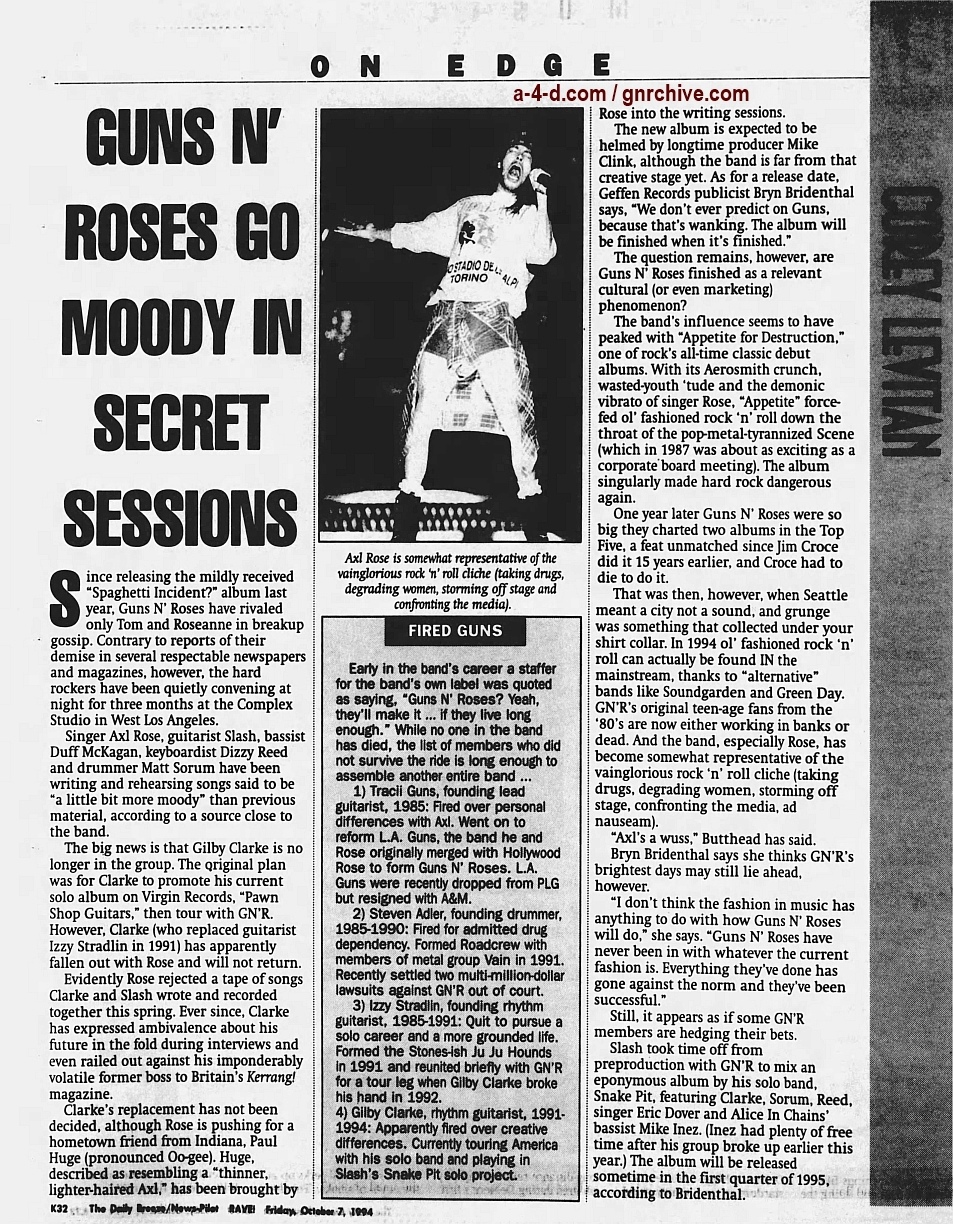 Transcript:
--------------------
COREY LEVITAN
ON EDGE
GUNS N' ROSES GO MOODY IN SECRET SESSIONS
Since releasing the mildly received "Spaghetti Incident?" album last year, Guns N' Roses have rivaled only Tom and Roseanne in breakup gossip. Contrary to reports of their demise in several respectable newspapers and magazines, however, the hard rockers have been quietly convening at night for three months at the Complex Studio in West Los Angeles.
Singer Axl Rose, guitarist Slash, bassist Duff McKagan, keyboardist Dizzy Reed and drummer Matt Sorum have been writing and rehearsing songs said to be "a little bit more moody" than previous material, according to a source close to the band.
The big news is that Gilby Clarke is no longer in the group. The original plan was for Clarke to promote his current solo album on Virgin Records, "Pawn Shop Guitars," then tour with GN'R. However, Clarke (who replaced guitarist Izzy Stradlin in 1991) has apparently fallen out with Rose and will not return.
Evidently Rose rejected a tape of songs Clarke and Slash wrote and recorded together this spring. Ever since, Clarke has expressed ambivalence about his future in the fold during interviews and even railed out against his imponderably volatile former boss to Britain's Kerrang! magazine.
Clarke's replacement has not been decided, although Rose is pushing for a hometown friend from Indiana, Paul Huge (pronounced Oo-gee). Huge, described as resembling a "thinner, lighter-haired Axl," has been brought by Rose into the writing sessions.
The new album is expected to be helmed by longtime producer Mike Clink, although the band is far from that creative stage yet. As for a release date, Geffen Records publicist Bryn Bridenthal says, "We don't ever predict on Guns, because that's wanking. The album will be finished when it's finished."
The question remains, however, are Guns N' Roses finished as a relevant cultural (or even marketing) phenomenon?
The band's influence seems to have peaked with "Appetite for Destruction," one of rock's all-time classic debut albums. With its Aerosmith crunch, wasted-youth 'tude and the demonic vibrato of singer Rose, "Appetite" force-fed ol' fashioned rock 'n' roll down the throat of the pop-metal-tyrannized Scene (which in 1987 was about as exciting as a corporate board meeting). The album singularly made hard rock dangerous again.
One year later Guns N' Roses were so big they charted two albums in the Top Five, a feat unmatched since Jim Croce did it 15 years earlier, and Croce had to die to do it.
That was then, however, when Seattle meant a city not a sound, and grunge was something that collected under your shirt collar. In 1994 ol' fashioned rock 'n' roll can actually be found IN the mainstream, thanks to "alternative" bands like Soundgarden and Green Day. GN'R's original teen-age fans from the '80's are now either working in banks or dead. And the band, especially Rose, has become somewhat representative of the vainglorious rock 'n' roll cliche (taking drugs, degrading women, storming off stage, confronting the media, ad nauseam).
"Axl's a wuss," Butthead has said.
Bryn Bridenthal says she thinks GN'R's brightest days may still lie ahead, however.
"I don't think the fashion in music has anything to do with how Guns N' Roses will do," she says. "Guns N' Roses have never been in with whatever the current fashion is. Everything they've done has gone against the norm and they've been successful."
Still, it appears as if some GN'R members are hedging their bets.
Slash took time off from preproduction with GN'R to mix an eponymous album by his solo band, Snake Pit, featuring Clarke, Sorum, Reed, singer Eric Dover and Alice In Chains' bassist Mike Inez. (Inez had plenty of free time after his group broke up earlier this year.) The album will be released sometime in the first quarter of 1995, according to Bridenthal.
***
FIRED GUNS
Early in the band's career a staffer for the band's own label was quoted as saying, "Guns N' Roses? Yeah, they'll make it... If they live long enough." While no one in the band has died, the list of members who did not survive the ride is long enough to assemble another entire band ...
1) Tracii Guns, founding lead guitarist, 1985: Fired over personal differences with Axl. Went on to reform L.A. Guns, the band he and Rose originally merged with Hollywood Rose to form Guns N' Roses. L.A. Guns were recently dropped from PLG but resigned with A&M.
2) Steven Adler, founding drummer, 1985-1990: Fired for admitted drug dependency. Formed Roadcrew with members of metal group Vain in 1991. Recently settled two multi-million-dollar lawsuits against GN'R out of court.
3) Izzy Stradlin, founding rhythm guitarist, 1985-1991: Quit to pursue a solo career and a more grounded life. Formed the Stones-ish Ju Ju Hounds in 1991 and reunited briefly with GN'R for a tour leg when Gilby Clarke broke his hand in 1992.
4) Gilby Clarke, rhythm guitarist, 1991-1994: Apparently fired over creative differences. Currently touring America with his solo band and playing in Slash's Snake Pit solo project.

Blackstar

ADMIN




Posts

: 12236


Plectra

: 80262


Reputation

: 97


Join date

: 2018-03-17



---
Permissions in this forum:
You
cannot
reply to topics in this forum