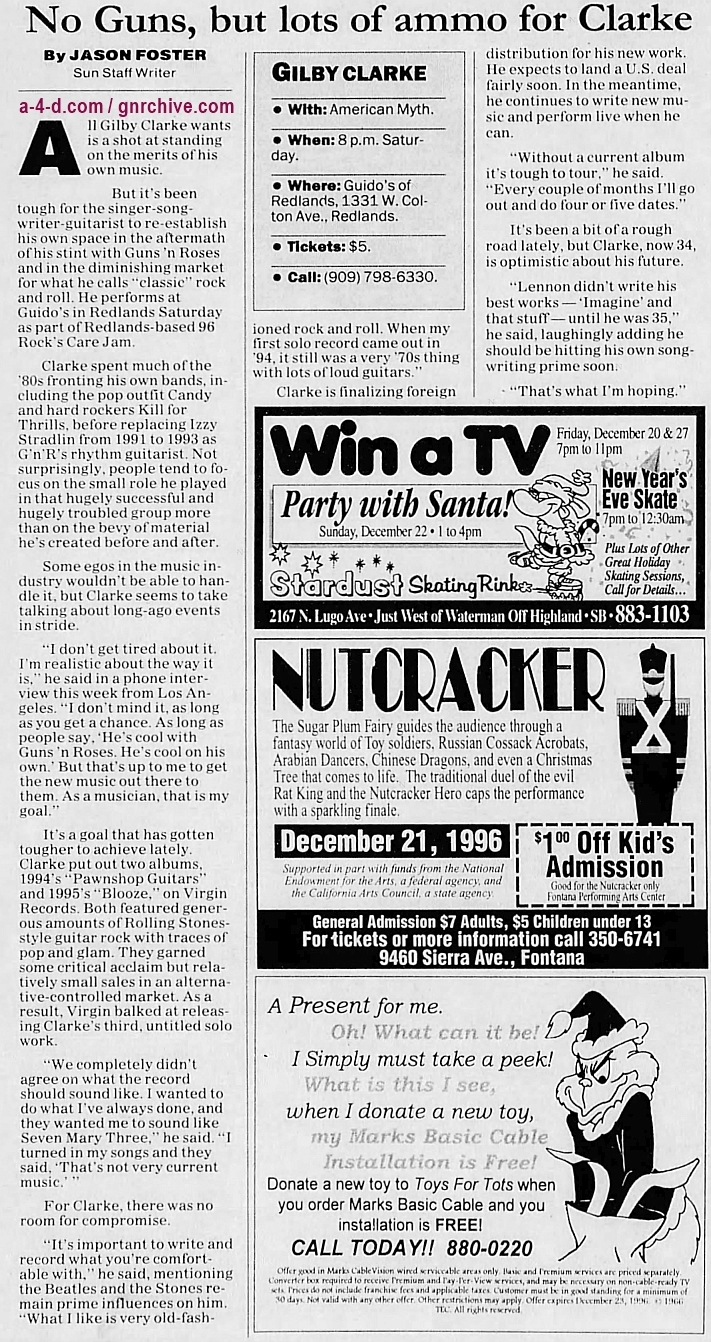 Transcript:
------------------
No Guns, but lots of ammo for Clarke
By JASON FOSTER
Sun Staff Writer
All Gilby Clarke wants is a shot at standing on the merits of his own music.
But it's been tough for the singer-song-writer-guitarist to re-establish his own space in the aftermath of his stint with Guns 'n Roses and in the diminishing market for what he calls "classic" rock and roll. He performs at Guido's in Redlands Saturday as part of Redlands-based 96 Rock's Care Jam.
Clarke spent much of the '80s fronting his own bands, including the pop outfit Candy and hard rockers Kill for Thrills, before replacing Izzy Stradlin from 1991 to 1993 as G'n'R's rhythm guitarist. Not surprisingly, people tend to focus on the small role he played in that hugely successful and hugely troubled group more than on the bevy of material he's created before and after.
Some egos in the music industry wouldn't be able to handle it. but Clarke seems to take talking about long-ago events in stride.
"I don't get tired about it. I'm realistic about the way it is," he said in a phone interview this week from Los Angeles. "I don't mind it, as long as you get a chance. As long as people say, 'He's cool with Guns n' Roses. He's cool on his own.' But that's up to me to get the new music out there to them. As a musician, that is my goal."
It's a goal that has gotten tougher to achieve lately. Clarke put out two albums, 1994's "Pawnshop Guitars" and 1995's "Blooze," on Virgin Records. Both featured generous amounts of Rolling Stones-style guitar rock with traces of pop and glam. They garned some critical acclaim but relatively small sales in an alternative-controlled market. As a result, Virgin balked at releasing Clarke's third, untitled solo work.
"We completely didn't agree on what the record should sound like. I wanted to do what I've always done, and they wanted me to sound like Seven Mary Three," he said. "I turned in my songs and they said, 'That's not very current music.'"
For Clarke, there was no room for compromise.
"It's important to write and record what you're comfortable with," he said, mentioning the Beatles and the Stones remain prime influences on him. "What I like is very old-fashioned rock and roll. When my first solo record came out in '94, it still was a very '70s thing with lots of loud guitars."
Clarke is finalizing foreign distribution for his new work. He expects to land a U.S. deal fairly soon. In the meantime, he continues to write new music and perform live when he can.
"Without a current album it's tough to tour," he said. "Every couple of months I'll go out and do four or five dates."
It's been a bit of a rough road lately, but Clarke, now 34, is optimistic about his future.
"Lennon didn't write his best works — 'Imagine' and that stuff— until he was 35," he said, laughingly adding he should be hitting his own songwriting prime soon.
"That's what I'm hoping."

Blackstar

ADMIN




Posts

: 9351


Plectra

: 63811


Reputation

: 97


Join date

: 2018-03-17



---
Permissions in this forum:
You
cannot
reply to topics in this forum