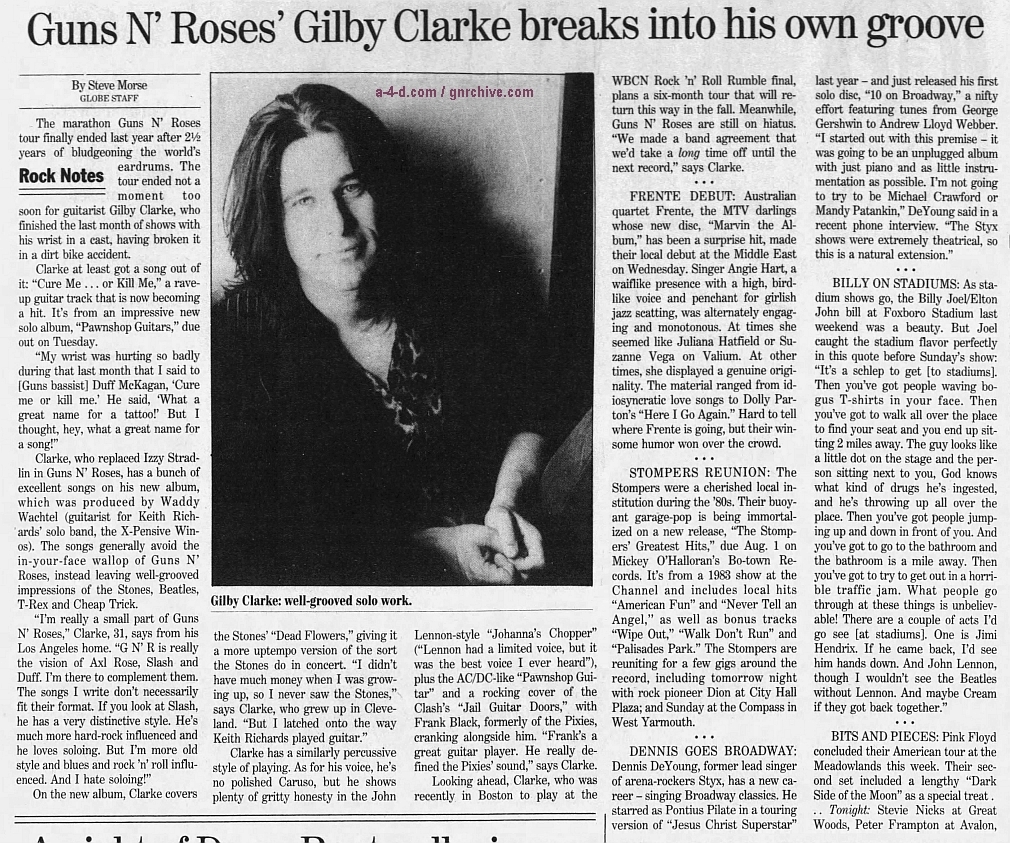 Transcript:
-------------
Guns N' Roses' Gilby Clarke breaks into his own groove
By Steve Morse
GLOBE STAFF
The marathon Guns N' Roses tour finally ended last year after 2-1/2 years of bludgeoning the world's eardrums. The tour ended not a moment too soon for guitarist Gilby Clarke, who finished the last month of shows with his wrist in a cast, having broken it in a dirt bike accident.
Clarke at least got a song out of it "Cure Me ... or Kill Me," a rave-up guitar track that is now becoming a hit. It's from an impressive new solo album, "Pawnshop Guitars," due out on Tuesday.
"My wrist was hurting so badly during that last month that I said to [Guns bassist] Duff McKagan, 'Cure me or kill me.' He said, 'What a great name for a tattoo!' But I thought, hey, what a great name for a song!"
Clarke, who replaced Izzy Stradlin in Guns N' Roses, has a bunch of excellent songs on his new album, which was produced by Waddy Wachtel (guitarist for Keith Richards' solo band, the X-Pensive Winos). The songs generally avoid the in-your-face wallop of Guns N' Roses, instead leaving well-grooved impressions of the Stones, Beatles, T-Rex and Cheap Trick.
"I'm really a small part of Guns N' Roses," Clarke, 31, says from his Los Angeles home. "G N' R is really the vision of Axl Rose, Slash and Duff. I'm there to complement them. The songs I write don't necessarily fit their format If you look at Slash, he has a very distinctive style. He's much more hard-rock influenced and he loves soloing. But I'm more old style and blues and rock 'n' roll influenced. And I hate soloing!"
On the new album, Clarke covers the Stones' "Dead Flowers," giving it a more uptempo version of the sort the Stones do in concert "I didn't have much money when I was growing up, so I never saw the Stones," says Clarke, who grew up in Cleveland. "But I latched onto the way Keith Richards played guitar." Clarke has a similarly percussive style of playing. As for his voice, he's no polished Caruso, but he shows plenty of gritty honesty in the John Lennon-style "Johanna's Chopper" ("Lennon had a limited voice, but it was the best voice I ever heard"), plus the AC/DC-like "Pawnshop Guitar" and a rocking cover of the Clash's "Jail Guitar Doors," with Frank Black, formerly of the Pixies, cranking alongside him. "Frank's a great guitar player. He really defined the Pixies' sound," says Clarke.
Looking ahead, Clarke, who was recently in Boston to play at the WBCN Rock 'n' Roll Rumble final, plans a six-month tour that will return this way in the fall. Meanwhile, Guns N' Roses are still on hiatus. "We made a band agreement that we'd take a
long
time off until the next record," says Clarke.

Blackstar

ADMIN




Posts

: 9285


Plectra

: 63245


Reputation

: 97


Join date

: 2018-03-17



---
Permissions in this forum:
You
cannot
reply to topics in this forum