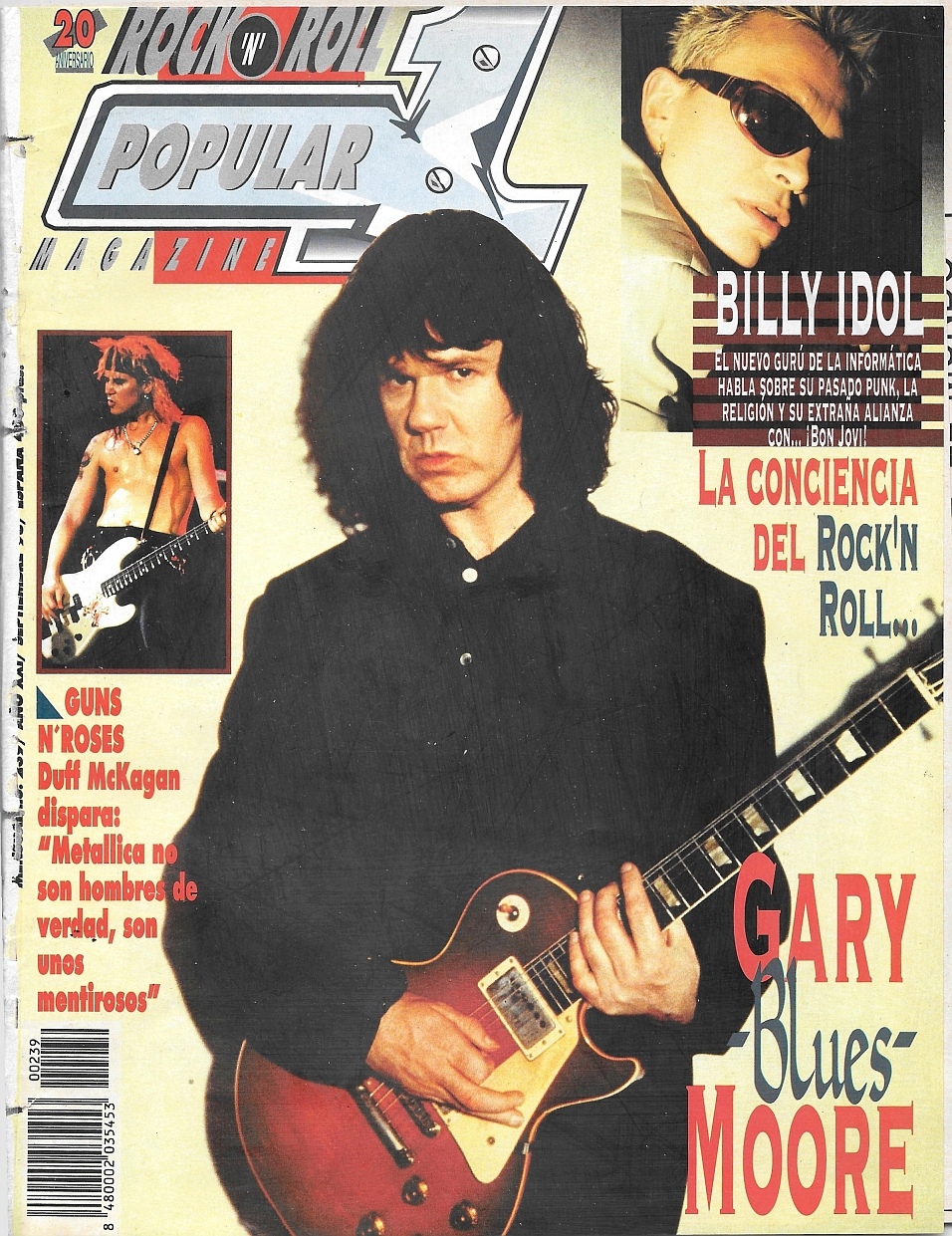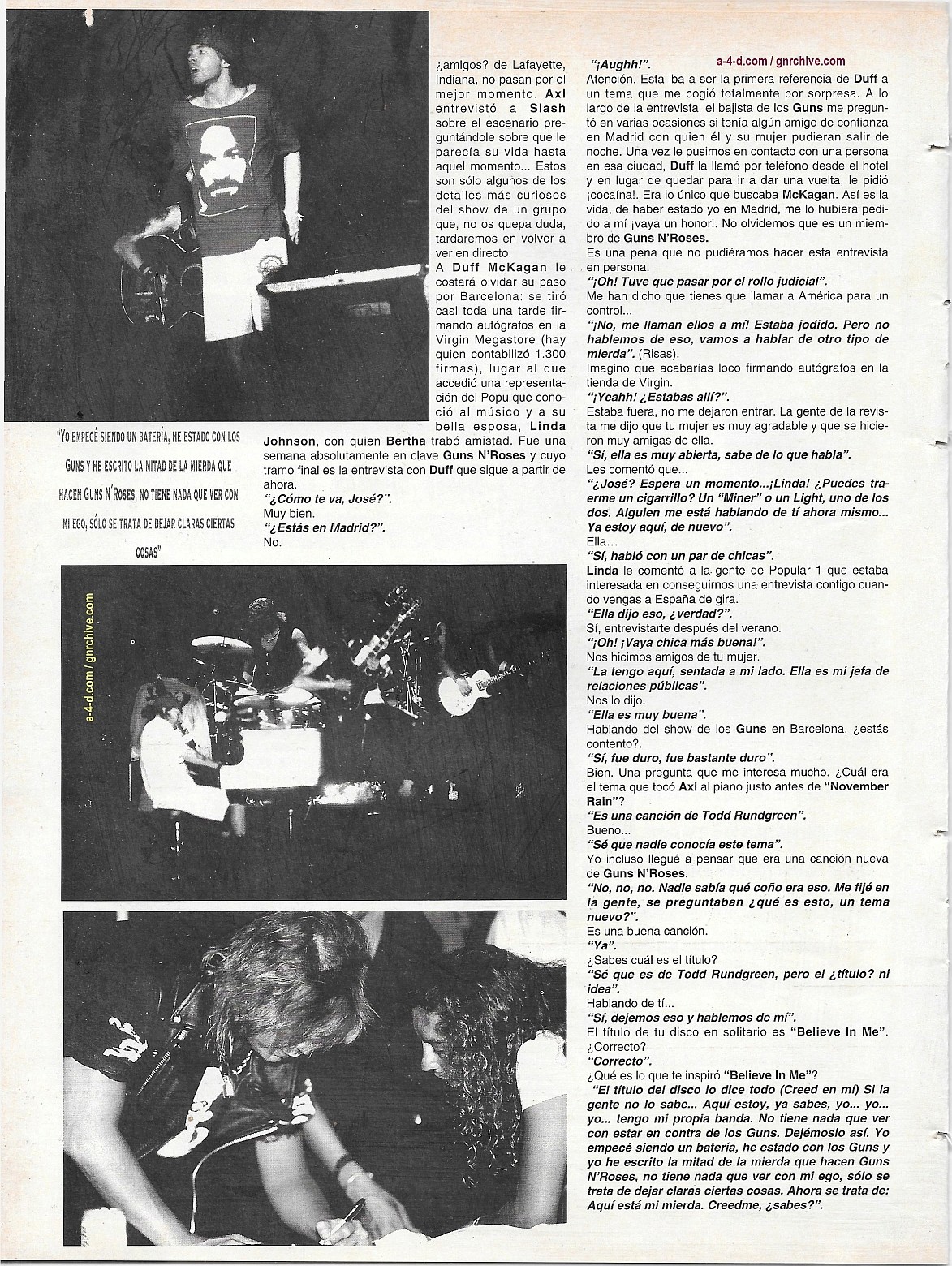 Translation from Spanish:
--------------------------------------
Duff McKagan - Interview
"Metallica are not honest guys. They're liars."
How cool it would have been to interview Duff McKagan in person! I managed to talk to him in the moments before the show in Barcelona, and the issue was settled with Duff calling us on the phone from Madrid, the second and last Guns stop in Spain.

There are always surprises with Guns N' Roses. Duff and Slash must be subjected to "police control" over the phone; they have to call America from wherever they are in the world and discuss their situation. And that's what happened: Duff had to be on the phone, and that screwed the interview in person. Duff gave us updates about his solo album and the collaborations on it, the tour that will take place after the summer (starting from Spain), and stories related to the biggest band in the world: Guns N' Roses.
The show in Barcelona followed, more or less, the pattern of this leg of the world tour.
Axl
practically doesn't change costumes any more, even though he wore a shirt which read "Fuck Your Idols" and had Axl's image instead of that of Jesus (he had debuted that one at the
Freddie Mercury
Tribute concert).
Slash
fell to the ground on two occasions. One might think that the guitarist hadn't passed a blood alcohol test.
Duff
was brilliant with the rendition of The Misfits' song "Attitude".
Del James
, editor, official band biographer and Axl's personal friend, is their pizza boy (yes, he was the guy who delivered two pizzas when a couch was brought out on stage for the acoustic set).
Axl
has a guy whose (hopefully not exclusive) job is to raise the curtain of the little dark "room" [on the side of the stage], so that the singer doesn't have any difficulty to get into his forbidden mini sanctuary when he comes running from the other end of the stage.
Axl
's and
Izzy
's friendship seems to have gone back to shit. When the singer said,
"Do you remember Izzy Stradlin?"
the crowd was thrilled, and I naively thought that Izzy was the big surprise of the night and he was going to join them for some song. But then Axl replied to the crowd with
"Fuck Izzy Stradlin!"
and introduced "Double Talkin Jive, Motherfucker", the song he always dedicates to a hated person. So it's safe to assume that the relationship between the two friends from Lafayette, Indiana, is not at its best. Axl interviewed Slash onstage, asking him what his life seemed like until then... These are just some of the most curious details at a show by a band that we'll definitely see live again soon.
Duff McKagan will have a hard time forgetting his time in Barcelona. He spent almost an entire afternoon signing autographs at the Virgin Megastore (some 1,300 signatures). A delegation of Popu was there and met the musician and his beautiful wife, Linda Johnson, with whom Bertha became friends. It was a week full of Guns N' Roses, which ended with the interview with Duff that follows.  
***
Duff: "How are you doing, José?"
José: Very well.
"Are you in Madrid?"
No.
"Aughh!"
Pay attention: this was going to be Duff's first reference to something that took me totally by surprise. The Guns bassist asked me several times during the interview if I had a trusted friend in Madrid who would go out at night with him and his wife. As soon as we put him in touch with a person in that city, Duff called her on the phone from the hotel. But, instead of arranging to go for a ride, he asked her for cocaine! It was the only thing McKagan was looking for. That's life: had I been in Madrid, he would have asked me for it - what an honour! Let's not forget that he is a member of Guns N' Roses.
It's a shame we couldn't do this interview in person.
"Oh! I had to go through some legal stuff."
I was told that you have to call America to be checked up on.
"No, they call me! I was fucked up. But let's not talk about that. Let's talk about other kind of shit."
(laughs)
I can imagine you went mad after signing all those autographs in the Virgin store.
"Yeahh! Were you there? "
I was outside, they didn't let me in. The people from the magazine told me that your wife is very nice and that they became friends with her.
"Yeah, she's very open. She knows what she's talking about."
She told them that...
"José? Hold on a minute... Linda! Can you get me a cigarette? A "Miner" or a Light, either one. Someone is telling me about you right now... Okay, I'm back."
She...
"Yeah, she talked to a couple of girls."
Linda has told the people of Popular 1 that she is interested in getting us an interview with you when you come to Spain for your tour.
"Did she really say that?"
Yes, an interview after the summer.
"Oh! What a good girl!"
We became friends with your wife.
"I have her here, she's sitting next to me. She's in charge of my public relations."
Yes, she told us so.
"She's very good."
Let's talk about the Guns show in Barcelona. Are you content with it?
"Yeah, it was solid, it was pretty solid".
Okay. Now a question that interests me a lot. What was the song that Axl played on the piano just before "November Rain"?
"It's a song by Todd Rundgren."
Oh, okay...
"I know nobody has heard of this song."
I even thought it was a new Guns N' Roses song.
"No, no, no. Nobody knew what the hell it was. I looked at the people in the crowd and they were like asking themselves, 'What is this, a new song?'"
It's a good song.
"Yeah".
Do you know the name of it?
"I know it's by Todd Rundgren, but the title? No idea".
Let's talk about you...
"Yeah, let's leave that and talk about me."
The title of your solo album is ''Believe In Me." Right?
"Right".
What was your inspiration for "Believe In Me"?
"The title of the album says it all. If people don't know it... Here I am, you know, I ... I ... I ... I have my own band. It has nothing to do with being against Guns. Let's leave it at that. I started as a drummer, I've been with Guns and I've written half of the shit that Guns N 'Roses has done. It has nothing to do with my ego, it's just about making certain things clear. It's like, 'Here's my shit. Believe me,' you know?"
Considering the level of a song like "So Fine", one would think that you could have done more things on "Use your lllusion".
"I kind of did more, but not for putting them on the albums. So I made them mine and kept them for my solo record."
I remember there was talk some time ago that Sebastian Bach, from Skid Row, was working with you on the project.
"He sings on a song. We did it when we were touring with Skid Row."
I know that Lenny Kravitz and Jeff Beck participate in your album. Are there any more guests?
"Yes, Slash and Matt."
Regarding your touring band, word is that it will be Matt Sorum on drums and Gilby Clarke...
"No, no, no. It's a surprise - but also I have no idea who it will be. Let's say that you'll know soon. Let's leave it at that".
It may be famous musicians?
"And it may not be."
What is the first thing you're going to do when you finish this tour with Guns N 'Roses?
"I'll get some rest, go sunbathing with Linda. It's time to leave it all behind for a while."
Right.
"Well, actually I'll have to go back to the studio, to tell you the truth, to record a few songs that will be on b-sides. But I'll only be in the studio one day. We'll also go to Hawaii, just Linda and I. We'll spend some time together, we'll do water skiing".
When you were in the Virgin store, you didn't want Guns N' Roses music to be played and you asked them to put your solo songs on. Can you tell us what the songs on your album are like?
"Have you heard them?"
No, I haven't.
"Well, it's a mix of everything. There are some that are very poppy, some are hard, there is a song that is punk rock, there is one that is be-bop jazz..."
Are there any songs in the style of "So Fine"?
"Yes, you can say that, yeah. There are a couple that... yeah. I mean, yeah."
Man, it was great to see you play "Attitude" on stage. It was like watching the real Duff McKagan playing punk.
"Wait till you listen to the band, it's all like that."
You are a big Misfits fan. In what way have they influenced...
"Look, I'd been in 30 bands before I joined Guns. I've heard everything, I've been in this for fifteen years and I love Black Flag, the Misfits... I know everything about these guys. I'm already 29, so they're things from fifteen years ago."
Have you met Henry Rollins?
"Oh yeah! I met him at a show that he and I did with Body Count."
How was the experience of playing with Body Count?
"I already knew those guys. I really like their music. They're good friends of mine."
What Ice T is doing is incredible...
"It's great".
He has a rap band and a hardcore band and they work perfectly. He combines rap and hardcore very well.
"I like what he does with rap and what he does with hardcore. I like both his bands."
By the way, something that has always intrigued me: that phrase in the credits of Appetite for Destruction, "With Your Bitch Slap Rappin 'And Your Cocaine Tongue You Get Nothin' Done." What does it mean?
"It doesn't mean anything. And if it means something, I don't remember it."
What or who was "So Fine" inspired by?
"An incident, but it's kind of personal."
You dedicated it to Johnny Thunders. To what extent has his music put its mark on you?
"I liked him a lot, I was a fan of his music. That's it."
Duff doesn't want to talk about it.
You were a fan of The New York Dolls.
"They've meant a lot to me, that's all."
When the Angelic Upstarts (English punk band that we had talked about in the second Guns N' Roses special) went through Seattle on their American tour, they asked you to join them. Why did you decline the offer?
"Fuck! How do you know that? They knew a friend of mine and I knew all their songs by heart. I played drums at that time. They asked me to join them and I refused."
Didn't you want to live in England?
"I wasn't thrilled with the idea."
Your brother Bruce taught you how to play bass.
"You know everything, don't you? Yes, I learned how to play bass with him."
Was he a good teacher?
"Yes".
(Not very confident answer).
What was it like to be onstage with Izzy Stradlin again?
"Oh, it was great, I'm still friends with him. Izzy's problem was touring, he doesn't like it at all."
Have you listened to his album with the Ju Ju Hounds?
"I bought it. It's a very good album."
Are you going to come to Spain on your solo tour?
"Yes, the first show will be in Barcelona."
When?
"In September".
Alright!
"Do you have a friend here in Madrid?"
I don't know almost anyone in Madrid.
"To go out with us."
Okay.
"I just don't know anyone here."
Duff insists on the subject again.
You want a name and a phone.
"Right!".
I'll give it to you at the end of the interview, okay?
"Okay! Can you ask him to call me?"
Better at the end of the interview, okay?
"Okay, I understand."
Have you listened to the last Aerosmith album?
"Yes, I love it".
They used to be number one in America, now it's you.
"Yeah, it's weird."
What do you think of the Black Crowes?
"They're alright, you know. They're like many other bands."
You like Social Distortion a lot.
"I like everything Social Distortion has done."
And that No Fear sticker on the bass?
"That's a t-shirt company. I'm not sure".
Okay.
"You know a lot, don't you?"
I've been following Guns N 'Roses for years. It's amazing, because Doug Goldstein, your manager, said that Popular 1 was the only magazine in the world that had a special issue on Guns N' Roses.
"Yeah, he told me that you had 45 pages on us."
Yes.
"But I haven't seen it."
When you were signing autographs in the Virgin store, many people handed you our magazine to sign.
"I kind of remember that. What happened was that I kept signing things. The kids in Europe are amazing, they hug you, they kiss you ... I had lost it in the end, so I don't remember everything."
I was told that you signed about 1,300 autographs.
"No, four thousand!"
Unbelievable! Hey, what will be the name of your band? The McKagan Band or...
"No, the band will be called Duff and we will be five musicians on stage."
You're from Seattle. What do you think of the scene there?
"I have no idea, I haven't been in Seattle in a long time. The only band I'm interested in is the Fastbacks. It's the first band where I played drums."
On this tour, Guns N'Roses have come to Spain with Suicidal Tendencies. Do you like them?
"Yeah, they are good".
Mike Muir is a very interesting guy.
"They're very nice guys."
Much better than Brian May. It's a shame that you've had him as an opening act, because he's worthless.
"Shhh ... Shhh ... Be quiet, be quiet. Axl is around here."
(laughs)
What a pity you didn't bring Blind Melon to Spain!
"Yeah."
Well...
"Say no more".
Better not tell Axl anything.
"Right".
There's been a rumour that one time you were in a Hollywood restaurant, you smashed some Italian millionaire's face, because he didn't stop looking at you from another table. Is it true?
"I did what?"
You punched him.
"I hit him? In L.A.? I wouldn't mind having done that."
Why would you do it?
"He could be hitting on my wife, I don't know."
Let's change the subject: what do you think of the Riot Grrrls? L7, Lunachicks...
"They're cool".
Would you like to do something with them?
"I wouldn't care".
Axl got angry with James Hetfield for those comments he made against Guns N' Roses in Rolling Stone magazine. How is the relationship with Metallica?
"I don't give a shit about Metallica. They're not honest guys. They're liars".
When are you going to release the EP with the punk covers?
"I don't know".
Matt Sorum said a while ago that the band was recording the follow-up to "Use Your lllusion".
"Did he say that?"
(laughs)
"Well, if he said that, okay. I have no idea, we haven't even finished this tour. I don't know".
Last question: are you going to go back and play in St. Louis some day?
"Is it somewhere in Spain?"
No, St. Louis, Missouri.
"Ah! No, man, we've been banned there. We're banned."
That's good promotion for the band.
"I don't know. I don't care. It means nothing to me".
Well, Duff, now I'm gonna get you that phone number.
"Oh, yeah! Yeah! I forgot about it!"
For those who are still curious: Duff didn't get his fix of "coke".
WORDS: J. MA VIDAL BUCHS
PHOTOS: JAVI CALLEJA & GEORGE CHIN

Blackstar

ADMIN




Posts

: 9559


Plectra

: 65406


Reputation

: 97


Join date

: 2018-03-17



---
Permissions in this forum:
You
cannot
reply to topics in this forum