Thanks to
@Surge
for sharing this article!
------------------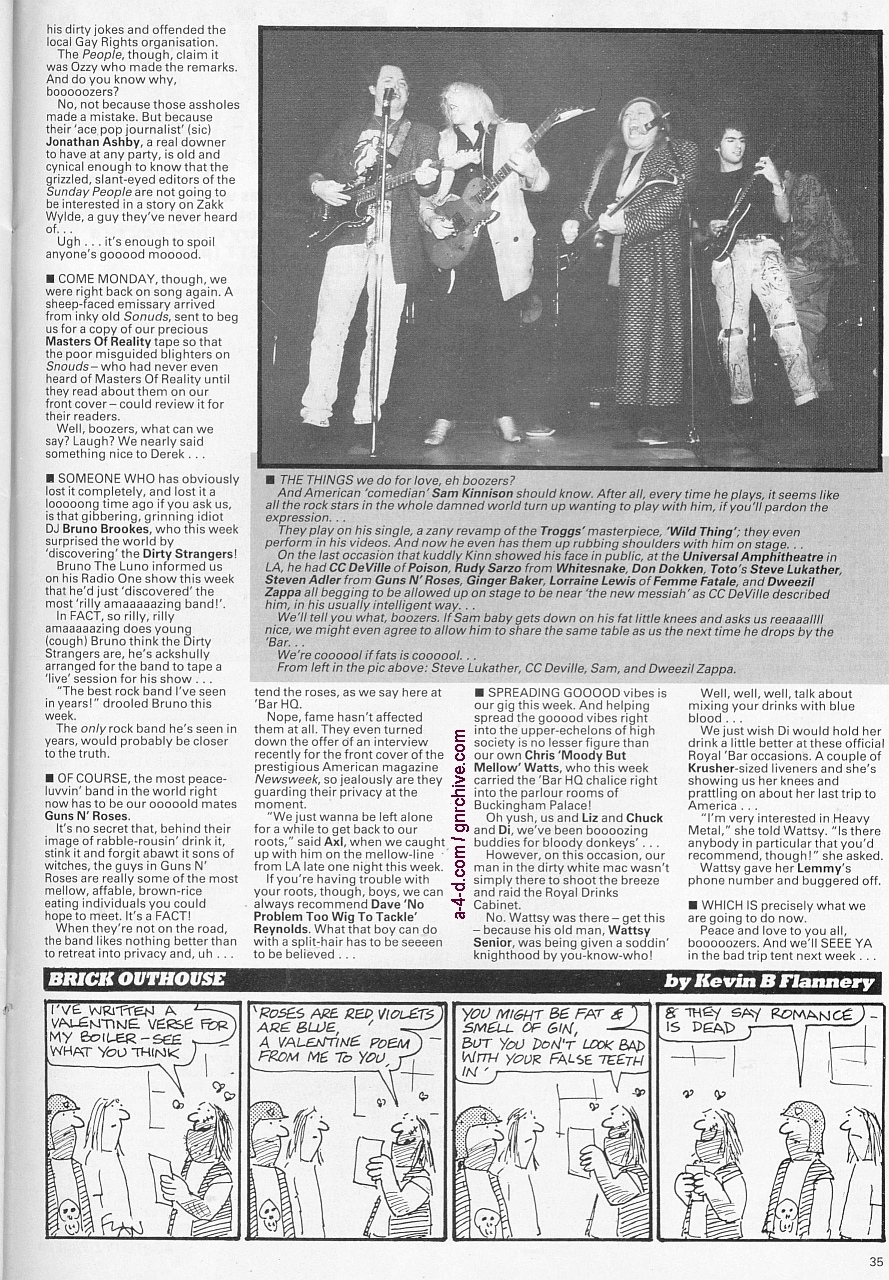 Transcript:
----------------
■ OF COURSE, the most peace-luvvin' band in the world right now has to be our ooooold mates
Guns N' Roses
.
It's no secret that, behind their image of rabble-rousin' drink it, stink it and forgit abawt it sons of witches, the guys in Guns N' Roses are really some of the most mellow, affable, brown-rice eating individuals you could hope to meet. It's a FACT!
When they're not on the road, the band likes nothing better than to retreat into privacy and, uh... tend the roses, as we say here at 'Bar HQ.
Nope, fame hasn't affected them at all. They even turned down the offer of an interview recently for the front cover of the prestigious American magazine
Newsweek
, so jealously are they guarding their privacy at the moment.
"We just wanna be left alone for a while to get back to our roots," said
Axl
, when we caught up with him on the mellow-line from LA late one night this week.
If you're having trouble with your roots, though, boys, we can always recommend
Dave 'No Problem Too Wig To Tackle' Reynolds
. What that boy can do with a split-hair has to be seeeen to be believed...
***
■ THE THINGS we do for love, eh boozers?

And American 'comedian' Sam Kinnison should know. After all, every time he plays, it seems like all the rock stars in the whole damned world turn up wanting to play with him, if you'll pardon the expression...

They play on his single, a zany revamp of the Troggs' masterpiece, 'Wild Thing'; they even perform in his videos. And now he even has them up rubbing shoulders with him on stage. . .

On the last occasion that kuddly Kinn showed his face in public, at the Universal Amphitheatre in LA, he had CC DeVille of Poison, Rudy Sarzo from Whitesnake, Don Dokken, Toto's Steve Lukather, Steven Adler from Guns N' Roses, Ginger Baker, Lorraine Lewis of Femme Fatale, and Dweezil Zappa all begging to be allowed up on stage to be near 'the new messiah' as CC DeVille described him, in his usually intelligent way...

We'll tell you what, boozers. If Sam baby gets down on his fat little knees and asks us reeaaallll nice, we might even agree to allow him to share the same table as us the next time he drops by the 'Bar...

We're coooool if fats is coooool...

Blackstar

ADMIN




Posts

: 12210


Plectra

: 80073


Reputation

: 97


Join date

: 2018-03-17



---
Permissions in this forum:
You
cannot
reply to topics in this forum