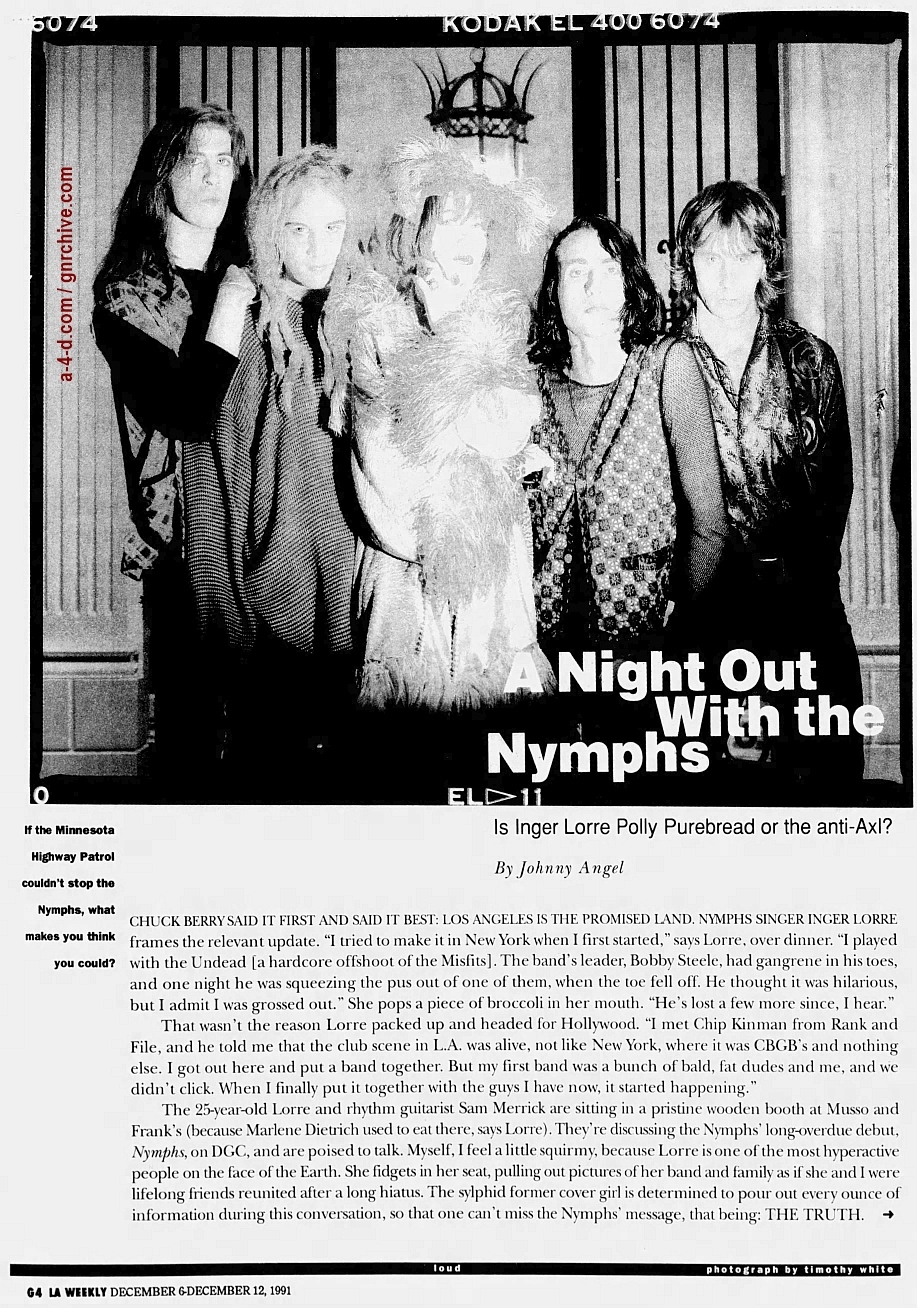 Transcript (excerpt):
-----------------------------
[...]
AFTER DINNER, WE HEAD OVER TO THE NIGHTCLUB ENGLISH ACID. THE DEAFENING roar of the Hangmen has made it impossible to talk, so we retreat to the back room. [Inger] Lorre watches a Sid Vicious video with amusement, and remembers a point which, she says, must be made, no matter what. "I don't care what you say about the band and me, but one thing that's got to make it into the article is how I feel about Axl Rose. That little fuck stole our producer after Tom played him our tape. We didn 't even get copies of our own rough takes. I think Axl is a pig-faced, sexist, homophobic, racist piece of shit, and I'd love to kick his ass. I'll give him my address, the little wimp." When it is pointed out that, unlike most men, who wouldn't strike a 100-pound woman (then again, consider the bouncer at the Olive restaurant whom Lorre booted in the family jewels when he didn't recognize her date, actor Michael Des Banes), Axl would probably thrash her, she snorts: "Let him try. I'll gouge out his eyes. I can't see what women see in him anyway. Izzy was the cool one in that band, walking out when he did."
As Lorre is Axl-bashing in the back room, as luck would have it, Tom Zutaut is in the front room checking out the Hangmen. According to Lorre and Merrick, Zutaut and the Nymphs haven't been face to face in six months. When he sees them now, he turns pale. Lorre introduces us, and suggests we go to the back.
Zutaut follows into the bar's kitchen, gearing up for a confrontation, but all Lorre wants is to show him the results of a photo shoot. I ask the jittery exec whether the piss-on-the-desk story was true. "Swear on a stack of Bibles," he babbles, then asks if he and the band can be alone for a minute. He warns Lorre not to talk to me. "Tom said you were dangerous," she says later. "He thought you were my bodyguard at first, but when he found out who you really were, he got mad."
Several weeks later, Zutaut replies in a telephone conversation. He denies wanting to replace the group with session players. The first time I saw the band, they were totally unrehearsed and couldn't play, but Inger was so charismatic that I knew something was there. I suggested to her that we use session guys for certain things that the band probably couldn't do, but to give the band the first shot. After rehearsing hard, the band sounded great. If anyone has suggested jettisoning the band, it's Lorre, because when she gets into fights with them, she'll always hang that 'session man' threat over their heads."
Zutaut says Geffen was ready to record the Nymphs two years ago. But Lorre would become incoherent, or disappear whenever a producer came to L.A. to record them. "We tried at least three producers before Bill Price. For the label to spend $300,000 on a project, the act had better be in shape.
"With Guns N' Roses, we gave a copy of the Nymphs' rough tracks to Guns manager Alan Niven, because Lorre wanted the opening slot on their tour. But problems developed between Lorre and Axl Rose through Lorre's boyfriend at the time, Josh Richman, and that idea had to be scuttled. When Guns started to mix Use Your Illusions, they remembered that Bill Price had been their original choice to produce Appetite for Destruction, and so they called on him to mix for them. I objected to this, but I was overruled by the company's president and CEO. After all, Guns N' Roses is the label's biggest act."
Despite what Zutaut calls "all the heartache" the Nymphs have put him through, he says, "This is the best album I've ever been involved in, so all of this grief was worth it. I think Inger Lorre is one of the major talents of our era." He laughs at the feud between the Nymphs and GN'R. "Axl and Inger have never met, actually. You know, if they did, I think they'd be soul mates. But I wouldn't want to be there if the sparks start to fly."
[...]

Blackstar

ADMIN




Posts

: 9146


Plectra

: 62287


Reputation

: 97


Join date

: 2018-03-17



---
Permissions in this forum:
You
cannot
reply to topics in this forum