Thanks to
@Surge
for sending us this article!
------------------------------------------------------------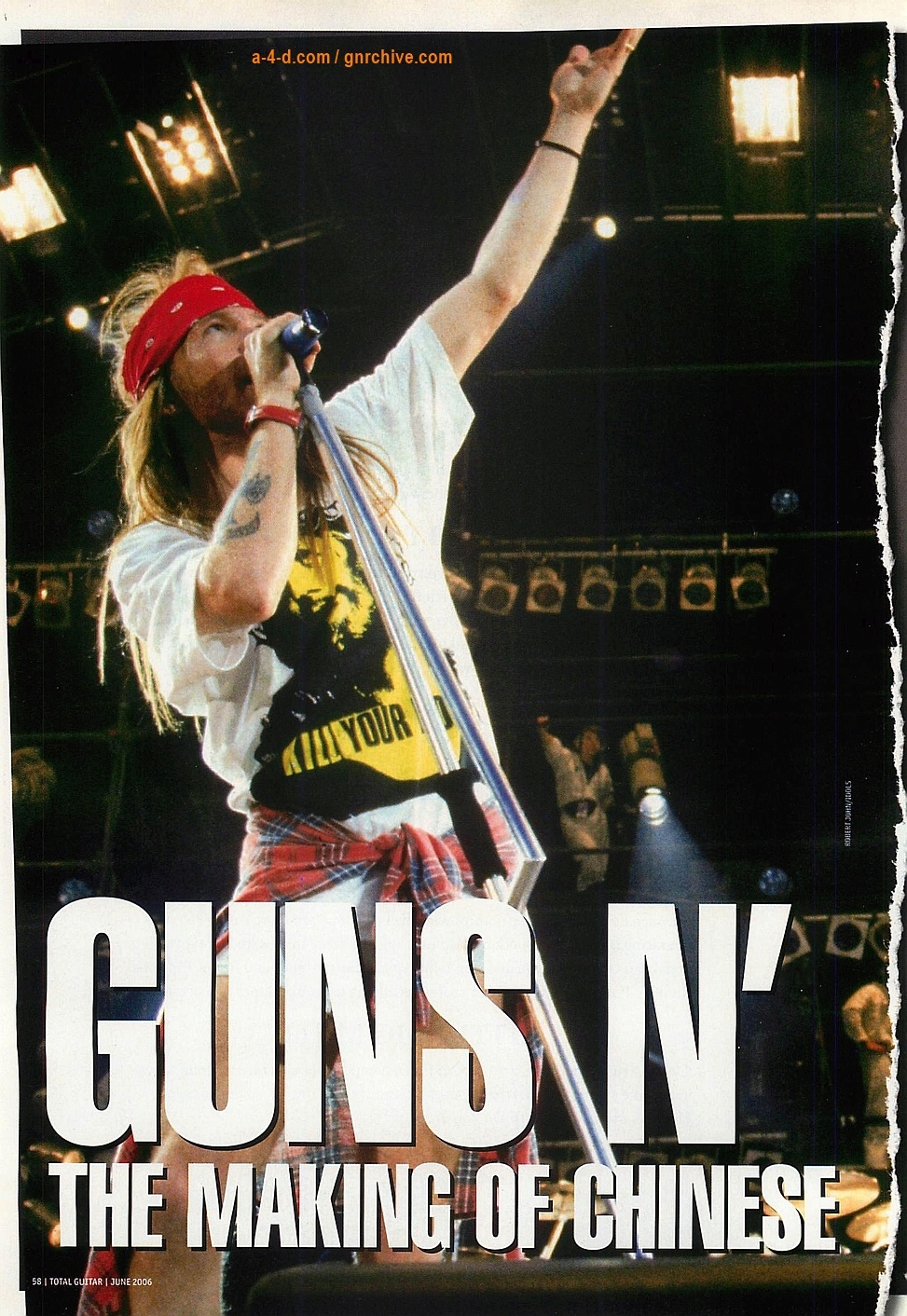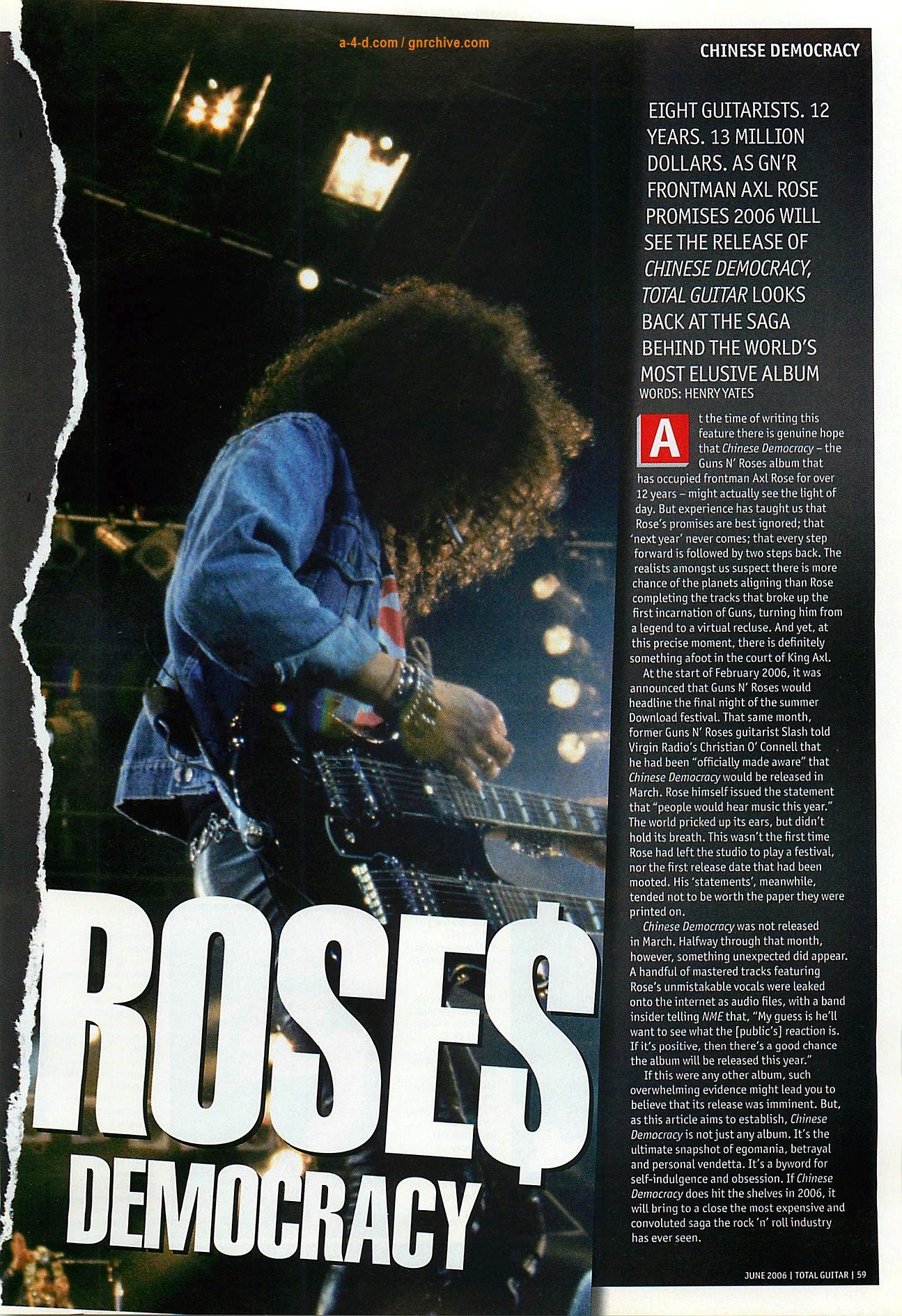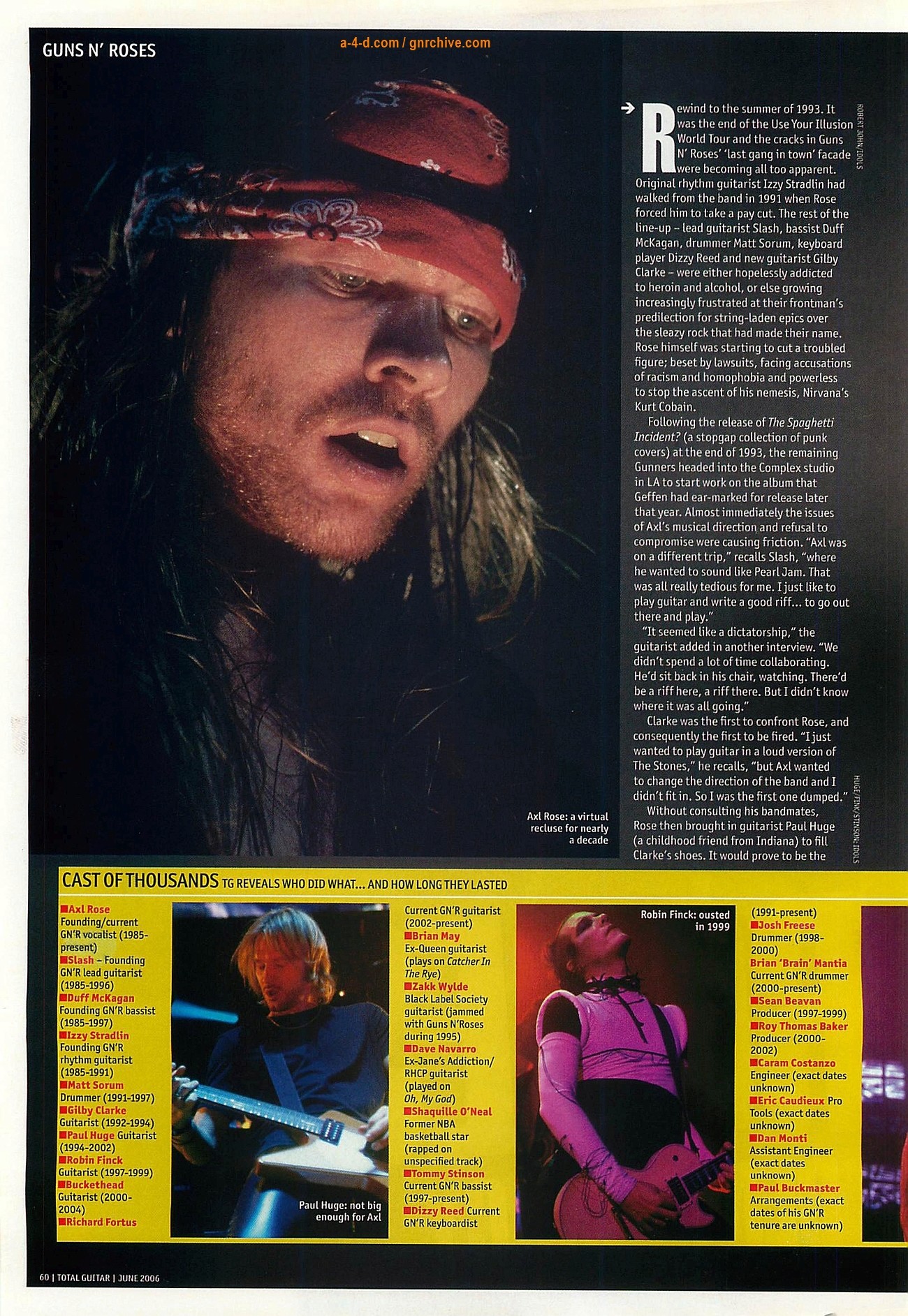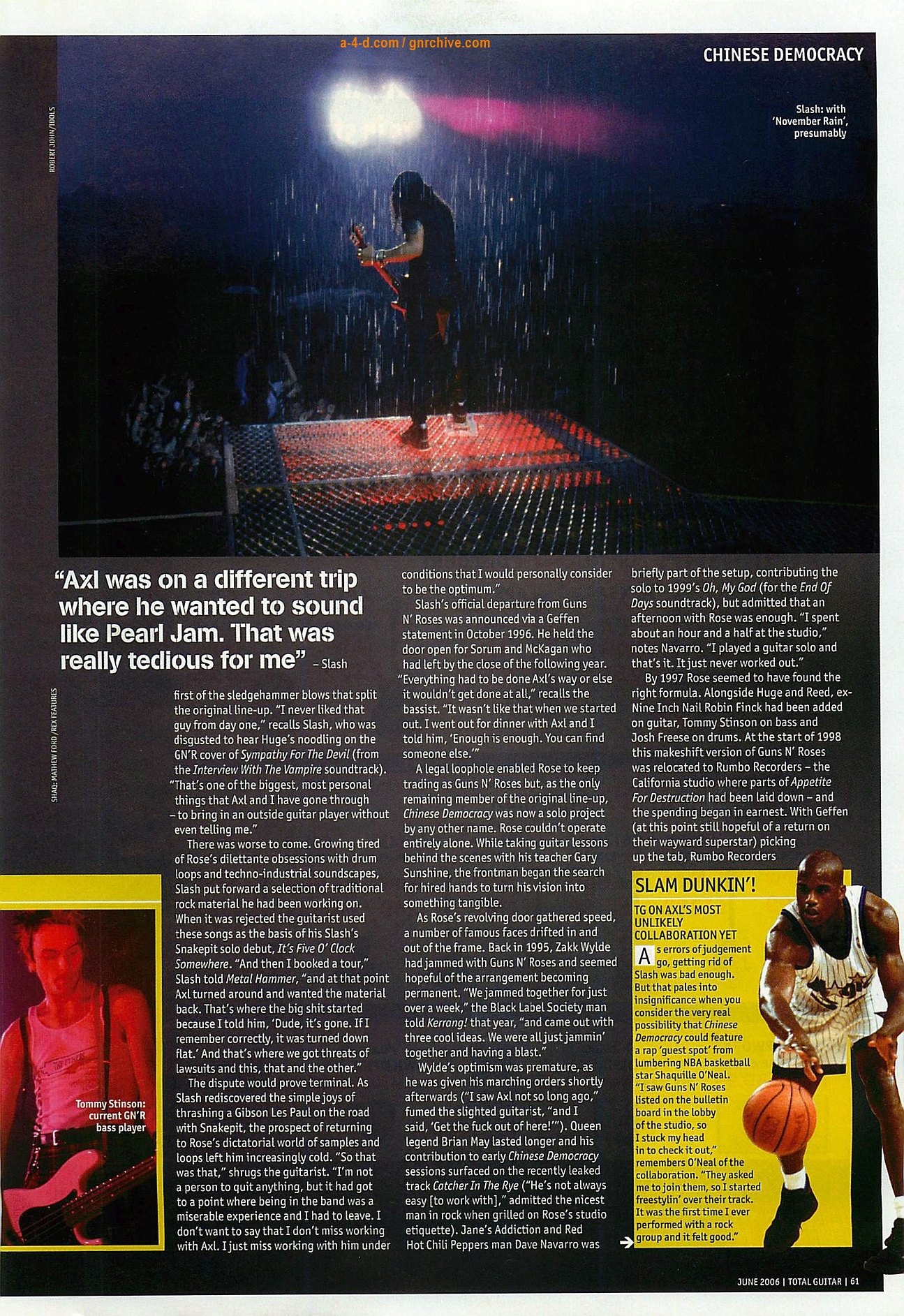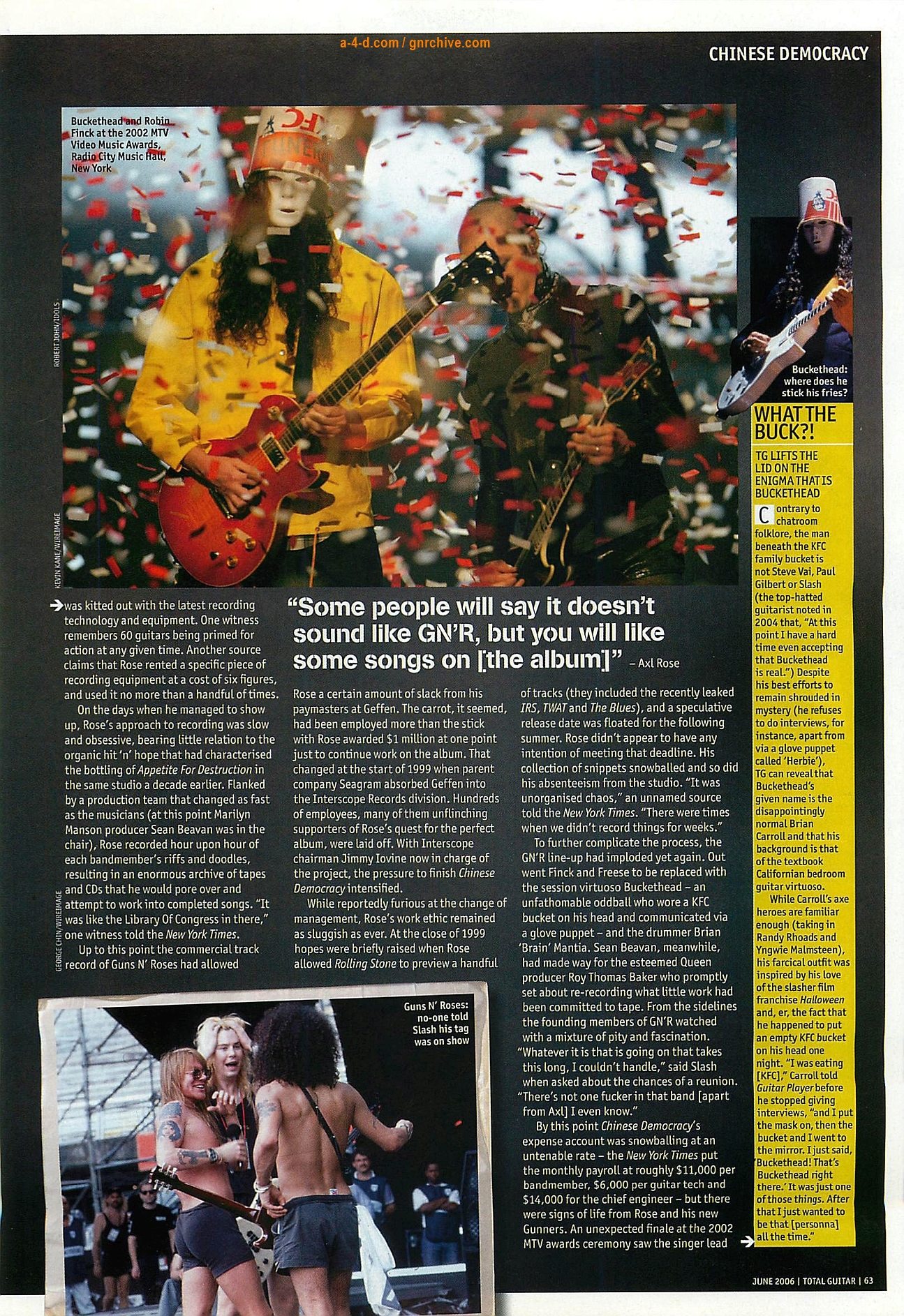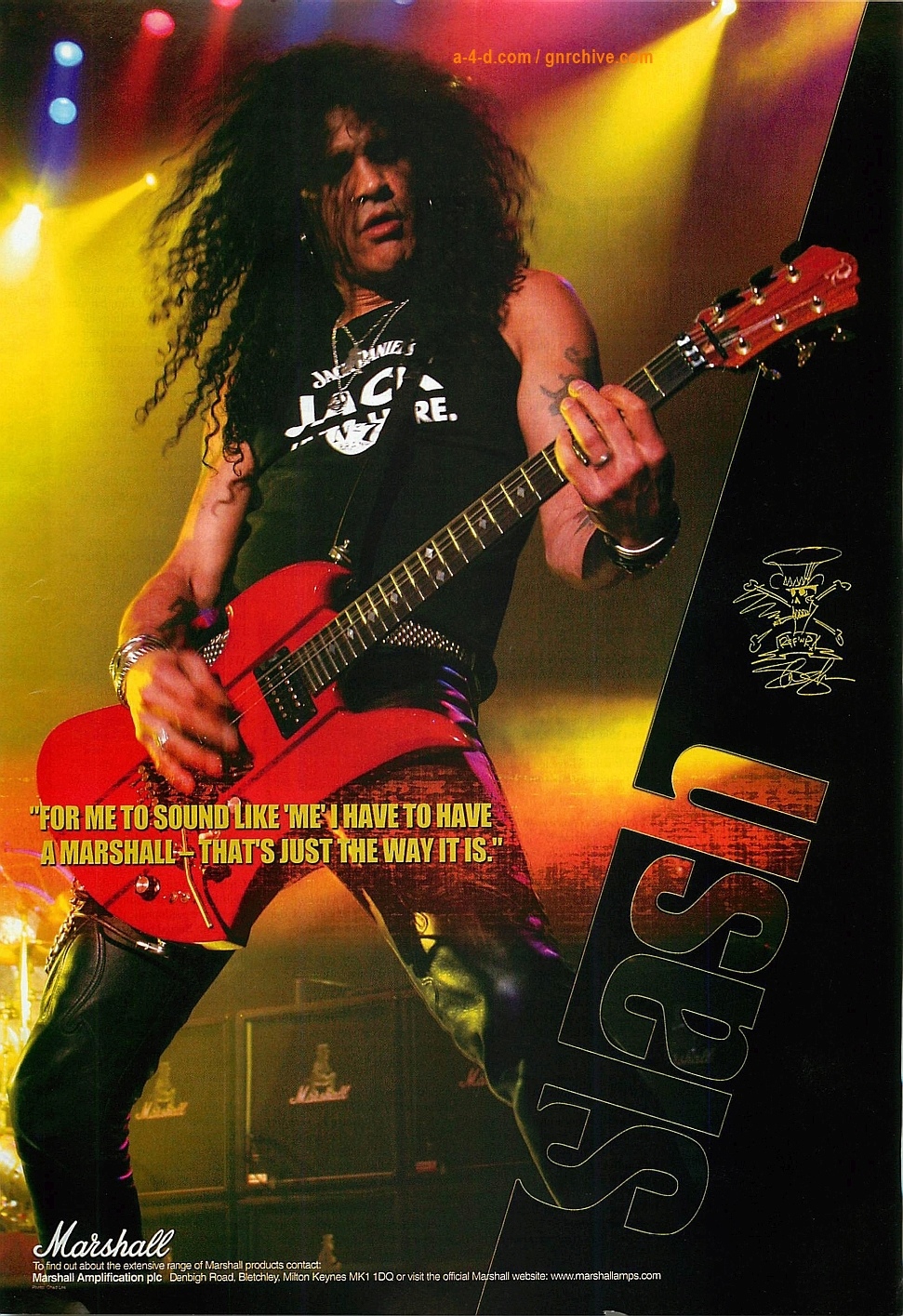 Transcript:
-----------------
GUNS N' ROSES: THE MAKING OF CHINESE DEMOCRACY
EIGHT GUITARISTS. 12 YEARS. 13 MILLION DOLLARS. AS GN'R FRONTMAN AXL ROSE PROMISES 2006 WILL SEETHE RELEASE OF CHINESE DEMOCRACY, TOTAL GUITAR LOOKS BACK AT THE SAGA BEHIND THE WORLD'S MOST ELUSIVE ALBUM
WORDS: HENRY YATES
At the time of writing this feature there is genuine hope that
Chinese Democracy
- the Guns N' Roses album that has occupied frontman Axl Rose for over 12 years - might actually see the light of day. But experience has taught us that Rose's promises are best ignored; that 'next year' never comes; that every step forward is followed by two steps back. The realists amongst us suspect there is more chance of the planets aligning than Rose completing the tracks that broke up the first incarnation of Guns, turning him from a legend to a virtual recluse. And yet, at this precise moment, there is definitely something afoot in the court of King Axl.
At the start of February 2006, it was announced that Guns N' Roses would headline the final night of the summer Download festival. That same month, former Guns N' Roses guitarist Slash told Virgin Radio's Christian O' Connell that he had been ''officially made aware" that
Chinese Democracy
would be released in March. Rose himself issued the statement that "people would hear music this year." The world pricked up its ears, but didn't hold its breath. This wasn't the first time Rose had left the studio to play a festival, nor the first release date that had been mooted. His 'statements', meanwhile, tended not to be worth the paper they were printed on.
Chinese Democracy
was not released in March. Halfway through that month, however, something unexpected did appear. A handful of mastered tracks featuring Rose's unmistakable vocals were leaked onto the internet as audio files, with a band insider telling NME that, "My guess is he'll want to see what the [public's] reaction is. If it's positive, then there's a good chance the album will be released this year."
If this were any other album, such overwhelming evidence might lead you to believe that its release was imminent. But, as this article aims to establish,
Chinese Democracy
is not just any album. It's the ultimate snapshot of egomania, betrayal and personal vendetta. It's a byword for self-indulgence and obsession. If
Chinese Democracy
does hit the shelves in 2006, it will bring to a close the most expensive and convoluted saga the rock 'n' roll industry has ever seen.
Rewind to the summer of 1993. It was the end of the Use Your Illusion World Tour and the cracks in Guns N' Roses' 'last gang in town' facade were becoming all too apparent. Original rhythm guitarist Izzy Stradlin had walked from the band in 1991 when Rose forced him to take a pay cut. The rest of the line-up - lead guitarist Slash, bassist Duff McKagan, drummer Matt Sorum, keyboard player Dizzy Reed and new guitarist Gilby Clarke - were either hopelessly addicted to heroin and alcohol, or else growing increasingly frustrated at their frontman's predilection for string-laden epics over the sleazy rock that had made their name. Rose himself was starting to cut a troubled figure; beset by lawsuits, facing accusations of racism and homophobia and powerless to stop the ascent of his nemesis, Nirvana's Kurt Cobain.
Following the release of
The Spaghetti Incident?
(a stopgap collection of punk covers) at the end of 1993, the remaining Gunners headed into the Complex studio in LA to start work on the album that Geffen had ear-marked for release later that year. Almost immediately the issues of Axl's musical direction and refusal to compromise were causing friction. "Axl was on a different trip," recalls Slash, "where he wanted to sound like Pearl Jam. That was all really tedious for me. I just like to play guitar and write a good riff... to go out there and play."
"It seemed like a dictatorship," the guitarist added in another interview. "We didn't spend a lot of time collaborating. He'd sit back in his chair, watching. There'd be a riff here, a riff there. But I didn't know where it was all going."
Clarke was the first to confront Rose, and consequently the first to be fired. "I just wanted to play guitar in a loud version of The Stones," he recalls, "but Axl wanted to change the direction of the band and I didn't fit in. So I was the first one dumped."
Without consulting his bandmates, Rose then brought in guitarist Paul Huge (a childhood friend from Indiana) to fill Clarke's shoes. It would prove to be the first of the sledgehammer blows that split the original line-up. "I never liked that guy from day one," recalls Slash, who was disgusted to hear Huge's noodling on the GN'R cover of
Sympathy For The Devil
(from the I
nterview With The Vampire
soundtrack). ''That's one of the biggest, most personal things that Axl and I have gone through - to bring in an outside guitar player without even telling me."
There was worse to come. Growing tired of Rose's dilettante obsessions with drum loops and techno-industrial soundscapes, Slash put forward a selection of traditional rock material he had been working on.
When it was rejected the guitarist used these songs as the basis of his Slash's Snakepit solo debut,
It's Five O' Clock Somewhere
. "And then I booked a tour," Slash told Metal Hammer, "and at that point Axl turned around and wanted the material back. That's where the big shit started because I told him, 'Dude, it's gone. If I remember correctly, it was turned down flat.' And that's where we got threats of lawsuits and this, that and the other."
The dispute would prove terminal. As Slash rediscovered the simple joys of thrashing a Gibson Les Paul on the road with Snakepit, the prospect of returning to Rose's dictatorial world of samples and loops left him increasingly cold. "So that was that," shrugs the guitarist. "I'm not a person to quit anything, but it had got to a point where being in the band was a miserable experience and I had to leave. I don't want to say that I don't miss working with Axl. I just miss working with him under conditions that I would personally consider to be the optimum."
Slash's official departure from Guns N' Roses was announced via a Geffen statement in October 1996. He held the door open for Sorum and McKagan who had left by the close of the following year. "Everything had to be done Axl's way or else it wouldn't get done at all," recalls the bassist. "It wasn't like that when we started out. I went out for dinner with Axl and I told him, 'Enough is enough. You can find someone else."'
A legal loophole enabled Rose to keep trading as Guns N' Roses but, as the only remaining member of the original line-up,
Chinese Democracy
was now a solo project by any other name. Rose couldn't operate entirely alone. While taking guitar lessons behind the scenes with his teacher Gary Sunshine, the frontman began the search for hired hands to turn his vision into something tangible.
As Rose's revolving door gathered speed, a number of famous faces drifted in and out of the frame. Back in 1995, Zakk Wylde had jammed with Guns N' Roses and seemed hopeful of the arrangement becoming permanent. "We jammed together for just over a week," the Black Label Society man told Kerrang! that year, "and came out with three cool ideas. We were all just jammin' together and having a blast."
Wylde's optimism was premature, as he was given his marching orders shortly afterwards ("I saw Axl not so long ago," fumed the slighted guitarist, "and I said, 'Get the fuck out of here!"'). Queen legend Brian May lasted longer and his contribution to early Chinese Democracy sessions surfaced on the recently leaked track
Catcher In The Rye
("He's not always easy [to work with]," admitted the nicest man in rock when grilled on Rose's studio etiquette). Jane's Addiction and Red Hot Chili Peppers man Dave Navarro was briefly part of the setup, contributing the solo to 1999's
Oh, My God
(for the
End Of Days
soundtrack), but admitted that an afternoon with Rose was enough. "I spent about an hour and a half at the studio," notes Navarro. "I played a guitar solo and that's it. It just never worked out."
By 1997 Rose seemed to have found the right formula. Alongside Huge and Reed, ex-Nine Inch Nail Robin Finck had been added on guitar. Tommy Stinson on bass and Josh Freese on drums. At the start of 1998 this makeshift version of Guns N' Roses was relocated to Rumbo Recorders - the California studio where parts of
Appetite For Destruction
had been laid down - and the spending began in earnest. With Geffen (at this point still hopeful of a return on their wayward superstar) picking up the tab, Rumbo Recorders was kitted out with the latest recording technology and equipment. One witness remembers 60 guitars being primed for action at any given time. Another source claims that Rose rented a specific piece of recording equipment at a cost of six figures, and used it no more than a handful of times.
On the days when he managed to show up, Rose's approach to recording was slow and obsessive, bearing little relation to the organic hit 'n' hope that had characterised the bottling of
Appetite For Destruction
in the same studio a decade earlier. Flanked by a production team that changed as fast as the musicians (at this point Marilyn Manson producer Sean Beavan was in the chair). Rose recorded hour upon hour of each bandmember's riffs and doodles, resulting in an enormous archive of tapes and CDs that he would pore over and attempt to work into completed songs. "It was like the Library Of Congress in there," one witness told the New York Times.
Up to this point the commercial track record of Guns N' Roses had allowed Rose a certain amount of slack from his paymasters at Geffen. The carrot, it seemed, had been employed more than the stick with Rose awarded $1 million at one point just to continue work on the album. That changed at the start of 1999 when parent company Seagram absorbed Geffen into the Interscope Records division. Hundreds of employees, many of them unflinching supporters of Rose's quest for the perfect album, were laid off. With Interscope chairman Jimmy Iovine now in charge of the project, the pressure to finish
Chinese Democracy
intensified.
While reportedly furious at the change of management, Rose's work ethic remained as sluggish as ever. At the close of 1999 hopes were briefly raised when Rose allowed Rolling Stone to preview a handful of tracks (they included the recently leaked
IRS, TWAT
and
The Blues
), and a speculative release date was floated for the following summer. Rose didn't appear to have any intention of meeting that deadline. His collection of snippets snowballed and so did his absenteeism from the studio. "It was unorganised chaos," an unnamed source told the New York Times. "There were times when we didn't record things for weeks."
To further complicate the process, the GN'R line-up had imploded yet again. Out went Finck and Freese to be replaced with the session virtuoso Buckethead - an unfathomable oddball who wore a KFC bucket on his head and communicated via a glove puppet - and the drummer Brian 'Brain' Mantia. Sean Beavan, meanwhile, had made way for the esteemed Queen producer Roy Thomas Baker who promptly set about re-recording what little work had been committed to tape. From the sidelines the founding members of GN'R watched  with a mixture of pity and fascination. "Whatever it is that is going on that takes this long, I couldn't handle," said Slash when asked about the chances of a reunion. "There's not one fucker in that band [apart from Axl] I even know."
By this point
Chinese Democracy
's expense account was snowballing at an untenable rate - the New York Times put the monthly payroll at roughly $11,000 per  bandmember, $6,000 per guitar tech and 14,000 for the chief engineer - but there were signs of life from Rose and his new Gunners. An unexpected finale at the 2002 MTV awards ceremony saw the singer lead an unrecognisable Guns N' Roses through a set including new song
Madagascar
, and the band subsequently started their first North American tour in a decade (with Richard Fortus replacing Paul Huge on guitar). Alongside
Madagascar
, more new tracks were aired in the form of
The Blues
,
Chinese Democracy
,
Riyadh And The Bedouins
, and
Silkworms
(although Rose has since claimed that these last two tracks will not feature on the album).
This burst of forward momentum didn't last. In February 2004 record company Interscope's patience finally snapped with the frontman; they issued a statement that effectively washed their hands of
Chinese Democracy
and pushed through a greatest hits Guns N' Roses package in a bid to claw back some lost profit on the out of control project. Rose was now financially responsible for completing the record, and he rose to the challenge in inimitable fashion by treading water and further alienating his increasingly frustrated bandmates. Producer Roy Thomas Baker had been jettisoned at the start of 2002. Then, in March 2004, guitarist Buckethead jumped ship. "During his tenure with the band," announced Rose in a waspish statement, "Buckethead has been inconsistent and erratic in both his behaviour and commitment - despite being under contract - creating uncertainty and confusion, and making it impossible to move forward with recording, rehearsals and live plans with confidence."
And then, with the tab hovering at a reported S13 million, it all went quiet. Rose, we were told, was still working at a Los Angeles recording studio with a team of session musicians. Speculative song titles continued to buzz through the media like Chinese whispers. Guns N' Roses manager Merck Mercuriadis was a constant presence on the letters pages of the world press, assuring fans that
Chinese Democracy
would materialise and sniping at any journalist who might deride his client's lack of progress. "I can tell your readers the following," Mercuriadis wrote to the New York Times in the wake of Jeff Leeds' excellent article on the subject. "W. Axl Rose is not interested in fame, money, popularity or what the New York Times, or any other newspaper for that matter, might think of him. His only interest is making the best album he is capable of so that it can have a positive effect in 2005 on people who are enthusiasts of music and interested in Guns N' Roses. I believe he will have the last laugh."
Nobody really believed that until the start of 2005, when the chain of events described earlier in this article was set into motion by Rose's appearance at a Korn tour launch party. "It's a very complex record," the enthusiastic frontman told Rolling Stone that evening at the Hollywood Forever Cemetery. "I'm trying to do something completely different. Some of the arrangements are kind of like Queen. Some people are going to say that, 'It doesn't sound like Axl Rose; it doesn't sound like Guns N' Roses,' but you will like at least a few of the songs on there. We're working on 32 songs at the moment, and 26 songs are nearly done."
Then came the soundbite that ran through the press like wildfire: "People will hear music this year."
Perhaps the most staggering thing about
Chinese Democracy
is that we still care about it. And make no mistake - we do care. A lot. While the music industry and rock media might snigger behind its hand at the amount of time Rose has laboured over this album, there's also an abiding sense that we desperately want it to succeed. Thousands of fans continue to debate Rose's progress on internet forums every single day. Thousands more continue to buy his previous records (to date, GN'R have sold over 90 million albums around the world). Even the founding members of GN'R - who surely have more right than anyone else to wish failure on their dictatorial frontman - are willing Rose on. Having said in 2004 that he "just wanted [Rose] to be happy," Slash was similarly magnanimous about the subject on Virgin Radio last February. "I'm really excited," the guitarist told the DJ. "It's been a long time waiting to see what the next step around the corner was going to be for him. We know where everybody else is, but we were wondering what he was going to be doing. Apparently it sounds great."
Anyone who has heard the leaked
Chinese Democracy
tracks would agree. Even listened to through laptop speakers, this batch of songs suggests the finished album will offer the same air guitar potential as its predecessors. There's
IRS
- with its sneering main riff and ferocious vocal. There's
TWAT
(
There Was A Time
), which comes on like
November Rain
with its orchestral swells and emotive axe solos. In its present form
The Blues
is a glam rock number that recalls David Bowie's work with guitarist Mick Ronson.
Better
offers processed beats and a vintage GN'R riff. Finally, there's
Catcher In The Rye
- the anthem that takes its name from the JD Salinger novel and combines piano with Brian May's distinctive guitar lines. "Yes, my guitar is there, nice and crisply recorded," confirmed the Queen man in the days following the leak. "I like the track a lot and always did, and it still sounds fresh. The thing that hits you first is that incredible, incredible voice. We've been missing it for far too long."
And how. What's often forgotten about the
Chinese Democracy
saga is the underlying reason why Rose has taken so long. While his actions can be interpreted as pure laziness or apathy, it's more likely that the exact opposite is true. Quite simply, Rose has set out to create the ultimate rock 'n' roll album. If he succeeds in achieving it, the frosty criticism he has had to endure since 1994 will melt into unconditional praise. If he fails, it seems inevitable that his mythology will shatter and his long-suffering fanbase will sadly drift away. But for now, with
Chinese Democracy
still a promise on a press release rather than an album on your local music store's shelf, Rose remains a legend frozen in time. The world continues to wait.
***
CAST OF THOUSANDS
TG REVEALS WHO DID WHAT... AND HOW LONG THEY LASTED
Axl Rose - Founding/current GN'R vocalist (1985-present)
Slash - Founding GN'R lead guitarist (1985-1996)
Duff McKagan - Founding GN'R bassist (1985-1997)
Izzy Stradlin - Founding GN'R rhythm guitarist (1985-1991)
Matt Sorum - Drummer (1991-1997)
Gilby Clarke - Guitarist (1992-1994)
Paul Huge - Guitarist (1994-2002)
Robin Finck - Guitarist (1997-1999)
Buckethead - Guitarist (2000-2004)
Richard Fortus - Current GN'R guitarist (2002-present)
Brian May - Ex-Queen guitarist (plays on
Catcher In The Rye
)
Zakk Wylde - Black Label Society guitarist (jammed with Guns N' Roses during 1995)
Dave Navarro - Ex-Jane's Addiction/ RHCP guitarist (played on
Oh, My God
)
Shaquille O'Neal - Former NBA basketball star (rapped on unspecified track)
Tommy Stinson - Current GN'R bassist (1997-present)
Dizzy Reed - Current GN'R keyboardist (1991-present)
Josh Freese - Drummer (1998-2000)
Brian 'Brain' Mantia - urrent GN'R drummer (2000-present)
Sean Beavan - Producer (1997-1999)
Roy Thomas Baker - Producer (2000-2002)
Caram Costanzo - Engineer (exact dates unknown)
Eric Caudieux - Pro Tools (exact dates unknown)
Dan Monti - Assistant Engineer (exact dates unknown)
Paul Buckmaster Arrangements (exact dates of his GN'R tenure are unknown)
***
SLAM DUNKIN'!
TG ON AXL'S MOST UNLIKELY COLLABORATION YET
As errors of judgement go, getting rid of Slash was bad enough. But that pales into insignificance when you consider the very real possibility that
Chinese Democracy
could feature a rap 'guest spot' from lumbering NBA basketball star Shaquille O'Neal.
"I saw Guns N' Roses listed on the bulletin board in the lobby of the studio, so I stuck my head in to check it out," remembers O'Neal of the collaboration. "They asked me to join them, so I started freestylin' over their track. It was the first time I ever performed with a rock group and it felt good."
***
WHAT THE BUCK?!
TG LIFTS THE LID ON THE ENIGMA THAT IS BUCKETHEAD
Contrary to chatroom folklore, the man beneath the KFC family bucket is not Steve Vai, Paul Gilbert or Slash (the top-hatted guitarist noted in 2004 that, "At this point I have a hard time even accepting that Buckethead is real.") Despite his best efforts to remain shrouded in mystery (he refuses to do interviews, for instance, apart from via a glove puppet called 'Herbie'),
TG can reveal that Buckethead's given name is the disappointingly normal Brian Carroll and that his background is that of the textbook Californian bedroom guitar virtuoso.
While Carroll's axe heroes are familiar enough (taking in Randy Rhoads and Yngwie Malmsteen), his farcical outfit was inspired by his love of the slasher film franchise Halloween and, er, the fact that he happened to put an empty KFC bucket on his head one night. "I was eating [KFC]," Carroll told Guitar Player before he stopped giving interviews, "and I put the mask on, then the bucket and I went to the mirror. I just said, 'Buckethead! That's Buckethead right there.' It was just one of those things. After that I just wanted to be that [personna] all the time."

Blackstar

ADMIN




Posts

: 10691


Plectra

: 71708


Reputation

: 96


Join date

: 2018-03-17



What a shitty article. They even managed to find a semi-negative comment from Brian May to use among all the positives he said about working with Axl!

Soulmonster

Stage manager







Posts

: 14977


Plectra

: 73387


Reputation

: 831


Join date

: 2010-07-06



Yeah, completely agree. Total Guitar had done the same with Zakk Wylde's comments in a 2002 article (plus likely fabricated a Paul Tobias quote!)

Blackstar

ADMIN




Posts

: 10691


Plectra

: 71708


Reputation

: 96


Join date

: 2018-03-17



---
Permissions in this forum:
You
cannot
reply to topics in this forum