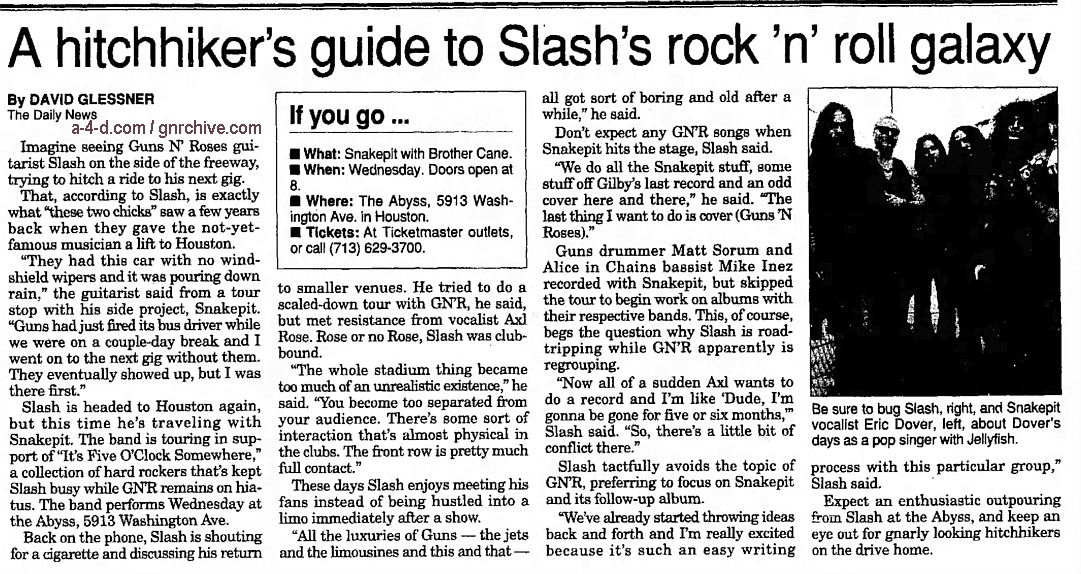 Transcript:
---------------
A hitchhiker's guide to Slash's rock 'n' roll galaxy
By DAVID GLESSNER
The Daily News
Imagine seeing Guns N' Roses guitarist Slash on the side of the freeway, trying to hitch a ride to his next gig.
That, according to Slash, is exactly what "these two chicks" saw a few years back when they gave the not-yet-famous musician a lift to Houston.
"They had this car with no windshield wipers and it was pouring down rain," the guitarist said from a tour stop with his side project, Snakepit. "Guns had just fired its bus driver while we were on a couple-day break and I went on to the next gig without them. They eventually showed up, but I was there first."
Slash is headed to Houston again, but this time he's traveling with Snakepit. The band is touring in support of "It's Five O'Clock Somewhere," a collection of hard rockers that's kept Slash busy while GN'R remains on hiatus. The band performs Wednesday at the Abyss, 5913 Washington Ave.
Back on the phone, Slash is shouting for a cigarette and discussing his return to smaller venues. He tried to do a scaled-down tour with GN'R, he said, but met resistance from vocalist Axl Rose. Rose or no Rose, Slash was club-hound.
"The whole stadium thing became too much of an unrealistic existence," he said. "You become too separated from your audience. There's some sort of interaction that's almost physical in the clubs. The front row is pretty much full contact."
These days Slash enjoys meeting his fans instead of being hustled into a limo immediately after a show.
"All the luxuries of Guns — the jets and the limousines and this and that — all got sort of boring and old after a while," he said.
Don't expect any GN'R songs when Snakepit hits the stage, Slash said.
"We do all the Snakepit stuff, some stuff off Gilby's last record and an odd cover here and there," he said. "The last thing I want to do is cover (Guns 'N Roses)."
Guns drummer Matt Sorum and Alice in Chains bassist Mike Inez recorded with Snakepit, but skipped the tour to begin work on albums with their respective bands. This, of course, begs the question why Slash is roadtripping while GN'R apparently is regrouping.
"Now all of a sudden Axl wants to do a record and I'm like 'Dude, I'm gonna be gone for five or six months,'" Slash said. "So, there's a little bit of conflict there."
Slash tactfully avoids the topic of GN'R, preferring to focus on Snakepit and its follow-up album.
"We've already started throwing ideas back and forth and I'm really excited because it's such an easy writing process with this particular group," Slash said.
Expect an enthusiastic outpouring from Slash at the Abyss, and keep an eye out for gnarly looking hitchhikers on the drive home.

Blackstar

ADMIN




Posts

: 11800


Plectra

: 77751


Reputation

: 97


Join date

: 2018-03-17



The band did two shows in Houston in 1987, it would be good to know which one Slash is talking about here.

Soulmonster

Band Lawyer







Posts

: 15355


Plectra

: 74821


Reputation

: 831


Join date

: 2010-07-06



---
Permissions in this forum:
You
cannot
reply to topics in this forum