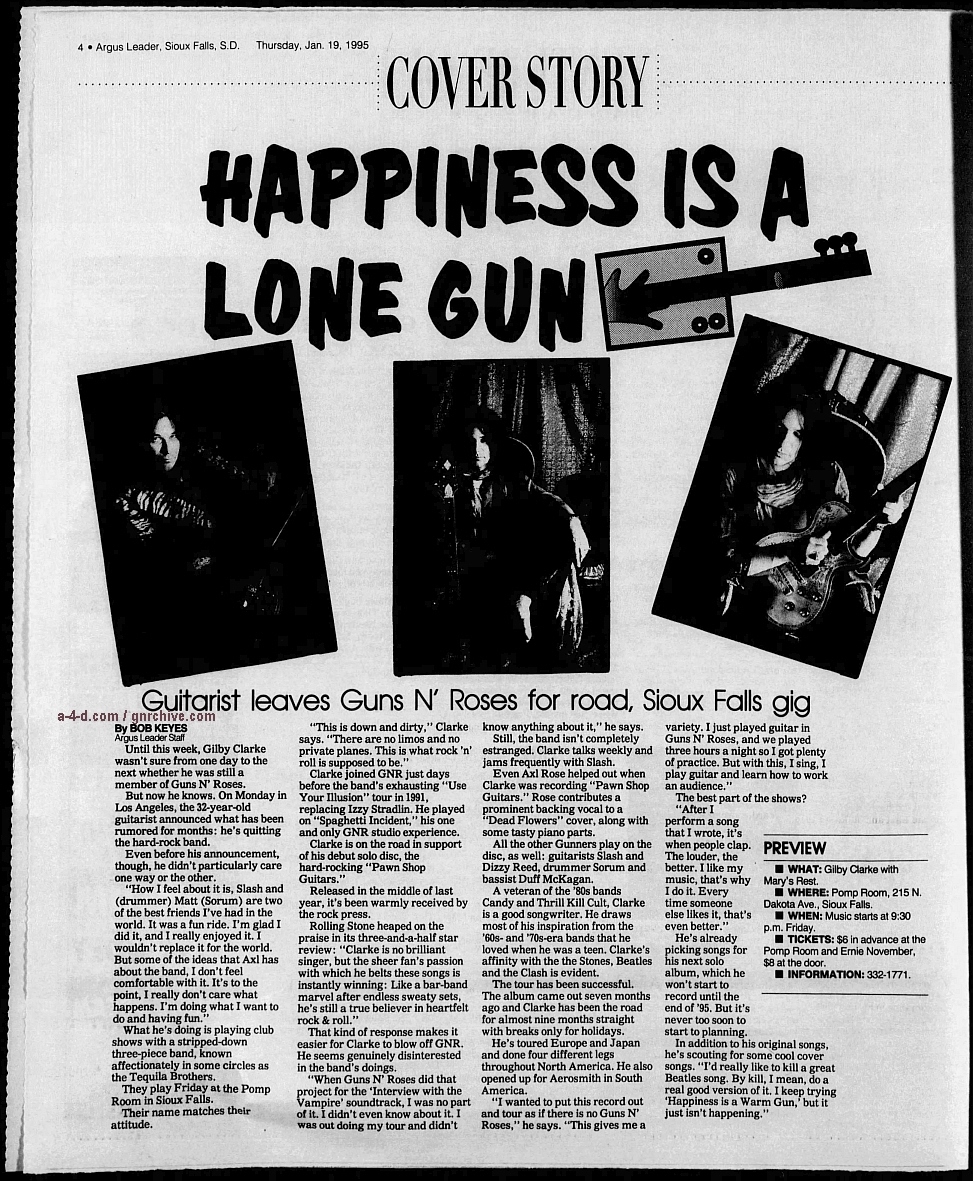 Transcript:
----------------
HAPPINESS IS A LONE GUN
Guitarist leaves Guns N' Roses for road, Sioux Falls gig
By BOB KEYES
Argus Leader Staff
Until this week, Gilby Clarke wasn't sure from one day to the next whether he was still a member of Guns N' Roses.
But now he knows. On Monday in Los Angeles, the 32-year-old guitarist announced what has been rumored for months: he's quitting the hard-rock band.
Even before his announcement, though, he didn't particularly care one way or the other.
"How I feel about it is, Slash and (drummer) Matt (Sorum) are two of the best friends I've had in the world. It was a fun ride. I'm glad I did it, and I really enjoyed it. I wouldn't replace it for the world. But some of the ideas that Axl has about the band, I don't feel comfortable with it. It's to the point, I really don't care what happens. I'm doing what I want to do and having fun.''
What he's doing is playing club shows with a stripped-down three-piece band, known affectionately in some circles as the Tequila Brothers.
They play Friday at the Pomp Room in Sioux Falls.
Their name matches their attitude.
"This is down and dirty," Clarke says. "There are no limos and no private planes. This is what rock 'n' roll is supposed to be."
Clarke joined GNR just days before the band's exhausting "Use Your Illusion" tour in 1991, replacing Izzy Stradlin. He played on "Spaghetti Incident," his one and only GNR studio experience.
Clarke is on the road in support of his debut solo disc, the hard-rocking "Pawn Shop Guitars."
Released in the middle of last year, it's been warmly received by the rock press.
Rolling Stone heaped on the praise in its three-and-a-half star review: "Clarke is no brilliant singer, but the sheer fan's passion with which he belts these songs is instantly winning: Like a bar-band marvel after endless sweaty sets, he's still a true believer in heartfelt rock & roll."
That kind of response makes it easier for Clarke to blow off GNR. He seems genuinely disinterested in the band's doings.
"When Guns N' Roses did that project for the 'Interview with the Vampire' soundtrack, I was no part of it. I didn't even know about it. I was out doing my tour and didn't know anything about it," he says.
Still, the band isn't completely estranged. Clarke talks weekly and jams frequently with Slash.
Even Axl Rose helped out when Clarke was recording "Pawn Shop Guitars." Rose contributes a prominent backing vocal to a "Dead Flowers" cover, along with some tasty piano parts.
All the other Gunners play on the disc, as well: guitarists Slash and Dizzy Reed, drummer Sorum and bassist Duff McKagan.
A veteran of the '80s bands Candy and Thrill Kill Cult, Clarke is a good songwriter. He draws most of his inspiration from the '60s- and '70s-era bands that he loved when he was a teen. Clarke's affinity with the the Stones, Beatles and the Clash is evident.
The tour has been successful.
The album came out seven months ago and Clarke has been the road for almost nine months straight with breaks only for holidays.
He's toured Europe and Japan and done four different legs throughout North America. He also opened up for Aerosmith in South America.
"I wanted to put this record out and tour as if there is no Guns N' Roses," he says. "This gives me a variety. I just played guitar in Guns N' Roses, and we played three hours a night so I got plenty of practice. But with this, I sing, I play guitar and learn how to work an audience."
The best part of the shows?
"After I perform a song that I wrote, it's when people clap.
The louder, the better. I like my music, that's why I do it. Every time someone else likes it, that's even better."
He's already picking songs for his next solo album, which he won't start to record until the end of '95. But it's never too soon to start to planning.
In addition to his original songs, he's scouting for some cool cover songs. "I'd really like to kill a great Beatles song. By kill, I mean, do a real good version of it. I keep trying 'Happiness is a Warm Gun,' but it just isn't happening."

Blackstar

ADMIN




Posts

: 10551


Plectra

: 71006


Reputation

: 96


Join date

: 2018-03-17



---
Permissions in this forum:
You
cannot
reply to topics in this forum