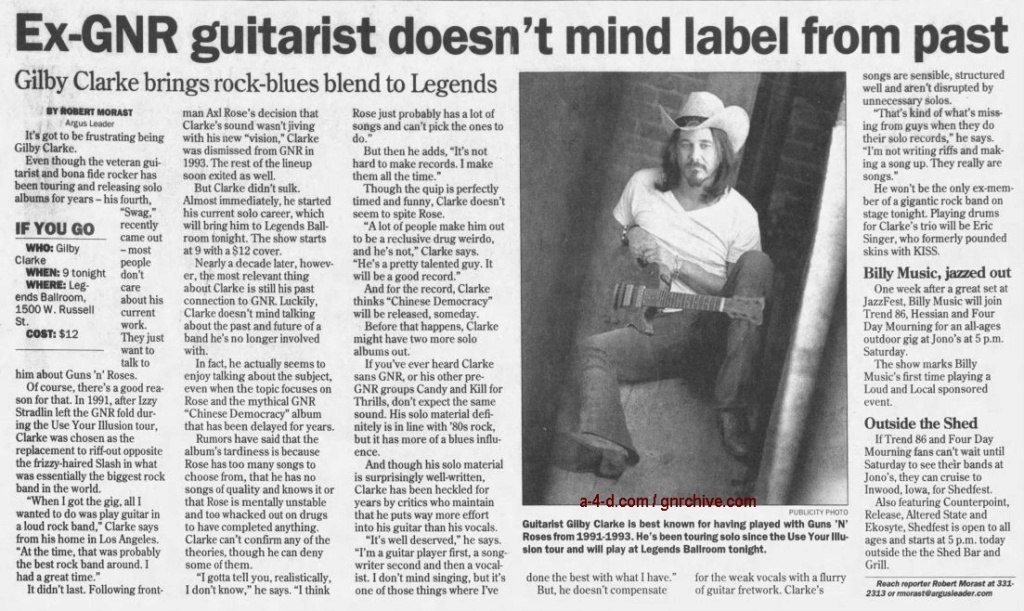 Transcript:
------------------
Ex-GNR guitarist doesn't mind label from past
Gilby Clarke brings rock-blues blend to Legends
BY ROBERT MORAST
Argus Leader
It's got to be frustrating being Gilby Clarke.
Even though the veteran guitarist and bona fide rocker has been touring and releasing solo albums for years - his fourth, "Swag," recently came out - most people don't care about his current work. They just want to talk to him about Guns 'n' Roses.
Of course, there's a good reason for that. In 1991, after Izzy Stradlin left the GNR fold during the Use Your Illusion tour, Clarke was chosen as the replacement to riff-out opposite the frizzy-haired Slash in what was essentially the biggest rock band in the world.
"When I got the gig, all I wanted to do was play guitar in a loud rock band," Clarke says from his home in Los Angeles. "At the time, that was probably the best rock band around. I had a great time."
It didn't last. Following frontman Axl Rose's decision that Clarke's sound wasn't jiving with his new "vision," Clarke was dismissed from GNR in 1993. The rest of the lineup soon exited as well.
But Clarke didn't sulk. Almost immediately, he started his current solo career, which will bring him to Legends Ballroom tonight. The show starts at 9 with a $12 cover.
Nearly a decade later, however, the most relevant thing about Clarke is still his past connection to GNR. Luckily, Clarke doesn't mind talking about the past and future of a band he's no longer involved with.
In fact, he actually seems to enjoy talking about the subject, even when the topic focuses on Rose and the mythical GNR "Chinese Democracy" album that has been delayed for years.
Rumors have said that the album's tardiness is because Rose has too many songs to choose from, that he has no songs of quality and knows it or that Rose is mentally unstable and too whacked out on drugs to have completed anything. Clarke can't confirm any of the theories, though he can deny some of them.
"I gotta tell you, realistically, I don't know," he says. "I think Rose just probably has a lot of songs and can't pick the ones to do."
But then he adds, "It's not hard to make records. I make them all the time."
Though the quip is perfectly timed and funny, Clarke doesn't seem to spite Rose.
"A lot of people make him out to be a reclusive drug weirdo, and he's not," Clarke says. "He's a pretty talented guy. It will be a good record."
And for the record, Clarke thinks "Chinese Democracy" will be released, someday.
Before that happens, Clarke might have two more solo albums out.
If you've ever heard Clarke sans GNR, or his other pre-GNR groups Candy and Kill for Thrills, don't expect the same sound. His solo material definitely is in line with '80s rock, but it has more of a blues influence.
And though his solo material is surprisingly well-written, Clarke has been heckled for years by critics who maintain that he puts way more effort into his guitar than his vocals.
"It's well deserved," he says. "I'm a guitar player first, a songwriter second and then a vocalist. I don't mind singing, but it's one of those things where I've done the best with what I have."
But, he doesn't compensate for the weak vocals with a flurry of guitar fretwork. Clarke's songs are sensible, structured well and aren't disrupted by unnecessary solos.
"That's kind of what's missing from guys when they do their solo records," he says. "I'm not writing riffs and making a song up. They really are songs."
He won't be the only ex-member of a gigantic rock band on stage tonight. Playing drums for Clarke's trio will be Eric Singer, who formerly pounded skins with KISS.

Blackstar

ADMIN




Posts

: 9568


Plectra

: 65464


Reputation

: 97


Join date

: 2018-03-17



---
Permissions in this forum:
You
cannot
reply to topics in this forum