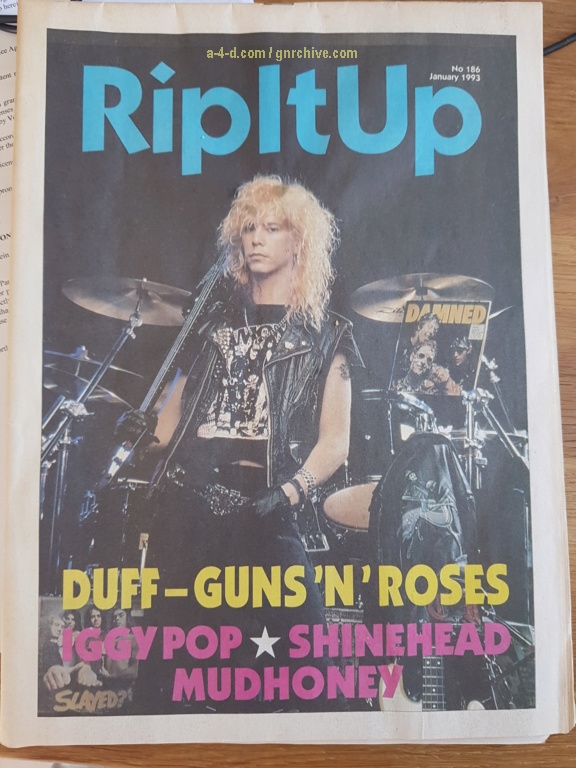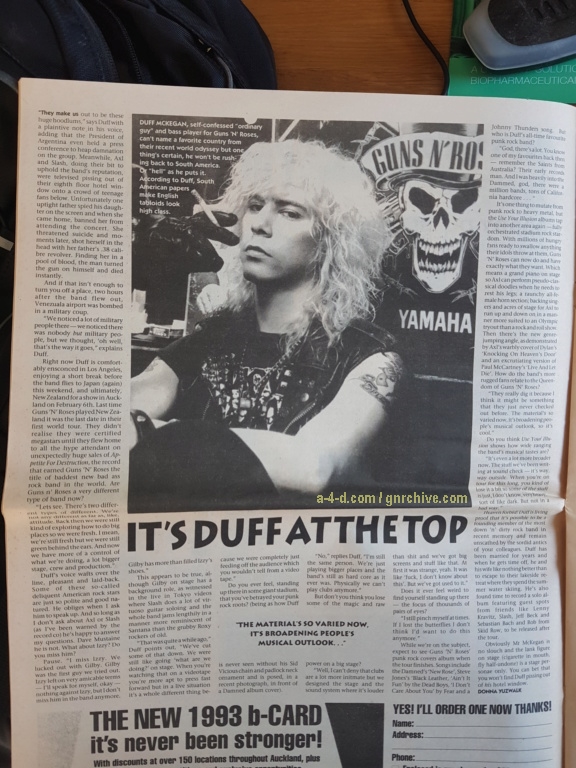 Transcript:
"They make us out to be these huge hoodlums," says Duff with a plaintive note in his voice, adding that the President of Argentina even held a press conference to heap damnation on the group. Meanwhile, Axl and Slash, doing their bit to uphold the band's reputation, were televised pissing out of their eighth floor hotel window onto a crowd of teenage fans below. Unfortunately one uptight father spied his daughter on the screen and when she came home, banned her from attending the concert. She threatened suicide and moments later, shot herself in the head with her father's .38 calibre revolver. Finding her in a pool of blood, the man turned the gun on himself and died instantly.
And if that isn't enough to turn you off a place, two hours after the band flew out, Venezuela airport was bombed in a military coup.
"We noticed a lot of military people there—we noticed there was nobody but military people, but we thought, 'oh well, that's the way it goes," explains Duff.
Right now Duff is comfortably ensconced in Los Angeles, enjoying a short break before the band flies to Japan (again) this weekend, and ultimately, New Zealand for a show in Auckland on February 6th. Last time Guns 'N' Roses played New Zealand it was the last date in their first world tour. They didn't realise they were certified megastars until they flew home to all the hype attendant on unexpectedly huge sales of Appetite For Destruction, the record that earned Guns 'N' Roses the title of baddest new bad ass rock band in the world. Are Guns if Roses a very different type of band now?
"Lets see. There's two different types of different. We're not any different as far as, like attitude. Back then we were still kind of exploring how to do big places so we were fresh. I mean, we're still fresh but we were still green behind the ears. And now we have more of a control of what we're doing, a lot bigger stage, crew and production."
Duff's voice wafts over the line, pleasant and laid-back. Some of these so-called delinquent American rock stars are just so polite and good natured. He obliges when I ask him to speak up. And so long as I don't ask about Axl or Slash (as I've been warned by the record co) he's happy to answer my questions. Dave Mustaine he is not. What about Izzy? Do you miss him?
Pause. "l miss Izzy. We lucked out with Gilby. Gilby was the first guy we tried out. Izzy left on very amicable terms speak for myself, okay -- nothing against lzzy, but I don't miss him in the band anymore. Gilby has more than filled Izzy's shoes."
This appears to be true, although Gilby on stage has a background role, as witnessed in the live in Tokyo videos where Slash does a lot of virtuoso guitar soloing and the whole band jams lengthily in a manner more reminiscent of Santana than the grubby Roxy rockers of old.
"That was quite a while ago," Duff points out, "We've cut some of that down. We were still like going `what are we doing?' on stage. When you're watching that on a videotape you're more apt to press fast forward but in a live situation it's a whole different thing because we were completely just feeding off the audience which you wouldn't tell from a video tape."
Do you ever feel, standing up there in some giant stadium, that you've betrayed your punk rock roots? (being as how Duff is never seen without his Sid Vicious chain and padlock neck ornament and is posed, in a recent photograph, in front of a Damned album cover).
"No," replies Duff, "I'm still the same person. We're just playing bigger places and the band's still as hard core as it ever was. Physically we can't play clubs anymore."
But don't you think you lose some of the magic and raw power on a big stage?
"Well, I can't deny that clubs are a lot more intimate but we designed the stage and the sound system where it's louder than shit and we've got big screens and stuff like that. At first it was strange, yeah. It was like 'fuck, I don't know about this'. But we've got used to it."
Does it ever feel weird to find yourself standing up there - the focus of thousands of pairs of eyes?
"I still pinch myself at times. If I lost the butterflies I don't think I'd want to do this anymore."
While we're on the subject, expect to see Guns 'N' Roses' punk rock covers album when the tour finishes. Songs include the Damned's `New Rose', Steve Jones's 'Black Leather, 'Ain't It Fun' by the Dead Boys, 'I Don't Care About You' by Fear and a Johnny Thunders song. But who is Duff's all-time favourite punk rock band?
"God, there's a lot. You know one of my favourites back then - remember the Saints from Australia? Their early records man. And I was heavily into the Dammed, god, there were a million bands, tons of California hardcore..."
It's one thing to mutate from punk rock to heavy metal, but the Use Your Illusion albums tap into another area again — fully orchestrated stadium rock stardom. With millions of hungry fans ready to swallow anything their idols throw at them, Guns 'N' Roses can now do and have exactly what they want. Which means a grand piano on stage so Axl can perform pseudo-classical doodles when he needs to rest his legs; a raunchy all-female horn section; backing singers and acres of stage for Axl to run up and down on in a manner more suited to an Olympic tryout than a rock and roll show. Then there's the new genre-jumping angle, as demonstrated by Axl's warbly cover of Dylan's 'Knocking On Heaven's Poor' and an excrutiating version of Paul McCartney's 'Live And Let Die'. How do the band's more rugged fans relate to the Queen-dom of Guns 'N' Roses?
"They really dig it because I think it might be something that they just never checked out before. The material's so varied now, it's  broadening people's musical outlook, so it's cool."
Do you think Use Your Illusion shows how wide ranging the band's musical tastes are?
"It's even a lot more broader now. The stuff we've been writing at sound check — it's way, way outside. When you're on tour for this long, you kind of lose it a bit so some of the stuff is just, I don't know, very heavy, sort of like dark. But not in a bad way.
Heaven forbid! Duff is living proof that it's possible to be a founding member of the most down 'n' dirty rock band in recent memory and remain unscathed by the sordid antics of your colleagues. Duff has been married for years and when he gets time off, he and his wife like nothing better than to escape to their lakeside retreat where they spend the summer water skiing. He's also found time to record a solo album featuring guest spots from friends like Lenny Kravitz, Slash, Jeff Beck and Sebastian Bach and Rob from Skid Row, to be released after the tour.
Obviously Mr McKagan is no slouch and the lank figure on stage (cigarette in mouth, fly half-undone) is a stage personae only. You can bet that you won't find Duff pissing out of his hotel window.
DONNA YUZWALK

Soulmonster

Stage manager







Posts

: 14730


Plectra

: 72392


Reputation

: 827


Join date

: 2010-07-06



---
Permissions in this forum:
You
cannot
reply to topics in this forum