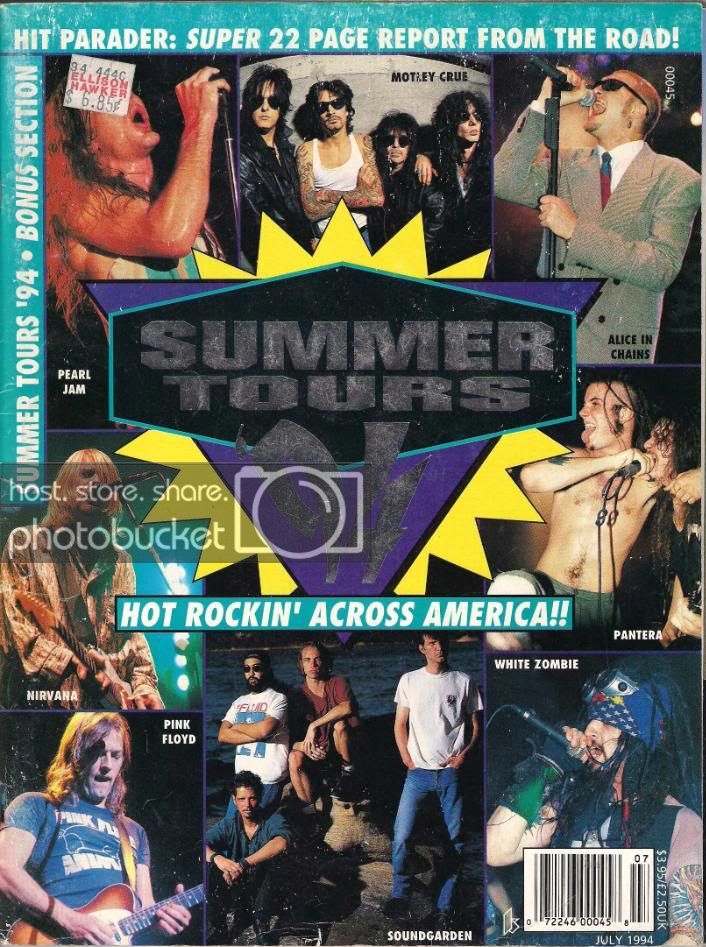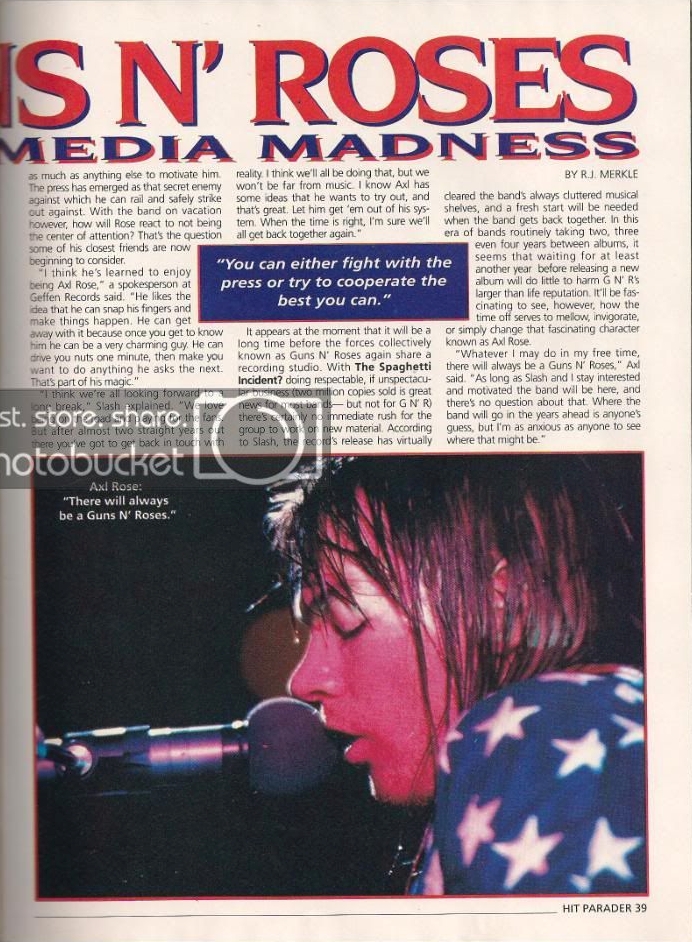 Transcript:
-----------------
GUNS N' ROSES
AXL'S MEDIA MADNESS
BY R.J MERKLE
Sometimes it seems like Axl Rose just can't keep his nose out of the news. No matter what he does, where he goes, or who he's with, Guns N' Roses' main man seems to have a facility for end-ding up with his mug on the front pages of papers from coast to coast. Whether it's igniting riots in St Louis, whispering the praises of Charles Manson on the band's latest release,
The Spaghetti Incident?
, or battling in court with his former girlfriend, supermodel Stephanie Seymour, Rose seems to draw press attention the way only the true "greats" of tabloid media madness - Donald Trump, Joey Buttafuoco, Roseanne Arnold— can do it. The question now becomes whether Axl, who in all honesty has toned down his act markedly in recent years, is still more than slightly out-of-control, or whether he actually enjoys his continual position in the media spotlight. While Rose himself would vociferously deny
even the slightest fascination with being a media darling, there are those around him who quietly indicate the opposite.
"The press tends to really jump on the wrong things," Rose said. "They twist words around and just make things up about you when they want to. I have no use for that. It angers me when the fans read something about me or the band that they believe but that we know is not really true. But I've also come to realize that you either fight with the press or you try to cooperate the best you can."
'Axl has a love/hate relationship with many things in his life," a band confidant stated. "He's gotten a lot better in recent years because in the past he was really impossible. One day he'd really be fascinated by something or someone, and the next that fascination would be totally gone. Now, there's at least more of a reason behind his moves. There's a method to his 'madness', and believe me, Axl is crazy like a fox. People like to think that he's really out there, but he's not."
Whether or not he's truly "out there" is really no longer the issue when Mr. Rose is involved. The issue has become more of why he must continually have such a combative relationship with virtually everyone around him. Whether it's having a verbal war of words with the president of his record label, David Geffen, regarding the inclusion of the Manson tune
Look At Your Game, Girl
on the
Spaghetti
disc, or battling with Seymour over the return of a ring Axl supposedly gave to his then-fiance, no other rocker has ever enjoyed a more bizarre image in terms of pure egomaniacal posturing. Sure a Mick Jagger or even a David Lee Roth has seen his fair store of media abuse, but none of 'em can hold a candle to ol' Axl.
"I think Axl's image has really never matched the guy,' bandmate Duff McKagan said. "I've known him a long time, and when I read about him in the papers or the magazines, it just doesn't make sense. He's a very strong willed guy who will fight for whatever he thinks is right. I think that's a very noble quality. That some portions of the media have made him into some kind of a scapegoat is really amazing. They don't understand him at all. He's a very complex individual."
There's no question regarding the complexity of Rose's psyche. That he's a brilliant musician is beyond debate. That he's the heart and soul of the most successful rock and roil band of the last decade is as factual as a statement about Guns N' Roses in
Hit Parader
can be. But that he also comes across as a troubled soul who is battling with his success as much as with those around him is an issue that is also coming into sharper focus. That Axl has dealt with psychologists who have prescribed medication to help handle his manic depressive spells s certainly a positive step. And those around him report that dealing with Axl during the band's lengthy
Use Your Illusion
road trek was a pleasure compared to the past. But now perhaps the real test will begin.
With G N' R in the midst of a lengthy sabbatical that promises to carry them right into 1995, it wil be fascinating to see how Rose deals with not being in the spotlight for the first time since the Top Gunners first burst upon the rock scene six years ago. Perhaps, despite all his ranting and raving to the contrary, Axl needs that media attention as much as anything else to motivate him. Tne press has emerged as that secret enemy against which he can rail and safely strike out against. With the band on vacation however, how will Rose react to not being the center of attention? That's the question some of his closest friends are now beginning to consider.
"I think he's learned to enjoy being Axl Rose," a spokesperson at Geffen Records said. "He likes the idea that he can snap his fingers and make things happen. He can get away with it because once you get to know him he can be a very charming guy. He can drive you nuts one minute, then make you want to do anything he asks the next. That's part of his magic."
"I think we're all looking forward to a long break," Slash explained. "We love being on the road and playing for the fans. But after almost two straight years out there you've got to get back in touch with reality. I think we'll all be dong that, but we won't be far from music. I know Axl has some ideas that he wants to try out, and that's great. Let him get 'em out of his system. When the time is right, I'm sure we'll all get back together again."
It appears at the moment that it will be a long time before the forces collectively known as Guns N' Roses again share a recording studio. With T
he Spaghetti Incident?
doing respectable, if unspectacular business (two million copies sold is great news for most bands - but not for G N' R) there's certainly no immediate rush for the group to work on new material. According to Slash, the record's release has virtually cleared the band's always cluttered musical shelves, and a fresh start will be needed when the band gets back together. In this era of bands routinely taking two, three even four years between albums, it seems that waiting for at least another year before releasing a new album will do little to harm G N' R's larger than life reputation. It'll be fascinating to see, however, how the time off serves to mellow, invigorate, or simply change that fascinating character known as Axl Rose.
"Whatever I may do in my free time, there will always be a Guns N' Roses," Axl said. "As long as Slash and I stay interested and motivated the band will be here, and there's no question about that. Where the band will go in the years ahead is anyone's guess, but I'm as anxious as anyone to see where that might be."

Blackstar

ADMIN




Posts

: 10551


Plectra

: 71006


Reputation

: 96


Join date

: 2018-03-17



---
Permissions in this forum:
You
cannot
reply to topics in this forum