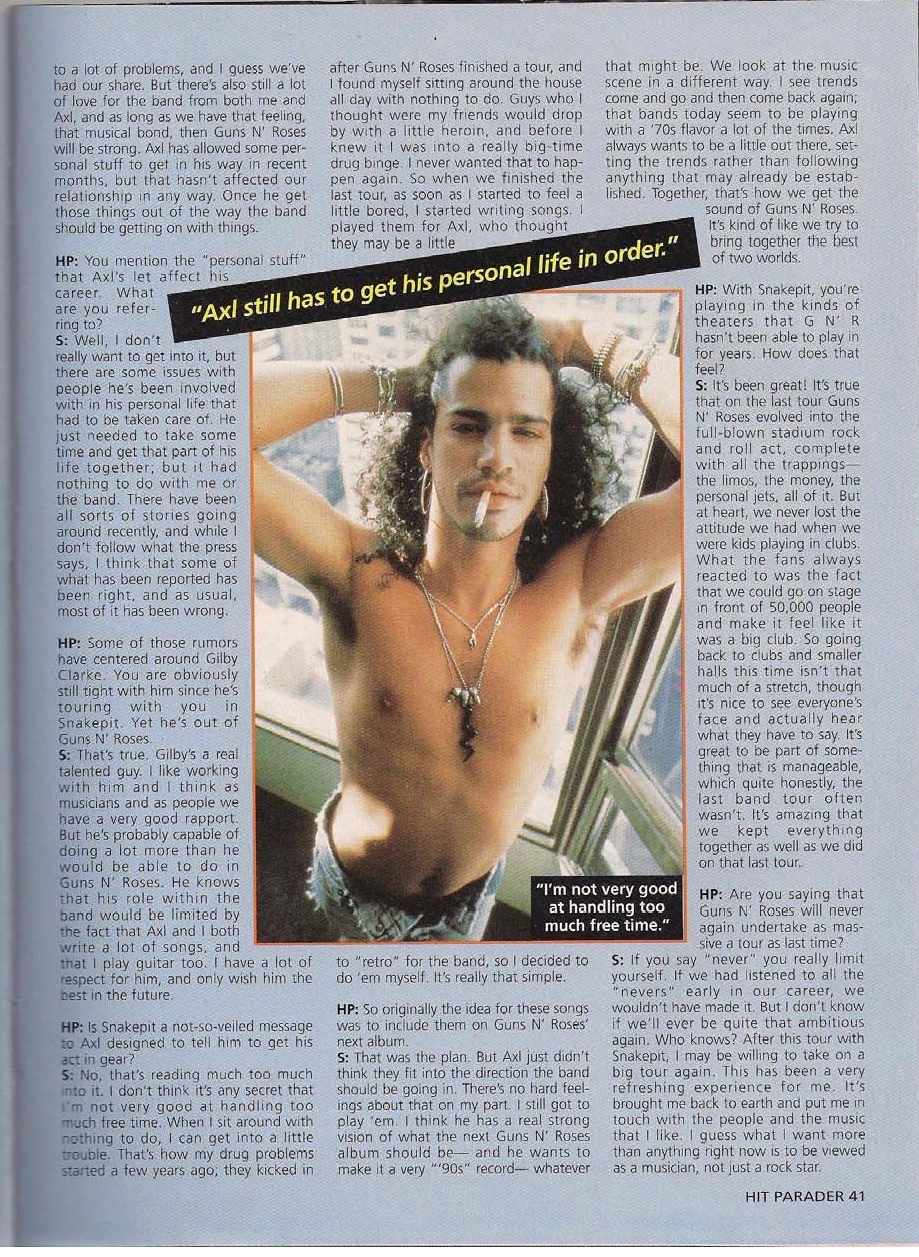 Transcript:
--------------
GUNS N' ROSES
SLASH AND BURN
BY P.J. MERKLE
Rumor, gossip and innuendo follow Guns N' Roses like horny guys follow a pretty girl in a pick-up joint. No matter how much time these rockers may spend out of the spotlight (and it has been well over three years since their last "official" album,
Use Your Illusion
, was released), the media still dogs Axl Rose, Slash, Matt Sorum, Duff McKagan and Dizzy Reed with a relentless fervor that often borders on the obsessive. Their names still fill tabloid headlines and appear on court dockets, making sure that G N' R remain firmly in our consciousness— whether they want to be or not. In an effort to break away (at least a little) from the overwhelming Guns mystique, as well as to take care of his always demanding musical "jones". Slash recently hit the road with his solo outfit Snakepit— a band that features Sorum, former bandmate Gilby Clarke, and Jellyfish vocalist Eric Dover, along with bassist James Lomenzo and drummer Brian Tichy (who recently replaced Matt Sorum and Mike Inez). With their tour packing clubs and theaters across the country, and their album,
It's Five O'clock Somewhere
showing surprising chart strength, we figured now would be the perfect time to sit down with their often reclusive Slash to discuss his life, as well as the future of Guns N' Roses.
Hit Parader:
What is the current status of Guns N' Roses?
Slash:
That's a good question. Guns N' Roses has always been a very volatile band made up of a bunch of punks who hit it big. That can lead to a lot of problems, and I guess we've had our share. But there's also still a lot of love for the band from both me and Axl, and as long as we have that feeling, that musical bond, then Guns N' Roses will be strong. Axl has allowed some personal stuff to get in his way in recent months, but that hasn't affected our relationship in any way. Once he gets those things out of the way the band should be getting on with things.
HP:
You mention the "personal stuff" that Axl's let affect his career. What are you referring to?
S:
Well, I don't really want to get into it, but there are some issues with people he's been involved with in his personal life that had to be taken care of. He just needed to take some time and get that part of his life together, but it had nothing to do with me or the band. There have been all sorts of stories going around recently, and while I don't follow what the press says, I think that some of what has been reported has beer right, and as usual, most of it has been wrong.
HP:
Some of those rumors have centered around Gilby Clarke. You are obviously still tight with him since he's touring with you in Snakepit. Yet he's out of Guns N' Roses.
S:
That's true. Gilby's a real talented guy. I like working with him and I think as musicians and as people we have a very good rapport. But he's probably capable of doing a lot more than he would be able to do in Guns N' Roses. He knows that his role within the band would be limited by the fact that Axl and I both write a lot of songs, and that I play guitar too. I have a lot of respect for him, and only wish him the best in the future.
HP:
Is Snakepit a not-so-veiled message to Axl designed to tell him to get his act in gear?
S:
No, that's reading much too much into it. I don't think it's any secret that I'm not very good at handling too much free time. When I sit around with nothing to do, I can get into a little trouble. That's how my drug problems started a few years ago, they kicked in that might be. We look at the music scene in a different way. I see trends come and go and then come back again; that bands today seem to be playing with a 70s flavor a lot of the times. Axl always wants to be a little out there, setting the trends rather than following anything that may already be established. Together, that's how we get the sound of Guns N' Roses. It's kind of like we try to bring together the best of two worlds.
HP:
With Snakepit, you're playing in the kinds of theaters that G N' r hasn't been able to play in for years. How does that feel?
S:
It's been great! It's true that on the last tour Guns N' Roses evolved into the full-blown stadium rock and roll act, complete with all the trappings - the limos, the money, the personal jets, all of it. But at heart, we never lost the attitude we had when we were kids playing in clubs. What the fans always reacted to was the fact that we could go on stage in front of 50,000 people and make it feel like it was a big club. So going back to clubs and smaller halls this time isn't that much of a stretch, though it's nice to see everyone's face and actually hear what they have to say. It's great to be part of something that is manageable, which quite honestly, the last band tour often wasn't. It's amazing that we kept everything together as well as we did on that last tour.
HP:
Are you saying that Guns N' Roses will never again undertake as massive a tour as last time?
S:
If you say "never" you really limit yourself. If we had listened to all the "nevers" early in our career, we wouldn't have made it. But I don't know if we'll ever be quite that ambitious again. Who knows? After this tour with Snakepit, I may be willing to take on a big tour again. This has been a very refreshing experience for me. It's brought me back to earth and put me in touch with the people and the music that I like. I guess what I want more than anything right now is to be viewed as a musician, not just a rock star.

Blackstar

ADMIN




Posts

: 9426


Plectra

: 64362


Reputation

: 97


Join date

: 2018-03-17



---
Permissions in this forum:
You
cannot
reply to topics in this forum