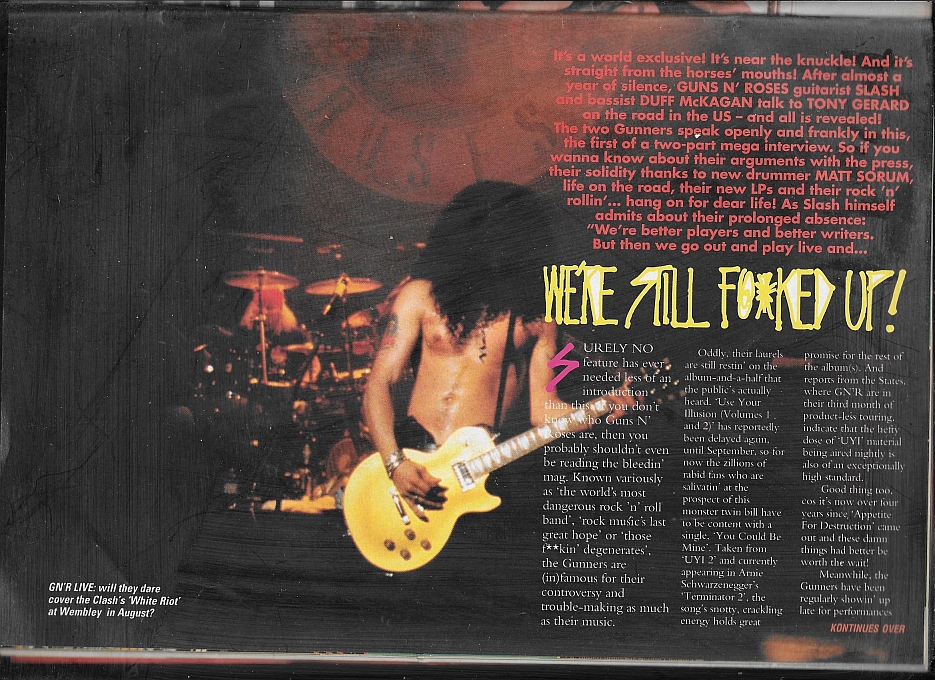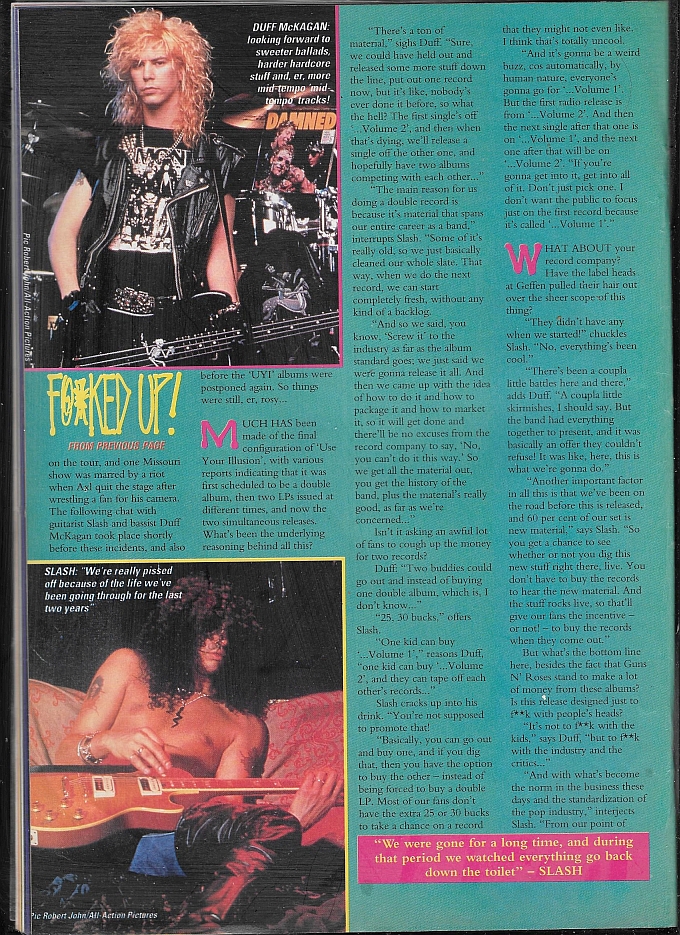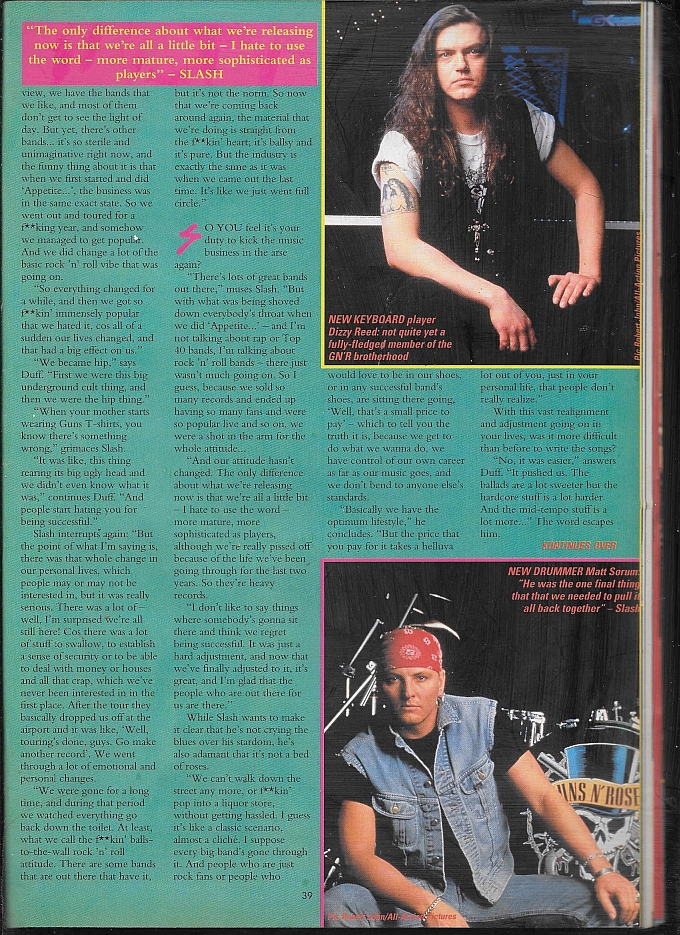 Transcript:
---------------
It's a world exclusive! It's near the knuckle! And it's straight from the horses' mouths! After almost a year of silence, GUNS N' ROSES guitarist SLASH and bassist DUFF McKAGAN talk to TONY GERARD on the road in the US - and all is revealed!The two Gunners speak openly and frankly in this, the first of a two-part mega interview. So if you wanna know about their arguments with the press, their solidity thanks to new drummer MATT SORUM, life on the road, their new LPs and their rock 'n' rollin'... hang on for dear life! As Slash himself admits about their prolonged absence: "We're better players and better writers. But then we go out and play live and...
WE'RE STILL F@*KED UP!
SURELY NO feature has ever needed less of an introduction than this. If you don't know who Guns N' Roses are, then you probably shouldn't even be reading the bleedin' mag. Known variously as 'the world's most dangerous rock 'n' roll band', 'rock music's last great hope' or 'those f**kin' degenerates', the Gunners are (in)famous for their controversy and trouble-making as much as their music. 
Oddly, their laurels are still restin' on the album-and-a-half that the public's actually heard. 'Use Your Illusion (Volumes 1 and 2)' has reportedly been delayed again, until September, so for now the zillions of rabid fans who are salivatin' at the prospect of this monster twin bill have to be content with a single, 'You Could He Mine'. Taken from 'UYI 2' and currently appearing in Arnie Schwarzenegger's 'Terminator 2', the song's snotty, crackling energy holds great promise for the rest of the album(s). And reports from the States, where GN'R are in their third month of product-less touring, indicate that the hefty dose of 'UYI' material being aired nightly is also of an exceptionally high standard. 
Good thing too, cos it's now over four years since 'Appetite For Destruction' came out and these damn things had better be worth the wait! 
Meanwhile, the Gunners have been regularly showin' up late for performances on the tour, and one Missouri show was marred by a riot when Axl quit the stage after wrestling a fan for his camera. The following chat with guitarist Slash and bassist Duff McKagan took place shortly before these incidents, and also before the 'UYI' albums were postponed again. So things were still, er, rosy... 
MUCH HAS been made of the final configuration of 'Use Your Illusion', with various reports indicating that it was first scheduled to be a double album, then two LPs issued at different times, and now the two simultaneous releases. What's been the underlying reasoning behind all this? 
"There's a ton of material," sighs Duff. "Sure, we could have held out and released some more stuff down the line, put out one record now, but it's like, nobody's ever done it before, so what the hell? The first single's off '...Volume 2', and then when that's dying, we'll release a single off the other one, and hopefully have two albums competing with each other..." 
"The main reason for us doing a double record is because it's material that spans our entire career as a band," interrupts Slash. "Some of it's really old, so we just basically cleaned our whole slate. That way, when we do the next record, we can start completely fresh, without any kind of a backlog. 
"And so we said, you know, 'Screw it' to the industry as far as the album standard goes; we just said we were gonna release it all. And then we came up with the idea of how to do it and how to package it and how to market it, so it will get done and there'll be no excuses from the record company to say, 'No, you can't do it this way.' So we get all the material out, you get the history of the band, plus the material's really good, as far as we're concerned..." 
Isn't it asking an awful lot of fans to cough up the money for two records? 
Duff: "Two buddies could go out and instead of buying one double album, which is, I don't know..." 
"25, 30 bucks," offers Slash. 
"One kid can buy '...Volume 1," reasons Duff "one kid can buy '...Volume 2', and they can tape off each other's records..." 
Slash cracks up into his drink. "You're not supposed to promote that! 
"Basically, you can go out and buy one, and if you dig that, then you have the option to buy the other - instead of being forced to buy a double LP. Most of our fans don't have the extra 25 or 30 bucks to take a chance on a record that they might not even like. I think that's totally uncool. 
"And it's gonna be a weird buzz, cos automatically, by human nature, everyone's gonna go for '...Volume 1'. But the first radio release is from '...Volume 2'. And then the next single after that one is on '...Volume 1, and the next one after that will be on '...Volume 2'. "If you're gonna get into it, get into all of it. Don't just pick one. I don't want the public to focus just on the first record because it's called '...Volume 1." 
WHAT ABOUT your record company? Have the label heads at Geffen pulled their hair out over the sheer scope of this thing? 
"They didn't have any when we started!" chuckles Slash, "No, everything's been cool." 
"There's been a coupla little battles here and there," adds Duff. "A coupla little skirmishes, I should say. But the band had everything together to present, and it was basically an offer they couldn't refuse! It was like, here, this is what we're gonna do." 
"Another important factor in all this is that we've been on the road before this is released, and 60 per cent of our set is new material," says Slash. "So you get a chance to see whether or not you dig this new stuff right there, live. You don't have to buy the records to hear the new material. And the stuff rocks live, so that'll give our fans the incentive - or not! - to buy the records when they come out." 
But what's the bottom line here, besides the fact that Guns N' Roses stand to make a lot of money from these albums? Is this release designed just to f**k with people's heads? 
"It's not to f**k with the kids," says Duff, "but to f**k with the industry and the critics..." 
"And with what's become the norm in the business these days and the standardization of the pop industry," interjects Slash. "From our point of view, we have the bands that we like, and most of them don't get to see the light of day. But yet, there's other bands... it's so sterile and unimaginative right now, and the funny thing about it is that when we first started and did 'Appetite...', the business was in the same exact state. So we went out and toured for a f**king year, and somehow we managed to get popular. And we did change a lot of the basic rock 'n' roll vibe that was going on. 
"So everything changed for a while, and then we got so f**kin' immensely popular that we hated it, cos all of a sudden our lives changed, and that had a big effect on us." 
"We became hip," says Duff. "First we were this big underground cult thing, and then we were the hip thing." 
"When your mother starts wearing Guns T-shirts, you know there's something wrong," grimaces Slash. 
"It was like, this thing rearing its big ugly head and we didn't even know what it was," continues Duff. And people start hating you for being successful." 
Slash interrupts again: "But the point of what I'm saying is, there was that whole change in our personal lives, which people may or may not be interested in, but it was really serious. There was a lot of — well, I'm surprised we're all still here! Cos there was a lot of stuff to swallow, to establish a sense of security or to be able to deal with money or houses and all that crap, which we've never been interested in in the first place. After the tour they basically dropped us off at the airport and it was like, 'Well, touring's done, guys. Go make another record'. We went through a lot of emotional and personal changes. 
"We were gone for a long time, and during that period we watched everything go back down the toilet. At least, what we call the f**kin' balls- to-the-wall rock 'n' roll attitude. There are some bands that are out there that have it, but it's not the norm. So now that we're coming back around again, the material that we're doing is straight from the f**kin' heart; it's ballsy and it's pure. But the industry is exactly the same as it was when we came out the last time. It's like we just went full circle." 
DO YOU feel it's your duty to kick the music business in the arse again? 
"There's lots of great bands out there," muses Slash. "But with what was being shoved down everybody's throat when we did 'Appetite...' — and I'm not talking about rap or Top 40 bands, I'm talking about rock 'n' roll bands - there just wasn't much going on. So I guess, because we sold so many records and ended up having so many fans and were so popular live and so on, we were a shot in the arm for the whole attitude... 
"And our attitude hasn't changed. The only difference about what we're releasing now is that we're all a little bit - I hate to use the word - more mature, more sophisticated as players, although we're really pissed off because of the life we've been going through for the last two years. So they're heavy records.
"I don't like to say things where somebody's gonna sit there and think we regret being successful. It was just a hard adjustment, and now that we've finally adjusted to it, it's great, and I'm glad that the people who are out there for us are there." 
While Slash wants to make it clear that he's not crying the blues over his stardom, he's also adamant that it's not a bed of roses. 
"We can't walk down the street any more, or f**kin' pop into a liquor store, without getting hassled. I guess it's like a classic scenario, almost a cliché. I suppose every big band's gone through it. And people who are just rock fans or people who would love to be in our shoes, or in any successful band's shoes, are sitting there going, 'Well, that's a small price to pay' - which to tell you the truth it is, because we get to do what we wanna do, we have control of our own career as far as our music goes, and we don't bend to anyone else's standards. 
"Basically we have the optimum lifestyle," he concludes. "But the price that you pay for it takes a helluva
lot out of you, just in your personal life, that people don't really realize." 
With this vast realignment and adjustment going on in your lives, was it more difficult than before to write the songs? 
"No, it was easier," answers Duff. "It pushed us. The ballads are a lot sweeter but the hardcore stuff is a lot harder. And the mid-tempo stuff is a lot more..." The word escapes him. 
"We're better players and better writers," says Slash. "But then we go out and play live and we're still f**ked up!" 
BOTH GUNNERS give a lot of credit for the band's rediscovered energy to new drummer Matt Sorum. Fresh out of the Cult, called in to replace the drug- destroyed Steven Adler, Matt quickly became the shore upon which GN'R's battered ships came to rest — or were washed up. 
"When Matt happened, it was the one final thing that we needed to pull it all back together," says Slash. "It was just loose; we were all together but we were all just hanging on the edge, trying to figure out how to keep the band going. There were a lot of, uh, chemical situations going on and so forth, and Matt was like a godsend because he was the one thing we needed. 
"There was a point there that we thought we couldn't play," he continues. "It was very weird. Matt's a f**kin' great guy, an awesome drummer, and he f**kin' made the band solid. He was the kick in the ass that re­motivated us, because at one point, I think we forgot what we were here for. When Matt joined the band, we pulled 30 songs together in a month. So after two years of going through all this bullshit, when the band finally came together, we just clicked like we always have." 
Are Matt and keyboard player Dizzy Reed now fully- fledged members of the band? 
"I wouldn't go as far as to say that about Dizzy," replies Slash. "He hasn't been with us long enough. Matt, I would call a fully-fledged member, cos he is the foundation that we play off, and he came into a very heavy situation and fitted in right away." 
"He just saw the situation and said, 'Okay, this is what I need to do', and he did it," adds Duff. 
"Dizzy's more - and Axl might disagree with me here - but Dizzy's an old friend, somebody that we've known for a long time, since Guns started, and he was the kind of player that Axl wanted. His style was what Axl wanted for the piano stuff. 
"But I wouldn't call him a full-fledged member yet because he hasn't been on the road with us long enough - although when we played Rio he really pulled it off..." 
"And God bless him," says Duff. "I mean, the biggest crowd that he ever played to before that was 400 people, and then he goes to play in front of 140,000 people at Rock In Rio..." 
"So he is a member of the band," adds Slash, "and though he hasn't been fully initiated yet he's been great..."  
How about the relationships between the founding four members - Duff, Slash, Axl, and Izzy — have they changed throughout the tempest of the past coupla years? 
"Not really much at all," murmurs Slash. 
But are the guys still friends? Do they hang out together? 
"Slash and I, we hang," says Duff. "We always have. Izzy hangs out by himself, with his girlfriend and his dog and his brother... Axl hangs out with whomever, whenever. Matt and I hang out all the time. Matt rents my old house from me, so when there's a party, we have it there!" 
"Just so there's not a lack of understanding here, the band's basically the same as it ever was," says Slash. "The only thing is that before, we were all in the same room. 
"Give or take a few friends, Izzy, Axl, Duff, and Matt are like, if it was down to the wire and there was an emergency..." 
"It's a brotherhood," expounds Duff. 
"We're still real tight," finishes Slash.  
THIS LEADS to the first talk of the spectre of the press, which has so doggedly pursued this band almost since 'Appetite...' was released. With all their fire and danger, on and offstage, Guns are perfect fodder for a press hungry for rumour and speculation. There's been plenty of both about this band, and on at least three occasions in the States, this member or that member was reported to have quit. Just how much gets blown out of proportion? 
"Most people don't know what out personal relationships are at all but they love to make stuff up," says Slash. "This is one of those bands that, even before it got signed when it was a club band, was just bait for hype. And it's like that now, only on a bigger scale. So at this point, we're pretty numb to it." 
The guys maintain that most of their experiences over the past two years, dealing with their lifestyle or success or the press or whatever, have found their way into the music- on 'UYI 1' and '...2'. So if you wanna read the real story about the way they feel about each other or the world in general, you're likely to get it right from the source - just by reading the lyrics... 
"A lot of the new material was written while we were going through these emotional or personal transitions, as well as those chemical situations," explains Slash. "There's a song called 'Coma' which is really long, there's songs where Duff's singing, there's even a song where I'm singing, there's songs where Izzy's singing... there's a lot of different things going on because all these songs were written during all these different phases that we were going through, in this more- or-less growing up period. This was after being on the road for two years, and all of a sudden having to deal with reality again and starting to try and fit in enough so that we could function on a daily basis and survive..." 
Next week: Slash N' Duff talk about those infamous media contracts, say why they hate the press, and claim all they want to do is "make somebody happy!"...

Blackstar

ADMIN




Posts

: 11780


Plectra

: 77639


Reputation

: 97


Join date

: 2018-03-17




Blackstar

ADMIN




Posts

: 11780


Plectra

: 77639


Reputation

: 97


Join date

: 2018-03-17



Another article from the same issue of Kerrang.
Thanks to
@Surge
for sending it!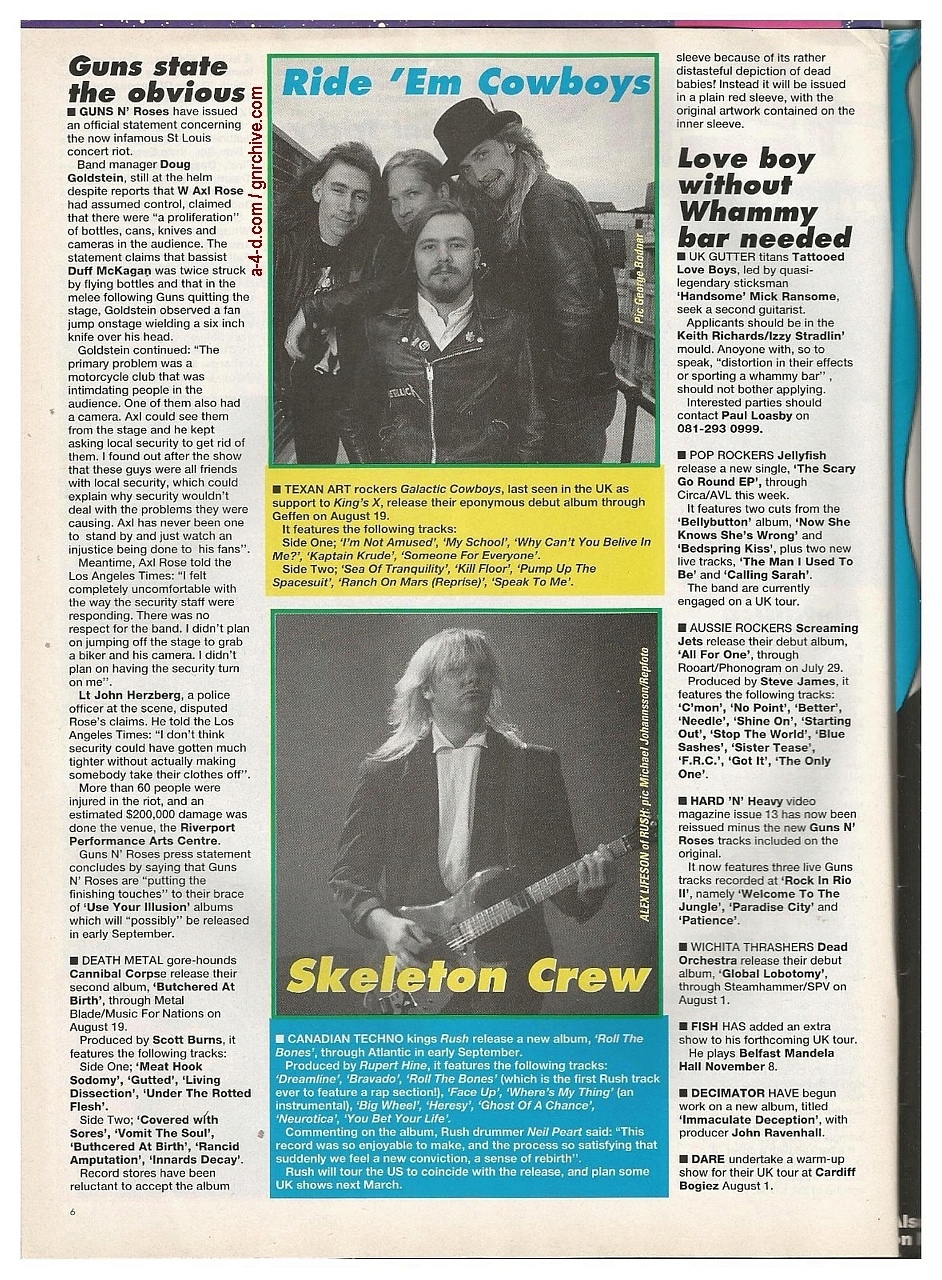 Transcript:
----------------
Guns state the obvious
GUNS N' Roses
have issued an official statement concerning the now infamous St Louis concert riot.
Band manager
Doug Goldstein
, still at the helm despite reports that
W Axl Rose
had assumed control, claimed that there were "a proliferation" of bottles, cans, knives and cameras in the audience. The statement claims that bassist
Duff McKagan
was twice struck by flying bottles and that in the melee following Guns quitting the stage, Goldstein observed a fan jump onstage wielding a six inch knife over his head.
Goldstein continued: "The primary problem was a motorcycle club that was intimdating people in the audience. One of them also had a camera. Axl could see them from the stage and he kept asking local security to get rid of them. I found out after the show that these guys were all friends with local security, which could explain why security wouldn't deal with the problems they were causing. Axl has never been one to stand by and just watch an injustice being done to his fans".
Meantime, Axl Rose told the Los Angeles Times: "I felt completely uncomfortable with the way the security staff were responding. There was no respect for the band. I didn't plan on jumping off the stage to grab a biker and his camera. I didn't plan on having the security turn on me".
Lt. John Herzberg
, a police officer at the scene, disputed Rose's claims. He told the Los Angeles Times: "I don't think security could have gotten much tighter without actually making somebody take their clothes off".
More than 60 people were injured in the riot, and an estimated $200,000 damage was done the venue, the Riverport Performance Arts Centre.
Guns N' Roses press statement concludes by saying that Guns N' Roses are "putting the finishing touches" to their brace of 'Use Your Illusion' albums which will "possibly" be released in early September.

Blackstar

ADMIN




Posts

: 11780


Plectra

: 77639


Reputation

: 97


Join date

: 2018-03-17



---
Permissions in this forum:
You
cannot
reply to topics in this forum