The interview included in this cover story is a reprint with permission from Musician, December 1990:
https://tinyurl.com/y7hpgkkz
So I transcribed only the other parts of the feature.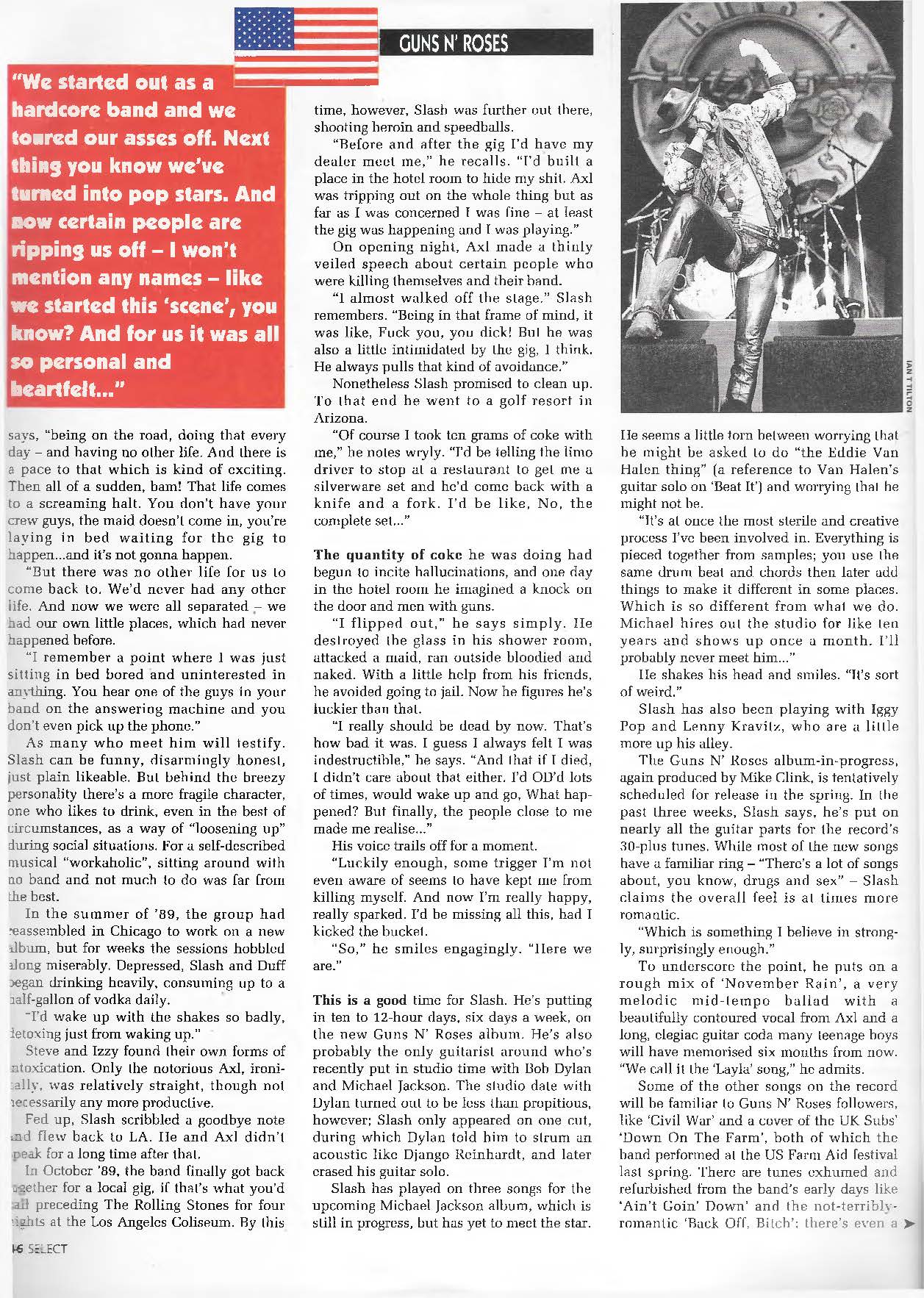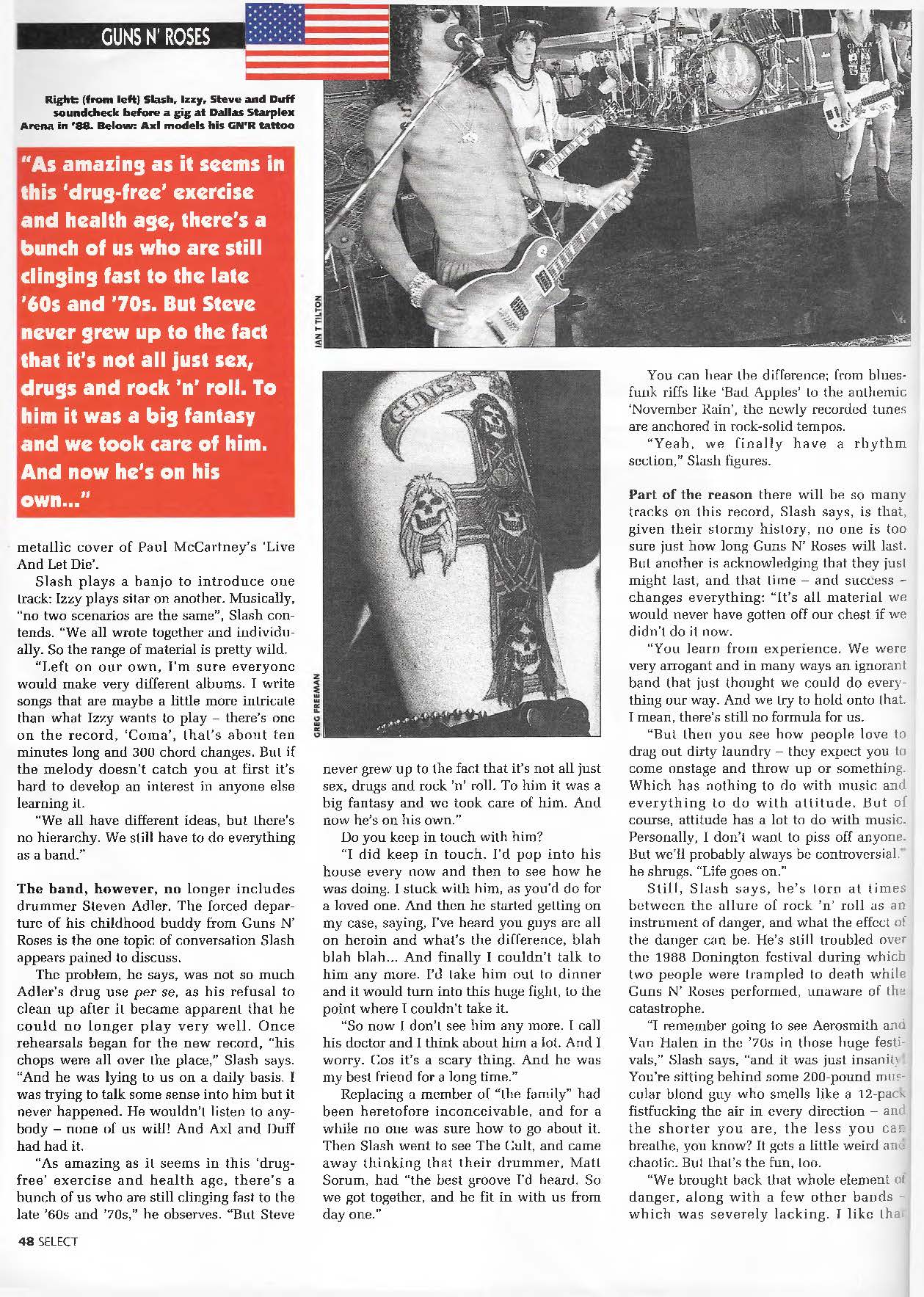 ------------------------
TRANSCRIPTION:
------------------------
THE NEW ALBUM
The on-going saga
of the 'new' Guns N' Roses LP continues, and the mystery deepens still fur­ther. 
The band have recorded 36 songs for the project "a lot about drugs and sex", Slash says. Thirty songs were apparently recorded in 30 days and the band intend to use each and every one of them. One idea was to release the lot as a quadruple album set, another to release two double albums simultaneously, and a third to release two double albums at different times. 
The boffins at Geffen in America are panicking at the potential commercial flop of such an extrava­gant proposal. 
Whatever form the record takes, it's likely that no less than four cover versions will soon see the light of day: Wings'
'Live And Let Die'
, the UK Subs'
'Down On The Farm'
which Guns performed live at Farm Aid last year,
'New Rose'
by The Damned (the first punk single), and a track (as yet unknown) by an obscure US punk outfit called Fear. 
Meanwhile, original titles are likely to include
'Civil War'
(from the 'Nobody's Angel' Rumanian benefit LP),
'Bad Apples'
, an epic entitled
'November Rain'
and another ten-minute monster called
'Coma
'. It also seems the band have again co-written some tracks with Wes Arkeen, who was previously credited on 'Appetite For Destruction'. There are two early Guns songs,
'Ain't Goin' Down'
and
'Back Off, Bitch'
, that have been exhumed and refurbished. 
Producer of the whole caboodle is, once again, Mike Clink and the release date has been tentatively set for the spring. The plan is the band will tour the US (with Skid Row in support) and then play selective dates in Europe, including one stadium show in Britain (probably Wembley) in late summer. But don't hold your breath... 
THE FIRST ALBUM
GUNS Ν' ROSESAppetite For Destruction
IN THE summer of '87 when yet another album of Aerosmith-type raunch 'n' roll by yet another gaggle of sleazy street urchins was wheeled off the LA production line, the rock world didn't exactly wet itself in anticipation. Almost four years on with sales of said platter well over 16 million worldwide, the name Guns Ν' Roses is still on everyone's lips. 
In God's name, why? 
It has to be said, Guns Ν' Roses were different. They had it all. They had the classic anti-establishment attitude of cool teen rebels that made them attractively macho role models for the boys. They had a great sexual charisma that appealed to the girls. They had a natural chemistry among themselves that sealed their authenticity. Most importantly, they had that rare, magical but inexplicable quality that makes the difference between obscurity and exploding into legend. 
'Appetite For Destruction' was a good, solid, exciting rock album, but then so were many more back in '87. Songs like 'Welcome To The Jungle', 'Sweet Child O' Mine' and 'Paradise City' were accessible and catchy, yet punky and powerful. But they weren't that much better than those of their contemporaries, although the distortion of legend might suggest otherwise. 
What happened was the Guns were enthusiastically supported by Geffen, shrewdly marketed and perfectly timed. They were an injection of danger and excitement at a time of stifling sanitisation and safety-first commercialism, and as such were seized by the rock press and portrayed as the 'in' band to like. 
The hype machine took over and soon 'Appetite' became the album any self-respecting rock fan had to have; it had become metal's own 'Thriller', 'Brothers In Arms' or 'Dark Side Of The Moon'. Consequently, and unwittingly on the band's part, the record caught in the most profitable of vicious circles: everyone was talking about it, so everyone bought it, so everyone could talk about it, so... 
Within a year Guns Ν' Roses had transcended all categorisation; in essence they were really just a mish-mash of the Sex Pistols, The Rolling Stones and Sunset Strip on a Saturday night But now the band had acquired a shade of fashionability hitherto unheard of in the traditionally scorned HM genre, and the puzzling aspect of self-perpetuating popularity threatened to exaggerate the band's true value beyond the bounds of reason... 
GUNS N' ROSES FACT FILE
1985
Early '85:
Original line-up of W Axl Rose (vocals) Izzy Stradlin (guitar), Duff McKagan (bass), Tracii Guns (guitar) and Rob Gardner (drums) form in Los Angeles, taking their name as a hybrid from two local outfits, LA Guns and Hollywood Roses.
May:
Tracii Guns and Rob Gardner left the band after a disagreement over a West Coast club tour.
June:
The band recruit guitarist Saul 'Slash' Hudson and drummer Steven Adler and play their first gig at the Troubadour club in West Hollywood. 
1986
Early '86:
Release of 'Live ?!*@ Like A Suicide' EP on their own Uzi Suicide label, a move designed as a stop-gap as although their debut album had been
recorded and mixed, it wasn't due for release for another six months.
March 25:
Sign to LA-based Geffen Records.
August:
They recruit English manager Alan Niven. 
1987
May:
Following a fracas with the police, Axl is admitted to intensive care at an LA hospital and given electro-shock treatment.
June:
Release of first UK single, 'It's So Easy'.
Axl almost arrested after an incident at Tower Records in London's Piccadilly Circus, when the singer was picked upon by some suspicious security guards.
June 19/22/28:
They play London's Marquee.
July 31:
Worldwide release of their debut LP, 'Appetite For Destruction'.
Autumn:
Short US tour supporting The Cult.
October:
Five date UK tour, replacing the proposed Aerosmith/Guns N' Roses package which Geffen labelmates Aerosmith pulled out of due to commitments in the US. 'Welcome To The Jungle' is issued as a single to coincide with the trek.
Late '87:
Short US headlining tour, during which Cinderella drummer Fred Coury temporarily replaces Steven Adler, who'd broken his hand in a barroom brawl. 
1988
February:
Axl is fired after going AWOL and missing a show in Phoenix, Arizona. He's reinstated three days later.
May:
US dates supporting Iron Maiden. Former Cult bassist Haggis fills in for Duff who takes time off to get hitched.
July 15:
Start of a US tour supporting their idols, Aerosmith.
August:
'Appetite For Destruction' reaches number one on the US
Billboard
charts.
August 20:
UK release of 'Sweet Child O' Mine'. It reaches number 24.
August 30:
The band play the Monsters Of Rock festival at Donington Park, appearing fifth on a bill headlined by Iron Maiden and featuring Kiss, David Lee Roth, Megadeth and Helloween. Two fans die in the crush at the front of the stage during the Guns' set. It's the saddest moment of their career.
September:
'Sweet Child O' Mine' becomes the band's first number one single in the US.
October:
'Welcome To The Jungle' is re-released in the UK, and gets to number 24.
November:
Release of 'GN'R Lies', a patched-up LP including the songs from 'Suicide' EP and four new acoustic tracks. As usual Britain are a month behind and the album creeps out in December.
December:
While the band are in Australia a warrant is issued for Axl's arrest after his introduction to 'Mr Brownstone' is misconstrued as condoning drug use. The band escape the clutches of the law by legging it to New Zealand.
Back home in America 'Welcome To The Jungle reaches number seven in the charts.
December 31:
The promo for 'Sweet Child Ο' Mine is voted Heavy Metal Video Of The Year by MTV in America. The band are also recognised as the top new artist of the year in the US, based on record sales. 
1989
February:
'Lies' makes it into the US Top Five where it nestles alongside 'Appetite For Destruction'. Guns N' Roses are the first act for 15 years to have two LPs in the Top Five in America.
March:
'Paradise City' hits number five in the US charts, at seven minutes long becoming one of the longest ever Top Ten hits in the States. It's also released as a single in Britain this month, reaching number six during April.
May:
Due to public demand 'Sweet Child O' Mine' is re-released in Britain and reaches number 6, matching 'Paradise City' as their most successful single in Blighty.
June:
While 'Sweet Child O' Mine' is still in the UK singles charts, Stateside the track 'Patience' is lifted from the 'Lies' album and makes it to number four over there.
July:
'Patience' becomes the band's third Top Ten single in four months in Britain, peaking at number ten.
Summer:
The Guns are banned from playing at an AIDS benefit gig in New York, after controversy raged over the use of the word 'faggots' in the song 'One In A Million' from the 'Lies' LP.
August:
'Nightrain' becomes the fifth track from 'Appetite' to be released as a single in the UK.
September:
Controversy surrounds an incident at the MTV Awards in America, where Motley Crue vocalist Vince Neil throws a punch at Izzy after accusing him of trying to pick up his wife.
October:
The band play three shows at the LA Coliseum supporting The Rolling Stones. On the first night Axl shocks the crowd by announcing this will be the last show with the band, due to certain people "dancing with Mr Brownstone" (a thinly veiled reference to the heroin problems of Slash and Izzy). Things are patched up backstage, and on the third night Slash admits his guilt to the bemused audience and apologises publically. 
1990

Early '90:
The Guns contribute a new song called 'Civil War' to a compilation LP entitled 'Nobody's Angel', organised by George Harrison with all proceeds going to the Rumanian Angel Appeal (set up to help all those orphaned by the Rumanian uprising in late '89).
March:
Izzy is arrested for urinating in an ashtray on
an aeroplane. As a result, the band decide to hire their own private plane in future!
April 7:
Band appear at the Farm Aid III charity show in Indiana. They play three songs: 'Welcome To The Jungle', 'Civil War' and a cover of the UK Subs' 'Down On The Farm'.
April 28:
Axl marries longtime girlfriend Erin Everly (daughter of Don Everly of the Everly Brothers) at Cupid's Inn, Las Vegas. Within 48 hours the stricken bride wants the marriage annulled.
Summer:
Band have cover of 'Knockin' At Heaven's Door' on 'Days Of Thunder' soundtrack.
Drummer Steven Adler is finally sacked after constant attempts to cure his drug addiction fail. His replacement is Matt Sorum of The Cult.
October 30:
Axl arrested for 'assault with a deadly weapon' (actually a bottle of wine), after a run-in with his next door neighbour in West Hollywood. The case has since been dismissed. 
1991
Spring '91:
Release of the long-awaited new LP. 
FACT FILE AND REVIEW:
MARK PUTTERFORD
Last edited by Blackstar on Sat Nov 24, 2018 3:38 am; edited 5 times in total

Blackstar

ADMIN




Posts

: 12210


Plectra

: 80075


Reputation

: 97


Join date

: 2018-03-17



There are mistakes in Putterford's "Guns N' Roses Fact File", especially in regards to dates.

Blackstar

ADMIN




Posts

: 12210


Plectra

: 80075


Reputation

: 97


Join date

: 2018-03-17



---
Permissions in this forum:
You
cannot
reply to topics in this forum