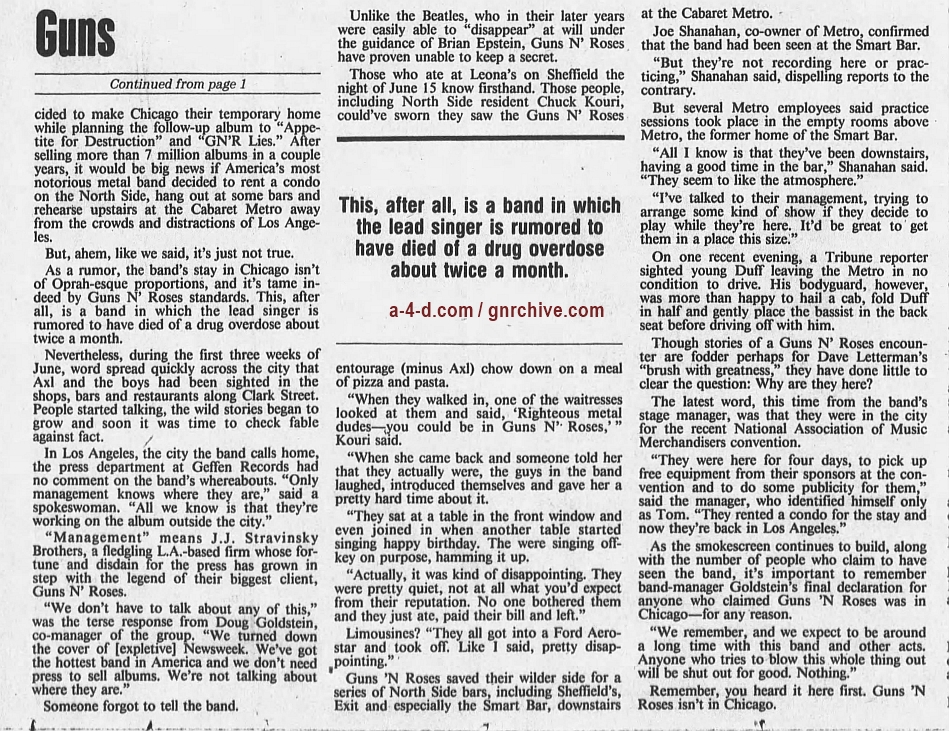 Pssssssst . . . .
If You See Guns N' Roses In Chicago, Just Remember: You Didn't
By David Silverman
Entertainment writer.
"Why do you think we sent them to the Midwest? They couldn't get (expletive) done in L.A. They left to do the early work and rehearse for the next album. Who the (expletive) do you think you're (expletive) dealing with? If you (expletive) print anything that says they're there, you'll never talk to this (expletive) band. Ever."
- Doug Goldstein, J.J. Stravinsky Brothers, managers of Guns N' Roses
Guns N` Roses is not in Chicago.
Ignore that group of young men with the big hair, sunglasses and bodyguard. Don't listen to the rumors on Clark Street. It's not them. They're simply not here. Never have been. Honest.
It would be big news if Axl Rose, Steven Adler, Izzy Stradlin, Duff McKagan and Slash had decided to make Chicago their temporary home while planning the follow-up album to "Appetite for Destruction" and "GN'R Lies." After selling more than 7 million albums in a couple years, it would be big news if America's most notorious metal band decided to rent a condo on the North Side, hang out at some bars and rehearse upstairs at the Cabaret Metro away from the crowds and distractions of Los Angeles.
But, ahem, like we said, it's just not true.
As a rumor, the band's stay in Chicago isn't of Oprah-esque proportions, and it's tame indeed by Guns N' Roses standards. This, after all, is a band in which the lead singer is rumored to have died of a drug overdose about twice a month.
Nevertheless, during the first three weeks of June, word spread quickly across the city that Axl and the boys had been sighted in the shops, bars and restaurants along Clark Street. People started talking, the wild stories began to grow and soon it was time to check fable against fact.
In Los Angeles, the city the band calls home, the press department at Geffen Records had no comment on the band's whereabouts. "Only management knows where they are," said a spokeswoman. "All we know is that they're working on the album outside the city."
"Management" means J.J. Stravinsky Brothers, a fledgling L.A.-based firm whose fortune and disdain for the press has grown in step with the legend of their biggest client, Guns N' Roses.
"We don't have to talk about any of this," was the terse response from Doug Goldstein, co-manager of the group. "We turned down the cover of (expletive) Newsweek. We've got the hottest band in America and we don't need press to sell albums. We're not talking about where they are."
Someone forgot to tell the band.
Unlike the Beatles, who in their later years were easily able to "disappear" at will under the guidance of Brian Epstein, Guns N' Roses have proven unable to keep a secret.
Those who ate at Leona's on Sheffield the night of June 15 know firsthand. Those people, including North Side resident Chuck Kouri, could've sworn they saw the Guns N' Roses entourage (minus Axl) chow down on a meal of pizza and pasta.
"When they walked in, one of the waitresses looked at them and said, 'Righteous metal dudes - you could be in Guns N' Roses,'" Kouri said.
"When she came back and someone told her that they actually were, the guys in the band laughed, introduced themselves and gave her a pretty hard time about it.
"They sat at a table in the front window and even joined in when another table started singing happy birthday. The were singing off-key on purpose, hamming it up.
"Actually, it was kind of disappointing. They were pretty quiet, not at all what you'd expect from their reputation. No one bothered them and they just ate, paid their bill and left."
Limousines? "They all got into a Ford Aerostar and took off. Like I said, pretty disappointing."
Guns N' Roses saved their wilder side for a series of North Side bars, including Sheffield's, Exit and especially the Smart Bar, downstairs at the Cabaret Metro.
Joe Shanahan, co-owner of Metro, confirmed that the band had been seen at the Smart Bar.
"But they're not recording here or practicing," Shanahan said, dispelling reports to the contrary.
But several Metro employees said practice sessions took place in the empty rooms above Metro, the former home of the Smart Bar.
"All I know is that they've been downstairs, having a good time in the bar,"  Shanahan said. "They seem to like the atmosphere."
"I've talked to their management, trying to arrange some kind of show if they decide to play while they're here. It'd be great to get them in a place this size."
On one recent evening, a Tribune reporter sighted young Duff leaving the Metro in no condition to drive. His bodyguard, however, was more than happy to hail a cab, fold Duff in half and gently place the bassist in the back seat before driving off with him.
Though stories of a Guns N' Roses encounter are fodder perhaps for Dave Letterman's "brush with greatness," they have done little to clear the question: Why are they here?
The latest word, this time from the band's stage manager, was that they were in the city for the recent National Association of Music Merchandisers convention.
"They were here for four days, to pick up free equipment from their sponsors at the convention and to do some publicity for them," said the manager, who identified himself only as Tom. "They rented a condo for the stay and now they're back in Los Angeles."
As the smokescreen continues to build, along with the number of people who claim to have seen the band, it's important to remember band-manager Goldstein's final declaration for anyone who claimed Guns N' Roses was in Chicago-for any reason.
"We remember, and we expect to be around a long time with this band and other acts. Anyone who tries to blow this whole thing out will be shut out for good. Nothing."
Remember, you heard it here first. Guns N' Roses isn't in Chicago.
Last edited by Blackstar on Wed 28 Aug 2019 - 12:48; edited 5 times in total

Blackstar

ADMIN




Posts

: 9400


Plectra

: 64193


Reputation

: 97


Join date

: 2018-03-17



Probably this was the article Duff referred to in his autobiography:
On top of that, a Chicago newspaper did a piece about the band living there in town, writing songs for a record, and even revealed the street where we were living and the location where we were rehearsing. Perhaps the lone advantage Chicago could have offered was anonymity, and now kids came to seek us out from all over the place with the hope of getting a glimpse of us or even partying with the band now tagged as the most dangerous in the world. This was not good. [It's So Easy (and other lies): The Autobiography (p. 151)]

Blackstar

ADMIN




Posts

: 9400


Plectra

: 64193


Reputation

: 97


Join date

: 2018-03-17



From the "L.A. Dee Da" column in L.A. Weekly, July 14, 1989: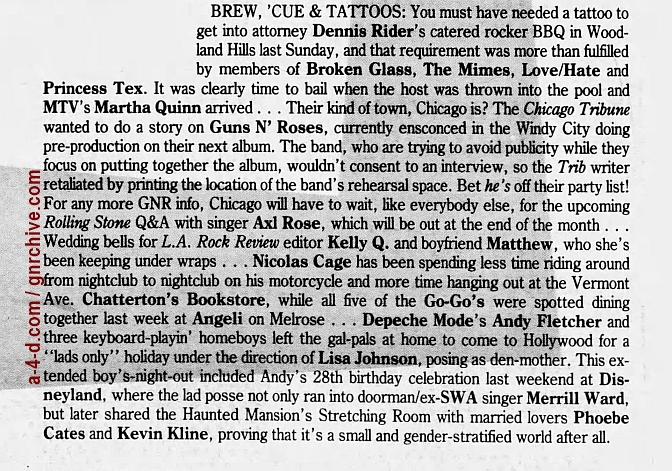 Their kind of town, Chicago is? The Chicago Tribune wanted to do a story on Guns N' Roses, currently ensconced in the Windy City doing pre-production on their next album. The band, who are trying to avoid publicity while they focus on putting together the album, wouldn't consent to an interview, so the Trib writer retaliated by printing the location of the band's rehearsal space. Bet he's off their party list! For any more GNR info, Chicago will have to wait, like everybody else, for the upcoming Rolling Stone Q&A with singer Axl Rose, which will be out at the end of the month . . .

Blackstar

ADMIN




Posts

: 9400


Plectra

: 64193


Reputation

: 97


Join date

: 2018-03-17



---
Permissions in this forum:
You
cannot
reply to topics in this forum