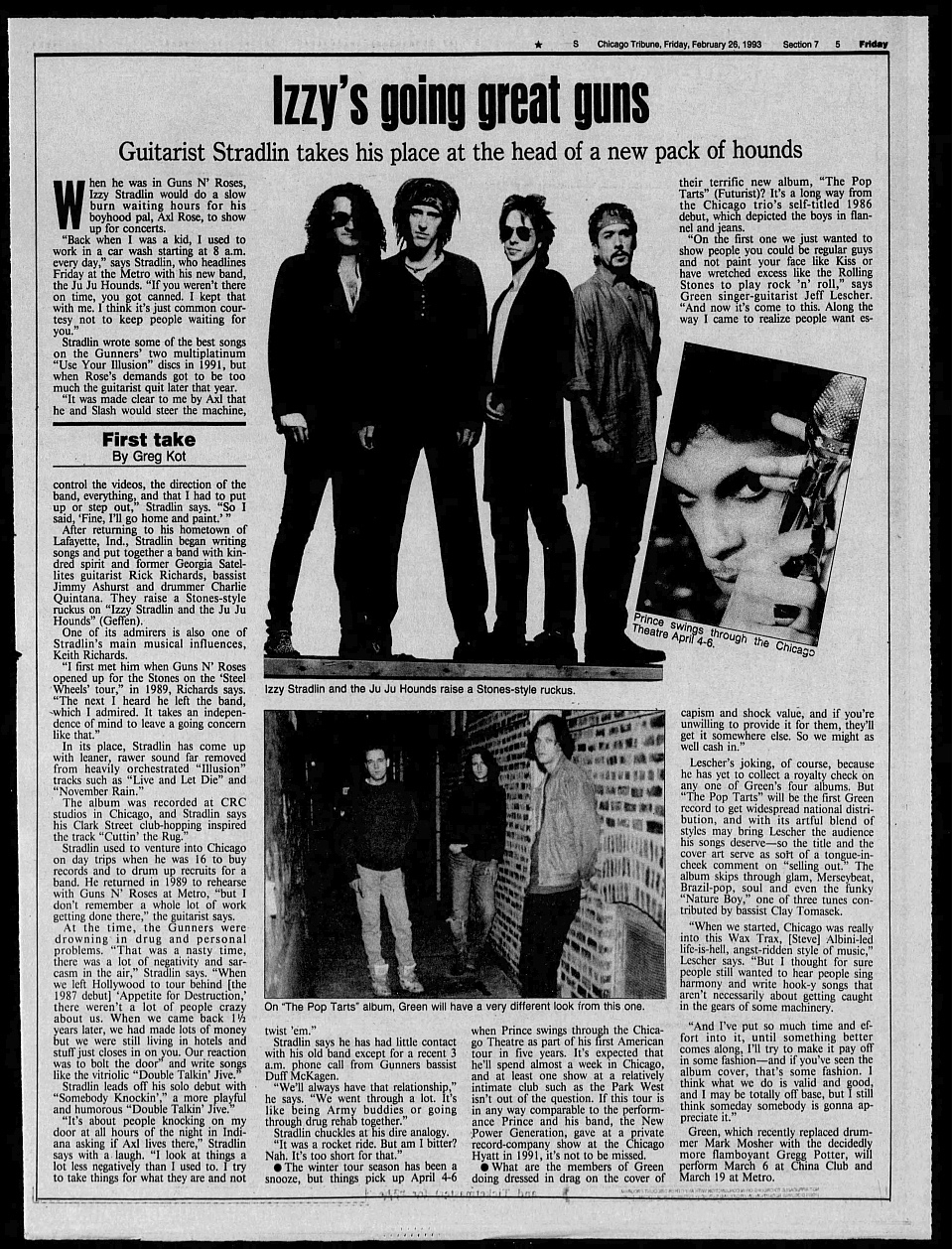 Transcript:
----------------
Izzy's going great guns
Guitarist Stradlin Takes His Place At The Head Of A New Pack Of Hounds
First Take
By Greg Kot
When he was in Guns N' Roses, Izzy Stradlin would do a slow burn waiting hours for his boyhood pal, Axl Rose, to show up for concerts.
"Back when I was a kid, I used to work in a car wash starting at 8 a.m. every day," says Stradlin, who headlines Friday at the Metro with his new band, the Ju Ju Hounds. "If you weren't there on time, you got canned. I kept that with me. I think it's just common courtesy not to keep people waiting for you."
Stradlin wrote some of the best songs on the Gunners' two multiplatinum "Use Your Illusion" discs in 1991, but when Rose's demands got to be too much the guitarist quit later that year.
"It was made clear to me by Axl that he and Slash would steer the machine, control the videos, the direction of the band, everything, and that I had to put up or step out," Stradlin says. "So I said, 'Fine, I'll go home and paint.' "
After returning to his hometown of Lafayette, Ind., Stradlin began writing songs and put together a band with kindred spirit and former Georgia Satellites guitarist Rick Richards, bassist Jimmy Ashurst and drummer Charlie Quintana. They raise a Stones-style ruckus on "Izzy Stradlin and the Ju Ju Hounds" (Geffen).
One of its admirers is also one of Stradlin's main musical influences, Keith Richards.
"I first met him when Guns N' Roses opened up for the Stones on the `Steel Wheels' tour," in 1989, Richards says. "The next I heard he left the band, which I admired. It takes an independence of mind to leave a going concern like that."
In its place, Stradlin has come up with leaner, rawer sound far removed from heavily orchestrated "Illusion" tracks such as "Live and Let Die" and "November Rain."
The album was recorded at CRC studios in Chicago, and Stradlin says his Clark Street club-hopping inspired the track "Cuttin' the Rug."
Stradlin used to venture into Chicago on day trips when he was 16 to buy records and to drum up recruits for a band. He returned in 1989 to rehearse with Guns N' Roses at Metro, "but I don't remember a whole lot of work getting done there," the guitarist says.
At the time, the Gunners were drowning in drug and personal problems. "That was a nasty time, there was a lot of negativity and sarcasm in the air," Stradlin says. "When we left Hollywood to tour behind [the 1987 debut] 'Appetite for Destruction,' there weren't a lot of people crazy about us. When we came back 1-1/2 years later, we had made lots of money but we were still living in hotels and stuff just closes in on you. Our reaction was to bolt the door" and write songs like the vitriolic "Double Talkin' Jive."
Stradlin leads off his solo debut with "Somebody Knockin'," a more playful and humorous "Double Talkin' Jive."
"It's about people knocking on my door at all hours of the night in Indiana asking if Axl lives there," Stradlin says with a laugh. "I look at things a lot less negatively than I used to. I try to take things for what they are and not twist 'em."
Stradlin says he has had little contact with his old band except for a recent 3 a.m. phone call from Gunners bassist Duff McKagen.
"We'll always have that relationship," he says. "We went through a lot. It's like being Army buddies or going through drug rehab together."
Stradlin chuckles at his dire analogy.
"It was a rocket ride. But am I bitter? Nah. It's too short for that."

Blackstar

ADMIN




Posts

: 9582


Plectra

: 65559


Reputation

: 97


Join date

: 2018-03-17



---
Permissions in this forum:
You
cannot
reply to topics in this forum