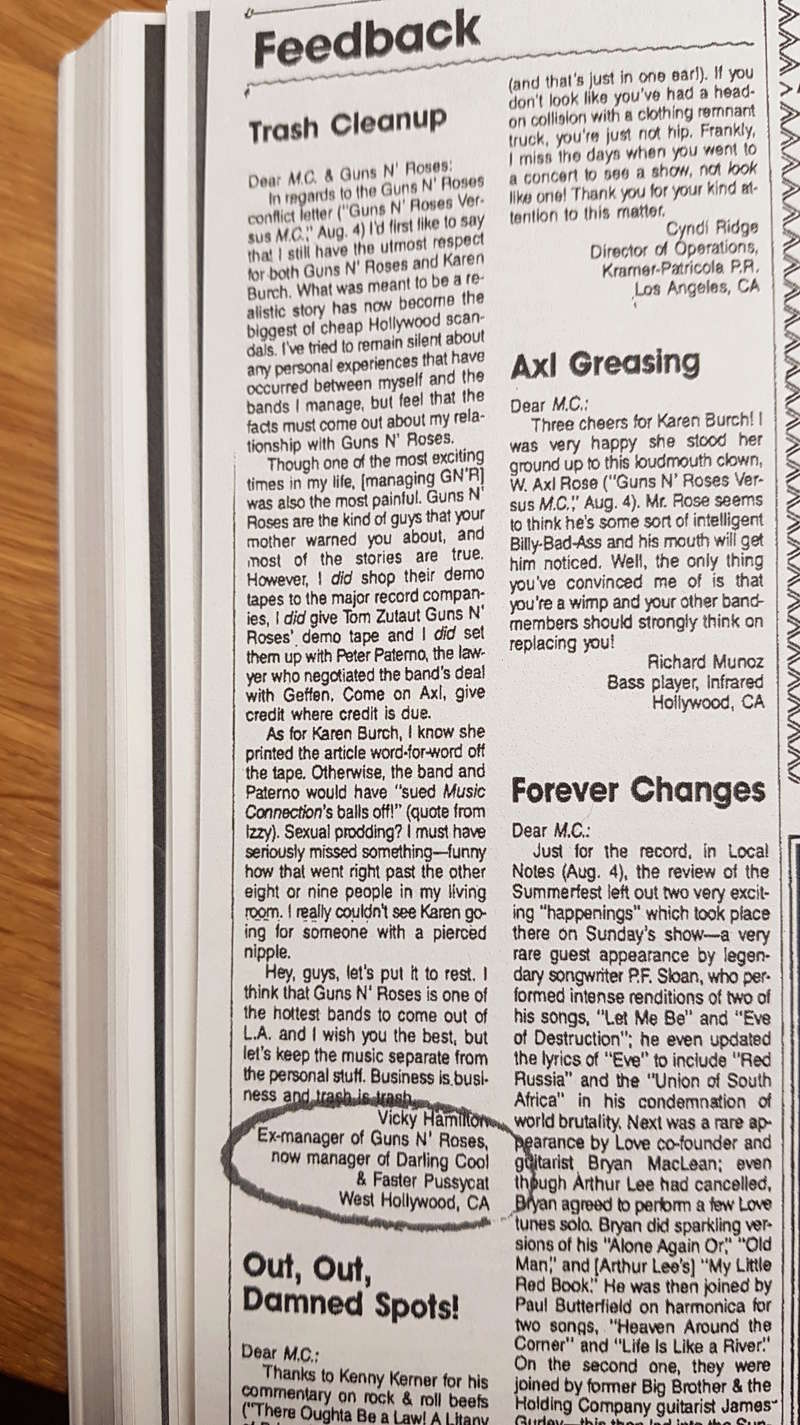 The is the letter Vicky Hamilton sent to Music Connection as a response to Axl's letter which was published in August 1986.
-------------------------
TRANSCRIPTION
-------------------------
Trash Cleanup
Dear
M.C.
& Guns N' Roses: 
In regards to the Guns N' Roses conflict letter ("Guns N' Roses Versus
M.C
.," Aug. 4) I'd first like to say that I still have the utmost respect for both Guns N' Roses and Karen Burch. What was meant to be a realistic story has now become the biggest of cheap Hollywood scandals. I've tried to remain silent about any personal experiences that have occurred between myself and the bands I manage, but feel that the facts must come out about my relationship with Guns N' Roses.
Though one of the most exciting times in my life, [managing GN'R] was also the most painful. Guns N' Roses are the kind of guys that your mother warned you about, and most of the stories are true. However, I
did
stop their demo tapes to the major record companies, I
did
give Tom Zutaut Guns N' Roses demo tape and I
did
set them up with Peter Paterno, the lawyer who negotiated the band's deal with Geffen. Come on, Axl, give credit where credit is due.
As for Karen Burch, I know she printed the article word-for-word off the tape. Otherwise, the band and Paterno would have "sued Music Connection's balls off!" (quote from Izzy). Sexual prodding? I must have seriously missed something – funny how that went right past the other eight or nine people in my living room. I really couldn't see Karen going for someone with a pierced nipple.
Hey, guys, let's put it to rest. I think that Guns N' Roses is one of the hottest bands to come out of L.A. and I wish you the best, but let's keep the music separate from the personal stuff. Business is business and trash is trash. 
Vicky Hamilton
Ex-manager of Guns N' Roses,
now manager of Darling Cool
& Faster Pussycat
West Hollywood, CA
--------------------------------

Soulmonster

Stage manager







Posts

: 14638


Plectra

: 72045


Reputation

: 827


Join date

: 2010-07-06



---
Permissions in this forum:
You
cannot
reply to topics in this forum