Roadies for Guns N' Roses, OutKast, Drive-By Truckers and other acts tell all
By Matt Wake
[...]
Axl's piano man
As Guns N' Roses' keyboard tech, part of Willie T. Cole's job is to maintain the Baldwin baby-grand piano singer Axl Rose plays during performances of the symphonic ballad "November Rain" during concerts. Cole even helps wheel the instrument on stage.
"I'm very lucky to have such a great job," Cole says. He checks in for this phone interview during GNR rehearsals in North Hollywood before the band's "Not In This Lifetime Tour" resumes June 23 at Detroit's Ford Field. "Having such an intimate relationship with the artists and what they're trying to do artistically, of course it's an honor to be that close and that much a part of the process."
During the majority of the show Cole, a Tuscaloosa native, is focused on GNR keyboardist Dizzy Reed, who's been with the legendary Los Angeles hard-rock band since the early-90s. He programs and maintains Reed's sophisticated keyboards and synthesizers.
"When I do my job well," Cole says, "all the artist really has to do is get up there and perform and think about music. And not have to worry about technical problems or anything going wrong. When I've done my job well everything goes smooth."
The 2016 Guns N' Roses shows are the first time Rose, guitarist Slash and bassist Duff McKagan have all performed together onstage since 1993. The buzz around the "Not In This Lifetime" stadium trek has been electric. While Cole notes that, outside the U.S., GNR's previous lineup often played stadiums too, he says the Axl-Slash-Duff reunion has been "fantastic and really special. These are household names. My mom is 65 but she could probably pick Slash out of a lineup. It does speak to how iconic these guys are. And it's great they're playing stadiums and selling so many tickets and giving so many fans a chance to see the show."
After graduating from high school in 2000, Cole attended Boston's Berklee College of Music, with the intention of eventually opening his own recording studio. However this was around the time digital technology was radically changing the music industry. Studios were closing left and right. "The roadie thing fell into my lap and I realized there was still a living to be made and a career to be made instead of a real gamble."
In 2006, Cole obtained his first roadie job, as a wardrobe assistant on tour with Boston classic rockers Aerosmith. He pushed cases. Took care of hospitality needs for the band, the band's handlers and families. He tracked down special teas and steak sauces. Most intriguingly, Cole ran and took care of the system of fans Aerosmith frontman Steven Tyler uses to keep cool during performances and keep the signature scarves on Tyler's mic-stand flowing. "It was pretty cool, I've got to admit," Cole says.
A musical synthesis major at Berklee, Cole later landed a huge opportunity as keyboard tech with synth-rock icons Nine Inch Nails. "That kind of performance and those concerts were very, very intense. I'd compare it oftentimes to a war zone," Cole says with a laugh. Trouble-shooting skills and keeping a calm head are a huge part of being a keyboard tech, Cole says. "Being able to diagnose a problem and have a turn-key, quick and easy solution that doesn't hold up the show and doesn't let everybody know there is a technical problem, that's really important. And how you design the (keyboard) system and program the system and know the system is all a big part of being able to provide that kind of turn-key solution."
With NIN, he maintained Trent Reznor's digital piano and Alessandro Cortini's keyboard system. Cole's impressive resume also includes work with ""You Oughta Know" singer Alanis Morissette and even a short tenure with the late pop-R&B maestro Prince. "My joke is always I've joined the long list of more than qualified technicians that have been fired by Prince," Cole says. "Don't take it personally. He fires everybody. I was happy for the opportunity to get to work with such a legend."
Cole says that when he was growing up, his mom, an English and foreign language teacher, instilled in him a sense of how travel could enrich one's life. His father, a home builder/contractor, taught him a lot about taking pride in his work. Growing up in Alabama, Cole says he learned a lot about hospitality and "good old Fashioned Southern charm." And all these things inform his work as a roadie today.
After a period living in L.A., when off the road Cole now lives in Sao Paulo, Brazil where is wife (who he met while touring) is from. He last visited Tuscaloosa in 2015, during a day off while touring with Incubus which he spent visiting with family and friends. If time allows, whenever he's back home Cole likes to grab some food at Taco Casa and a drink at The Alcove. And maybe check on his storage unit.
When he started his career at age 24, Cole, like many young roadies, relished the travel. Now, at 34, married and expecting his first child obviously that changes his perspective. But he knows he can't lose his edge. "You can't ever get comfortable out here. You constantly have to learn new software and get your hands on pieces of gear and stay current because there's always going to be some younger guy out there who's creative and has a drive and initiative to, whatever his job is, make it the best and make it shine."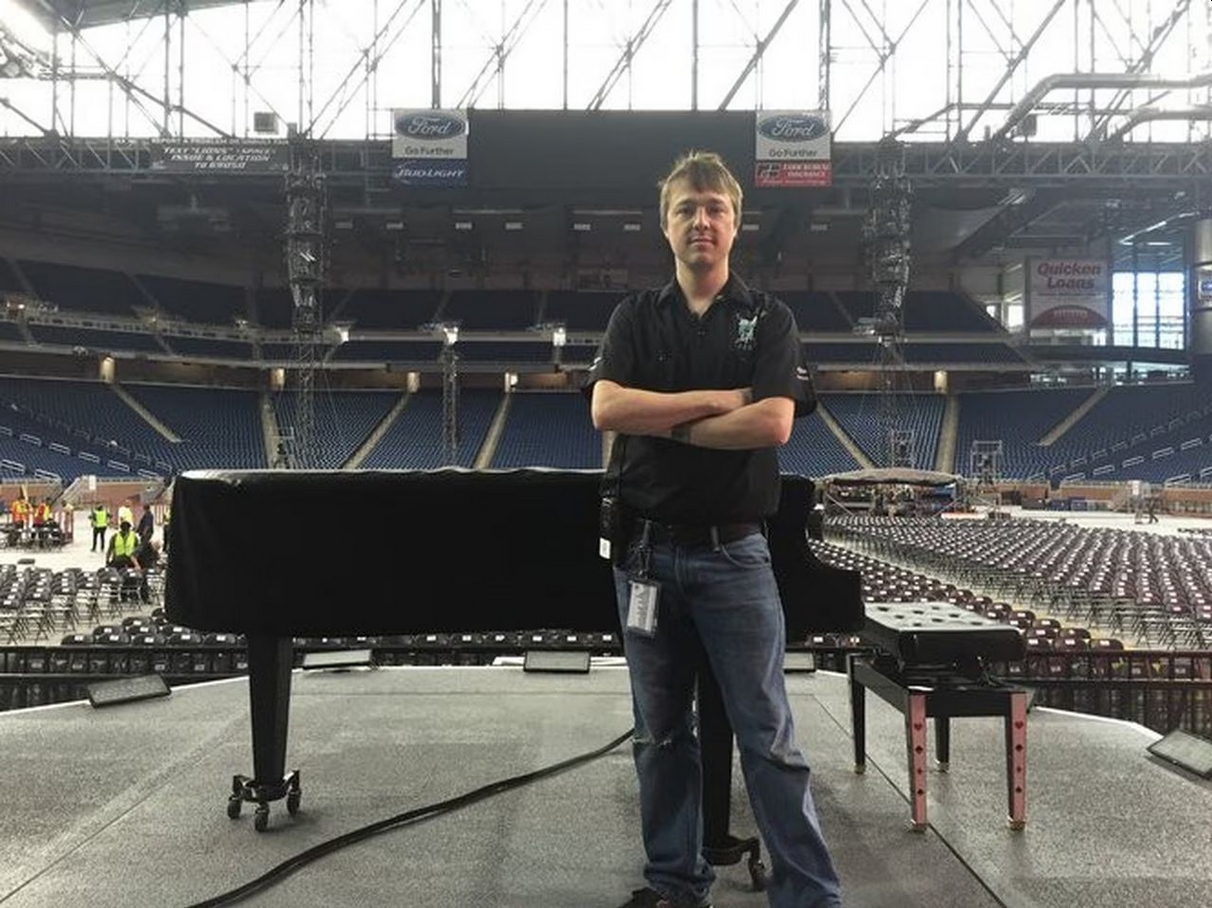 Guns N' Roses keyboard tech Willie T. Cole. (Courtesy photo)
https://www.al.com/entertainment/2016/06/roadies_for_guns_n_roses_outka.html

Blackstar

ADMIN




Posts

: 10551


Plectra

: 71006


Reputation

: 96


Join date

: 2018-03-17



---
Permissions in this forum:
You
cannot
reply to topics in this forum