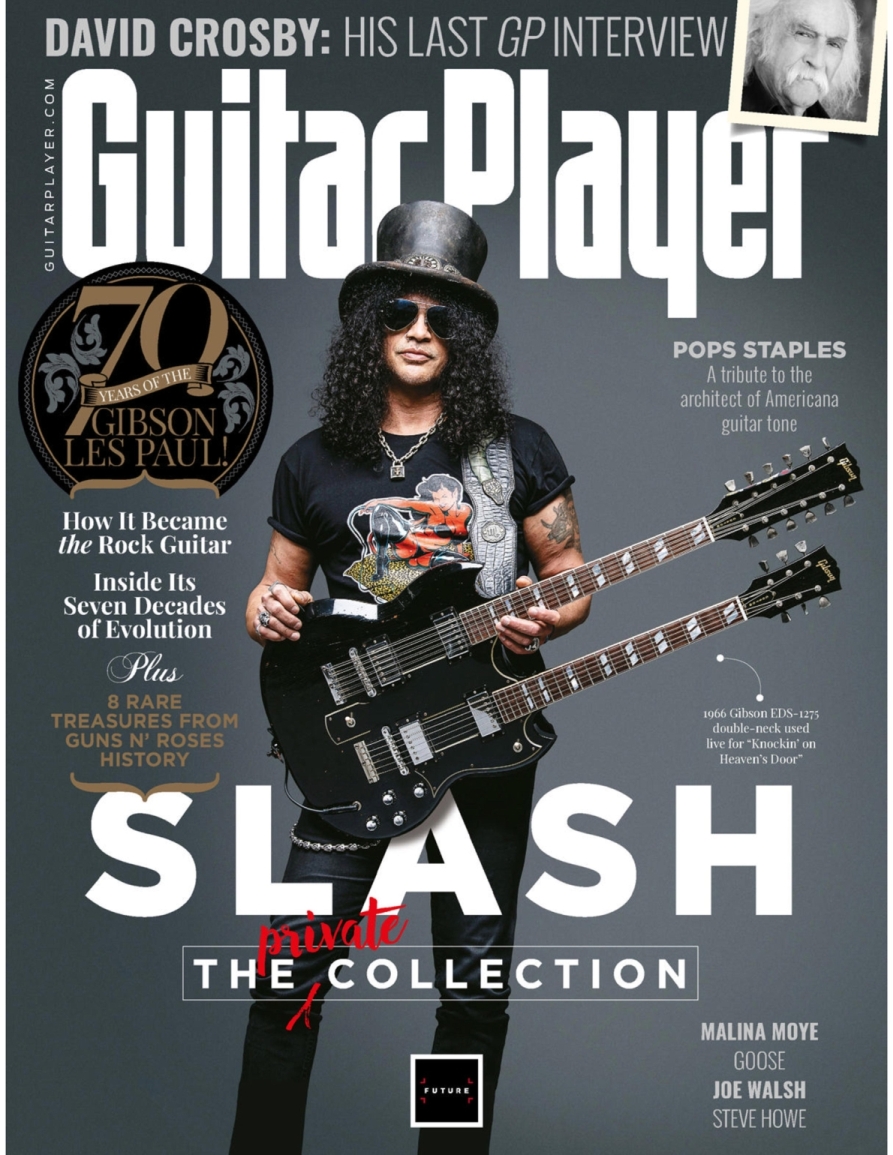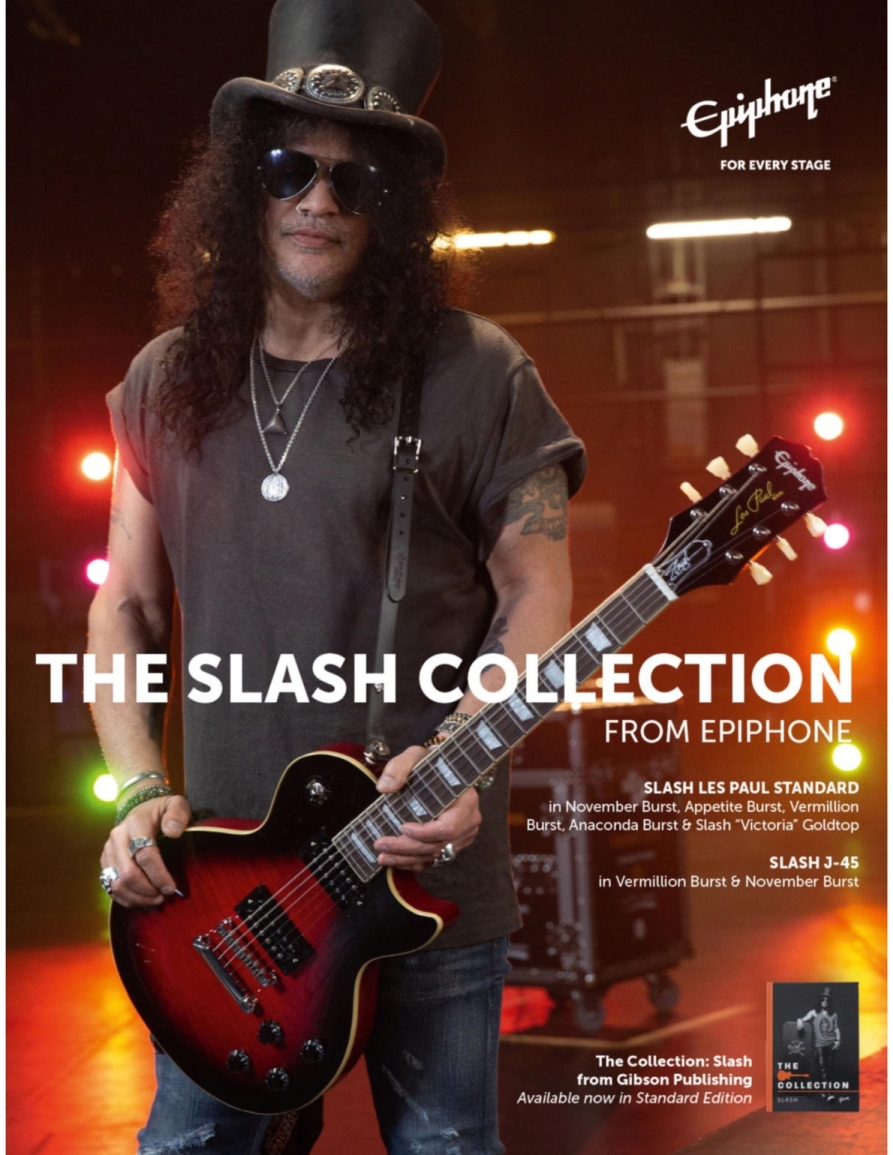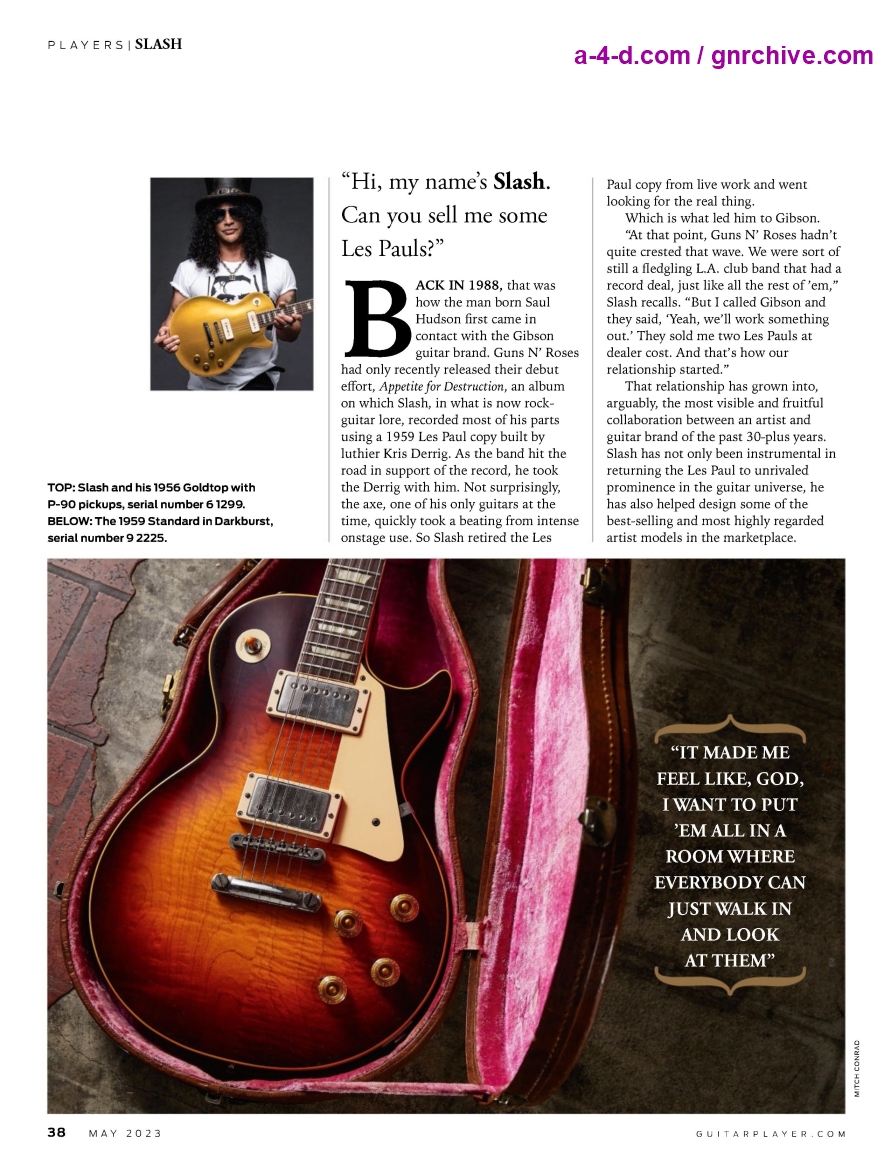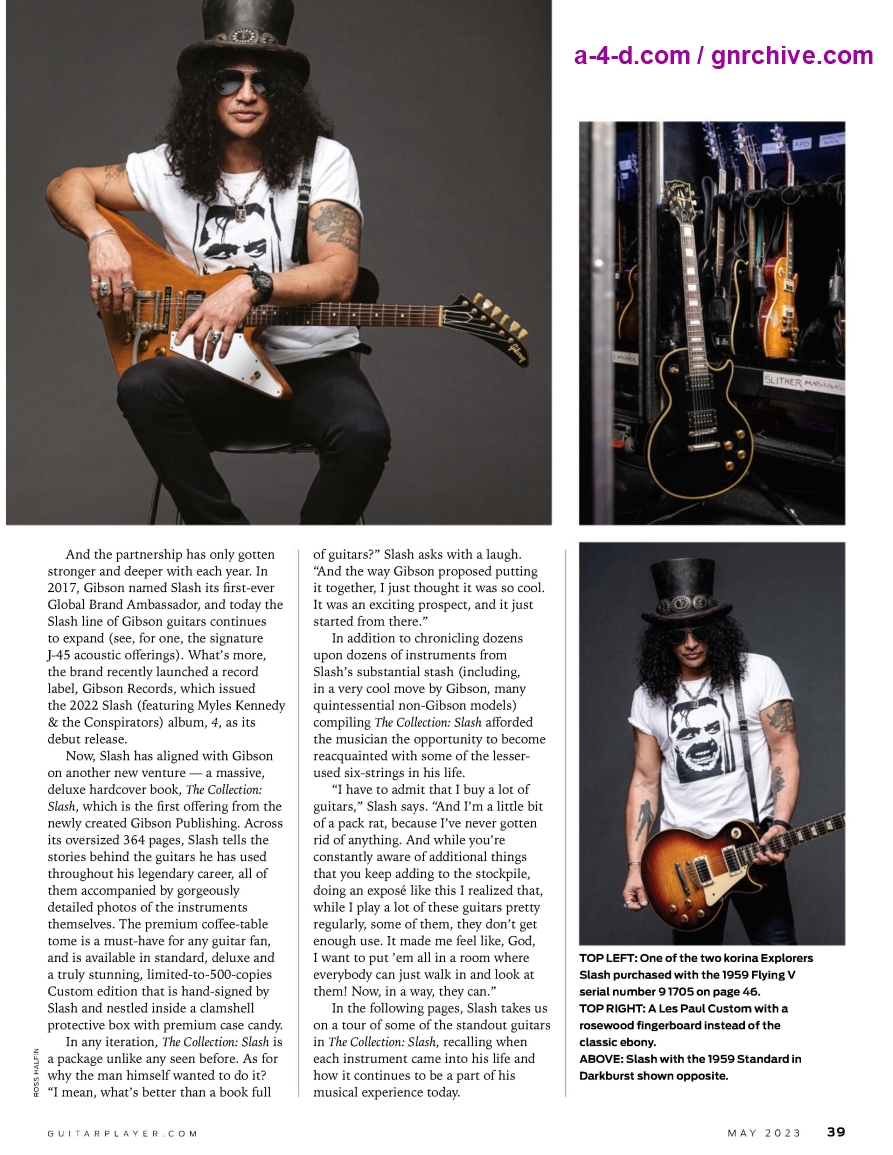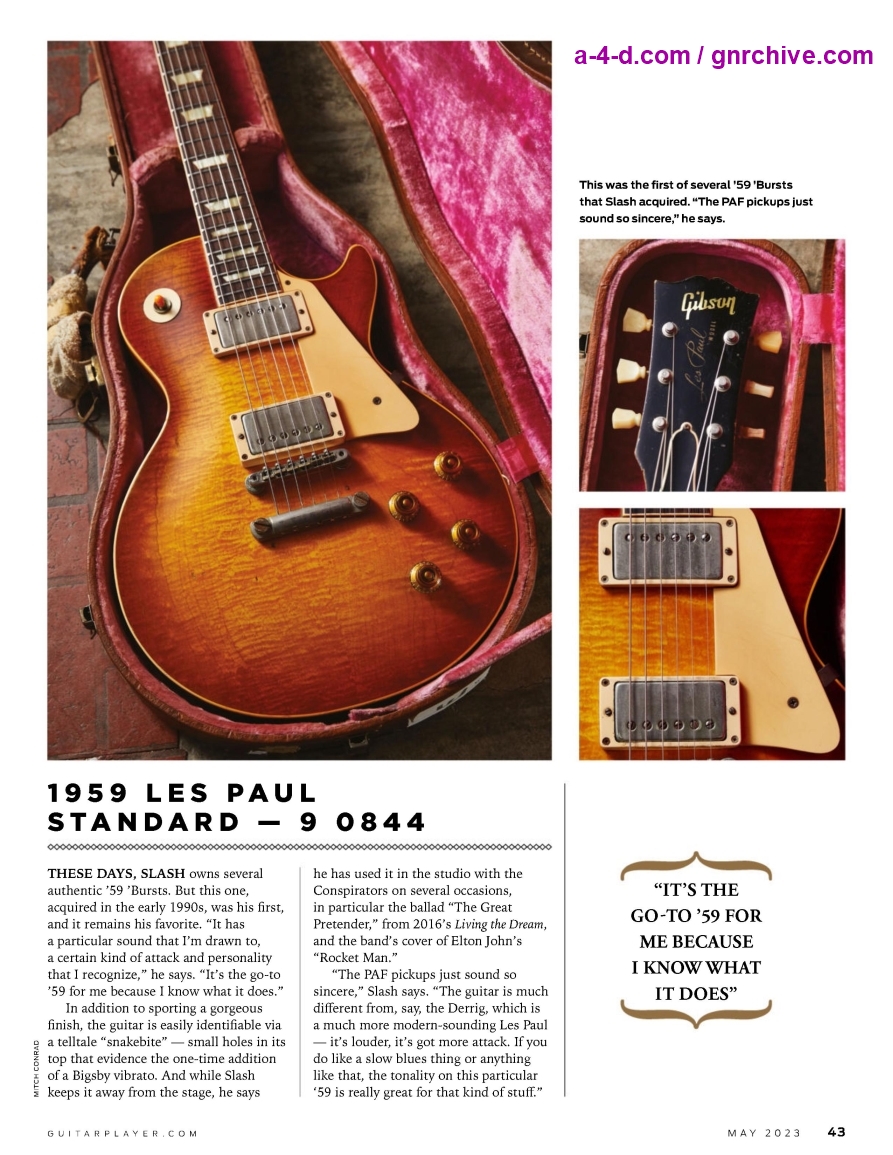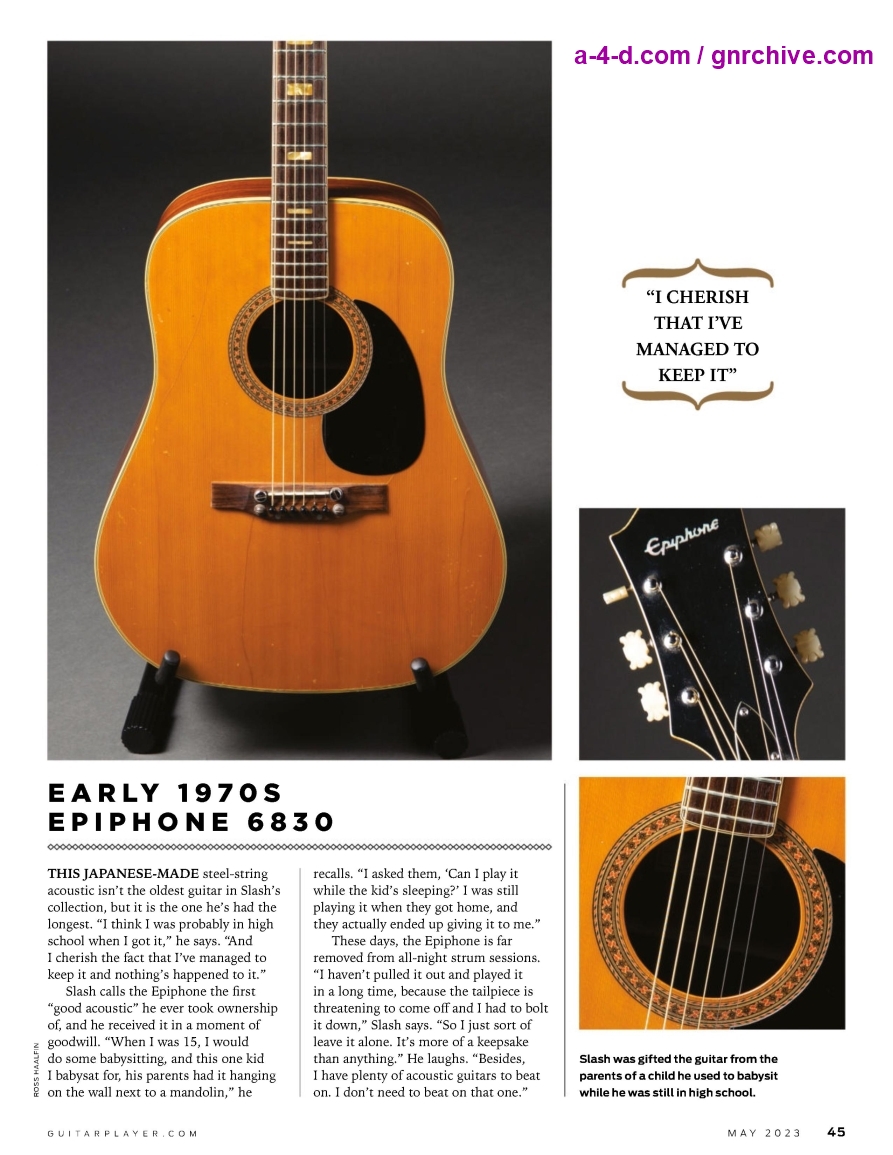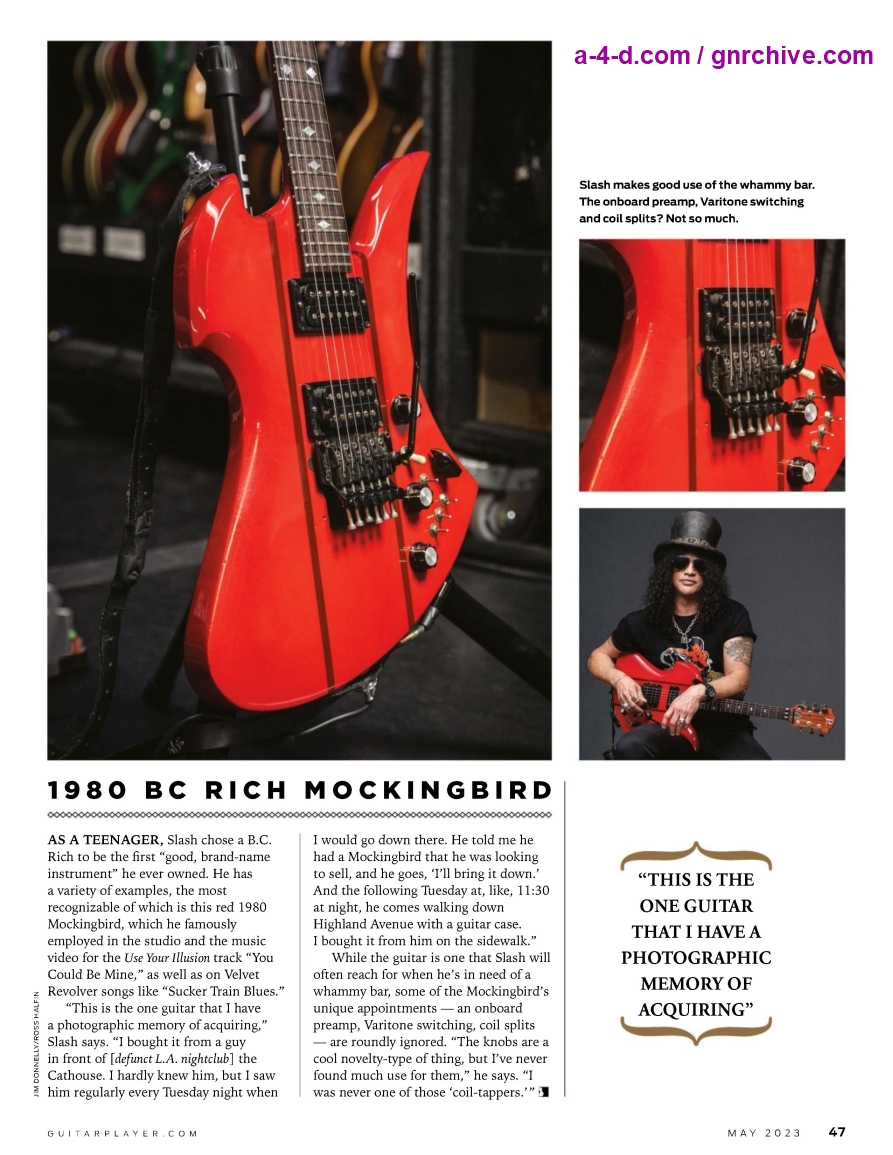 Transcript:
---------------
SLASH
THE COLLECTION
He made his name with a 1959 replica Les Paul on Guns N' Roses' debut, Appetite for Destruction. Now, with hundreds of guitars in his collection, Slash selects the models he treasures most and traces their journeys through his career and hits.
BY RICHARD BIENSTOCK
"Hi, my name's Slash. Can you sell me some Les Pauls?"
BACK IN 1988, that was how the man born Saul Hudson first came in contact with the Gibson guitar brand. Guns N' Roses had only recently released their debut effort,
Appetite for Destruction
, an album on which Slash, in what is now rock-guitar lore, recorded most of his parts using a 1959 Les Paul copy built by luthier Kris Derrig. As the band hit the road in support of the record, he took the Derrig with him. Not surprisingly, the axe, one of his only guitars at the time, quickly took a beating from intense onstage use. So Slash retired the Les Paul copy from live work and went looking for the real thing.
Which is what led him to Gibson.
"At that point, Guns N' Roses hadn't quite crested that wave. We were sort of still a fledgling L.A. club band that had a record deal, just like all the rest of 'em," Slash recalls. "But I called Gibson and they said, 'Yeah, we'll work something out.' They sold me two Les Pauls at dealer cost. And that's how our relationship started."
That relationship has grown into, arguably, the most visible and fruitful collaboration between an artist and guitar brand of the past 30-plus years. Slash has not only been instrumental in returning the Les Paul to unrivaled prominence in the guitar universe, he has also helped design some of the best-selling and most highly regarded artist models in the marketplace.
And the partnership has only gotten stronger and deeper with each year. In 2017, Gibson named Slash its first-ever Global Brand Ambassador, and today the Slash line of Gibson guitars continues to expand (see, for one, the signature J-45 acoustic offerings). What's more, the brand recently launched a record label, Gibson Records, which issued the 2022 Slash (featuring Myles Kennedy & the Conspirators) album,
4
, as its debut release.
Now, Slash has aligned with Gibson on another new venture — a massive, deluxe hardcover book,
The Collection: Slash
, which is the first offering from the newly created Gibson Publishing. Across its oversized 364 pages, Slash tells the stories behind the guitars he has used throughout his legendary career, all of them accompanied by gorgeously detailed photos of the instruments themselves. The premium coffee-table tome is a must-have for any guitar fan, and is available in standard, deluxe and a truly stunning, limited-to-500-copies Custom edition that is hand-signed by Slash and nestled inside a clamshell protective box with premium case candy.
In any iteration,
The Collection: Slash
is a package unlike any seen before. As for why the man himself wanted to do it? "I mean, what's better than a book full of guitars?" Slash asks with a laugh. "And the way Gibson proposed putting it together, I just thought it was so cool. It was an exciting prospect, and it just started from there."
In addition to chronicling dozens upon dozens of instruments from Slash's substantial stash (including, in a very cool move by Gibson, many quintessential non-Gibson models) compiling
The Collection: Slash
afforded the musician the opportunity to become reacquainted with some of the lesser-used six-strings in his life.
"I have to admit that I buy a lot of guitars," Slash says. "And I'm a little bit of a pack rat, because I've never gotten rid of anything. And while you're constantly aware of additional things that you keep adding to the stockpile, doing an exposé like this I realized that, while I play a lot of these guitars pretty regularly, some of them, they don't get enough use. It made me feel like, God, I want to put 'em all in a room where everybody can just walk in and look at them! Now, in a way, they can."
In the following pages, Slash takes us on a tour of some of the standout guitars in
The Collection: Slash
, recalling when each instrument came into his life and how it continues to be a part of his musical experience today.
KRIS DERRIG REPLICA
ONE OF THE most famous Les Pauls is not a Les Paul at all. Featured on almost all of
Appetite for Destruction
("I played an SG on 'My Michelle,'" Slash reports), the Kris Derrig replica is the source of that album's coveted guitar tones, and arguably reignited the Les Paul flame single-handedly in the '80s. It also originally boasted Seymour Duncan Alnico II humbuckers, which were the template for Slash's signature pickups.
"Getting the Derrig was an interesting sort of perfect storm," Slash recalls. "Because I went from having no identifiable sound during the basic tracks for Appetite to getting this guitar, with these particular pickups, played through a particular rented Marshall amp. All those contributing factors made for a really great guitar sound that has served me ever since."
Amazingly, the heavy wear across the top and back is almost entirely the result of Slash using the guitar, then in pristine condition, onstage for less than a year. "I'm hard on my guitars," he admits. "And with the Derrig, I realized what an effect my live attack had on it. That's when I finally broke down and called Gibson and said, 'I need a Les Paul.' I just didn't want anything to happen to it. So I put it away."
GIBSON LES PAUL "JESSICA"
WHEN WE THINK of Slash's Les Pauls, designs like the Derrig and his signature models come to mind. But it's likely another Les Paul, one he calls Jessica, that we've seen him wield most often. Slash acquired the guitar from Gibson — one of the two factory seconds with three-piece tops the company sent him after he retired the Derrig copy from road work. "It became my main stage guitar with Guns and through Velvet Revolver," he says. "It still is."
Onstage, he continues, "Jessica is the main
Appetite
guitar. I open the set with her for 'It's So Easy' and 'Brownstone,' I play 'Paradise City' with her, and I play 'Welcome to the Jungle' with her."
As for what makes the now heavily worn instrument stand apart from his many other Les Pauls? "The guitars that you take out on tour and play the most are the ones you feel most comfortable with, the ones that give you what you want from them, the ones that are consistent," he says. "Back then it was one of two guitars that I had for the road, so I made it work. And now it's a central part of what I do."
GIBSON LES PAUL "THE FIRST 'BURST" — 8 3096
WHILE SLASH HAS always been adamant about the fact that he acquires guitars for their playability rather than pedigree, this Les Paul is one that offers both in equal measure. Dubbed "The First 'Burst," this Standard was one of two that left Gibson's factory on May 28, 1958 with 'Burst specifications, including PAF humbuckers and a Cherry Red finish. One of those instruments featured a three-piece top, while Slash's 'Burst is a two-piece with a slightly off-center join.
"It was definitely an acquisition because of what it is," Slash says of the First 'Burst. "But it's also a really great-sounding guitar. And that was the bigger selling point for me — it has amazing tone."
So much so that Slash has used the historic guitar in the studio, specifically, on the Conspirators' 2014 album,
World on Fire
, which was recorded not long after he acquired the instrument. That said, he adds, "I wouldn't take it on the road." For that, he continues, "Gibson made me a replica, which sounds really great as well."
1959 LES PAUL STANDARD — 9 0844
THESE DAYS, SLASH owns several authentic '59 'Bursts. But this one, acquired in the early 1990s, was his first, and it remains his favorite. "It has a particular sound that I'm drawn to, a certain kind of attack and personality that I recognize," he says. "It's the go-to '59 for me because I know what it does."
In addition to sporting a gorgeous finish, the guitar is easily identifiable via a telltale "snakebite" — small holes in its top that evidence the one-time addition of a Bigsby vibrato. And while Slash keeps it away from the stage, he says he has used it in the studio with the Conspirators on several occasions, in particular the ballad "The Great Pretender," from 2016's
Living the Dream
, and the band's cover of Elton John's "Rocket Man."
"The PAF pickups just sound so sincere," Slash says. "The guitar is much different from, say, the Derrig, which is a much more modern-sounding Les Paul — it's louder, it's got more attack. If you do like a slow blues thing or anything like that, the tonality on this particular '59 is really great for that kind of stuff."
2002 SLASH LES PAUL PROTOTYPE
THIS LIMITED-RUN Custom Shop guitar is "what I would call the first 'official' Slash model," Slash reveals. "This is when I think of us as going into business together for real, and when Gibson started to actually have this idea of me sitting down and designing a guitar with them and then putting it into production."
The 2002 Slash Les Paul boasts a rich Tobacco Burst finish and Seymour Duncan Alnico II humbuckers, as well as a custom "Slash" truss-rod cover. But the most unique aspect is undoubtedly the inclusion of a piezo pickup system that offers a selection of acoustic and hybrid acoustic/electric sounds, controlled via a three-position mini-toggle switch between the guitar's volume knobs.
"I did use the piezo for a second, and it actually sounded really good," Slash says. "But my physical approach to an acoustic sound didn't work on electric guitar — I hit it too hard when I'm playing acoustic stuff, so doing it on electric was not really conducive to that sort of attack. So eventually I phased it out. But it was a cool idea at the time."
EARLY 1970S EPIPHONE 6830
THIS JAPANESE-MADE steel-string acoustic isn't the oldest guitar in Slash's collection, but it is the one he's had the longest. "I think I was probably in high school when I got it," he says. "And I cherish the fact that I've managed to keep it and nothing's happened to it."
Slash calls the Epiphone the first "good acoustic" he ever took ownership of, and he received it in a moment of goodwill. "When I was 15, I would do some babysitting, and this one kid I babysat for, his parents had it hanging on the wall next to a mandolin," he recalls. "I asked them, 'Can I play it while the kid's sleeping?' I was still playing it when they got home, and they actually ended up giving it to me."
These days, the Epiphone is far removed from all-night strum sessions. "I haven't pulled it out and played it in a long time, because the tailpiece is threatening to come off and I had to bolt it down," Slash says. "So I just sort of leave it alone. It's more of a keepsake than anything." He laughs. "Besides, I have plenty of acoustic guitars to beat on. I don't need to beat on that one."
1959 GIBSON FLYING V — 9 1705
"WHEN I WAS DOING the
Use Your Illusion
records I was looking for different guitars for different songs, and it was the first time I ever had any money to do that," Slash recalls. "I became aware of the korina '58s and '59s, and so I went to my friend who is a guitar broker. He came up with two Explorers and this V, and I bought all three. It was one of those purchases where I was like, 'Well, let's see how these sound.' And it was, 'Oh, this is fucking awesome!'"
For fans looking to hear that sound, tune your ears to Guns N' Roses' cover of Bob Dylan's "Knockin' on Heaven's Door." "I went to the studio, that guitar was there, and I laid all the tracks down in a couple of hours," Slash says. "The tone on it was so great that it was literally a one-take solo — just a throw-and-go. That guitar, because of the way it sounded, is what led that to be such an easy thing to do."
As for what he thinks is so special about those original Vs? "They just have a certain tonal quality, this smooth, sweet tone that you cannot find in any other guitar," Slash says.
1980 BC RICH MOCKINGBIRD
AS A TEENAGER, Slash chose a B.C. Rich to be the first "good, brand-name instrument" he ever owned. He has a variety of examples, the most recognizable of which is this red 1980 Mockingbird, which he famously employed in the studio and the music video for the
Use Your Illusion
track"You Could Be Mine," as well as on Velvet Revolver songs like "Sucker Train Blues."
"This is the one guitar that I have a photographic memory of acquiring," Slash says. "I bought it from a guy in front of [
defunct L.A. nightclub
] the Cathouse. I hardly knew him, but I saw him regularly every Tuesday night when I would go down there. He told me he had a Mockingbird that he was looking to sell, and he goes, 'I'll bring it down.' And the following Tuesday at, like, 11:30 at night, he comes walking down Highland Avenue with a guitar case. I bought it from him on the sidewalk."
While the guitar is one that Slash will often reach for when he's in need of a whammy bar, some of the Mockingbird's unique appointments — an onboard preamp, Varitone switching, coil splits — are roundly ignored. "The knobs are a cool novelty-type of thing, but I've never found much use for them," he says. "I was never one of those 'coil-tappers.'"

Blackstar

ADMIN




Posts

: 10551


Plectra

: 71006


Reputation

: 96


Join date

: 2018-03-17



---
Permissions in this forum:
You
cannot
reply to topics in this forum