New Photo Of 'Muscular' Guns N' Roses Singer Axl Rose Posted On Instagram
A Guns N' Roses fan has posted a photo on Instagram that he says shows him standing next to the band's lead singer, Axl Rose, in Atlanta yesterday (Friday, March 18).
Mark Guglielmo, who goes by the handle "notonestraw" on Instagram, went on to say that Rose told him Guns N' Roses — which recently reunited with guitarist Slash and bassist Duff McKagan — was planning to do "a whole tour" after the band's recently announced comeback shows.
Guns N' Roses has six concerts scheduled so far, all in April: two at the Coachella Music And Arts Festival, two in Las Vegas and two in Mexico City. The exact band lineup has yet to be confirmed.
Guglielmo said he wished Rose good luck on those "few shows," but that the singer responded "thanks, man, but we're going to do a whole tour." Guglielmo added in the comment thread accompanying the photo: "I don't want to speculate or spread rumors, but it really looked like he's been working out a lot. His arms looked muscular."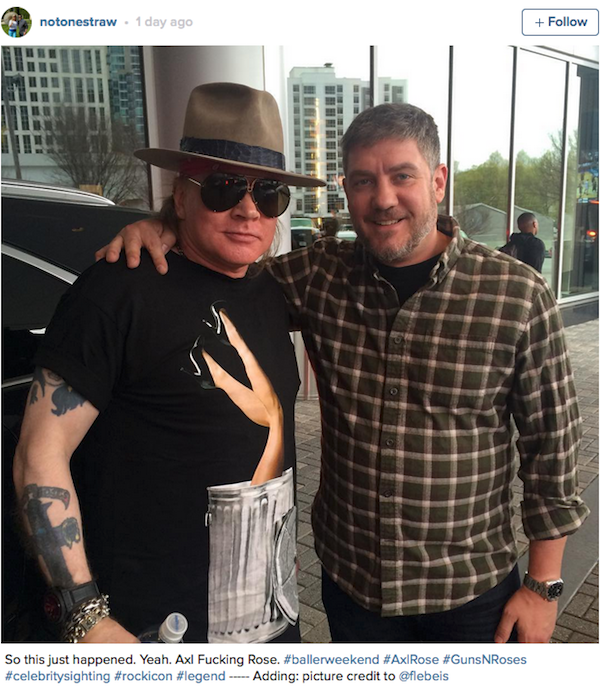 https://blabbermouth.net/news/new-photo-of-muscular-guns-n-roses-singer-axl-rose-posted-on-instagram

Blackstar

ADMIN




Posts

: 12210


Plectra

: 80075


Reputation

: 97


Join date

: 2018-03-17



Alternative Nation, March 21, 2016:
-------------------------------------------
Could Axl Rose Be AC/DC's New Singer?
By Brett Buchanan
Axl Rose was spotted in Atlanta over the weekend, and according to MSL from GNRTruth, he was there for rehearsals, but not for Guns N' Roses. While MSL's tease on GNRTruth doesn't specify what exactly Rose is rehearsing for, it has led to rampant speculation that the legendary Guns N' Roses frontman could be one of AC/DC's guest singers for their upcoming concerts.
AC/DC released the following statement earlier this month: "AC/DC are postponing the remaining dates of their U.S. tour because of lead singer Brian Johnson's possible hearing loss. The band says in a statement that doctors have advised the 'Back in Black' singer to stop touring immediately or risk total hearing loss. The group's shows beginning Thursday in Atlanta through April 4 in New York are being rescheduled for later in the year — likely with a guest vocalist. The group's lone stop in Florida would have been Friday at the BB&T Center in Fort Lauderdale. AC/DC opened the most recent U.S. leg of its 'Rock or Bust' tour Feb. 2 in Tacoma, Washington."
http://www.alternativenation.net/could-axl-rose-be-acdcs-new-singer/

Blackstar

ADMIN




Posts

: 12210


Plectra

: 80075


Reputation

: 97


Join date

: 2018-03-17



Atlanta Rock 100.5 via Blabbermouth, March 22, 2016:
-----------------------------------------------------------------
Guns N' Roses Fan Who Took Viral Axl Rose Photo Talks About His Experience (Audio)
The fan who snapped a photo with Guns N' Roses singer Axl Rose last weekend and posted it on Instagram spoke about the experience with the "Bailey And Southside" show on the Rock 100.5 radio station. The fan, named Mark Guglielmo, said he ran into Axl in the valet parking area of the Loews hotel in Atlanta, Georgia. "I was waiting for my friends, and I saw him get out of the car," he explained. "And [I saw] the aviator shades and the bandana, so I was, like, 'That kind of looks like Axl from a profile.' And then he turned, and I saw the forearm tattoo, and I'm, like, 'Holy shit! That's Axl Rose.'"
Guglielmo added that he approached Axl, wanting to make sure it was the reclusive Guns N' Roses frontman. "First I said, 'Oh my God! Axl?'" he recalled. "And he just turned toward me and he put his hand out. 'Yeah, man.' And I was, like, 'This is incredible to meet you.' 'Cause I'm in my young forties, and they were the concert I'd ever seen. I mean, I rode a ten-speed bike to go buy 'Appetite For Destruction' when I was, like, fourteen years old. [I told him all that] and he's, like, 'That's great, man. That's so cool to hear.' And then I turned away. And I was, like, 'Wait a second!' 'Cause I was a little starstruck. I realized I had my phone in my hand. And I'm, like, 'Axl, I don't mean to bug you, but can I get a picture?' And then his, I guess, friend took the picture, and he took a good one, and I put in on Instagram, and here we are."
Mark added that Rose told him that the reunited Guns was planning to do a "whole tour" following the six shows the band has scheduled for next month. "All I did was say, 'Hey, good luck with the tour,'" he said. "And I corrected myself. 'I mean, the few shows.' 'Cause all I knew about was Vegas and Coachella coming up. And that's when he turned back to me, and he said, 'No, man. We're gonna do a whole tour.' He offered that to me."
https://blabbermouth.net/news/guns-n-roses-fan-who-took-viral-axl-rose-photo-talks-about-his-experience-audio

Blackstar

ADMIN




Posts

: 12210


Plectra

: 80075


Reputation

: 97


Join date

: 2018-03-17



---
Permissions in this forum:
You
cannot
reply to topics in this forum