Guns N' Roses Eyeing $3 Million Per Show Payday on Potential Tour
By Ray Waddell
UPDATE: Guns N' Roses confirmed they're playing Las Vegas' T-Mobile Arena April 8 & 9.
Fans were overjoyed when Billboard broke the news that a reunited Guns N' Roses — with original members Axl Rose, Slash, and Duff McKagan on board — will headline the Coachella Music & Arts Festival on April 16 and April 23 and follow with a major stadium tour. Given Rose's tumultuous history of egregiously late or canceled performances, this reunion tour is more fraught with risk than most, but GNR's reputation as a top-shelf touring act in terms of both business and performances — and their relative reliability in recent years — has promoters eager to be involved.
Although the singer has been touring semiregularly with different musicians under the Guns N' Roses name, the Coachella shows are expected to be the first time the Rose-Slash-McKagan trio will perform together since July 17, 1993, in Buenos Aires — "expected" because sources tell Billboard that GNR is scheduled to be one of the first acts to play the new T-Mobile Arena in Las Vegas, set to open April 6. Beyond that, the reunited band — the full lineup and the status of the other two founding members, guitarist Izzy Stradlin and drummer Steven Adler, remain unclear — is also negotiating with promoters to play as many as 25 stadiums in North America this summer. For the tour, GNR is said to be asking as much as $3 million per show (the Coachella payday is likely significantly higher), with tickets topping out in the $250 to $275 range.
In an era when most top artists tour regularly, promoters love reunions. The Police revival of 2007 and 2008 remains the gold standard, taking in $362 million from 151 concerts around the world. Of course, GNR is more combustible than the British trio, and the financial prospects of a tour are far less certain.
When a band, or a specific lineup of a band, has been absent from the marketplace for some time, fans can turn to YouTube to at least get a taste of past magic or madness. That's where "history can haunt you," as one promoter puts it. And while the classic GNR lineup was a ferocious live act, the band needs to convince fans they're up to doing it again. As one promoter puts it, "It's incumbent on the artist to convey the message to the fan base, 'We're back, we're taking this seriously, we're in shape, I can sing these songs, and we're going to create the magic we once had.' " This does not sound like something Rose would do (a Jan. 5 appearance on Jimmy Kimmel Live! was cancelled), and artists are rarely contractually obligated to promote a tour. "As the promoter, you've got what you're buying," the promoter tells Billboard. "You just hope they take it as seriously as you do."
Unlike most successful reunion tours, a Rose-led incarnation of GNR has been in the marketplace since 2001. In 2012, band agent Ken Fermaglich (who declined to comment for this story) negotiated a well-received residency at The Joint in Las Vegas to mark the 25th anniversary of GNR's landmark debut, Appetite for Destruction, and since then GNR has been fairly active at large clubs, arenas and festivals — to generally positive response — on a global basis. A review of a March, 2012, show at the Wiltern in Los Angeles in The Hollywood Reporter stated that Rose "sang the bejesus out of all the hits," adding that he "was an entertainer so charming, you'd never know he had the reputation of an asshole."
Indeed, it's GNR's reputation as a great live act that promoters bidding to produce a 2016 tour on GNR hope fans remember — and that GNR can deliver. While the band's first album, Appetite for Destruction moved 18 million copies (the biggest-selling debut in U.S. history) and GNR has sold 44.5 million albums total in the U.S., according to the RIAA, the band's unpredictable live shows, especially with its founding members, played a huge role in the band's surge to superstardom.
Yet the prospects of a classic GNR tour are decidedly mixed. "It might very well be a home run," says Washington, D.C.-based indie promoter Seth Hurwitz. "It might very well be that it's not. I prefer not to take part in these kind of all-or-nothing bets myself."
But veteran manager Doc McGhee (Kiss, Darius Rucker), who handled GNR from 2010 to 2012, maintains, "If it's done right, it should do amazing [business]. If they have their shit together and go out there to kill, I think everybody comes to see them. If not, they'll have a tough time selling it."
Furthermore, McGhee does not believe the Rose-led GNR of the past decade, or various touring outfits by other members, have diluted the brand. He points to bands like Aerosmith and Fleetwood Mac, which toured with less-than-complete lineups and then went on to do much bigger business when certain members returned. "Led Zeppelin was bigger than when [Jimmy] Page and [Robert] Plant went out together," McGhee notes. "The sum is bigger than the parts."
Phoenix promoter Danny Zelisko adds, "I think that if they play the right halls with ticket prices not too crazy, they will do awesome. There is definitely demand for this band with Slash and Axl reunited."
The original GNR's most successful tour was the Use Your Illusion trek of 1991-1993. The 106 shows reported to Billboard Boxscore grossed an average of $601,435 per date — more than robust from tickets priced mostly at $20-$25 — with average attendance of 23,333 per night. It was also the most notorious, as fans rioted in Montreal after Rose stormed offstage. The story was similar in 2002, when Rose failed to show up for a date in Vancouver and a riot ensued; the tour was ultimately cancelled by promoter Clear Channel Entertainment (now Live Nation) after a second Rose-no-show-induced riot in Philadelphia.
Even with this history of gross unpredictability (although Rose has definitely tightened up his act in recent years) and transcendent performances, sources say both AEG Live and Live Nation have their hats firmly in the ring to produce a 2016 GNR stadium tour. The financial risks for stadium shows are huge, even with proven draws. Production costs run roughly $1.6 million — plus talent costs and an average tax of five to seven percent. With those expenses, it could take a box-office gross of about $4.8 million just to break even, and with an acceptable promoter profit of $300,000-400,000, the gross would have to hit $5.1-5.2 million before the band would get into overage (meaning enough tickets have been sold for the band to receive a percentage of the gross). Stadiums provide the capacity to put 8,000-9,000 tickets at the P1 price point of about $250, providing the artist can sell at that level; one promoter interviewed by Billboard estimates a ticket scale ranging from $250 – $59. To come out in the black on these estimated expenses would require a $100 average ticket price on 50,000 fans, or a $90 average ticket price on 60,000 tickets sold.
If a show does get into overage it could add another $200,000 or so the band's estimated $3 million payday. A GNR reunion would likely spur huge merchandising sales — as much as $20 per head — generating another $750,000 to $1 million, with the lion's share also going to the band.
The potential for a huge financial windfall exists, but much hinges on the Coachella performances. After 22 years, will the reunited band gell? Will they adhere to Coachella's midnight curfew? In the case of Guns N' Roses, their reputation is both a blessing and a curse.
"They were a dangerous rock band — you never knew what was gonna happen," says a promoter who worked with GNR back in the day. "A certain amount of that is great in rock n' roll, but there's a fine line between being dangerous and being a dick."
https://www.billboard.com/pro/guns-n-roses-reunion-stadium-tour-per-show-payday/

Blackstar

ADMIN




Posts

: 11774


Plectra

: 77608


Reputation

: 97


Join date

: 2018-03-17



The shorter printed version of the same article as it appeared in the January 23, 2016 (released Jan. 16) issue of Billboard: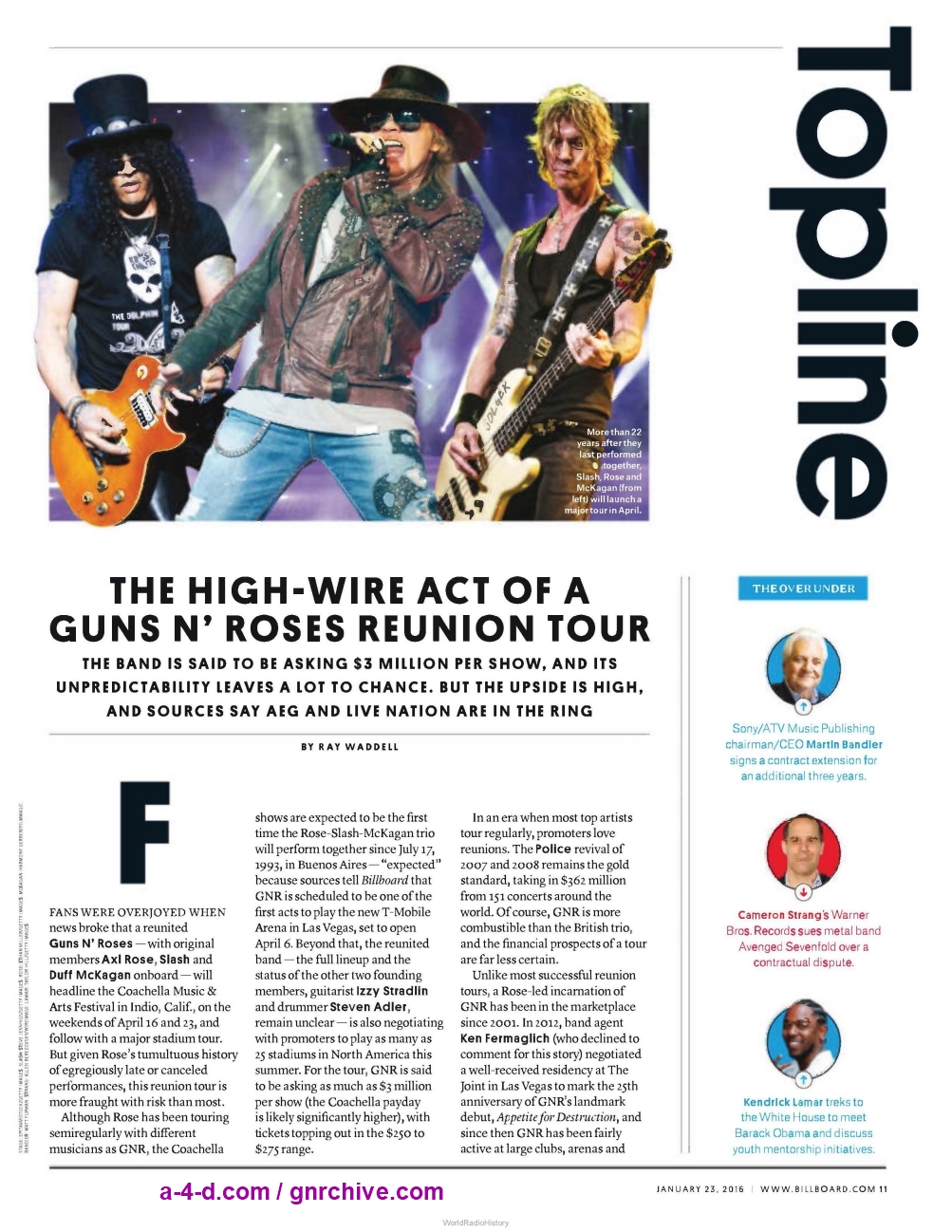 Blackstar

ADMIN




Posts

: 11774


Plectra

: 77608


Reputation

: 97


Join date

: 2018-03-17



---
Permissions in this forum:
You
cannot
reply to topics in this forum