Also known as:
Too Much, Too Fast

Album:
Unreleased.

Written by:
West Arkeen and Duff McKagan.

Musicians:
West Arkeen on guitar, Axl on vocals, the rest unknown.

Live performances:
This song has never been played live.

Notes:
This song's connection to Guns N' Roses is not entirely clear and it might be more correct to consider it a West Arkeen song with contributions from GN'R members. It has appeared (as "Too Much Too Soon") on various GN'R related bootlegs along with other West Arkeen demos featuring members of the band. It was also included (as "Too Much, Too Fast") in a West Arkeen promo tape that surfaced later.
Lyrics:

Hey this bottle's empty, you got 2 bucks?
C'mon, we'll buy a bottle
Alright, I'm headin' to the store and I'm gonna buy smokes
Hot damn

Every night, I go out and get in my car, oh yeah
I push on the peddle but you know I go too far
There're parties everywhere that I can see
Usin' myself will be the death of me
Ya see every night I get a call on the telephone
My sweet little baby beggin' me just to come home
But I know that everyday I gotta have me some fun
With Suzy to the left and Sally to my right
I know that I need just more than one
Said it's too much too fast
I don't care if I won't last
Said it's too much too soon
I don't care, get outta my room
Said it's too much too fast
I don't care if I won't last
Said it's too much too soon
I don't care, get outta my room

Let's go

When the night goes on and I seem to see some friends
Now a buck for the car for the gas goes so fast
With friends like that tell me who's gonna last
Well the city's hot but tonight I'm not
I want everything that everybody's got
Not a badge in the pan or a legend hand
Just give me one more, one last dance

Said it's too much too fast
I don't care if I won't last
Said it's too much too soon
I don't care, get outta my room
Said it's too much too fast
I don't care if I won't last
Said it's too much too soon
I don't care, get outta my room
Let's go

Take the car, take the keys
Said my money don't grow on trees
You make me stumble and fall
'Til I'm bloody at my knees
I climbed back up to find that all my money's gone
Too much too soon not know since it's been so long
You can drive me to the edge but I really don't mind
Ya see when I'm in my car I leave you behind
There's another girl that's waitin' down the road
When I'm out the door you know that's just where I'll go

Said it's too much too fast
I don't care if I won't last
Said it's too much too soon
I don't care, get outta my room
Said it's too much too fast
I don't care if I won't last
Said it's too much too soon
I don't care, get outta my room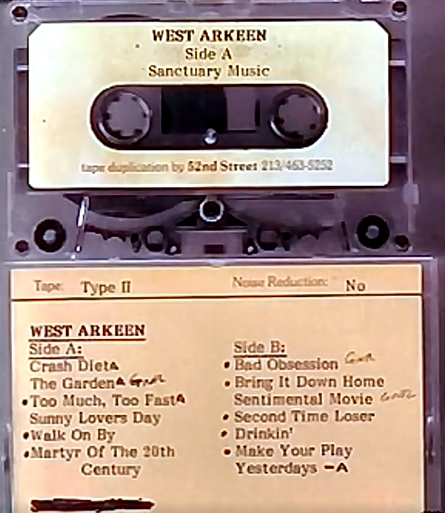 Blackstar

ADMIN




Posts

: 10619


Plectra

: 71347


Reputation

: 96


Join date

: 2018-03-17



Soulmonster likes this post
---
Permissions in this forum:
You
cannot
reply to topics in this forum